it's my blog, and i will cuss if i want to
Not too long ago, my dear Tartelette posted about a friend who is ill with terminal cancer. A commenter had complained that her posts were too depressing. And yesterday I posted about what *I* look for in blogs and got a commenter telling me that my posts were negative and angry, that my criticism is harsh and arrogant, that I shouldn't hold people up to the same high standards I have for myself. Anyone who has been paying attention to this blog for more than ONE HOUR knows that I am not writing to make others feel good. I write for me. The folks who join the ride have a good inkling of what to expect. If you can't handle the reality, this is not a blog for you. I don't pull punches and I am not about to sugar-coat my life and my observations so as not to disturb the sensitive feelings of blokes in their imaginary world of Happy-Go-Lucky. Yes, please stay the hell fuck* away from my blog. As Tartelette said, "You will not be missed."
*used for emphasis, to indicate that I have strong feelings about this directive
anniversary dinner
Our eleventh wedding anniversary was in March and my ILs sent us a gift certificate to The Flagstaff House as a gift. It was incredibly generous and sweet of them. We decided to postpone dining there since I felt like crap, couldn't taste food, and probably wouldn't enjoy the meal as I was in the middle of (frakking) chemo. But at last, we made excellent use of the gift card and enjoyed the 9 course chef's tasting menu Friday evening.
The Flagstaff House is the premier restaurant in Boulder, boasting a wine tome rather than the usual wine list, that consistently garners the distinction of making Wine Spectator's Top Ten Wine Lists in the World. We have had the very very good fortune to dine there four times. The first time was after Jeremy was offered his faculty position, the second time was for our tenth anniversary, the third time was for the same anniversary but with Jeremy's parents (they wanted to celebrate with us), and now!

complimentary: blue cheese and fig on top, house salmon on the bottom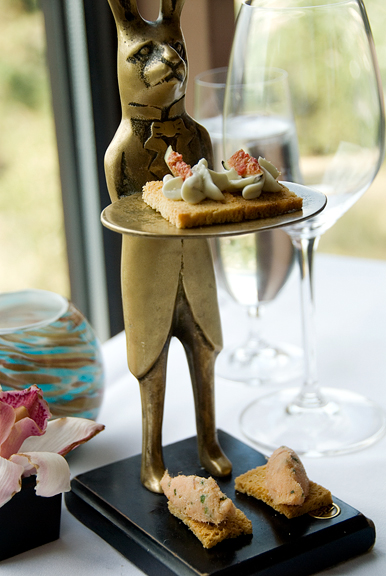 the view to my left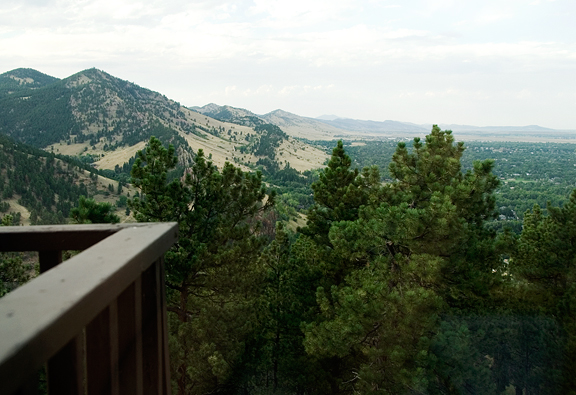 complimentary: spring roll with yuzu sauce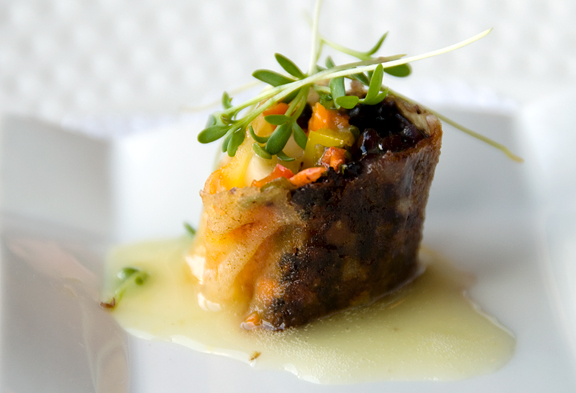 first: wianno oyster with lime and tanqueray gin
fukucho "moon on water" junmaiginjo sake, hiroshima, japan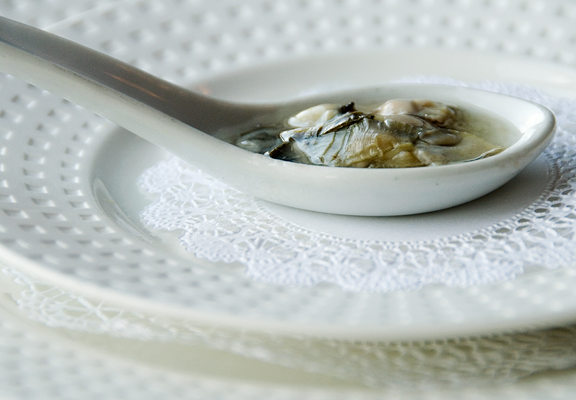 second: hamachi, hawaiian hearts of palm, mizuna, avocado, pomegranate
2007 naia, verdejo, rueda, spain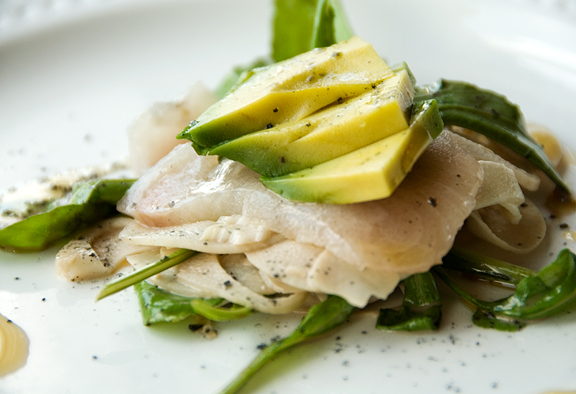 third: alaskan halibut potato crusted, arugula, tear drop tomato, niçoise olive, roasted peppers, white truffle balsamic vinaigrette
2005 terredora dipaolo "loggia della serra" greco, greco di tufo, campania, italy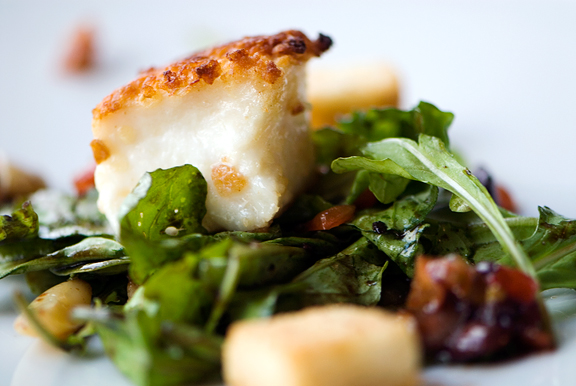 fourth: day boat scallop, fingerling potatoes, bentons ham, cipollini onions, spinach, hon shimeji mushrooms
2007 alban viognier, central coast, california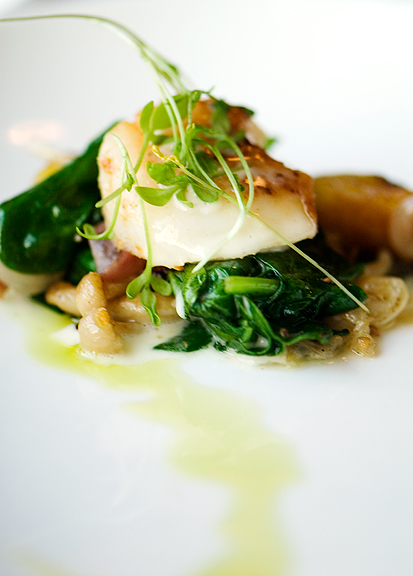 fifth: quail, pancetta wrapped & grilled, white truffle infused italian heirloom polenta, sauce of garlic
2004 marquesde grinon, caliza, syrah/graciano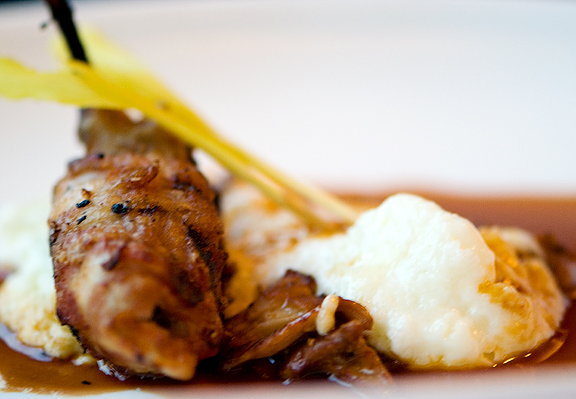 sixth: duck breast, crispy seared, duck confit, potato gnocchi, grilled raddichio, pearl onion, rappini, sherry gastrique
2006 vinosia "essenza di primitivo" primitivo, italy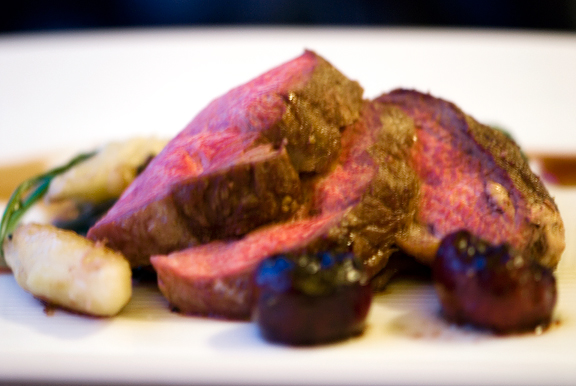 seventh: snake river "kobe gold" ribeye cap, twice baked potato, asparagus, black truffle sauce
2004 dumol, syrah, russian river valley, california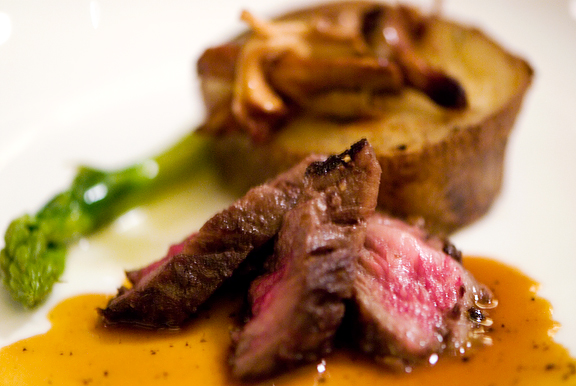 ninth: vahlrohna chocolate tart, chocolate mousse, colorado plums, raspberry coulis
1977 porto barros, colheita, portugal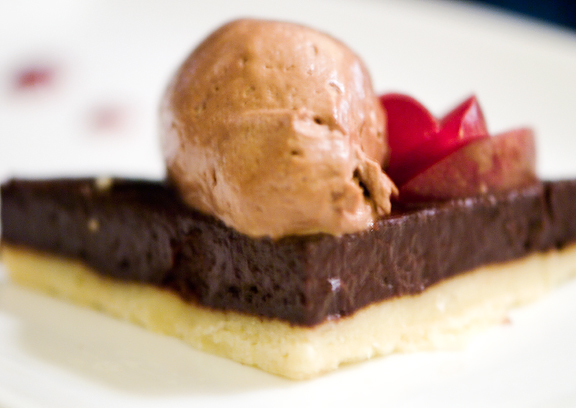 We are missing a picture of the trio of sorbets (white peach, mango, and black raspberry) for course #8. The pictures got more and more difficult to shoot as the 3.5 hour meal wore on toward 9:30 pm. The dessert was a 2 second hand-held exposure and my head was swimming after sipping 8 different wines/boozes that were paired with Jeremy's courses. Woooooooooooo!
The Flagstaff House never disappoints. The service was impeccable and the food – heavenly. We really had to think hard about the 9-course degustation or ordering off their enormous and tantalizing regular menu. Too many temptations! It leaves you feeling a little sad that you can't try it all… until the first plate arrives. If it weren't for the present from my ILs, I think we would have waited to return when there was a big reason to celebrate. There may be a reason to celebrate in the near-future, but I don't like to jinx things, so mum is the word right now.
to pass
This morning we were up bright and early to go hiking with Kaweah and our pal from Boulder. It is much cooler in the Rockies than in the Eastern Sierra and there is a very different feel to the mountains. While the flowers were past peak, the harebells, fireweed, paintbrush, cow parsnip, elephant's head, larkspur, monkshood, buttercup, gentian, sunflowers, and asters (to name a few) were still in bloom! Simply breathtaking.

ahhh, there is still snow in august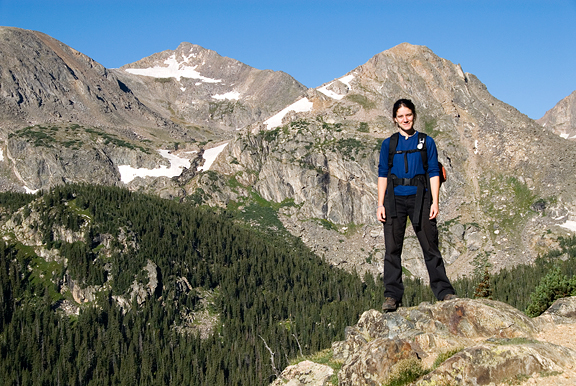 star gentian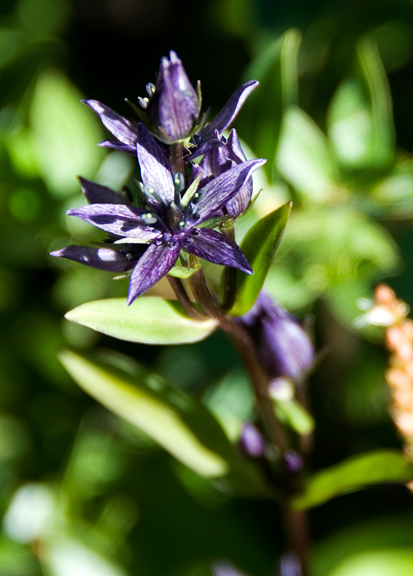 Our prior attempt to get to Caribou Pass was thwarted by a steep snowfield that Miss Kaweah couldn't safely cross. Summer sun and heat has nearly obliterated that snowfield and the trail was clear to cross to the other side – at last! Kaweah was quite pleased to catch the scent of marmots and pikas on the wind.
gettin' warmer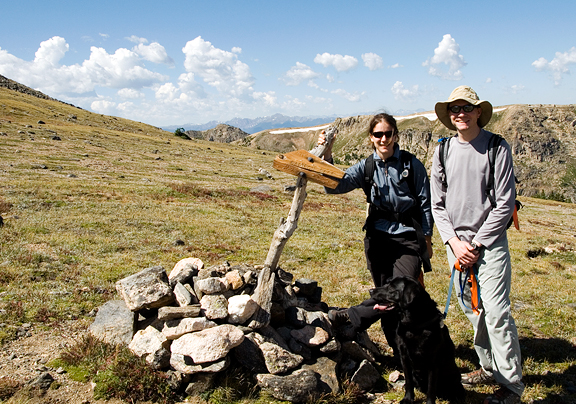 We let Kaweah cool her heels at Lake Dorothy on the way back. The problem is that there are no sticks above treeline, so we had to trick her into the water by tossing small rocks so they'd make a small kerploosh for her to swim toward. It's a good thing she isn't of large brain.
'twas no stick – i was deceived!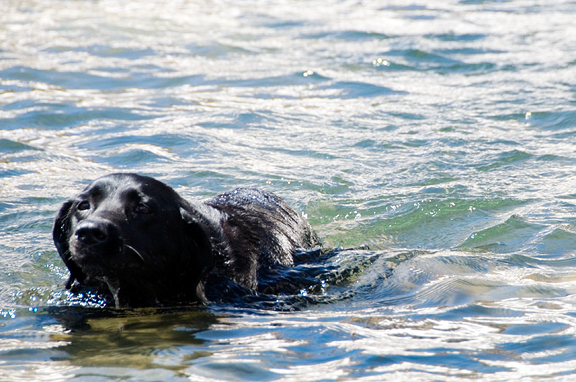 now how about a treat?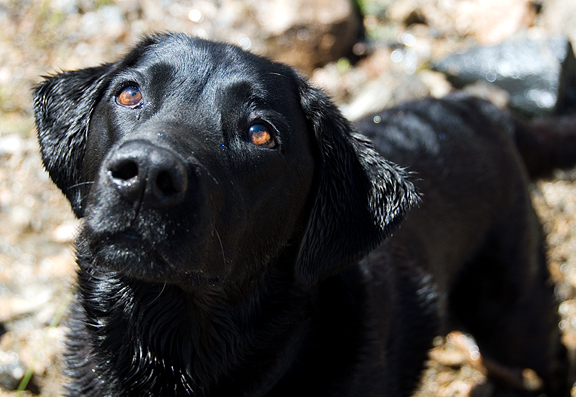 After we dropped Kaweah off to sack out in the house, the three of us got some awesome burgers and sweet potato fries at Bear Brothers Bistro in town. No pics because we were busy watching the Olympics. I must admit I have serious problems with rhythmic gymnastics. Thankfully, they aired the women's indoor volleyball gold medal match between the US and Brazil so we could enjoy our meal and the serious badassedness of the ladies on the court.