I was pretty tired last night when we got into our hotel and then I spent quite some time fighting with the wireless connection. I had to email my photos to Jeremy in Colorado so he could load them to my server for me. Good thing that he 1) stays up late working and 2) is awesome in general. Reports are that we are due for snow in the mountains and Miss Kaweah is a little forlorn without me there.
Typically when I visit Grandma, it is with Jeremy. I spend a lot of time translating from Chinese to English and it gets tiring for my brain to work in two languages like that – especially when Jeremy drives and Grandma gives directions and I am the middle step. It's even crazier because Grandma takes public transportation – she doesn't drive anymore (hasn't for many years, and it's probably good for everyone's safety!) – so we'll be at a stoplight in the rightmost of 6 lanes when she suddenly pipes up in Chinese, "Oh, turn left here." And I'm like, "Ummmm… Jeremy, I have news for you…" He's used to it by now and he never complains.
There have only been a handful of times that I have visited Grandma without Jeremy. I've coordinated visits with my sister, mom, aunt. Several years ago after Grandma had her pacemaker put in, my mom and her sisters took turns to come out and stay with her. When Mom's turn came, my sister and I flew out too – but it was a surprise for Grandma and there was much laughter and joking. Kris always made me laugh. She made everyone laugh. The last time I saw her before she died was over Chinese New Year – we were visiting Grandma together. Good memories.

testing a flash solution on elena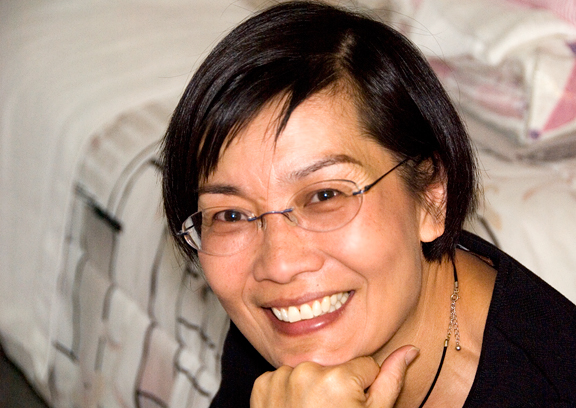 If you can't tell already, Grandma is special to me. She is like my second mother. She helped raise me and Kris when we were little. This trip is happy and relaxing – just the girls: me, Mom, Elena (my aunt and my dear friend), and Grandma. I was sitting in Grandma's apartment this evening when I realized that the three beautiful women around me didn't look anything close to their ages. My mom's family is blessed with the genetics of looking 20 years younger than they really are. Wow.
in milpitas, there are plenty of choices for chinese dining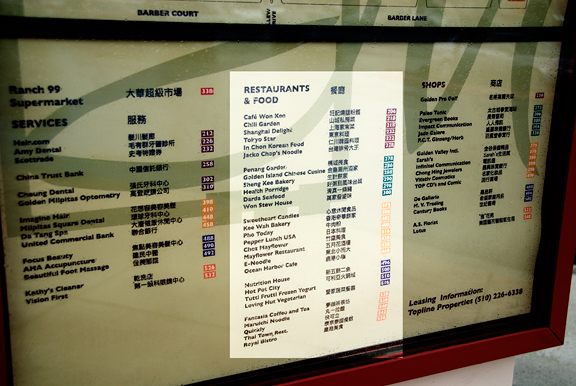 This morning we opted for dim sum in Milpitas at Mayflower Seafood. Not too bad. The overall consensus was that Pan Tao's chicken feet are better (hey, that's the word, I don't touch the stuff myself). We wandered around the markets and bakeries, took Grandma to shops so she could get various errands done, and I scored some goodies of my own to take home for future cooking projects.
mmmm, chili garlic sauce makes dim sum so very yum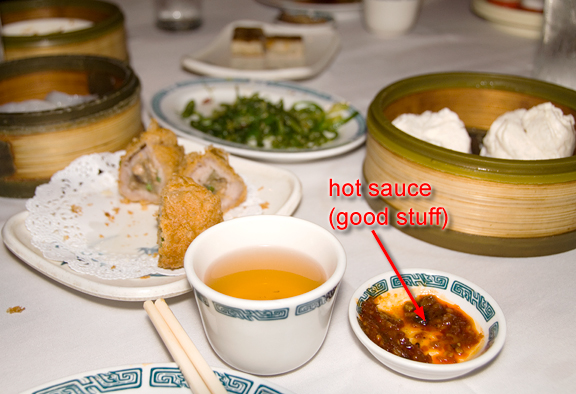 Elena and I are always trying to coax recipes out of Grandma. All of that precious information is in her noggin! This morning we attempted to decifer her instructions for a Chinese pastry. So many women of her generation go by feel, not by measurement, when making food. Looks like I will have some experimentation to look forward to at home. But it not only feels like I've opened up a small treasure chest each time I learn about a new recipe from her – I also get to cherish one more part of my grandma in this way.
Tonight we went to Umi Sushi for dinner. Ermmm, it used to be pretty good, but tonight I think the quality and quantity of fish was rather disappointing. I expect good sushi in California. It's frustrating that I would get anything less. Not sure that I will be returning here. If you south bay peeps have a favorite sushi joint, lay it on me!

spider roll and spicy tuna roll – meh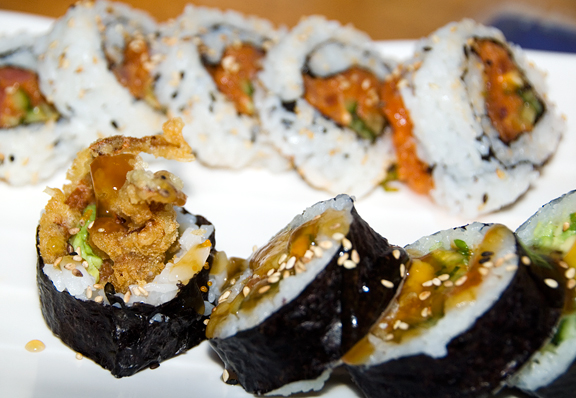 Well, Mom is sudoku-ing in bed, Elena is reading the NY Times, and I have managed not to screw up my commitment to NaBloWriMo for a fourth day. Yiha!