No matter how good a trip was, it is always a great feeling to come home. I have red welt marks on my right shoulder from the weight of my duffle bags which were packed to the hilt with goodies. One bag was full of Trader Joe's goodies (having lived within 6 miles of 6 TJ stores in Pasadena, we can't seem to do without very easily) and the other had my clothes and lots of Asian food stuffs. Despite all of the food items I carried home, the most precious things I brought back were good memories from the visit.

cupertino is apple country… apple, how i love thee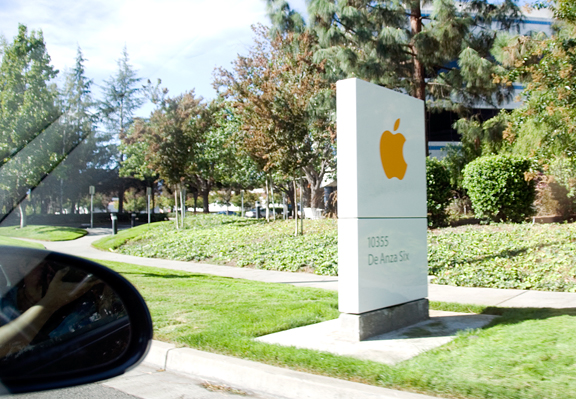 On Grandma's birthday, we drove her to one of her favorite senior centers to sign up (it is re-opening soon). Elena and I walked around while the employees chattered away with Grandma, her friend, and my mom. It's quite a nice set up for seniors, but what caught my eye the most was the Group Therapy Room.
yeah right, it's the majong room!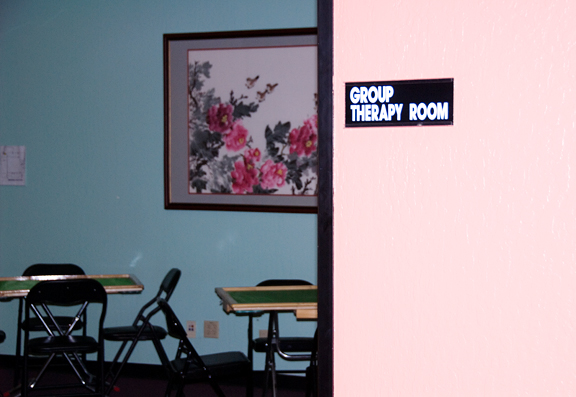 Afterward we went to Milpitas' E-Noodle for some terrific fare. I really do appreciate all of the suggestions from folks for great places to eat. Just that my Grandma is pretty independent and had ideas of her own. It seems that there is some intersection between her restaurant space and the restaurant space of my blog readers, so it's all cool. I've made sure to maintain the recommendations for future reference. Their beef noodle soup was the shit (I mean in a good way) as were their pot stickers, dried tofu noodles, congee, and beef tendon.
sautéed beef tendon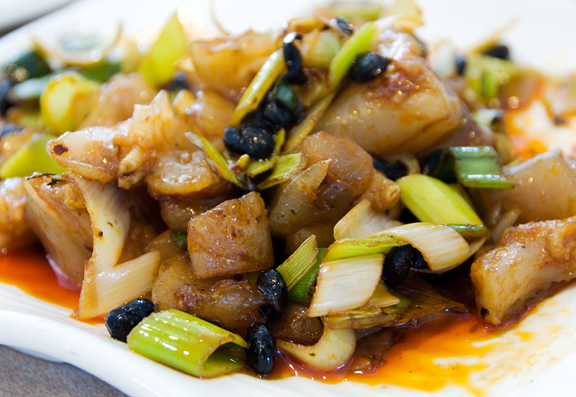 I know what some of you are thinking… beef tendon? Yeah, it's delicious here, so don't be scared of it. In the evening, we took Grandma to Chef Chu's in Palo Alto. We have had a lot a special meals there partly because my Grandma's niece is the head of catering and partly because their food is incredible. I don't think I have ever ordered off the menu though – we always get special ordered dishes. Chef Chu's has a surprisingly high percentage of white clientele because they do serve a lot of the Americanized favorites. However, their Chinese specialties are really amazing. It's not a typical authentic Chinese dive since their restaurant is clean, their waitstaff polite and professional, and their style is somewhat westernized.
happy bday, popo!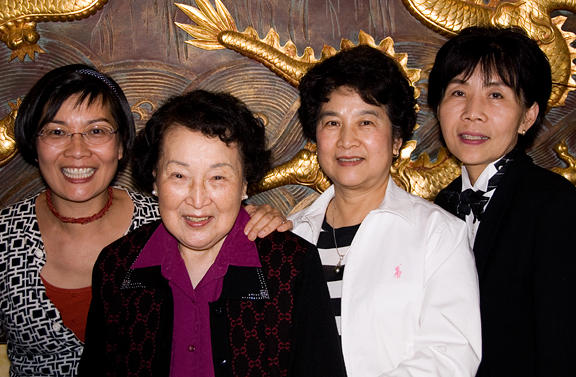 When we lived in New York, Grandma would cry every time we parted ways. It was unclear to me if she was sad to see me go, or worried that we wouldn't see each other again or …? But these days she doesn't cry and I don't sense she is as sad. When I tell her I'll see her again, I think she really believes me. I also get the impression that she's not afraid of dying. I used to be terrified of death, but these days I'm not. It affects the way you live your life, or at least your perspective on life. Perhaps I see this in Grandma? She is so practical. While I was messing around taking photos one afternoon, she said matter-of-factly in Chinese, "I want you to take a nice picture of just me, to put up at my funeral. I don't want some junky photo, okay?" Or if we suggest getting her a new piece of furniture she'll say, "Why? I'm only going to use it for a few years, tops!" Of course, I want her to live to 100 and beyond, but I'll gladly take any time I can get with her. I'd like to think that perhaps the realist in me may have come in part from her.
The best part of the trip was seeing my mom and my grandma so happy. That means a lot to me.

above the marine layer flying out of san jose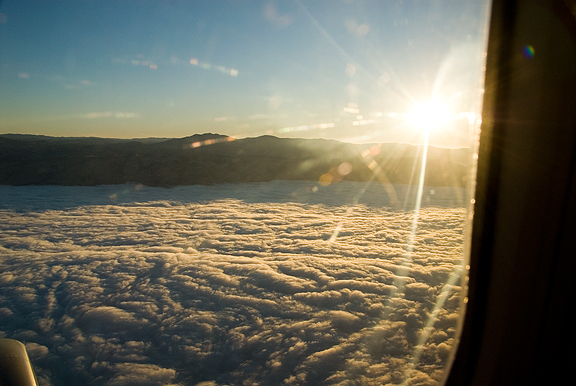 Only minutes after takeoff, I realized that I never retrieved my Patagucci jacket from the trunk of Elena's rental car from the night before. Panic. I always panic when it comes to relying on the honesty of strangers. [Jeremy and I found $120 in cash in the parking lot of a grocery store once and turned it into the grocery store manager who looked at us like we were insane.] Two hours later in Denver, I texted Jeremy to contact Enterprise while I grabbed my bags and caught the bus to Boulder.
It was lovely to see Jeremy waiting for me at Boulder Station. He picked up my bags (a little surprised at how heavy they were) and walked me to the car. I hadn't eaten anything, so we decided to head to Sushi Tora for a little reunion lunch. While there, we ran into a very nice woman at the sushi bar who remembered us from Community Night at The Kitchen back in July. It was the camera… I mean the fact that I take pictures of everything I eat – that is what made her think I might be the same crazy Chinese chick from Comm Night. Yes, crazy Chinese chick and I are one and the same. We exchanged emails.

a simple spicy tuna roll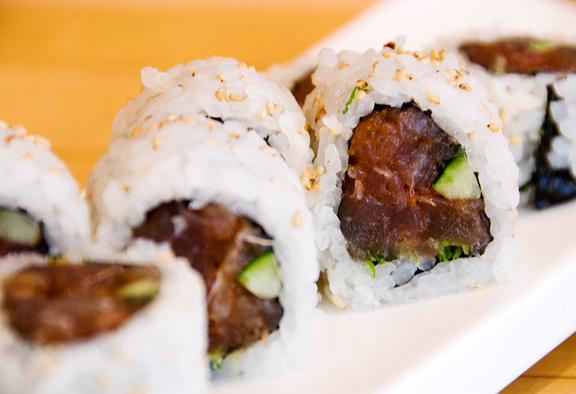 tora no maki roll, smoooooooooth
Kaweah, who was reportedly mopey all weekend without me, came bounding down the stairs when I got home. She gave wiggles, waggles, and some butt scoots of joy. We took a happy nap together – her chin resting on my chest, snoring into my face. I also got a call… Good news! Enterprise found my jacket and shipped it to me today. When the world is so full of people who suck at their jobs, I have to sing the praises for this company because they have done right by me several times now. Thanks Amanda and Jenny.
Yay for being home.