Recipe: chinese stir-fried beef noodles
Can't think. I'm tired and there were so many pictures and observations from today that I wouldn't know where to begin. So I won't just yet.
But there is a recipe…. because it is my dad's birthday today. I think most people associate birthdays with cake, but I associate birthdays with noodles per the Chinese tradition.
My dad is the CEO of the house and my mom is the CFO. Dad likes management speak, because he was a manager as well as an engineer. When I was in college, they sent me a check for my birthday one year. My father told me, "I have authorized Mommy to release some funds for your birthday present." What a hoot.

goofing off with dad at kris' wedding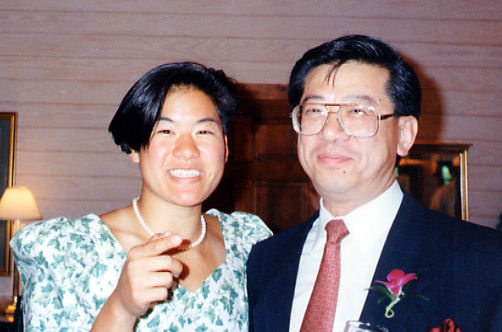 at my college graduation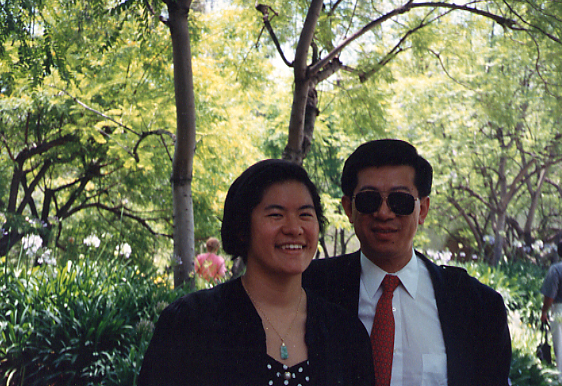 When I was growing up, Dad insisted that the family eat dinner together at the table, no TV. There were many evenings when Mom, Kris, and I would wind up buckled over laughing at my dad. He would smile and inform us, "You know, I manage a division of a couple hundred people and they all do what I say. But you three have no respect for me!" The last part would be drowned out by the deafening roar of our laughter. He was usually a good sport about it. Because he was outnumbered 3 women to 1 man in the house, Dad was always the butt of our jokes.
dry chinese noodles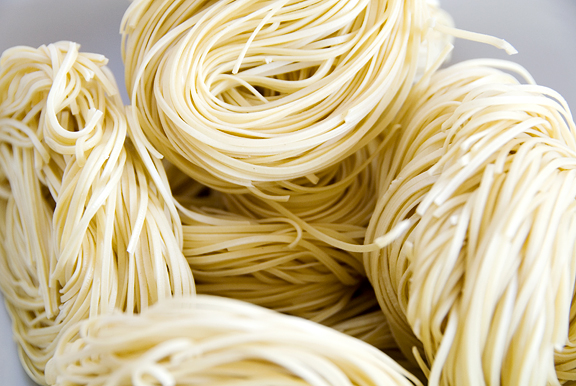 an assortment of vegetables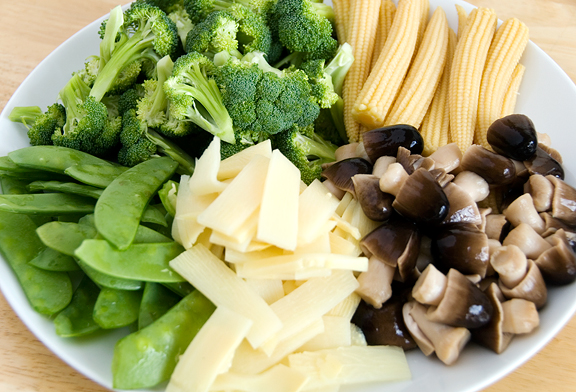 We eat long noodles on birthdays for long life, but we always told Dad that he would live a loooooong time because he's mean.
It's a joke
. In my family, we laugh a lot and we yell a lot (even when we're happy). We love each other very much and we also drive one another insane. If you can't laugh at yourself, best not to venture into our family's brand of Crazy.
slicing flank steak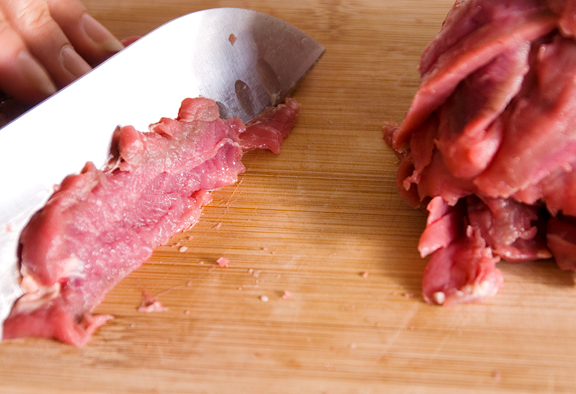 green onions and garlic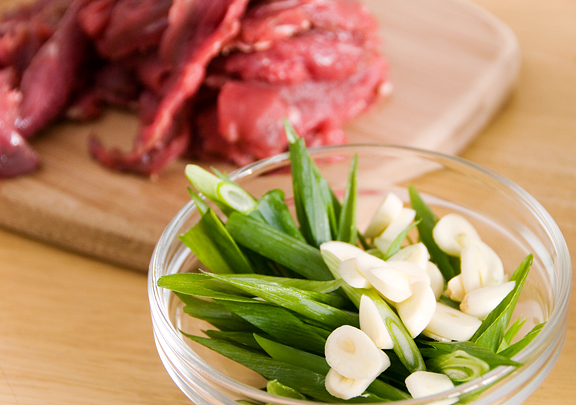 Despite the prediction that Dad's longevity is proportional to his disposition, I made some noodles this evening to celebrate his birthday. I want him to live many more healthy and happy years so he can continue to dispense priceless advice. For instance, when I was boarding the plane to go to college he told me, "Don't touch boys."
adding sesame oil to the beef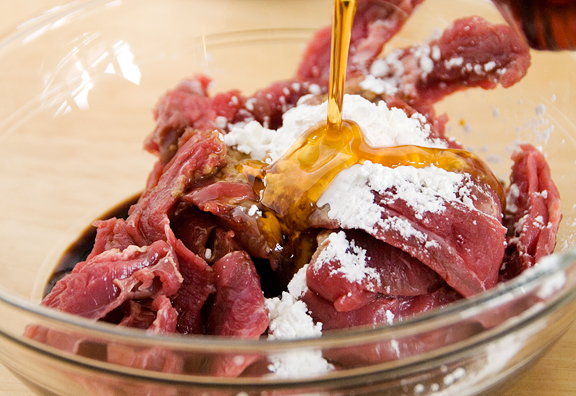 the pan fried noodles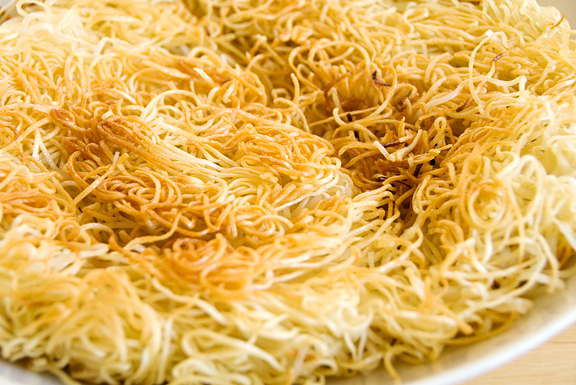 Dad and I live our lives very differently. We have different priorities, politics, interests… but he stood behind me when I decided to quit my job at Clusterfucks R Us over the highly unethical behavior there, he never questioned me about why it took so long to defend my PhD, and he has always called me his little girl – even today.
sautéed vegetables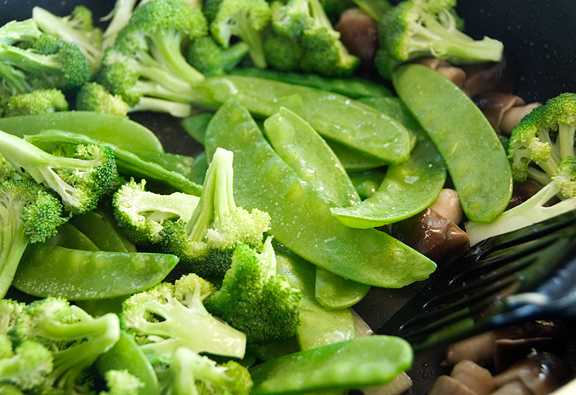 mixed with the beef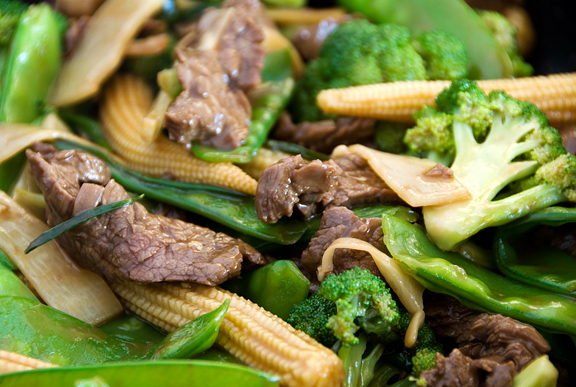 When my parents visited last month, I was recovering from my appendectomy. After a couple of days watching me barely able to amble about the house, my dad told me that he felt bad about my past year. He said he knows that I, like him, am very (hyper)active. He told me that he couldn't imagine how frustrating it must have been for me to be sick so often and for so long. Dad isn't the most empathetic guy in the world and so his words nearly brought me to tears. We are so different and yet, I am so obviously his daughter.
He told me this evening that he had a very nice birthday and that he can't wait for me to visit in the spring so we can go fishing and sailing together. Yes, we'll go sailing and fishing and we'll cook together. Happy birthday, Baba.

birthday noodles for dad
Stir-fried Beef Noodles
[print recipe]
8 oz. dried Chinese egg noodles
vegetable oil (a few tbsps to 1/2 cup)
1/2 cup snow peas, trimmed
1 head broccoli, florets of
1/2 cup straw mushrooms or shitakes
1/2 cup baby corn
1/2 cup bamboo shoot strips
salt to taste
1/2 lb. flank steak
2 stalks green onions, trimmed and sliced
3 cloves garlic, sliced
4 tbsps soy sauce (or more if you want more sauce)
2-3 tbsps sesame oil
1-2 tbsps corn starch
Boil the Chinese noodles according to the package instructions. Drain the noodles and set aside. Heat the vegetable oil in a large frying pan or wok. If you want slightly fried noodles, then just use a few tablespoons of oil. If you want crispy fried noodles, use up to 1/2 cup. Add the noodles to the hot oil and let fry until golden or just crisp. Flip the noodles over to fry the other side to desired doneness. Remove noodles from the pan and set on plate. Slice the flank steak against the grain at an angle. Mix the flank steak slices with soy sauce, sesame oil, and cornstarch. Set aside. In the frying pan, heat remaining oil (you want about 1-2 tablespoons) and sauté the snow peas and broccoli until they turn a rich green color. Add the mushrooms, corn, and bamboo shoots and continue to sauté, seasoning with a little salt to taste. Remove the vegetables to bowl and set aside. In the same pan, heat a tablespoon of vegetable oil and add the garlic and green onions. Sauté until fragrant and add the beef. Stir-fry until the meat is pink and add the vegetables. When the meat is just done, pour the mixture over the noodles and serve hot.