Recipe: apple cranberry crisp
I'm still mulling over the giveaway, as in, I'm not sure what to give away… so while I'm figuring out What and How, just keep your pants on.
Recently I found myself in a food funk. Not only did I not feel like cooking much of anything, I also didn't have a moment to sit down and *think* about what I might make. That is the OCD's nightmare, to drive down the canyon and get to the store only to panic because I don't have a menu planned out for the week. I don't allow myself to wander the grocery store without a grocery list because I just know a lot of food is going to be wasted. That or my shopping cart will be full of junk food and nothing for dinner.

granny smiths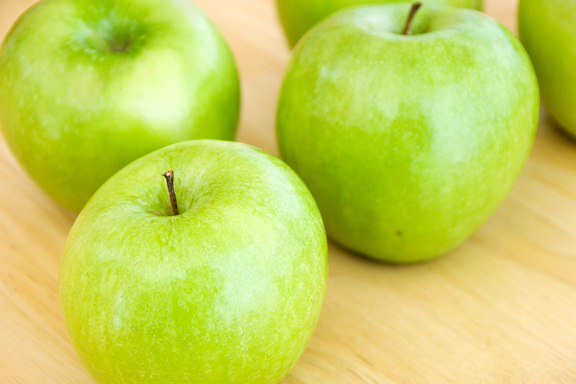 frozen cranberries are about as good as fresh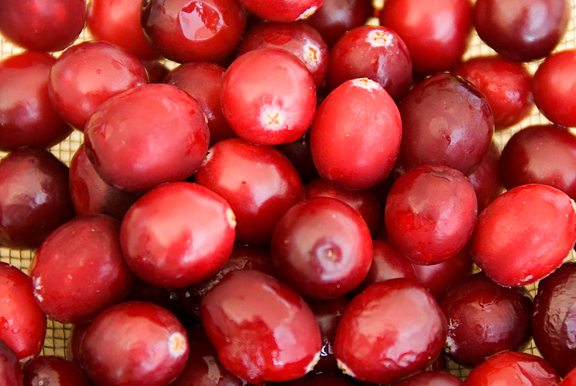 Lacking inspiration for well over a month, I began to wonder if this was the end of URB. How many new meals and baked goods can I make each week and for how long? Has my writing seemed stale or uninspired of late? Because I had been feeling stale and uninspired. Maybe it was NaBloWriMo kicking my ass… Things improved yesterday though. First off, I got a steroid infusion (ion tow) for tendonitis in my left wrist. I also got a brace and realized this morning that the pain in my wrist for the past month (yeah, three weeks was the earliest appointment I could get with PT) made everything from cooking to shooting to travel somewhat less than ideal.
peel, core, and slice the apples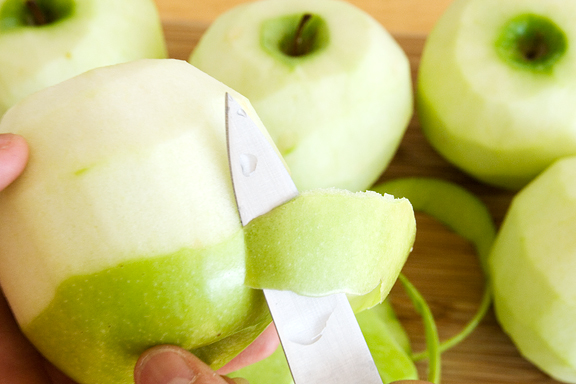 combine fruit with spices and butter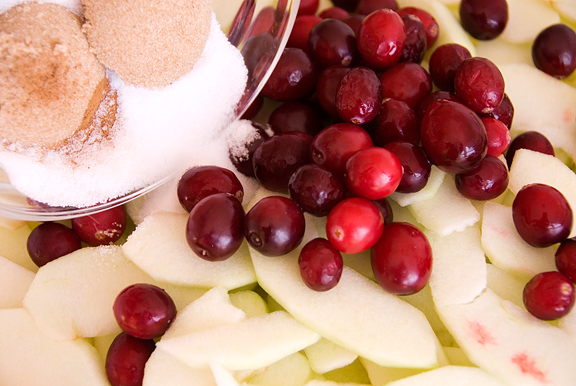 But the other half of what got me out of my rut was the arrival of my new subscription to
Art Culinaire
. I actually paid for it back in July, but didn't remember until I was sorting some bills last month. It's pricey – $60 for a year of this quarterly or close to $100 for international. I emailed the publisher and got a quick apology and promise of the past two issues. Flipping through the pages of each issue (a 90-page hard-cover coffee table book in its own right), I knew I might not ever make the stunning plated masterpieces before me. I wouldn't know how to procure half of the ingredients anyway. That didn't matter though.
Every image, every recipe ignited ideas in my head – got me excited about cooking again, got me thinking about shooting food again. If you are looking for a magazine packed with practical recipes and how-tos, this is not it. If you want a subscription to pure artistry and are willing to shell out the bucks, Art Culinaire might be up your alley.

layer the fruit into the baking dish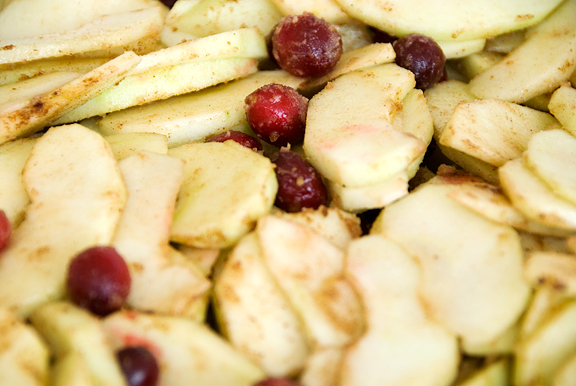 mix oatmeal into the topping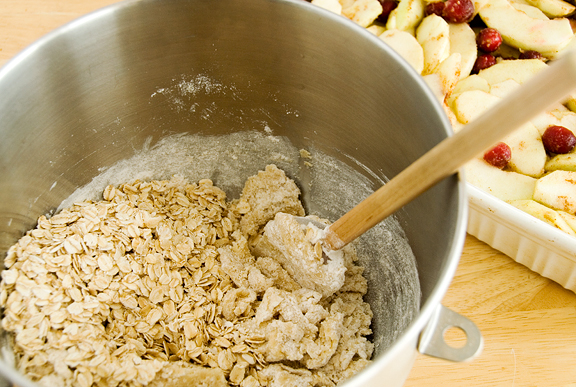 Right, so today I made apple cranberry crisp because it is fall and this is what I do in the fall. I shoot the fall colors, I start my lunge exercises to prep for tele season, I watch the weather forecast like a hawk, and I make apple cranberry crisp. While I was at the store buying apples, I frowned at the Granny Smiths. I only ever buy them to bake with – never to eat raw. Growing up, it seemed the Red (and Golden) Delicious and Granny Smiths were all the apples that were to be had. I was not an apple fan. Thankfully, more varieties are reaching the markets (and if you ever live near an actual apple orchard, be sure to sample the apples that will NEVER get to market). I love munching raw apples, as long as they are Good apples. I like my Fujis, Pink Ladies, Honeycrisps, Cortlands, Empires (yeah, Cornell had awesome apples)… I don't allow Red Delicious in my house, but I do bake with Granny Smiths because they hold up nicely when cooked. Oh, and I forgot to mention my FAVORITE apple of all time:
Macs
.
sprinkle the topping over the fruit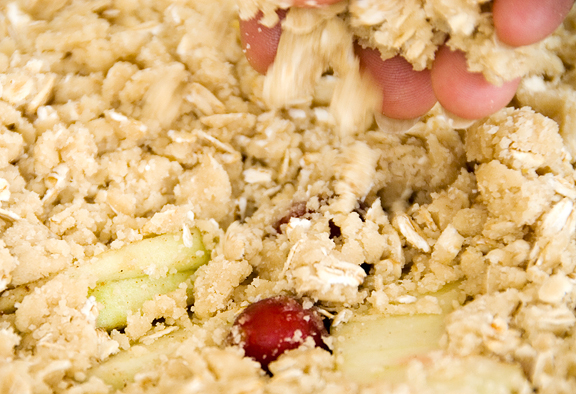 This recipe is really bloody simple. A nice homey dessert to serve warm with a creamy accompaniment. If I could
steal
borrow some of
Peabody's
cute little pie plates, I'd make these in individual servings for guests. I've replaced the cranberries with blueberries and other berries before – it's all fantastic.
it is perfect with a scoop of vanilla bean ice cream
Apple Cranberry Crisp
[print recipe]
filling
5 Granny Smith apples, peeled, cored and sliced thin
1 cup fresh or frozen cranberries
2 tbsps sugar
2 tbsps light brown sugar (packed)
1/2 tsp ground cinnamon
1/4 tsp ground nutmeg
2 tbsps unsalted butter, melted
topping
1 1/4 cups flour
1 cup rolled instant oats
1/2 cup sugar
1/2 cup light brown sugar (packed)
3/4 cup unsalted butter, soft
Preheat the oven to 350°F. Butter a 9×13-inch baking dish. Peel and core the apples, then cut them into 1/4 inch slices. Wash cranberries and pick out any stems and twigs or past due berries. Place apples and cranberries in a large bowl. Add the sugars, nutmeg and cinnamon. Add the melted butter and toss the ingredients until the fruit is evenly coated. Pour the fruit mixture into the baking dish. In a separate bowl, combine the sugars with softened butter and mix until well blended. Stir in the flour. Add the oats and mix until the crust resembles coarse crumbs. Crumble the topping evenly over the fruit. Put the pan in the oven and bake for 35 to 40 minutes. Serve hot with ice cream.