Jeremy spent a few hours researching the ballot initiatives for Colorado last night because he is a good and responsible citizen. There are a lot of initiatives on the ballot – the second highest number for Colorado ever. So he found a progressive reference site on the ballots which discusses the issues in detail, but also has short summaries that are pretty hilarious. My favorite summary is about ballot initiative 58 which increases state funding for higher education. The oil and gas industry is adamantly opposed to it:

Update: The No on 58 group claims that students will just waste this money on beer. The Oil & Gas companies would rather keep this money for hookers and blow.
Last week when I
met with Manisha and Kitt
for lunch, I took the
traveling NaBloWriMo canvas
home with me to add my bit of *creative artistry* before passing it along to Kitt. I don't draw. I don't paint. I didn't even know how to use pastels (I had to look it up online). I consider it a huge victory if my drawings come out looking better than my nephew's (when he was 6). Today I finally busted out the pastels, drew in my share, and then sprayed it with fixer. It's ready for Kitt, now.
now you see why i prefer photography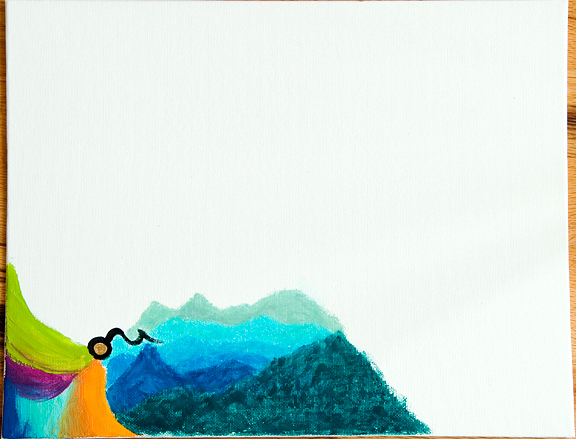 We had high winds and dark clouds marching across our skies today. Volatile weather. I rather like that. It rained last night and from the office window I could spy fresh white mantles of snow on the distant peaks. Rain is fine as long as it is cold enough to turn to snow on the slopes. By afternoon, the house was pelted with grauple, then sleet, then snow.
bring it!!!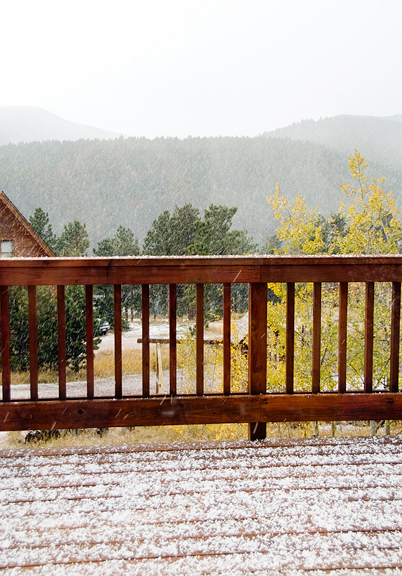 And in the middle of dinner, I looked up and saw my favorite cloud formation: mammata! So late in the season and yet so beautiful – they hung in the sky, illuminated by the sun as she fell behind another bank of storm clouds. Mammata don't last forever, they change rather quickly in the mountains and within a minute they were dissipating… the layers seeking out a path of greater atmospheric stability.
mammata above, storm clouds below, and jesus rays to boot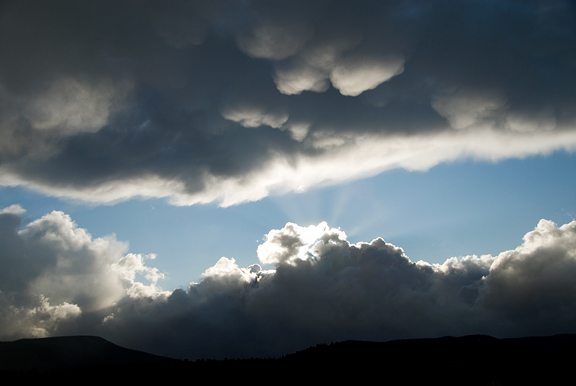 Well, I anxiously await the ski season. Kitt mentioned that A-basin opened last Wednesday. That's all well and good, but I'm not keen on skiing the White Strip O' Death. Right now it's just manmade snow down a single run with skiers and riders of all abilities crammed together. No thanks. I guess we're going to have another late start to the season.
we are ready for it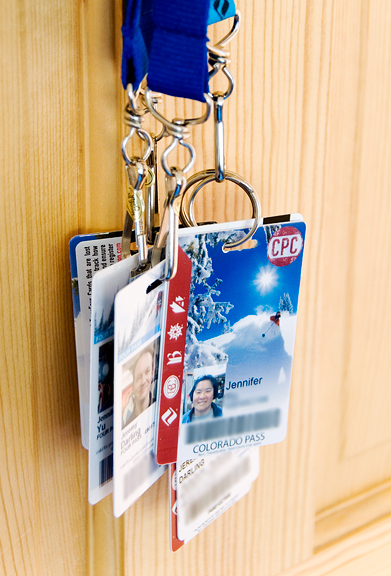 Ten more days of NaBloWriMo – we're more than two-thirds done! I'll announce the giveaway Friday and post the winner on HALLOWEEN! My *favorite* holiday.