Recipe: not so special roll
When Jeremy and I moved in together after I graduated from college, I cooked a lot… but I didn't cook. There wasn't much need to because we lived within spitting distance of more authentic ethnic dining establishments than I could shake a stick at. We were spoiled rotten. And all of the ethnic grocery stores in LA made it just as easy to get some of the homestyle goodies to take home and heat up. Very nice.

sushi rice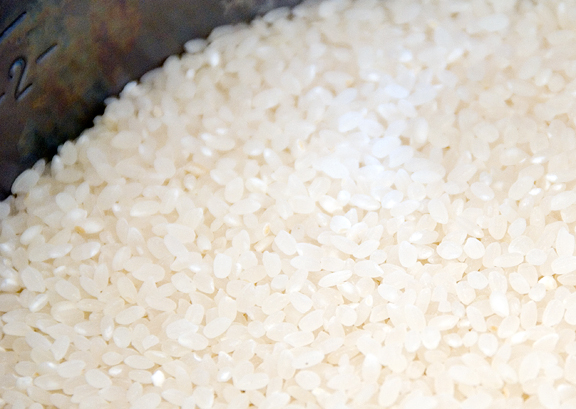 special nori from japan, courtesy of joyce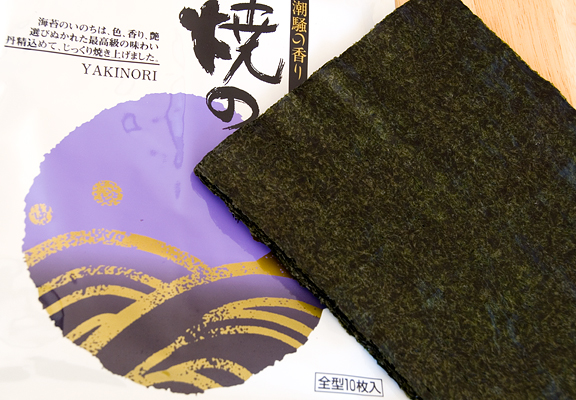 It was our move to Ithaca, New York that began my quest for "homemade". Baking wasn't the issue, it was the cooking. Despite the fact that most people I know gush about Ithaca, it was not my favorite place to live because the food was seriously… white. Some of it was really good (Aladdin's, Maxie's, Madeline's, Collegetown Bagels, Four Seasons), but there wasn't any authentic Chinese food, Mexican food, and the sushi – well, I thought it was outrageously priced and mediocre at its best.
10 count fresh dry scallops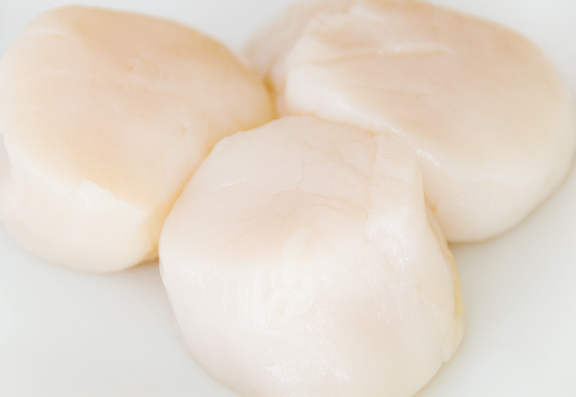 maguro (tuna)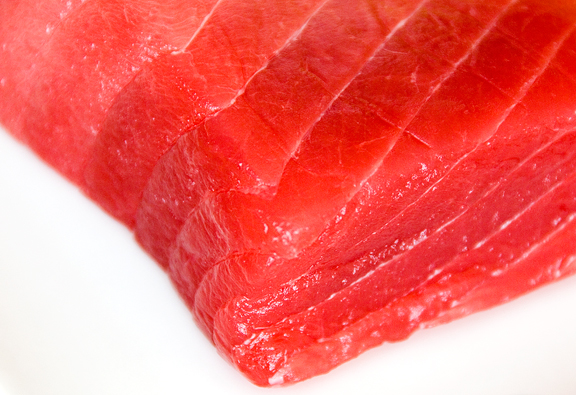 Most of my friends who love Ithaca know that I don't. We'll chalk that up to graduate school, which was a most stressful time in my life. I would wake up each morning for 6 years with my jaw clenched and aching. Cooking and baking were my stress relievers and it is no exaggeration when I say I baked thousands of cookies in my time at Cornell (I gave them away – because my workout regimen includes making everyone else fatter…). I also made an effort to reproduce dishes we used to get in Pasadena that we'd never find in Ithaca.
green onions, mayonnaise, sriracha, masago (fish roe)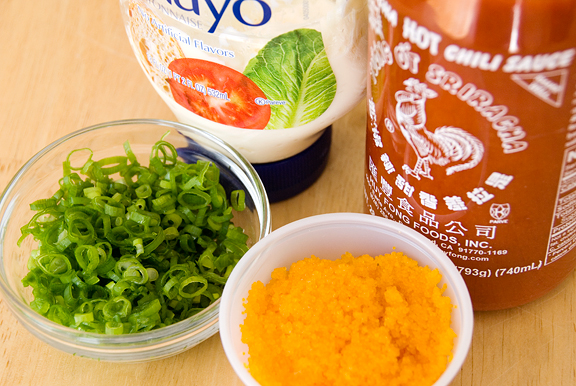 That is when I began to research and experiment with recipes and expand my cooking repertoire. The only place in Ithaca I would purchase fish from was Wegmans. They had sashimi grade tuna! We used to go out for sushi at least once a week and sometimes as much as three times a week back in Southern California. When we had sashimi or sushi for dinner at home, it was simple – but it was a treat.
chopped scallop with mayo and masago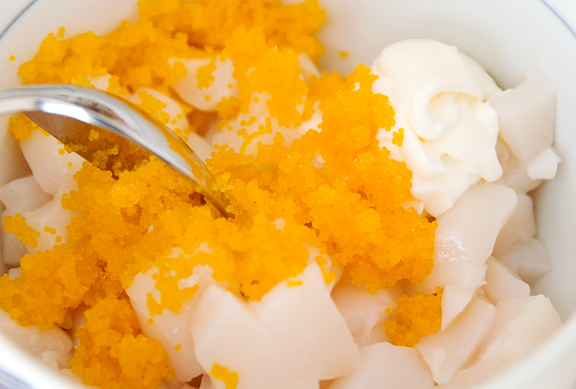 spicy scallop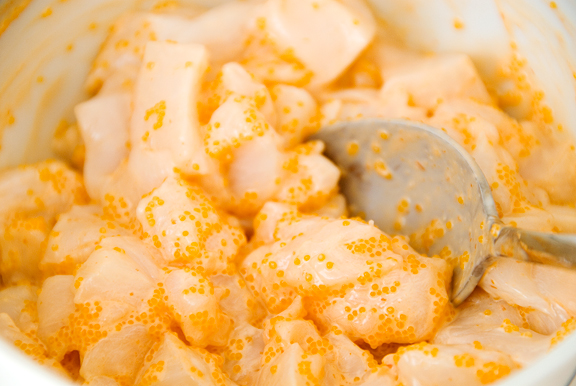 Imagine our joy when we moved back to Southern California. We frequented our regular sushi joint in South Pasadena (Ai). I know the service is slooooow, but we always sit at the bar and we are tight with the chef. We've known him for well over a decade. One of the more elaborate cut rolls on the menu is the Special Roll. It has spicy scallop and spicy tuna with avocado and masago inside, rolled in nori and rice then wrapped in halibut. It is to die for. It is also incredibly filling. I began to ask Fumito for that roll, but without the halibut – we called it the Not So Special Roll.
removing the silver sheets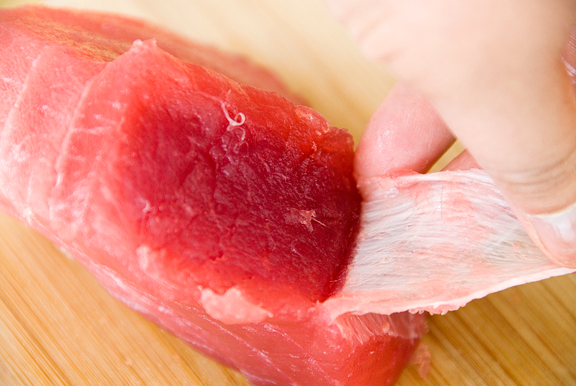 I paid closer attention to how Fumito prepared our sushi after we decided to move to Colorado. We had asked Fumito to consider moving Ai to Boulder, but we knew he'd freeze his butt off in the Centennial state.
tuna, green onions, mayonnaise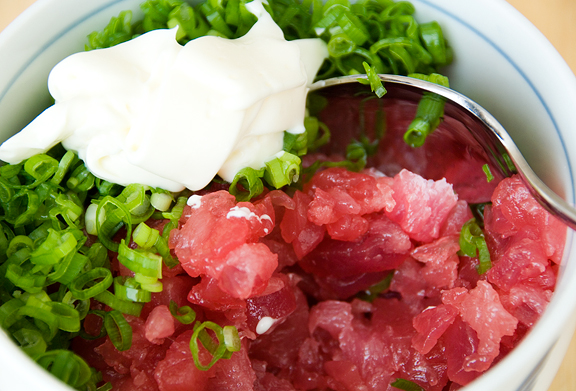 a little sriracha makes it spicy
Even though Boulder has a great selection of sushi bars, we still like to make our own sushi from time to time. It is always cheaper and a lot of fun to make. Jeremy seasons the rice while I chop and prep the rest of the components.
seasoning the rice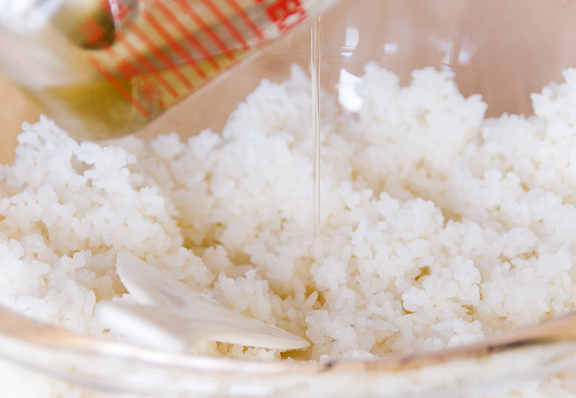 ripe avocado slices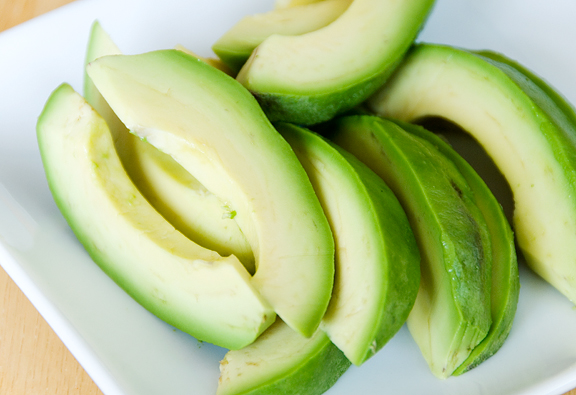 I purchase my seafood from the Whole Foods in Boulder. They receive fresh shipments almost daily and their seafood has never let me down. It never smells fishy. It smells like the sea, the way it is suppose to. I'm picky about the fish or shellfish I select. Rather than being annoyed, the boys who work the counter are delighted – even running into the back to bring out a better selection for me to choose from. Love those guys.
pressing the rice onto the nori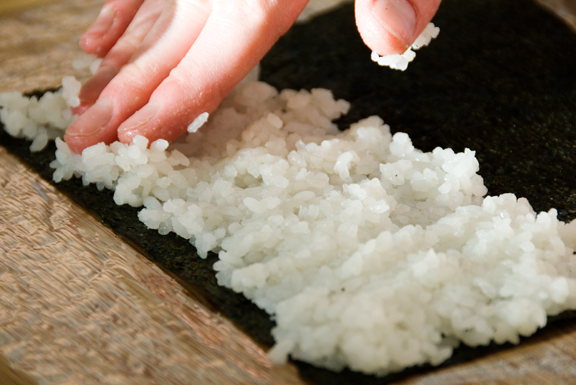 ready to roll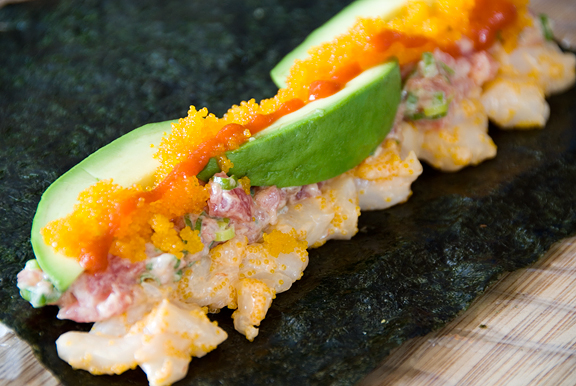 One of the reasons we enjoy this roll so much is because of the smooth and creamy mouthfeel when you eat a piece. Another reason is probably because we can consistently get good maguro and scallops at Whole Foods.
plastic wrap keeps the rice from sticking to the rest of the universe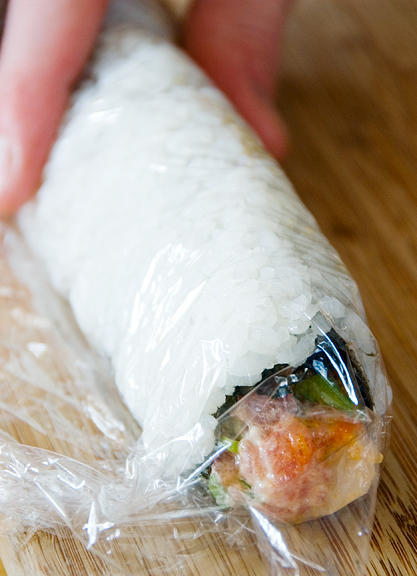 firm up the roll with the help of the bamboo mat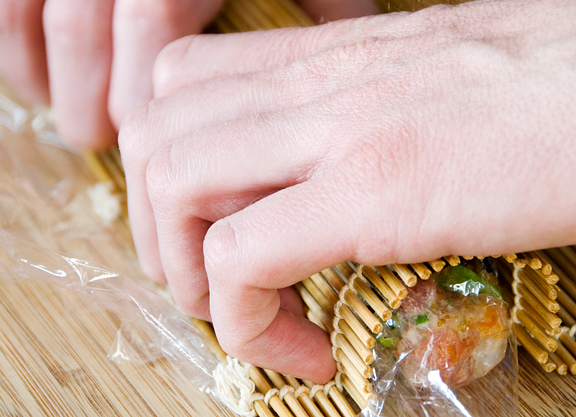 I'm sure we could easily request this roll at Sushi Tora, but there is a sense of satisfaction to be able to make a restaurant style meal at home for a fraction of the price. Now when we crave a particular dish, I can just put it on our menu instead of bemoaning the fact that we'd have to fly to California to get decent x, y, or z.
not so special, but so very delicious
Not So Special Roll
[print recipe]
2 cups sushi rice (uncooked)
2 cups water
3 tbsps rice vinegar
1 tsp salt
2 tbsps sugar
1 package of sheet nori
1/2 lb. maguro (tuna)
1/2 lb. large fresh dry scallops (dry = no water injected)
6 tbsps masago (flying fish roe)
1/4 cup green onions, minced
3 tbsps mayonnaise
1 ripe avocado, peeled, pitted, and sliced
Sriracha hot sauce (optional)
sesame seeds
wasabi
soy sauce
gari (pickled ginger)
*bamboo mat
Rice: I use a rice cooker. Combine the water and rice and cook per the instructions on your rice cooker. If you don't have a rice cooker, you can try these instructions (I've not done them myself): Wash, drain, and soak the rice in water for at least 30 minutes, then drain. Combine the rice and measured water in a saucepan and cover. Place the pan over moderately high heat. When the water boils, reduce the heat and cook for about 10 minutes. Turn off the heat and allow the rice to steam undisturbed for at least 10 minutes (don't remove the lid or you'll ruin it).
Dressing: Combine the vinegar, salt, and sugar in a bowl and stir until salt and sugar are dissolved.
Sushi Rice: Wet a mixing bowl large enough for the rice. Wipe off excess water. Wet the tub a second time with vinegared water (1 cup water + 2-3 tablespoons vinegar). Wipe off any excess. Heap the cooked rice in center. Allow rice to cool in the tub for 10 minutes. Pour the dressing over the rice and mix the dressing evenly with a large spoon or rice paddle. While mixing, fan the rice to cool it. The rice is ready to use when it reaches body temperature.
Spicy Tuna: With a spoon or knife, scrape the tuna meat from the silvery lining. Discard the silver lining. Roughly chop the tuna and mix with 2 tablespoons of mayonnaise and the green onions. Add a little Sriracha hot sauce to taste.
Spicy Scallop: With a spoon or knife, roughly chop the scallops into pieces. Mix in 1 tablespoon of mayonnaise and 2 tablespoons of masago. Add Sriracha hot sauce to taste.
Assembly: On a sheet of plastic wrap, set down one sheet of nori. With wet hands, grab a handful of sushi rice and evenly spread across the top 3/5 of the nori sheet, pressing the rice down to ensure it sticks to the seaweed. Sprinkle sesame seeds over the rice. Flip the nori over so that the rice faces down onto the plastic wrap. At the non-rice end of the nori, lay out a thin line of the spicy tuna leaving a little room on either end. On top of that, repeat with a line of spicy scallop. Layer avocado and masago and extra Sriracha if you want more kick. While it is tempting, don't overfill the roll. Roll the fillings up from the non-rice end of the nori (like a carpet) and continue to roll tightly, but not too tightly until the rice encompasses the entire outer part of the roll. Use the plastic wrap to help maintain shape without letting the roll stick to you. Use the bamboo mat to firm up the shape and compact the roll. Remove the bamboo mat and the plastic wrap from the roll. Dip a very sharp knife in water and cut the roll in half. Repeat until you have 8 pieces. Serve with wasabi, gari (pickled ginger), and soy sauce.
This makes at least 4 cut rolls. We usually make some hand rolls too, so it probably yields around 6-8 cut rolls in total.