Comments are now closed on the Fine Cooking giveaway. I will announce the winners tomorrow!
Yesterday was our special day. This anniversary (smoochiversary) means more to us than our wedding anniversary. I think we maintain a healthy attitude about our relationship such that none of these dates are anything more than occasional mile markers on a long-distance road trip. It's not the special dates (birthdays, anniversaries, Valentine's Day) that matter to me so much as the days in between – the ordinary days. Our ordinary days are great such that our special days don't seem too different. I prefer that to the manic rush our society imposes on people to do/buy "something special" on That Special Day and then those very people behave like jerks to one another the rest of the year. So when I asked Jeremy if there was anything he'd like to do Saturday, he said he wouldn't mind going to L'Atelier for dinner.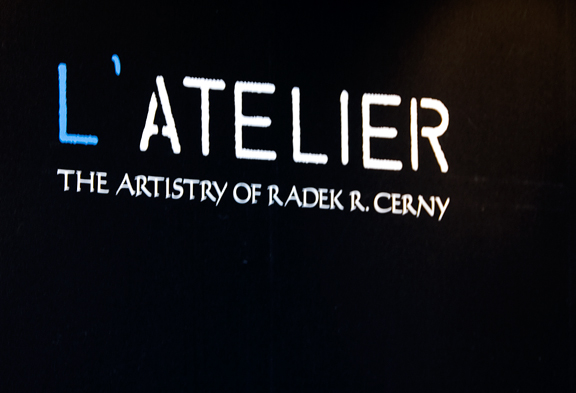 One of the biggest problems I have with Boulder's finer dining establishments isn't a problem at all: I cannot name my favorite restaurant in Boulder. I am hard pressed to even name the top 5 because there isn't enough room for the 10 that I think should be in the top 5.
L'Atelier
ranks up there with the best of them. We had been there once before in the spring to try their Staff Meal (Monday nights) which we enjoyed thoroughly. We couldn't wait to go back.
cozy interior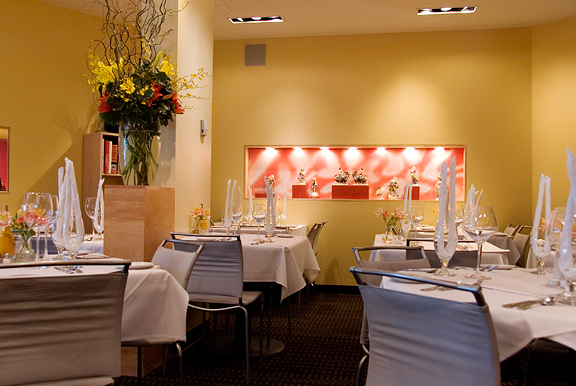 The restaurant is small with enough seating for about 50 people. It was the host at L'Atelier the first time we dined there, who turned me on to
Art Culinaire
. The staff are friendly and numerous, managing to shimmy between the tables effortlessly while performing their tasks. After we were seated, the host presented us with a stack of menus: the starters menu, the regular menu, the degustation menu, the special starters menu, the specials menu, and the wine list. The selection of specials was almost as large as the selection of regular items. We ordered a half bottle of Pascal Jolivet Sancerre 2007 ($25) and nibbled on the mildly tangy and crusty bread they served.
hand cut tuna tartare with orange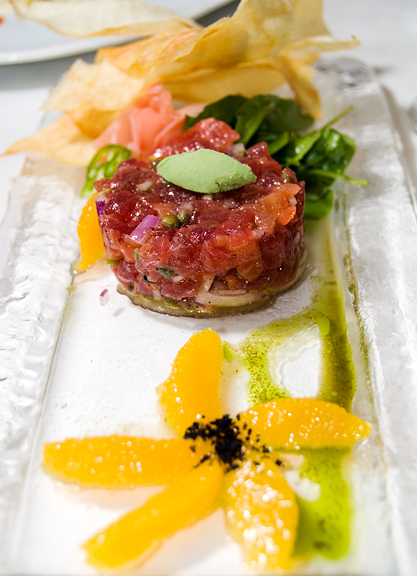 I began with the tuna tartare ($14) which was presented as a kaleidoscope of colors and flavors. The tuna was buttery and fresh, mixed with capers, tomatoes, red onions, oil, and light seasonings. None of the components dominated, but they all contributed to the overall flavor. The little flourishes of citrus, greens, wasabi, pickled ginger, and crisp potato strips on the side added not only to the visual artistry, but to the culinary aspect. Everything was perfectly balanced in sweet, salty, tangy, bitter, and texture.
lobster ravioli with beurre blanc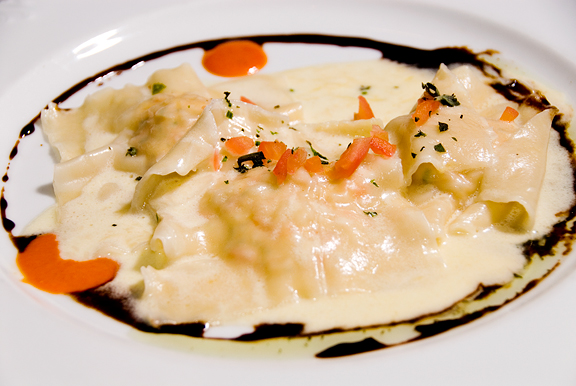 Once we had decided that we were going to L'Atelier for dinner, Jeremy declared, "I am going to order ravioli." Their ravioli is something else. Not only tender, paper thin pasta, but satisfying fillings adorned with sauces rich in flavor and appearance. We have enjoyed amazing ravioli at Frasca's before (just across the street), but L'Atelier is quite generous in their servings compared to their similarly (or higher) priced competition. Jeremy chose the lobster ravioli ($12) starter and kept interrupting my reverie in the tuna tartare with "this is sooooo good!" and "do you want to try another bite?".
special: tasmanian pan roasted salmon with wild mushroom ravioli and asparagus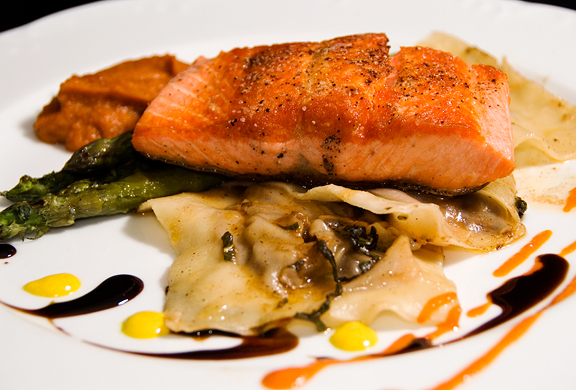 The service was professional, attentive, and polite. By the time our entrées arrived, the restaurant was packed on a Saturday night and the place was loud (Jeremy thinks sound absorbing ceiling tiles might help). Wait staff were crisscrossing the dining room – not a one standing idle. They saw to any patron's need and worked the restaurant like a well-oiled machine. I could not help but notice other plates being set down on the tables around us. Each dish was a work of art. Jeremy and I both ordered our entrées from the specials menu. I am pretty sure Jeremy's motivation for ordering the Tasmanian salmon ($26) was because it came with wild mushroom ravioli. Those ravioli were out of this world amazing. There were some grilled asparagus spears and a dollop of spiced pumpkin purée which gave the whole dish an autumny feel. The salmon was cooked just enough and the outside sear lent a wonderful crispiness to the fish.
special: pan seared day boat diver scallops on black quinoa with sautéed arugula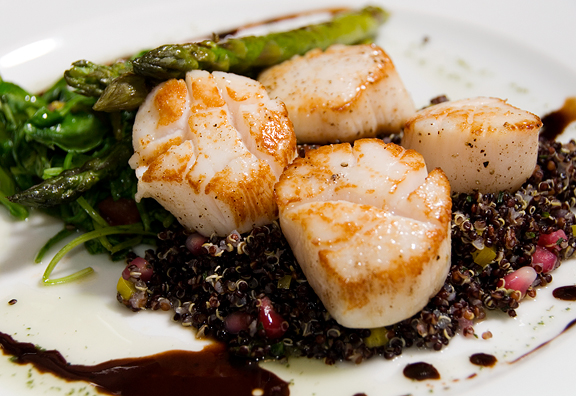 It is almost ludicrous how fresh the seafood can be in Boulder – over 1000 miles from the ocean. Many of our favorite restaurants here serve up top notch seafood and I am so very grateful for that. For this reason, I don't hesitate to order pan seared scallops ($26) at a place like L'Atelier. When the first bite hit my tongue, my mouth flooded with juices. Really good seafood tastes sweet and these scallops were sweet, delicate, buttery, juicy, tender – cooked to perfection. The black quinoa had a pleasant crunch and pop with hints of nutty flavor. Mixed into the quinoa were bits of tomatoes, oranges, and pomegranate seeds. I love how these added ingredients brought forth a jewel-like appearance to the salad as well as greater depth of flavor and texture. I also enjoyed several spears of grilled asparagus and some refreshing sautéed arugula dressed in a little vinegar. Everything on the plate played nicely together.
chocolate raspberry miroir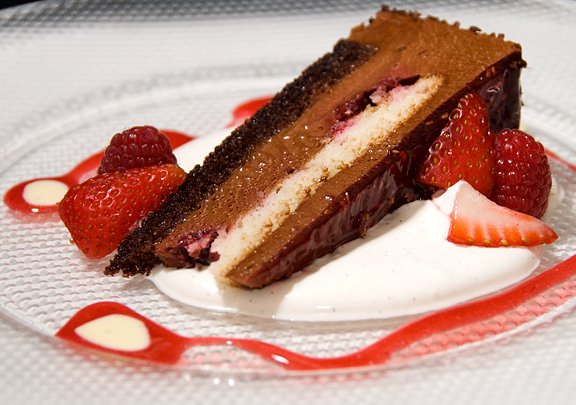 I was curious to see the miroir cake since I had made a lemon mirror cake before. I have been quite disappointed in some pastry chef creations around Boulder. I think this is common among my buddies who do a lot of baking – we want to be wowed for $7, $8, $10 a dessert. Wowed means, "this is better than I could have made." And so we were wowed by Jeremy's chocolate raspberry miroir ($8.50) served atop a cloud of soft almond meringue, because it all worked together so beautifully on the plate as well as in your mouth. The cake was not overly sweet, which I think is the best way to serve fine chocolate confections and pastries. The chocolate mousse dissolved in my mouth and the cakes were moist with enough presence to anchor the entire cake. My only (minor) complaint was that the raspberry miroir could have been de-seeded.
Jeremy enjoyed a cup of regular coffee ($3) with his dessert and described it as very dark roast without a hint of bitterness or acid. He said it was one of the two best coffees he has had in a Boulder restaurant (the old Laudisio is the other).

burnt cream angelina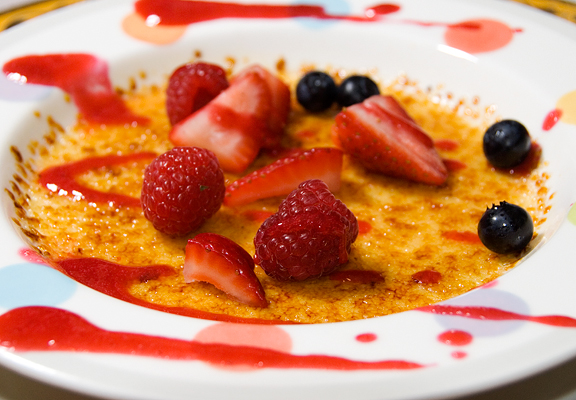 When the dessert menu was presented, I didn't really want to order dessert for the eating. Our standard practice when reviewing a restaurant is to each order a first and second course, then dessert. Jeremy wound up finishing my plates and he said he would do his best to finish my dessert. I went for the burnt cream angelina ($8.50) which was crème brûlée. For some reason I thought it might be something else. Had I known it was crème brûlée, I would have opted for the chocolate bag (to compare with the one the Flagstaff House serves). My dish was great, but I would not pay that kind of money for something I can make blindfolded for a fraction of the cost. That's just me. This crème brûlée was wide and shallow to maximize the surface area of caramelized sugar. The berries were amazingly full of flavor considering the late season.
In the end, we were feeling a lot of love for L'Atelier. Each dish set before us was a little masterpiece in itself. You can't help but marvel at the visual and culinary artistry. It is easy enough to walk in and enjoy a fantastic meal here, but if you *think* about what goes into it for just a second, you start to appreciate the genius behind it all. And while chains like The Cheesecake Factory with their gargantuan servings and overdone mediocrity make me want to vomit, it is nice to see that L'Atelier serves up generous portions worthy of the price paid.
L'Atelier
1739 Pearl Street
Boulder, Colorado 80302
303.442.7233
November 1, 2008
French, Bistro, Seafood
$133.22 (including tax, not tip) for two diners
Rating: 99/100 (A+)