Recipe: roasted butternut squash soup simplified
I know a lot of people are traveling today. I hope everyone got to or gets to their destination safely and without incident. We are staying put – the way we like it. Keeps things low key and stress free. I went to the dentist this morning to get fitted for a crown and realized that after an hour, I could feel my gums again. So I think that may be why I suffered such immense pain yesterday because my dentist was jamming the posts down my root canals about 2 hours after she numbed my mouth. *Great* I love it when that happens! Today was a walk in the park by comparison.
While most folks are preparing their turkeys, we have been contemplating the leftovers (there are a lot) as well as eating them. Those potatoes au gratin really do get better with time.

turkey reuben, anyone?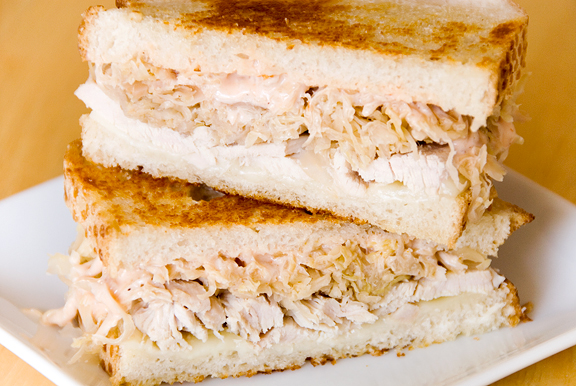 The salad I made was a very simple toss of mixed salad greens, orange slices (supremed), and pomegranate seeds. The dressing was inspired by my beautiful aunt, Elena, who is a KICKASS cook. When we were visiting just a few weeks ago, she gave me a bottle of lemon grapeseed oil before we left (she is also the one who provided me with truffle butter – I just love the woman).
so fragrant and delightful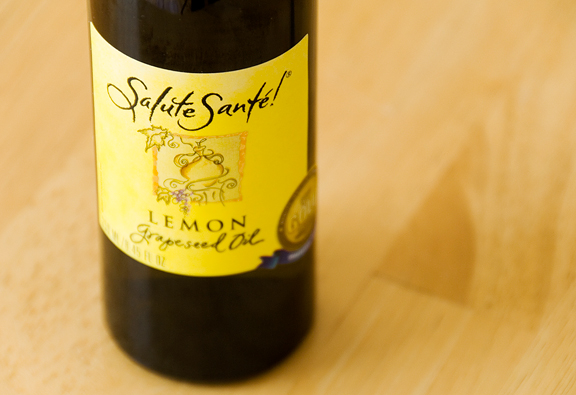 Elena suggested making a simple vinaigrette with orange juice and the oil and a few other ingredients. I just stuck with the oil and juice: 1/2 cup fresh orange juice and 1/4 cup oil – I like my dressings on the watery side. A sprinkle of fresh ground pepper and it was good to go. A very nice and light contrast to heavier traditional Thanksgiving fare.
unplanned: butternut squash
So while I was gathering groceries for our dinner, I walked past the heap of butternut squashes and a moment later I had one cradled in my basket. I quite love butternut squash, but never seem to cook much with it. My
last attempt at a butternut squash soup
left me feeling "meh". I wasn't a fan of the sweetness from the apples.
roasted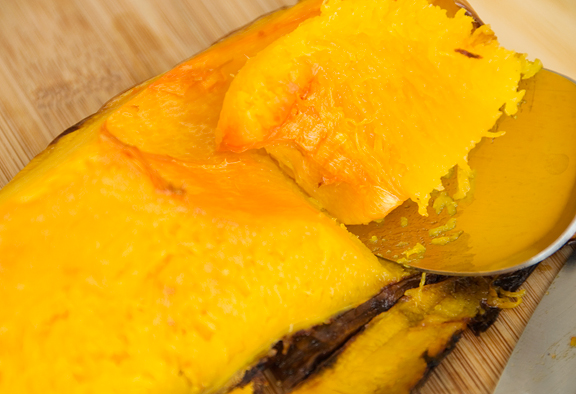 puréed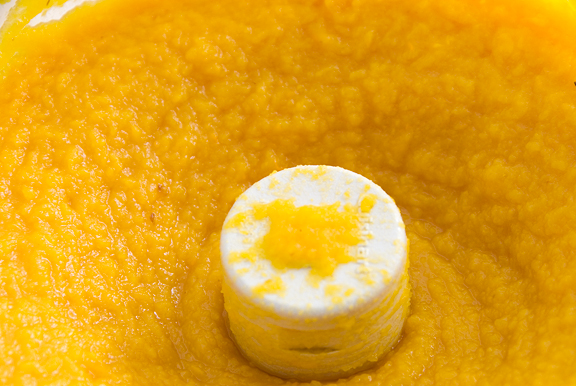 This time around I decided to omit the apples and keep it simple: butternut squash, onions, bacon, chicken broth. Easy peasy. In this case, I quite prefer to let the butternut squash be the star of the recipe, not to mention it has been great to slurp down while I let my tooth recover.
sautéed onions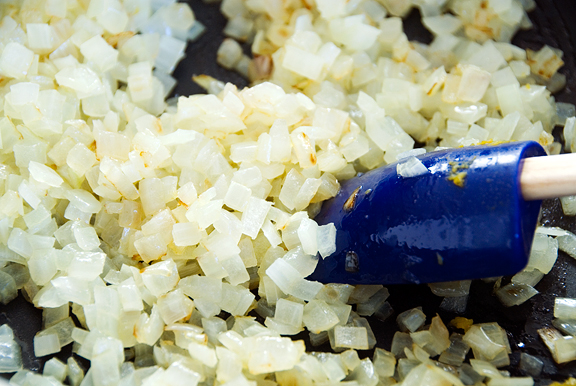 precious bacon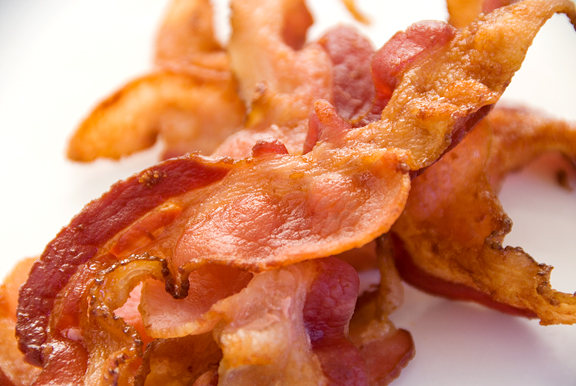 There are days when you go chunky and days when you go for smooth – this version was as smooth as my Cuisinart could get it. I puréed the roasted squash and onions with a little chicken broth until the big visible lumps were gone. A lot of recipes say to crumble the bacon, but I wound up chopping the hell out of it. Tasty.
stir in the bacon last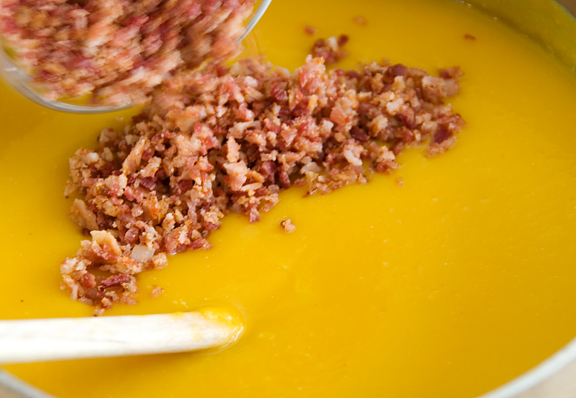 While I love the idea and the taste of adding cream to soups, I generally try to avoid it with butternut squash. I think the squash has such a nice texture and flavor that the addition of cream isn't necessary (although it is admittedly delicious). Not to mention there was enough cream in the potatoes to last us a month… I found this version of roasted butternut squash soup to be far more satisfying than the last one without sending me over the edge toward food coma land.
plenty creamy on its own
Roasted Butternut Squash Soup Simplified
[print recipe]
4 lbs. butternut squash, quartered and seeded
2 tbsps olive oil
1 onion, diced
6 slices bacon, fried crisp
1 quart chicken broth
salt to taste
Roast the squash on an oiled baking sheet in a 400°F oven for 45 minutes to an hour until soft. Remove from oven and scoop the flesh from the skin. Discard skin. Heat olive oil in a sauté pan (or if you want to be naughty, use some of the bacon grease) and fry the onions until translucent and soft. Place the squash and onions in a food processor and process until smooth, adding chicken broth as needed to keep it fluid. Pour the contents into a medium saucepan and add enough chicken broth to achieve the desired consistency. Heat over medium heat until steaming. Crumble or mince the bacon and stir into the soup. Add salt to taste. Serve hot.