Recipe: tora no maki roll
Thanksgiving is about food, loved ones, and giving thanks. We have the food in spades, loved ones too – although we're not with friends or family today. And then there is the thanks. I have a lot to be thankful for.
I got my breast cancer diagnosis just over a year ago, right before Thanksgiving. We were waiting for biopsy results and so Thanksgiving was a bit of a bust. While we had a quiet holiday that year – just me, Jeremy, and the dog – the uncertainty of our future and of my life hung heavily over the day. There was no point in crying, no point in making any plans because all we could do was wait and keep a level head about it. It was surreal, but at the same time I would rather it be me than anyone else I cared about. My treatments turned the past year on its head. Jeremy and I forged through it together, but chemotherapy was an incredibly isolating, dismal, freakish experience: physically, emotionally. While I pride myself in my ability to reach from within for the strength to plod through shitty times, I could not have gotten through it on my own.
I thank every day that I have Jeremy in my life. I will be forever grateful to those loved ones who were there for me when I needed them most. I'm thankful for my tele betties who gave me something to look forward to each week when I began my chemo. I'm thankful for my awesome physicians, nurses, radiation techs, and PT. I'm thankful for the incredible friends I have made (and even met!) through this blog and for all of the use real butter readers who make me laugh and cry and laugh some more. And lastly, I am thankful to be alive and relatively well. Well enough to hit the slope today…

getting my tele legs back this morning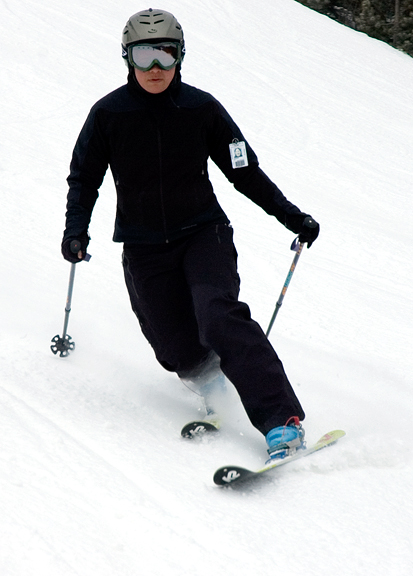 happy thanksgiving, everyone!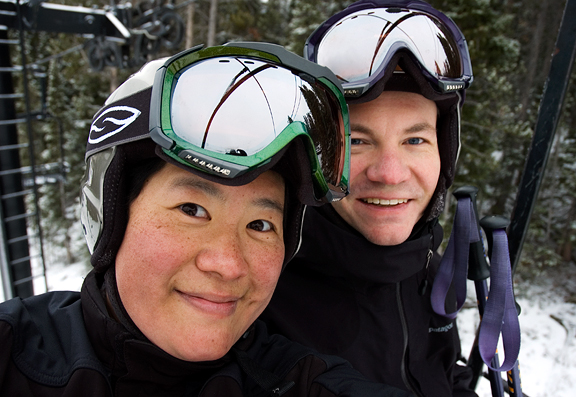 I say "slope" instead of "slopes" because our local hill has only ONE run on the big mountain open right now. Slim pickins as far as snow goes, but we're getting a little snow over the holiday weekend. Anyway, skiing is the reason I
made turkey dinner on Monday
, because I didn't want to babysit a turkey today. I'd rather ski than roast a turkey any day. But a girl has gotta eat, right?
we started with some grilled prosciutto-wrapped shrimp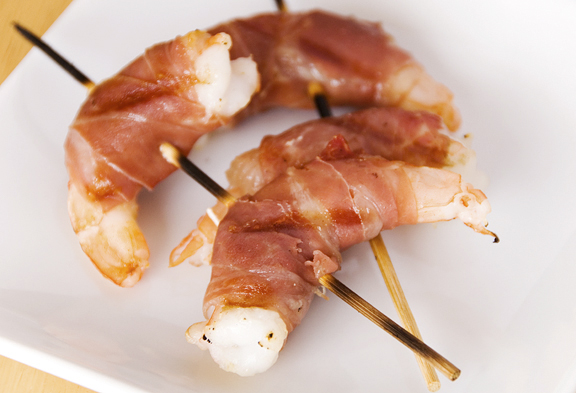 and then sake (salmon) sashimi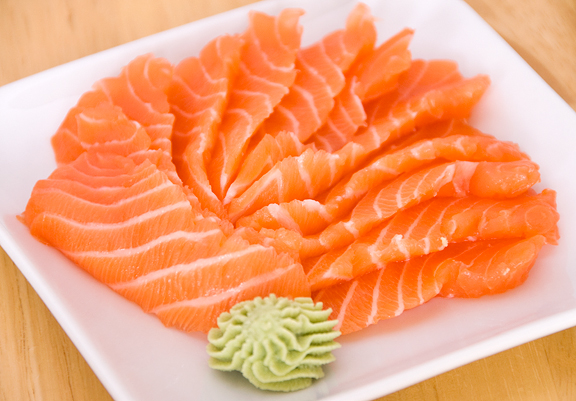 One of our favorite rolls at Sushi Tora is their tora no maki roll. It combines creamy and crunchy textures, sweet and salty flavors, and cool and warm temperatures all in one delectable bite. Today was the first time we made the roll at home.
it's an inside-out roll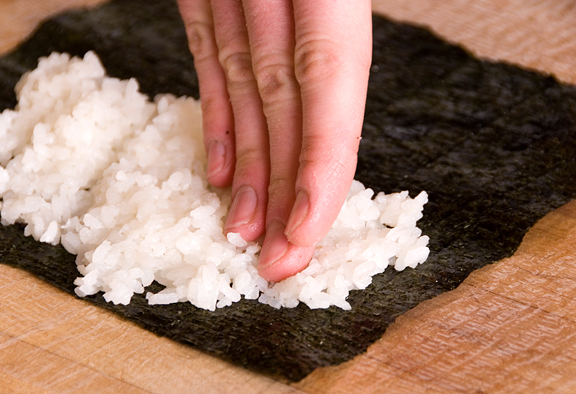 sake (salmon), unagi (eel), avocado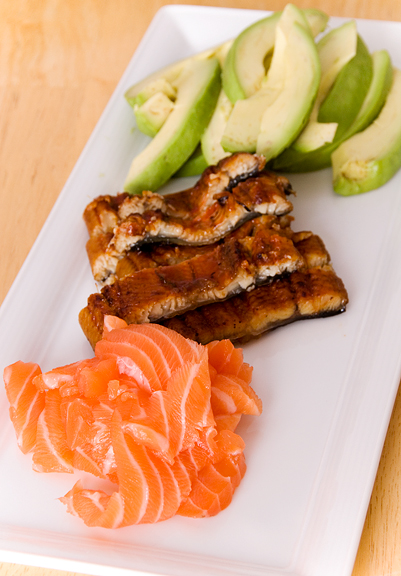 The assembly is much easier than the
not so special roll
because there isn't any mixing required. After spreading the rice on part of one side of the nori, Jeremy flipped the sheet over and layered avocado, salmon, and masago (flying fish roe). He rolled it up in a sheet of plastic wrap and a bamboo mat so it's compact and generally cylindrical in shape.
filling the roll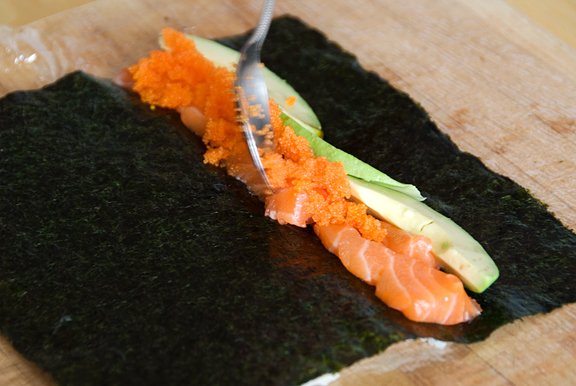 roll it up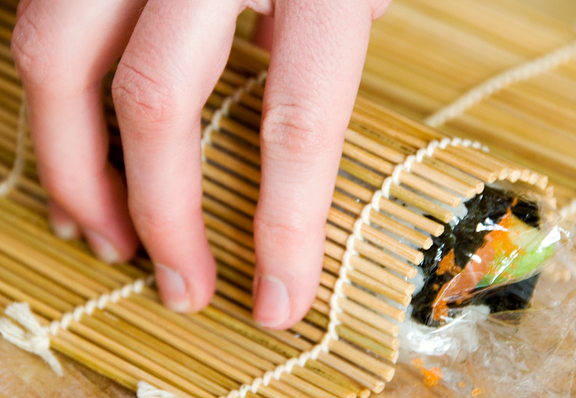 After unwrapping the roll, we set a layer of unagi on top of the roll, covered it with the plastic wrap, and pressed it again with the bamboo mat. I typically like to keep the plastic on when I slice the roll – it keeps things from getting unbelievably messy. Then when I'm done slicing, I just peel the plastic off. The one thing I have not been able to find in stores is the sauce that sushi chefs always brush on barbecued eel. So I finally went searching through my two Japanese cookbooks and found a sauce that I could make at home. SCORE!
placing the unagi on top of the roll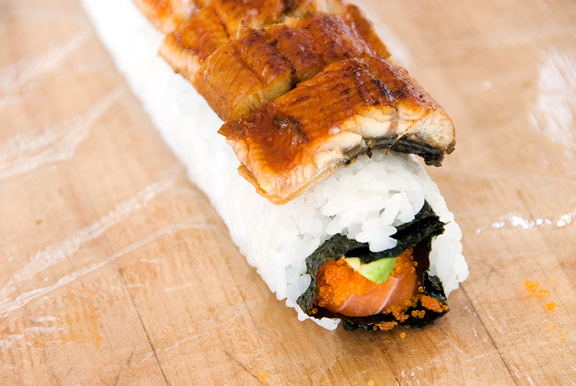 brushing on the sweetness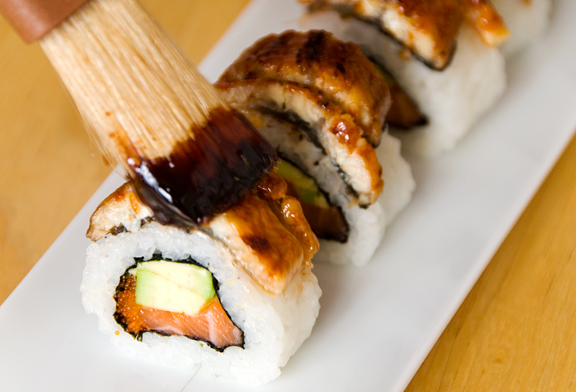 The toro no maki was fantastic and we had enough unagi to make two rolls. I feel as if I've achieved a small victory though, because I can now make my own sauce for the eel which goes beautifully with tons of other sushi like tamago and tempura. Yipeee!!!
turkey day, my way
Tora No Maki Sushi Roll
[print recipe]
4 cups cooked, seasoned sushi rice
1 package of sheet nori
1/2 lb. sake (salmon), sliced into 1/2-inch thick strips
1 lb. unagi (eel), sliced into 1-inch strips
8 tbsps masago (flying fish roe)
1 ripe avocado, peeled, pitted, and sliced
eel sauce
toasted sesame seeds
wasabi
soy sauce
gari (pickled ginger)
eel sauce
6 tbsps soy sauce
4 tbsps mirin
2 tbsps brown sugar (or caramelized sugar syrup)
dash of rice wine vinegar
To make the eel sauce: Combine ingredients in a small saucepan and bring to boil. Let boil for a minute or so and reduce to simmer until slightly thickened. Let cool (it will thicken some more, so don't boil it down too much).
Assembly: On a sheet of plastic wrap, set down one sheet of nori. With wet hands, grab a handful of sushi rice and evenly spread across the top 3/5 of the nori sheet, pressing the rice down to ensure it sticks to the seaweed. Flip the nori over so that the rice faces down onto the plastic wrap. At the non-rice end of the nori, lay out salmon, avocado, and masago, leaving a little room on either end. Take care not to overfill the roll. Roll the fillings up from the non-rice end of the nori (like a carpet) and continue to roll tightly, but not too tightly until the rice encompasses the entire outer part of the roll. Use the plastic wrap to help maintain shape without letting the roll stick to you. Use the bamboo mat to firm up the shape and compact the roll. Remove the bamboo mat and the plastic wrap from the roll. Heat the eel in an oven until very warm. Place a single layer of eel on top of the roll and then cover with plastic wrap and bamboo mat to press the eel to the roll. Remove the bamboo mat. Slice through the plastic wrap with a very sharp knife dipped in water, to get 8 even pieces. Brush eel sauce on top of the pieces and garnish with sesame seeds. Serve with wasabi, gari (pickled ginger), and soy sauce. This should yield 4 cut rolls.