Recipe: earl grey tea cookies
We had a wonderful upslope that delivered nearly a foot of fresh powder on the local hill and a half foot at the house. All of this WITHOUT WIND. That's quite a feat for our area as the wind is almost always an ever-present menace. However, it was cold. I am talking *ass cold*.

that's probably off a few degrees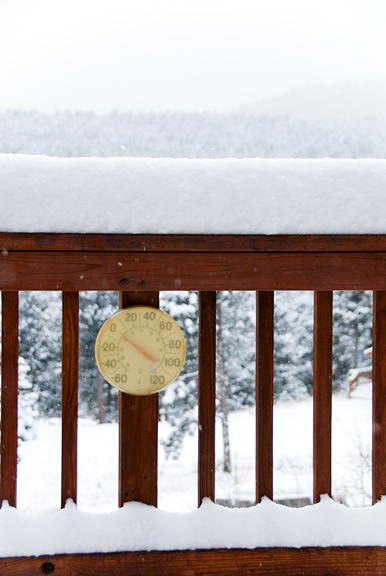 Jeremy and I spent the morning skiing and enjoying all of that wonderful powder as it continued to rain down on everything. After a while it did get mighty chilly seeing as it was 6°F in the parking lot (that's -14°C for the metric world).
kaweah checkin' out the snow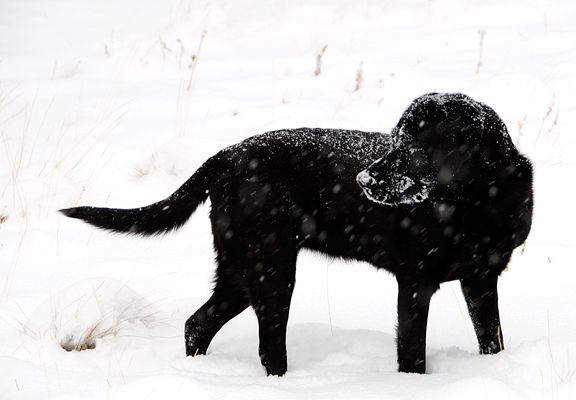 riding up the mountain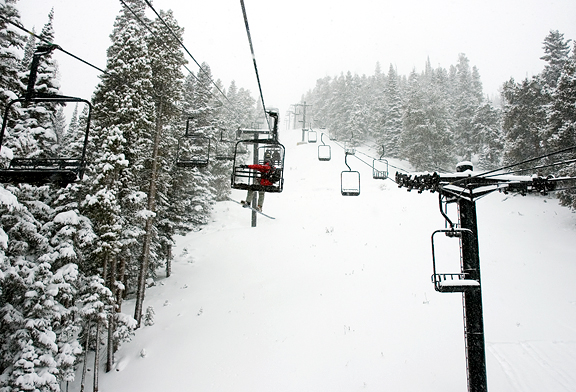 I don't know about you, but come December, I feel as if I need to be up to my elbows in sugar, flour, butter, and eggs. We don't celebrate Christmas, but I make a concerted effort each year to send homemade goodies to certain people: staff, grad students, services, my doctors… to let them know they are appreciated. That means I casually spend the entire year auditioning recipes for the big distribution. I try to get a good cross section of flavors and textures.
earl grey tea and orange peel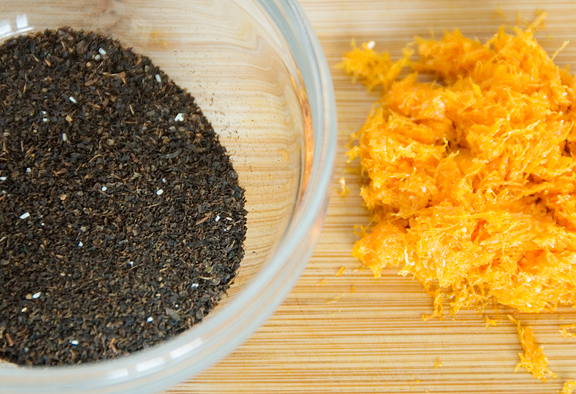 And really, there is nothing more perfectly suited for a thank you gift than homemade cookies (or candies – but candy making makes me cuss… a lot). My problem is that I don't like to repeat cookies from the previous year. While I'm sure plenty of people would be perfectly happy with chocolate chip cookies every year, I'm always looking to mix it up. I want to expand *my* arsenal of recipes and *their* exposure to new cookies.
butter, confectioner's sugar, and orange peel start the dough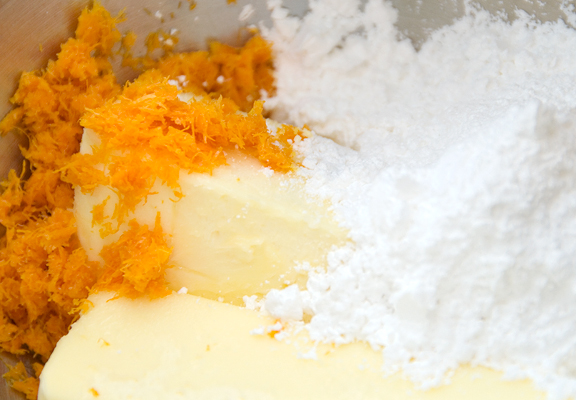 orange and creamy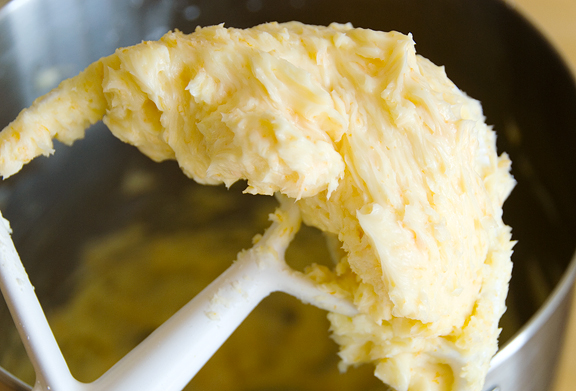 Recently, I made a batch of Earl Grey tea cookies from Martha's Cookies book. When Jeremy isn't pumping dark roast coffee or espresso into his veins, he likes to sit back with a cup of Earl Grey… hot. (Ah Picard, you are like no other.) What a great idea to put the tea in the cookie!
mixing earl grey tea into the dry ingredients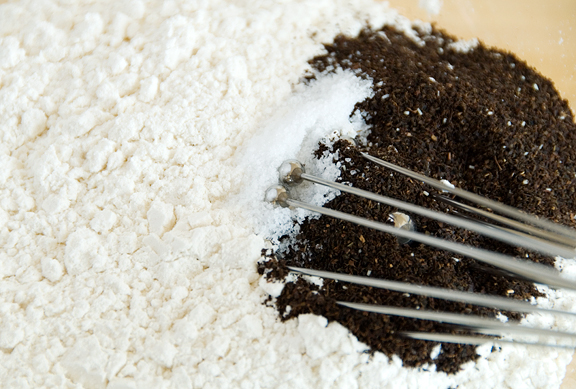 The orange peel is supposed to enhance the bergamot oil in the tea. I used Twinings Earl Grey tea bags for the recipe, although I know that's slumming it. What I should do is get my grubby little hands on some good British whole leaf Earl Grey and grind it up for the dough.
make a log of the dough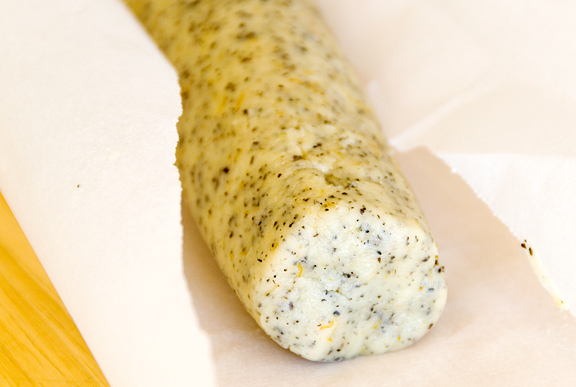 In general, anytime I make an Earl Grey flavored pastry or confection, it is always so subtle… weak. This cookie was no exception. It tastes more like orange than Earl Grey. I realize that orange and bergamot are very similar, but they aren't the same. Any thoughts on how to up the Earl Greyness of a pastry? Should I just go for bergamot oil?
slice the dough for baking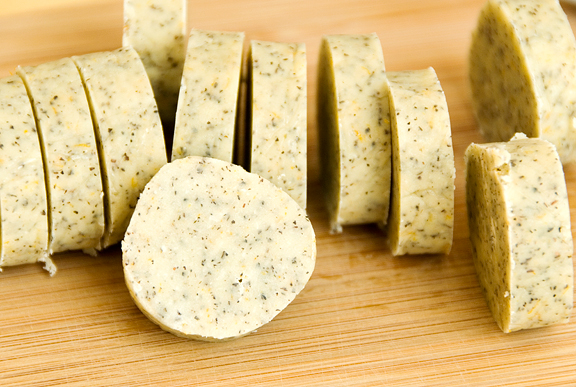 Despite the weak presence of the Earl Grey, the cookie is very nicely orange and delicate. Perfect with tea or coffee. It will go on the holiday cookie list this year. I think I owe it to Jeremy to try the recipe again with some serious Earl Grey tea though…
eat the tea
Earl Grey Tea Cookies
[print recipe]
from Martha Stewart's Cookies
2 cups flour
2 tbsps finely ground Earl Grey tea leaves (from about 4 bags)
1/2 tsp coarse salt
1 cup (2 sticks) unsalted butter, room temperature
1/2 cup confectioners' sugar
1 tbsp orange zest, finely grated
Whisk together flour, tea, and salt in a bowl. Beat together butter, confectioners' sugar, and orange zest on medium speed until pale and fluffy (about 3 minutes). Reduce speed to low and gradually mix in flour mixture until just combined. Divide dough in half. Transfer each half to a piece of parchment paper and shape into logs. Roll in parchment to 1 1/4 inches in diameter. Freeze until firm (1 hour). Preheat oven to 350°F. Cut logs into 1/4 inch thick slices. Space 1 inch apart on baking sheets lined with parchment (I skip the parchment). Bake cookies, rotating sheets halfway through, until edges are golden, 13 to 15 minutes. Let cool on sheets on wire racks. Cookies can be stored in airtight containers at room temperature for up to 5 days. Makes 8 dozen.