Recipe: vanilla bean caramels
I'm learning. The reason I keep making these confections that I swore to never make again is because I think I'm really close to getting them right. First time I made orangettes, it was a success. Second time, they were rocks. This time – I think I got it. I just finished hand-dipping 160+ candied orange peels. I wouldn't go to the trouble to make these except people seem to love them and they are one of Jeremy's favorites.

candy making is a bitch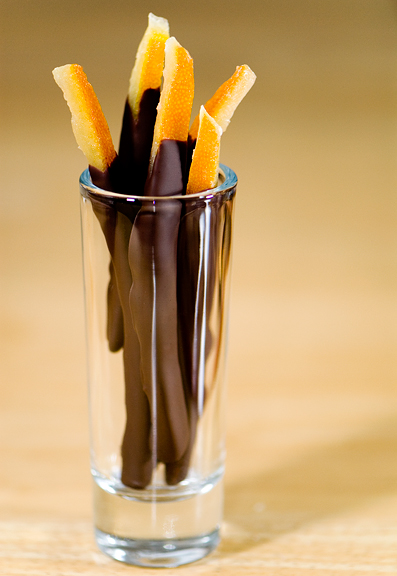 Today, I made a lot of headway into the list of baked goods and confections. That's good, because yesterday I blew off baking entirely. There was fresh powder, so I met one of my tele betties on the hill. It was her birthday!
rippin' at 49 – get it, girl!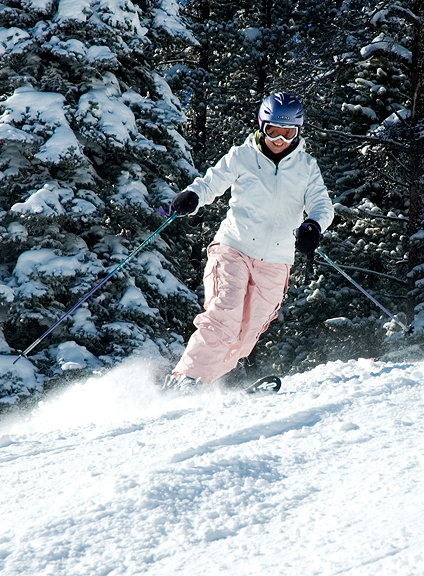 After skiing, we had a laaaaate lunch at The Kitchen, in Boulder. Oh boy, how I love the après ski. Their food is so unbelievably good.
their garlic fries are the best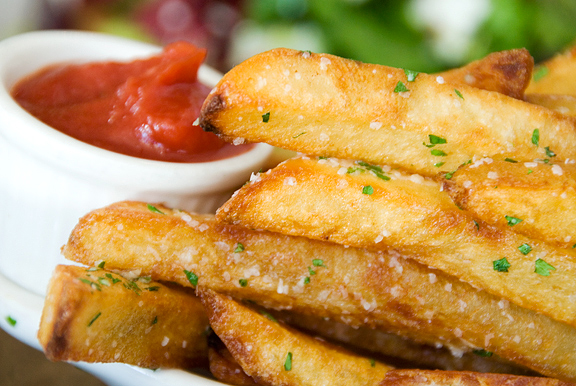 roasted beet salad with chevre and hazelnuts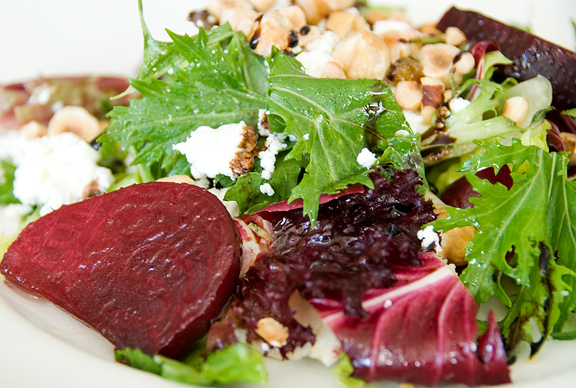 There are three pounds of Grand Marnier truffles waiting to be enrobed tomorrow. Ugh – tempering chocolate makes me nervous… and insane. But it's all moving along on schedule. Hopefully this time tomorrow I will be DONE. While I typically like to sprinkle savory recipes in with the sweets, I figured I should post the sweets now in case anyone else is
crazy enough
interested in making these for the holidays. So let's get on it.
vanilla bean and cream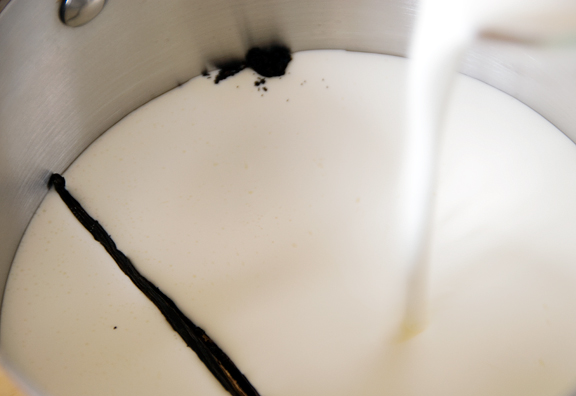 People marvel that I am indifferent to chocolate, but there you have it. I like making things with chocolate and I'll taste it to make sure it's not crap, but I am not one to sit there eating half of the batter or frosting or glaze… But caramel is another story altogether. Until last week, I had never made caramels. Caramelized sugar, sure – but not REAL caramel.
sugar and corn syrup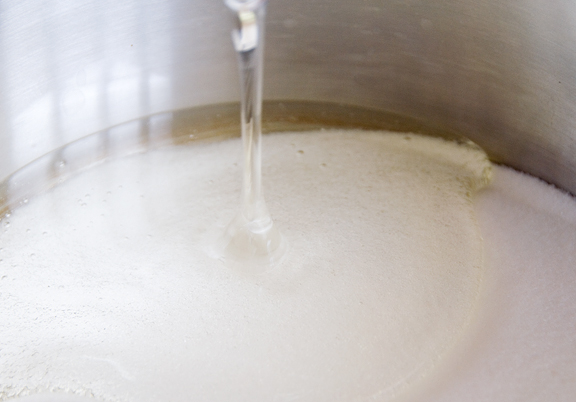 This recipe was an optional part of last month's Daring Bakers Challenge. The original recipe called for golden syrup. Being a yank, I had no idea what golden syrup was and could not find it anywhere. So I punted the optional part of the challenge. On our reveal day, I saw that my dear
Tartelette
had made the caramels and substituted corn syrup for golden syrup. I learn something new from that woman every day! At last, caramels were within my grasp.
boil the sugar to an amber color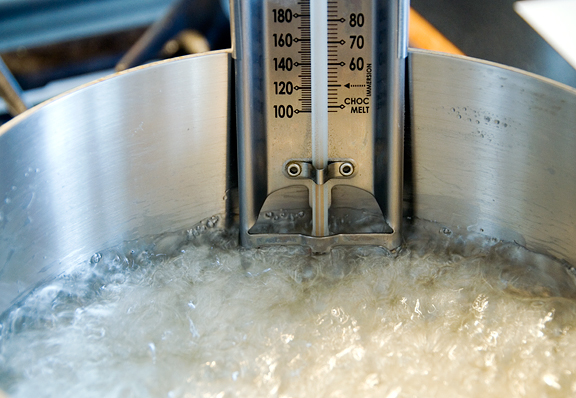 My first attempt was the vanilla bean caramel version. They came out pretty hard and I know that had to do with the final temperature. I subtract 17 degrees from any temperature point in the recipe due to my elevation, but it also didn't help that I read my candy thermometer incorrectly. Doh! But they had awesome flavor. My second attempt was to make Grand Marnier caramels. Honestly, I can't taste the Grand Marnier. I feel like I have to empty the whole bottle in there…
stirring in the butter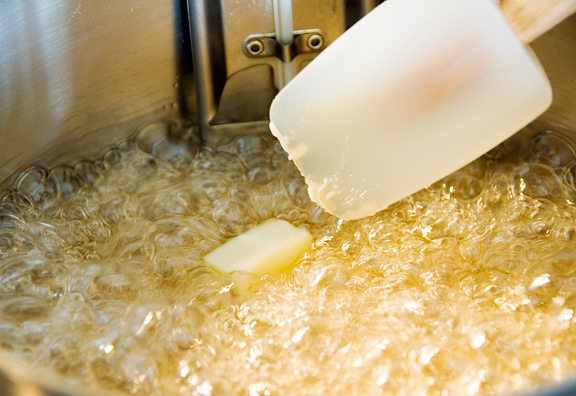 That second batch was cooked to a lower final temperature, but it still rose another ten degrees after I took it off the stove and was pretty hard (well, they soften up in your mouth, but these things will destroy dental work should you try to bite into them). Chopping them gets a little scary because they are pretty brittle.
after adding the cream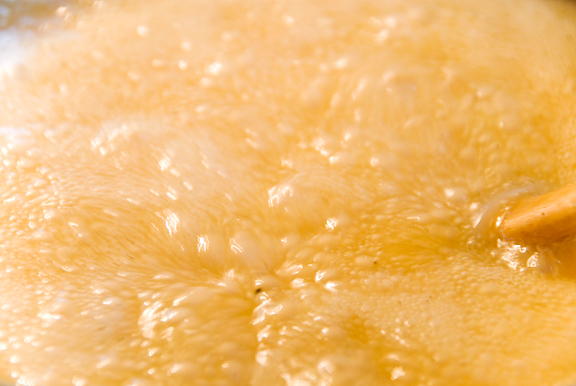 On my third try (third time is a charm?) I took the caramel off the stove quite early. This time, they were soft and chewy caramels, but a complete nightmare to cut up – even with a buttered knife. Oy. Veeeeeery sticky.
pouring the caramel into a greased, foil-lined pan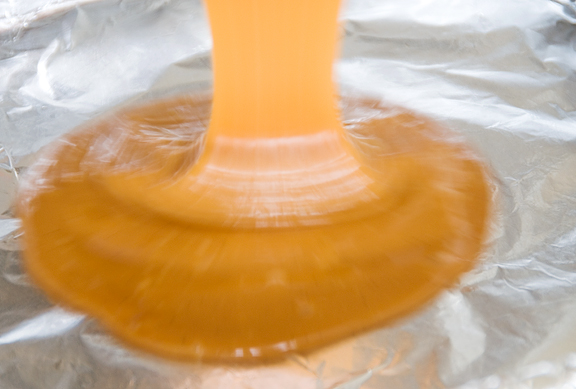 While I'm happy that I have figured out the whole caramel scene, I think I've made enough in the past week that I don't need to revisit this for some time. I love the vanilla bean version and sprinkled a little Murray River pink flake salt (from Oz!) which is heavenly with the caramel. They make great gifts and I intend to get rid of them all because I've nibbled on more than enough.
chewy and not-so-chewy vanilla bean caramels
Golden Vanilla Bean Caramels
[print recipe]
slightly modified from Pure Dessert by Alice Medrich
1 cup golden syrup (I used light corn syrup)
2 cups sugar
3/8 tsps fine sea salt
2 cups heavy cream
1 1/2 tsps pure ground vanilla beans, purchased or ground in a coffee or spice grinders, or 1 tbsp plus 1 tsp pure vanilla extract (I used one whole vanilla bean and 1 tbsp vanilla extract)
3 tbsps unsalted butter, cut into chunks, softened
Line the bottom and sides of the baking pan with aluminum foil and grease the foil. Combine the golden syrup, sugar, and salt in a heavy 3-quart saucepan and cook over medium heat, stirring with a silicone spatula or wooden spoon, until the mixture begins to simmer around the edges. Wash the sugar and syrup from the sides of the pan with a pastry brush dipped in water. Cover and cook for about 3 minutes. (Meanwhile, rinse the spatula or spoon before using it again later.) Uncover the pan and wash down the sides once more. Attach the candy thermometer to the pan, without letting it touch the bottom of the pan, and cook, uncovered (without stirring) until the mixture reaches 305°F (288°F at 8500 feet). Meanwhile, combine the cream and ground vanilla beans (I split my vanilla bean lengthwise, scraped out the seeds, and dumped both seeds and pod into the cream) in a small saucepan and heat until tiny bubbles form around the edges of the pan. Turn off the heat and cover the pan to keep the cream hot. Remove the vanilla pod right before using the cream (rinse off the pod and use it for other things).
When the sugar mixture reaches 305°F (nominally 288°F at 8500 feet, but be sure the sugar turns amber), turn off the heat and stir in the butter chunks. Gradually stir in the hot cream; it will bubble up and steam dramatically, so be careful. Turn the burner back on and adjust it so that the mixture boils energetically but not violently. Stir until any thickened syrup at the bottom of the pan is dissolved and the mixture is smooth. Continue to cook, stirring occasionally, to about 245°F (228°F at 8500 feet). Then cook, stirring constantly, to 260°F (I say 230°F at my elevation) for soft, chewy caramels or 265°F (240°F at 8500 feet); for firmer chewy caramels.
Remove the pan from the heat and stir in the vanilla extract, if using it (yes, I stirred in 1 tbsp of vanilla extract). Pour the caramel into the lined pan. Let set for 4 to 5 hours, or overnight until firm. If you are making hard caramels, I suggest chopping the caramels when they are still warm, but solid (maybe wait an hour).
Lift the pan liner from the pan and invert the sheet of caramel onto a sheet of parchment paper. Peel off the liner. Cut the caramels with an oiled knife. Wrap each caramel individually in wax paper or cellophane. Makes about 81 1-inch caramels.
variations
Fleur de Sel Caramels: Extra salt, in the form of fleur de sel or another coarse flaked salt, brings out the flavor of the caramel and offers a little ying to the yang. Add an extra scant 1/4 teaspoon of coarse sea salt to the recipe. Or, to keep the salt crunchy, let the caramel cool and firm. Then sprinkle with two pinches of flaky salt and press it in. Invert, remove the pan liner, sprinkle with more salt. Then cut and wrap the caramels in wax paper or cellophane.
Nutmeg and Vanilla Bean Caramels: Add 1/2 teaspoon freshly grated nutmeg to the cream before you heat it.
Cardamom Caramels: Omit the vanilla. Add 1/2 teaspoon slightly crushed cardamom seeds (from about 15 cardamom pods) to the cream before heating it. Strain the cream when you add it to the caramel; discard the seeds.