Monday, December 15th, 2008
During this time of year, it is easy to get wrapped up in baking, gifts, shopping, travel, celebrations… Thank goodness for Pim. She is the fabulous host of Menu for Hope each year and reminds us all that there are people in need – in *real* need. This is the fifth year that Pim is running Menu for Hope and it is my second year participating in offering a prize.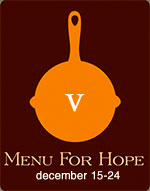 So what is Menu for Hope? I think Pim says it best:
Each December, food bloggers from all over the world join the campaign by offering a delectable array of food-related prizes for the Menu for Hope raffle. Anyone – and that means you too – can buy raffle tickets to bid on these prizes. For every $10 donated, you earn one virtual raffle ticket to bid on a prize of their choice. At the end of the two-week campaign, the raffle tickets are drawn and the results announced on Chez Pim.