Recipe: lychee martini
It's the 18th. One week until Christmas. But I'm not stressing because we don't celebrate Christmas. It's not that I didn't grow up celebrating Christmas, because in my non-religious family's house – we celebrated the hell out of Christmas. My mother always made a phenomenal spread for dinner with lots of snacks sprinkled throughout the day to keep us out of the kitchen. As I've said before, my family does not have a baking tradition – *I* am the baker. But I do remember that my mom would make cookies once a year: puffy hearts and rings. I think it was a kind of cream puff dough, shaped into… hearts and rings, and spread with pink and green frosting and sprinkled with almond slivers. That frosting contained almond extract, which I looooooooved. I thought my mom was the best baker in the world! Kind of like when I thought my paternal grandmother had really stumbled onto something when she made me my first piece of toast :)

a snapshot from christmas past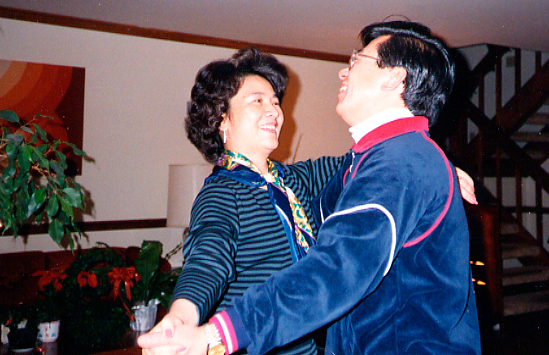 And what was Christmas without some sailing? My hyper-active father (and you wonder where I get it from) would load me and Kris onto the boat and go sailing on Christmas day unless the marina was frozen over… Even then, he'd stand on the dock seriously contemplating how to break the ice around the boat. But usually, Virginia delivered a lovely 70°F day and Dad got his Christmas wish and Mom was left to work the kitchen magic in peace – her Christmas wish. The house would be decked out in lights and the "traditional" electric candles in each window that all Colonial homes were pretty much expected to have in Williamsburg. We still managed with our contemporary-style house. I used to love curling up in the corner of the living room at night with my sister, whispering by the light of the Christmas tree. As we got older the conversation topics wandered from toys to boys to college to boys to life.
About ten years ago, Jeremy and I went ski backpacking in Yosemite over Christmas. Looking up through the fog of my breath, I could see all of the brilliant stars sparkling in the night sky… snow-mantled pines surrounding our winter white camp. It was just us, nature, the elements, and enough gear to fit in our packs. Our gift to each other: each other. And not just on Christmas, but everyday. I rather like it that way.
My mom has written me three separate times this year to emphasize that they do not want gifts. "Don't send us anything, we are old. Old people don't need things." That statement is so ridiculous, but cute. It's even more ridiculous because the last one came with a big fat check despite my insistence that we don't want gifts. Mom says she just wants a phone call from time to time and a card. I know what my mom wants for Christmas – she wants me to be healthy and she wants Kris back. I can neither promise nor deliver on those two things and it makes me feel helpless. Instead, I sent my parents some sweets I made. A gesture of love more than anything else. We will visit them in the spring, although visits with my family always involve a hefty dash of Crazy.
Today is my parents' wedding anniversary. They have been together for over forty years. While my mom and dad are high energy and intense individuals, there has never been a lack of love in our family. Sure we argued. Sure we drove each other insane. But we have laughed until we were falling out of our chairs, we went fishing at 3 am to catch The Big One (and we did!), we danced together, we cooked together, we humored each other, and we have suffered unbearable loss together. I can only hope to be with Jeremy for as long as my parents have been a couple. And I will consider myself lucky to look half as good as my parents when I am their age.

check out my mom's 18-inch waist!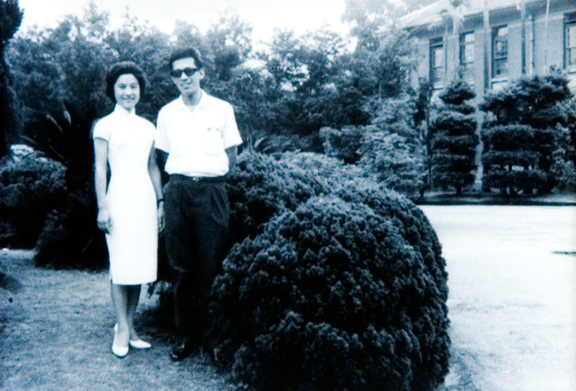 happy anniversary, mom and dad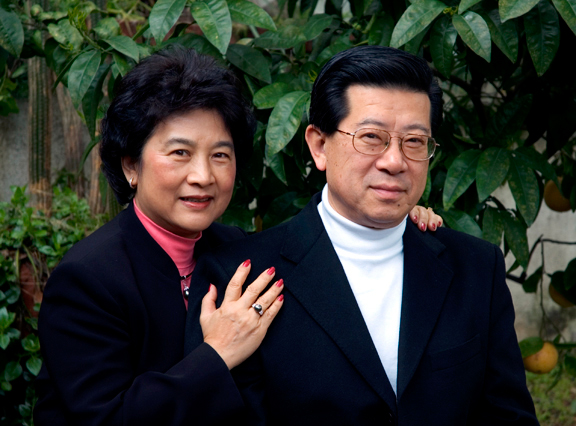 I am not much of a boozer, but I thought a cocktail would be an appropriate recipe given that my parents entertain often, are frequent fliers on the Cocktail Party Circuit in their social circles, and because my mom said the martini I made when my friend was visiting looked good.
i'm thinking lychee, much to mark's dismay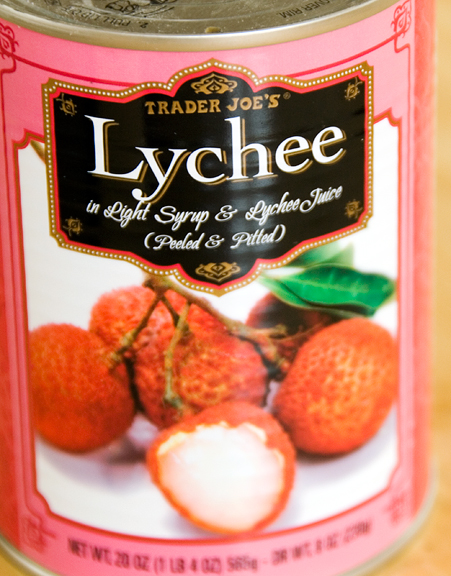 First off, I want to say that I have been looking for martini glasses for months and the majority of them are hideous. What is the aversion to plain, clean lines? And what lush drinks a martini with the capacity of a bath tub (I'm referring to the oversized martini glasses)? I like Reidel's martini glasses, but I like even more the idea of not having a heart attack when a glass or a dish breaks. Crate and Barrel came through for me in the form of Maude, an 8-ounce classic martini – on sale! Wooooooo!
reserve some whole lychees for garnish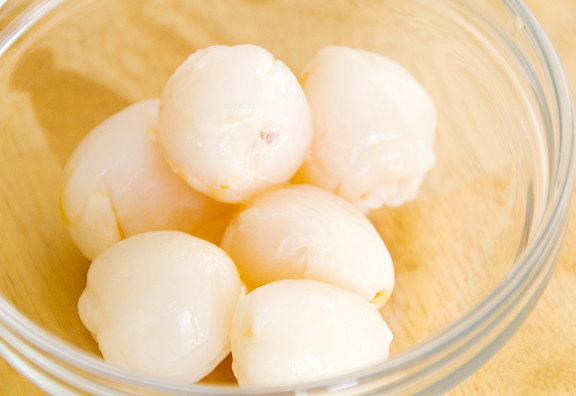 It's not the season for fresh lychees and I would only use the fresh ones for garnish anyway. Whenever I swing by Trader Joes or an Asian grocery store, I stock up on canned lychees because Jeremy loves them. He also loves martinis. He really loves the lychee martini at
The Kitchen
. My original plan was to squeeze out some lychee juice from canned lychees to flavor the cocktail, and boil the syrup that comes in the can down to a more concentrated liquid.
pressing the rest in the food mill for lychee juice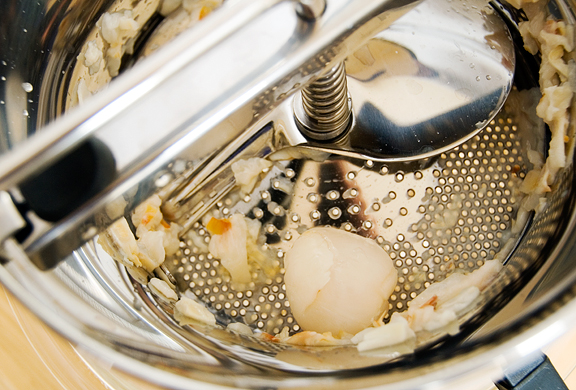 not much juice from a can of lychees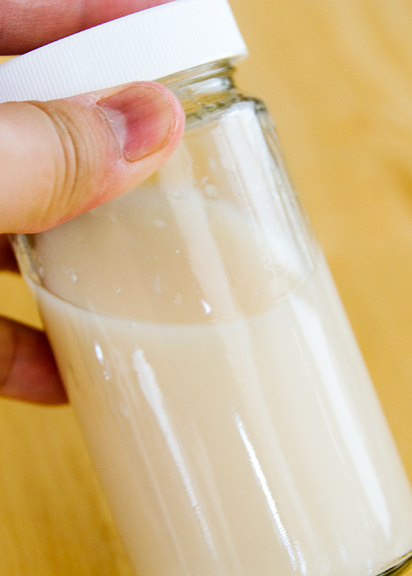 I accidentally boiled the liquid down to a concentrated mess. But that was okay since I didn't (don't) know what I was (am) doing, so I wung it. The first go around was lychee juice, gin, and vermouth because I am not a huge fan of vodka. I thought it was really strong and Jeremy liked it. What I failed to do was mix it with ice. Oops. I doused mine with (another can's) lychee syrup (about 1:1) and that was quite lovely. My friend agreed with me. But as we were putting our booze away, I saw a bottle of lemon lychee infused vodka I had picked up at the Santa Fe Trader Joes in November. Huh.
choices choices…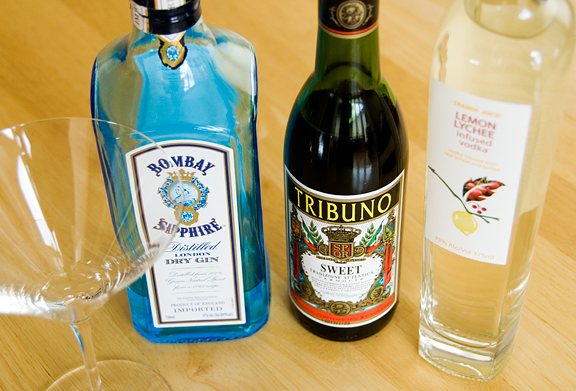 So the second go around involved just the lemon lychee vodka and lychee syrup (1:1) and I think it tastes like paint remover. I'm not sure what Jeremy will think of it (I put it in a jar in the fridge for him to finish when he gets home tomorrow), but I'm guessing he will prefer the gin martini because he isn't a huge vodka fan either. [So why did I buy the vodka? I thought the bottle was cute and it had LYCHEE in it.] I'm sure my dad could spruce this up properly. He didn't have a fully stocked wet bar for 30 years for nothing :)
it just looks so swanky, doesn't it?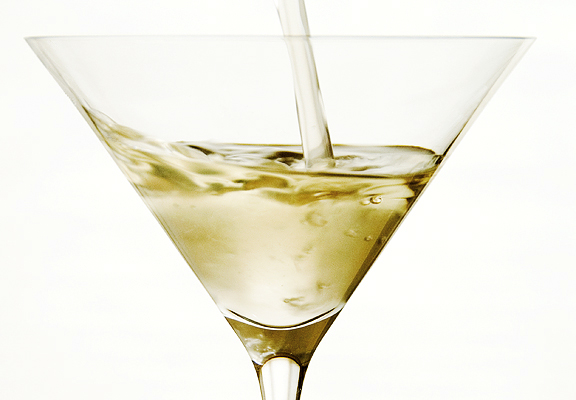 I'll definitely have to experiment more with this and perhaps get my hands on real lychee syrup. Honestly though, one 8-ounce martini is enough to wipe out one year of graduate school in my brain. I shall include the real martini recipe below, and then I will add my wimp-version for those of us without Commonwealth Livers.
cheers to my parents!
Lychee Martini
[print recipe]
1/2 oz. dry vermouth
3 1/2 oz. gin (or vodka)
2 oz. lychee juice, strained from puréed lychees (optional)
2 oz. lychee syrup, from canned lychees
2 whole lychees for garnish
My bartender's guide recipe for a normal martini says to mix the vermouth and gin with ice and then strain it into a chilled glass. I'm guessing that is the way to do it. Pour in the lychee syrup and juice if using, and garnish with whole lychees.
jen's pansy version
serves 2
1/2 oz. dry vermouth
3 1/2 oz. gin
4 oz. lychee juice, strained from puréed lychees
8 oz. lychee syrup, from canned lychees
4 whole lychees for garnish
Follow above instructions and split between two martini glasses.