Recipe: extra-flaky southern buttermilk biscuits
…that use real butter was a little glitchy on Saturday. That was because Mr. Awesome and I were moving my entire online existence to a new commercial server, to better serve you, my beloved readers. There are apparently a lot more of you than we had originally anticipated and the old server was buckling under the weight of the traffic. The old blog address should have an automatic redirect to the new and improved and rightly proper domain: userealbutter.com. Permalinks and the like have been fixed on this end. Feeds have been updated, although it will probably take Bloglines a little while to update their feed… Google Reader has done so already. If you link to use real butter, you may want to update to the new address (userealbutter.com). Otherwise, I hope all changes on urb are relatively transparent for you.

rime ice from this morning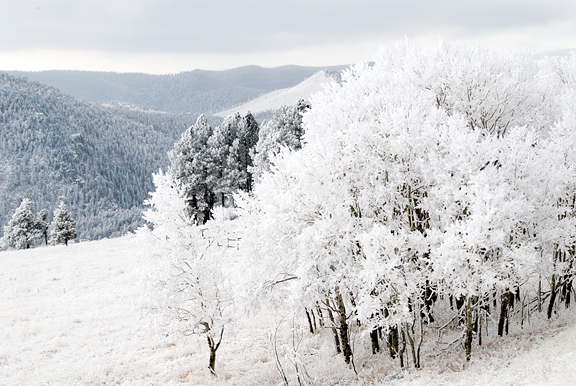 there is snow, and then there is magical snow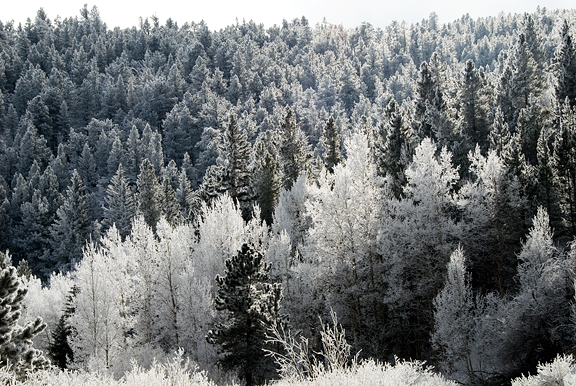 I had mentioned a while back that my mom has this thing she does at Christmas… she mails Virginia ham near and far to friends and family. It's her thing. And all of the recipients are grateful, because we all love that salty Virginia ham. On my list of Animals to Eat over the Holidays, sea critters rank #1 and I haven't decided if cattle or piggies are #2, but they both outrank chickens and turkeys (duck is another matter entirely, especially Peking duck). But back to the Virginia ham… I grew up eating thin slices of this country ham with a certain kind of biscuit, the silver dollar biscuits from Crums Bakery in Newport News. Crums closed and I read recently that the daughter of the baker has opened a bakery in Gloucester (called the Baker's Daughter or something?). I have never encountered another biscuit that rivals those silver dollar biscuits. They were ever so slightly sweet, flaky, but not crumbly. The perfect companion to lovely Virginia ham. People used to order them months in advance for their holiday dinners and parties – they were THAT good.
cutting the butter into the flour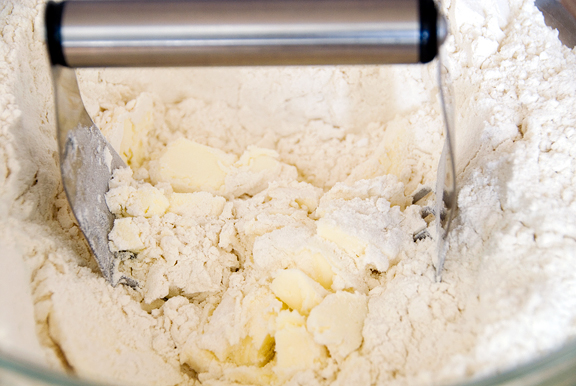 pour in buttermilk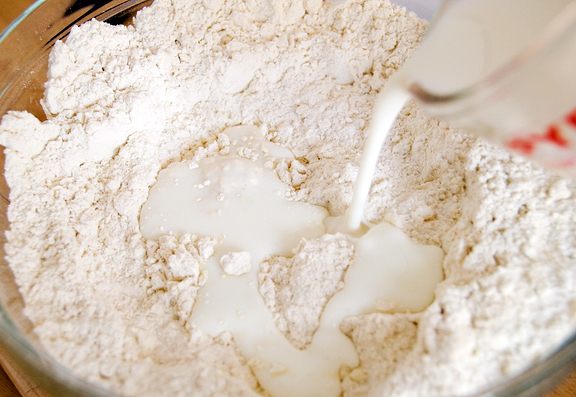 For the past six months or so, I've been casually searching for and reading biscuit recipes online, in books, wherever I can find one. I didn't know much about biscuits other than I really don't care for the crumbly, tender buttermilk biscuits that everyone in the South raves about. I hate food that falls apart on me. It's rude.
knead the dough a few turns
So here I am, thinking of a kind of biscuit I want to create, but have no recipe for. There are more biscuit recipes out there than you can shake a stick at, but I knew enough to try and narrow it down to flaky biscuits. Can't stand flaky people, but love flaky biscuits. I found
this recipe
online and figured it sounded fairly close as it promised flaky layers. The technique described for achieving layers was similar to the technique we used in the Daring Bakers'
Danish Braid
. The dough is rolled out then folded with butter – lots of butter, folded in several times.
see what i mean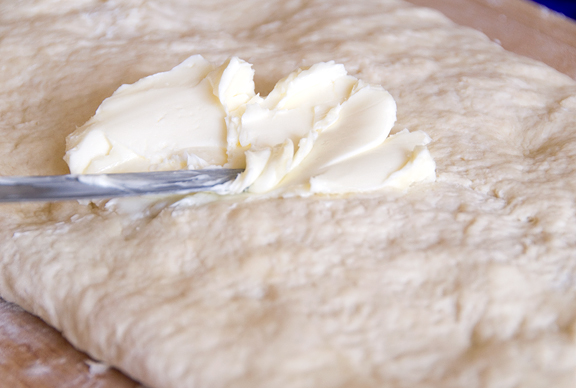 folding the dough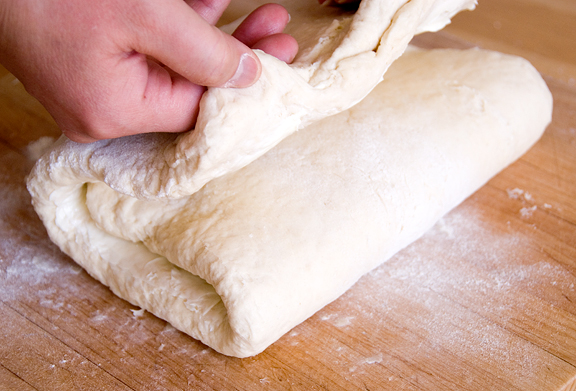 The recipe says to cut the dough up into little squares, but I have this thing about round biscuits. That is to say, biscuits are round. That meant I had leftover scraps which I gently piled on top of one another and rolled out. Of course, these were going to be deformed stacks of layers, but at least they were
round
.
cutting the biscuits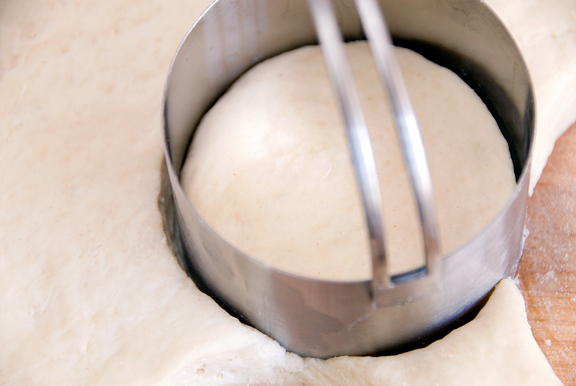 brush with… more butter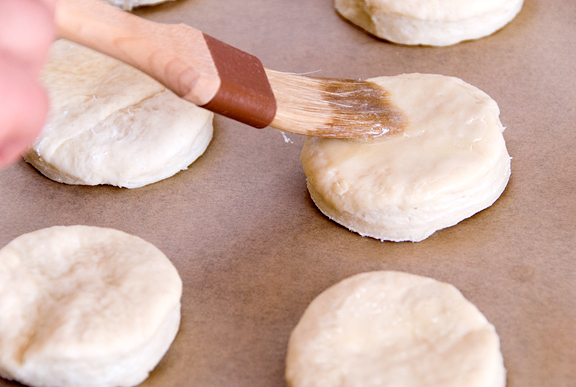 The end result wasn't bad at all. Nice flaky layers, but still too crumbly and tender to be those awesome silver dollar biscuits. I think the next attempt will be some version of beaten biscuits because I've read that those are particular to the region and sound closer to what I'm looking for. Either that or I might try kneading the dough more to reduce the fine crumb. These biscuits however, were quite delicious hot out of the oven and stuffed with ham. But my search continues. I noticed the May 2007 issue of Fine Cooking has a similar biscuit recipe (flaky), but it's so similar to this one that I'll probably try beaten biscuits before that recipe. If you know what a Crums silver dollar biscuit is like and have a recipe – I would be ever so grateful.
lots of flakiness
ooooh! with ham!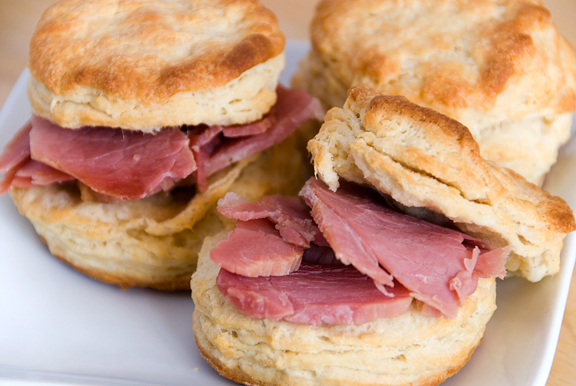 Extra-Flaky Southern Buttermilk Biscuits
[print recipe]
from RecipeZaar
4 1/2 cups white lily all-purpose flour (I used generic all-purpose)
2 tsps cream of tartar
2 tsps baking soda (I didn't adjust the amount of baking soda for this recipe)
1 1/2 tsps salt
1/2 cup cold unsalted butter or margarine or shortening, cut into pieces
1 3/4-2 cups cold buttermilk
9 tbsps unsalted butter, softened and cut into 1 tbsp pieces
1 tbsp unsalted butter or margarine, melted
Preheat oven to 450°F (500°F if using a convection oven). Line a large baking sheet with parchment paper. In bowl, combine flour, cream of tartar, baking soda and salt. Cut cold butter or shortening into dry ingredients with a pastry blender. (Mixture will resemble coarse crumbs, with no large chunks of butter.) If butter gets very soft at this point, refrigerate mixture for 20 minutes. Add 1 3/4 cups buttermilk, stirring just to moisten all ingredients. Dough should be soft and moist; add remaining 1/4 cup as needed. Turn dough out onto lightly floured work surface and knead gently about 10 times, or just until dough holds together. Roll or pat dough into a 14-by-10-inch rectangle. With short side nearest you, spread top two-thirds of dough with 3 tablespoons soft butter, leaving bottom third, closest to you, unbuttered. Fold dough into thirds by pulling bottom third up over center and then pulling top third over middle. Turn dough so short side faces you. Pat into a 9-by-12-inch rectangle. (I used a rolling pin – it gets messy, but it gets done). In same manner, spread again with 3 tablespoons soft butter and fold letter style. Turn once more in the same manner. Pat into a 9-by-12-inch rectangle (I used the rolling pin again); spread with remaining 3 tablespoons soft butter and fold up. Work quickly and gently so as not to overwork dough. Pat (roll) dough into rectangle 3/4-inch thick on floured surface. Cut into squares with a sharp chef's knife. (I used my round biscuit cutters, because I love them). Place on pan, 1 inch apart. Lightly brush tops with melted butter. Bake in center of hot oven about 20 minutes (about 12 minutes in convection), until golden brown and firm. Serve hot, warm or room temperature. (I served them hot stuffed with country ham – oh boy oh boy).