Recipe: angel biscuits
Beggars can't be choosers. While it's a lean year for snow in our part of Colorado, I really ought not complain. There haven't been any "sick" or "epic" days to crow about, but at least I can ski. We've got the climate, the topography, and the big resorts. It's embarrassing what I now consider to be a sub-par day.

weekday skiing is where it's at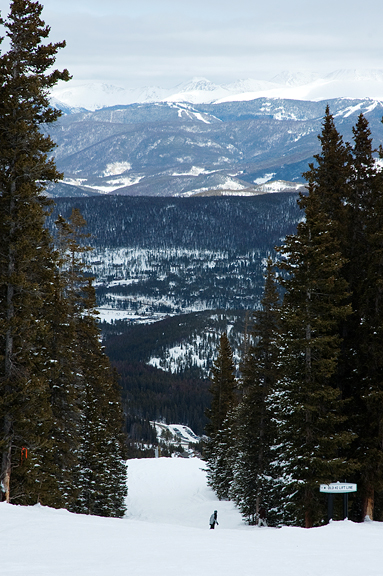 and we even found a little scritch of powder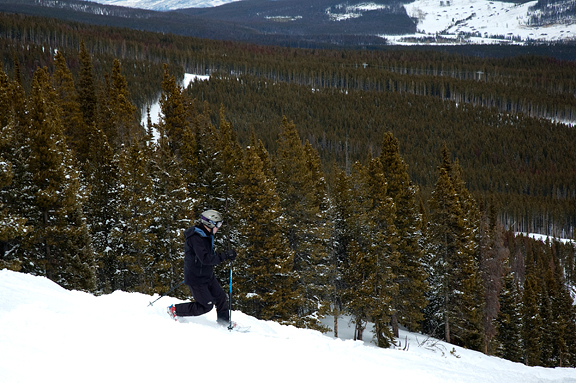 It's a good feeling to be satisfied with something that isn't perfect. Some people have accused me of being a perfectionist, but I am not. I don't have the patience to be a perfectionist. I do have high standards and expectations when it comes to certain things, but perfection – no. About a year ago, I set out to reproduce a favorite biscuit that I could only get at home. These were called silver dollar biscuits from Crums Bakery in southern Virginia and they would sell out during the holidays weeks in advance because every good party must have silver dollar biscuits stuffed with thin slices of Virginia ham.
you didn't think i'd come back from virginia without some good old country ham, did you?
cut the shortening into the flour
I discovered that
flaky southern buttermilk biscuits
were NOT silver dollar biscuits. They were a different beast entirely. Some of my readers suggested different kinds of biscuits and the one that seemed the most similar to the silver dollar biscuits were angel biscuits. I searched for several recipes, bookmarked them, and promptly forgot about the biscuits.
pouring the yeast-buttermilk mixture
rolling out the dough
While I was in Virginia visiting my parents this month, they asked me if I wanted ham to take home. Ham. Ham is gold in Virginia. And when my parents refer to ham, they often mean a whole leg of country ham that is almost as big as my dog. As tempting as it was, I got a smaller 5 pound hunk of cooked Virginia ham. Of course, now that I've burned through half of it, I'm starting to regret not having taken a whole leg home :) With this precious stash in my refrigerator, I figured it was time to test out that angel biscuit recipe.
i made large biscuits
they baked to golden loveliness
The angel biscuit dough has both yeast and shortening. You only knead it 3 or 4 times and then roll the dough out for cutting. The yeast offers a texture that I prefer to the straight up buttermilk biscuits. The little blobs of shortening help to give it some flakiness too. I didn't need to make any adjustments for altitude and it was pretty straightforward and easy to whip up a batch.
fluffy
the ham biscuit marriage
Overall, the biscuit is more tender with a hint of sweetness that pairs better with The Ham. It is a cross between a soft dinner roll and a traditional buttermilk biscuit. These aren't the silver dollar biscuits, but they are quite close and I'm satisfied with that. Now I just need to secure a steady supply of Virginia ham!
irresistible
Angel Biscuits
[print recipe]
from Taste of Home February/March 1993
1/2 oz. active dry yeast (2 packets)
1/4 cup water, warm (110° – 115°F)
2 cups buttermilk, warm (110° – 115°F)
5 cups all-purpose flour
1/3 cup sugar
2 tsps salt
2 tsps baking powder
1 tsp baking soda
1 cup shortening
butter, melted (optional)
Dissolve the yeast in warm water and let stand for 5 minutes. Stir in the warmed buttermilk and set aside. Combine flour, sugar, salt, baking powder and baking soda in a large bowl. Stir together. Cut in shortening with pastry blender until mixture resembles coarse meal. Stir in yeast/buttermilk mixture and mix well. Turn the dough out onto a lightly floured surface. Knead the dough lightly 3-4 times, then roll out to about 1/2 inch in thickness. Cut with a biscuit cutter (I used 3-inch, but small ones would be great for appetizers – just roll them a little thinner or else they'll be crazy tall). Place on parchment-lined baking sheet. Cover and let rise in a warm place for about 1 1/2 hours. Bake at 450°F for 8-10 minutes (9 minutes worked like a charm for me). Lightly brush the tops with melted butter (I skipped this). Makes about 30.