Recipe: boursin chicken
The winds have been fierce for a few days around here. It's bad enough that my computer monitors are shaking with each gust that hits our house. I was skeptical that we'd even get to ride the lifts this morning as I drove up to our local hill in white out conditions. But… it was the first day of the women's program and for some reason, when I'm with my betties, the winds and cold never seem to be as bad as when you ski alone.

meeting behind the nordic center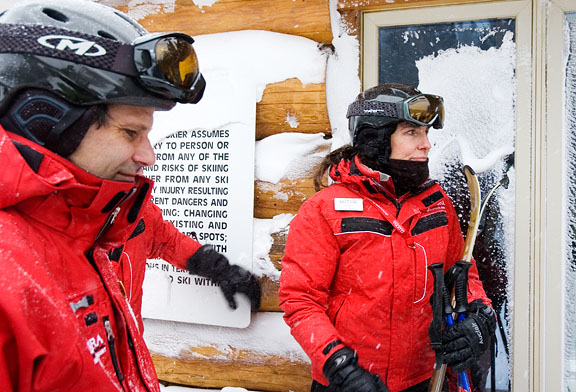 So what is a dude (on the left) doing in the frame if it's a
women's
program? Brad was our honorary chick, ably subbing in for our instructor, Jen, today. Jen and Brad are married – to each other – and they both teach tele for fun. I could go on about all of the cool things they do (professors in biology, cyclists, photographer, cook, dog agility trials, awesome parents), but you just need to know that they both rock. Brad was my very first tele instructor three years ago. It was windy, but it wasn't cold (a balmy 26°F – I can dig that) and there was a nice layer of powder. My legs are tired now. But look at what I scored (they ran out last year):
damn straight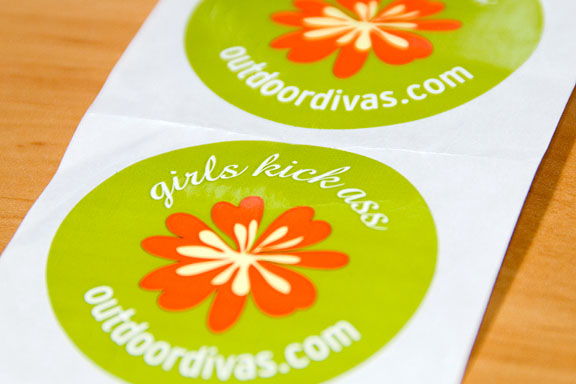 I'm going to snip one and send it to my gal pal,
Katie
, who loves the Divas. Riding the lift up in the morning, Leyla pointed out a sticker someone had slapped onto one of the lift posts. It read:
Nobody cares that you tele.
I love it! We got a hefty laugh out of that.
Before I forget, I've consolidated all of my restaurant reviews on the blog (migrating food-related items from my website which is currently undergoing redesign and should be done within the week). Click on restaurants at the top of the page to get there.
I've been logging very long hours lately, so today was a nice break from bleary-eyed coding and image processing. But here I am on the computer again and I noticed I'm overdue for another post. Turning up the music helps to lessen the unnerving effects of the crazy windstorm raging about and (loudly) rattling the house. While I was searching for an image in my archives, I found some pictures that show just how little K-girl was when we first got her in early 1999. I miss her little puppy self, but I rather like the adult dog Kaweah has become. She is a very good companion.

let's try fetching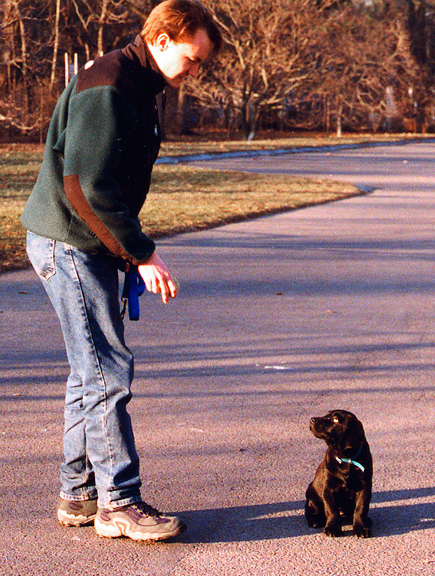 what is this tennis ball you speak of?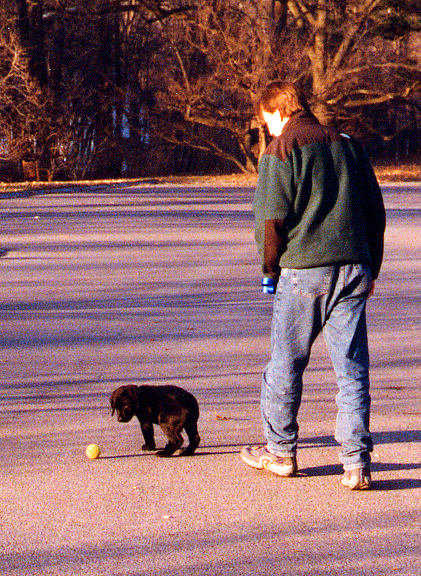 There hasn't been much cooking or baking action in the kitchen lately because of some deadlines I have. However, with over 20 recipes waiting in the wings to post, now is a good time to make a dent in those. This is one of my goto recipes when we entertain flexitarians – people who call themselves vegetarian and then upon further discussion reveal that they eat chicken and fish. If you eat chicken or fish, you are sooooo not a vegetarian, okay?
butterfly the chicken breasts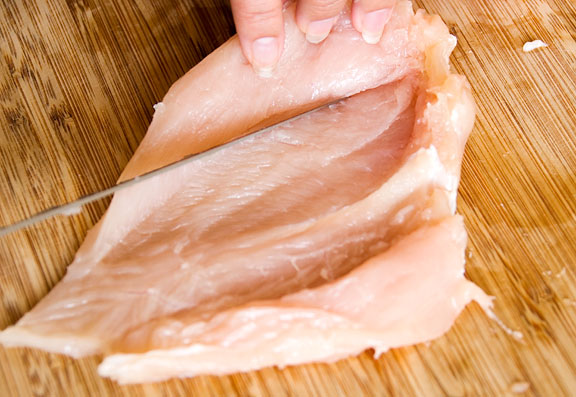 It's a straightforward recipe with relatively simple preparation and nice plating. The ingredient that ties it all together is the Boursin cheese. If you like garlic, you'll probably like Boursin. I remember seeing flank steaks rolled up (roulade-style) with an herbed cream cheese mixture in the butcher's case at the grocery store years ago. I thought to myself that the combination would be better if you subbed chicken for the beef and Boursin for the cream cheese. From that brainstorm moment (and believe you me, they don't happen that often) I came up with this little nugget of a dish that our friends have been enjoying throughout the years.
mix spinach and boursin cheese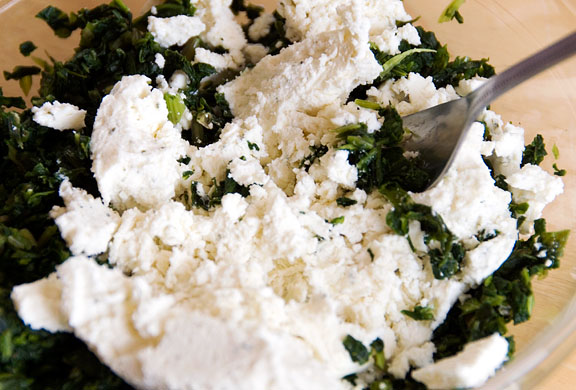 The trickiest part is butterflying the chicken breasts into one nice even piece. I usually begin in the center of the breast, angling a good, sharp knife toward the middle of the thickest section. Slicing into the meat, make sure not to slice it off. Remember, the goal is to create one piece. Then I do the same for the other, thinner side. You can pound it into submission if you like, but I've never really found the need to.
wrap the chicken around the filling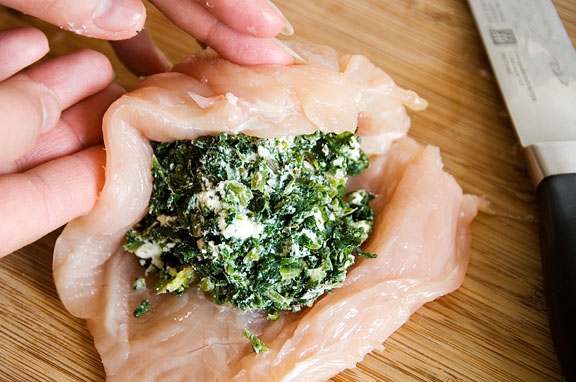 Try not to overstuff the chicken breast. If you have too much stuffing, then reserve it for something else. I doubt you'll have too much though, especially if you butterfly the breast properly. I make sure the edges of the chicken all meet up nicely at one end, to prevent things from seeping out during the baking process.
press it into a neat bundle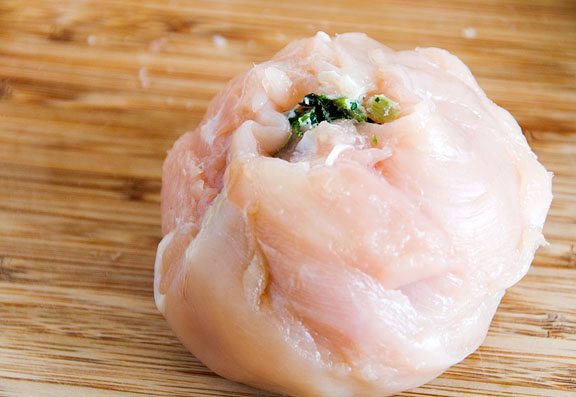 You can dress it up however you like. I keep it simple with a little garlic powder and bread crumbs (although in this picture, I didn't have any breadcrumbs on hand). The daub of butter on top is just to help keep it moist during baking. Come to think of it, brining the chicken breasts ahead of time would be a great improvement. I've never tried it, but maybe I will next time.
sprinkle with garlic powder or breadcrumbs and bake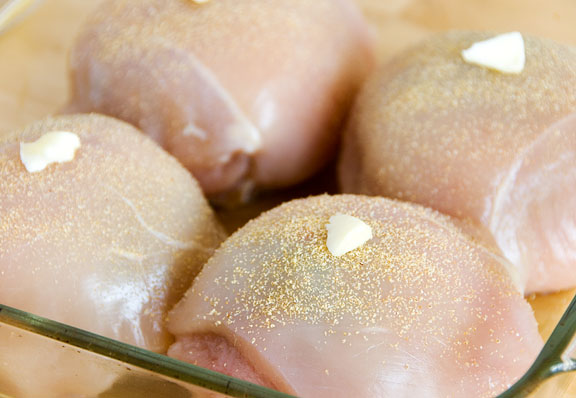 You can serve one breast per person or slice it up for smaller servings. I find that chicken breasts are rather large these days – even the organic ones. One of these bundles is quite a bit of food.
serve hot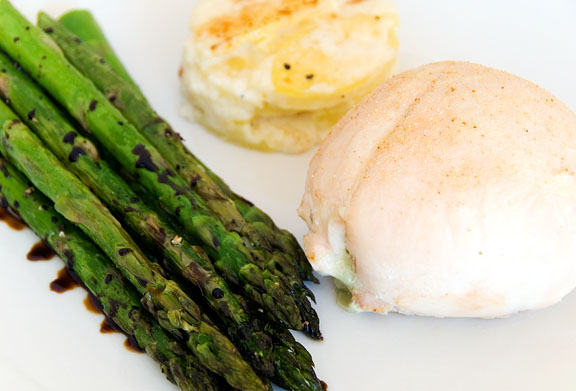 you can also slice and fan it
Boursin Chicken
[print recipe]
4 chicken breasts (halves), (optional: brined)
1 block Boursin cheese
10 oz. frozen spinach, thawed
1 tbsp vegetable oil
4 small pats of butter
garlic powder
bread crumbs
Trim each chicken breast of fat and connective tissues. Butterfly each chicken breast to achieve one piece of even thickness. Squeeze liquid out of thawed spinach. Mix the Boursin and spinach together with a fork until well blended. Take a quarter of the spinach filling and mold it into a round heap in the middle of a chicken breast. Fold the edges of the chicken up and around the filling, trying to envelop all of the filling with the chicken. Give the whole thing a tight squeeze so it holds together. Repeat for remaining chicken breasts and spinach filling. Grease an 8×8-inch baking dish with the vegetable oil. Place each parcel in the baking dish with the smooth sides up. Sprinkle garlic powder and/or bread crumbs over the chicken and place a pat of butter on each one. Bake at 375°F for 40 minutes or until chicken is done.