Recipe: broccoli salad
Lately, I'm feeling torn between winter and spring. I love to get my tele (skiing) on, feel the delicate cold kisses of snow blowing at my face, see Orion at night in the sky, watch Kaweah move through the drifts like a shadow, curl up with Jeremy between flannel and down each night. But with our longer daylight hours and a few assignments I have to highlight spring's bounty, I can taste the tender greens and first berries of the season in my mental palate. My thoughts have already turned to spring mountaineering more than once this past week. We have had a few warm spells interspersed with snow storms and I feel like a puppy delighting in each new turn of the weather. Invigorating any way you look at it.
We skied mogul fields at Vail on Friday until my legs were too wobbly to stand. Sweetness… then I took the big ride down the last black run (which I discovered was a sheet of ice) as everyone standing at the top watched me slide all the way down – unable to stop or get my skis under me – and moaned a collective, "oooooooh!" Such a shame to waste that last run. In the evening we met my ILs for dinner at L'Atelier because they were visiting for the weekend. Dinner was so fresh and faboo (L'Atelier NEVER disappoints)! Saturday morning we went back to Boulder for class.

ninja knife skills: teh onion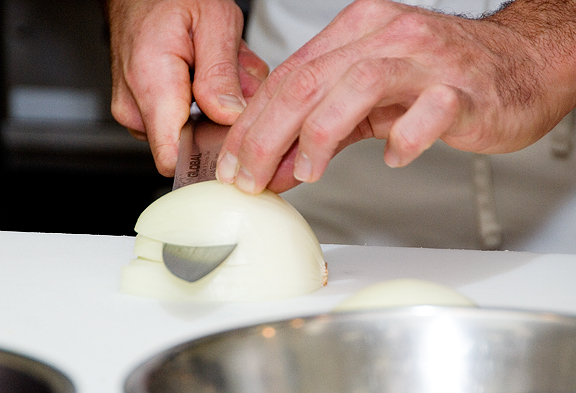 cutting planks for julienne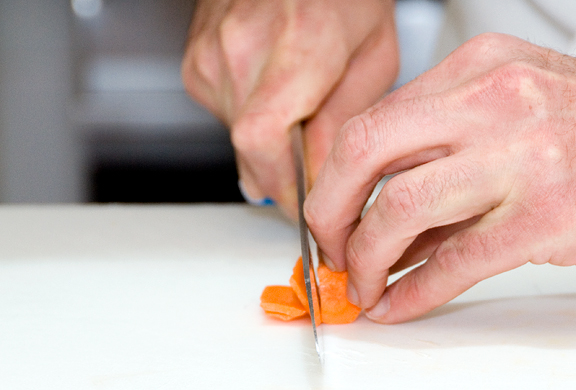 When MIL called a few weeks ago to tell us they had a conference in Denver and would we be available for a visit, I noticed that I had scribbled a note on the calender for this weekend. The Culinary School of the Rockies is where I took my pastry skills course and they offer several classes ranging from casual home cooking to professional programs. Of all the classes in their calender there was only ONE that Jeremy was interested in taking: knife skills.
chef demos basil chiffonade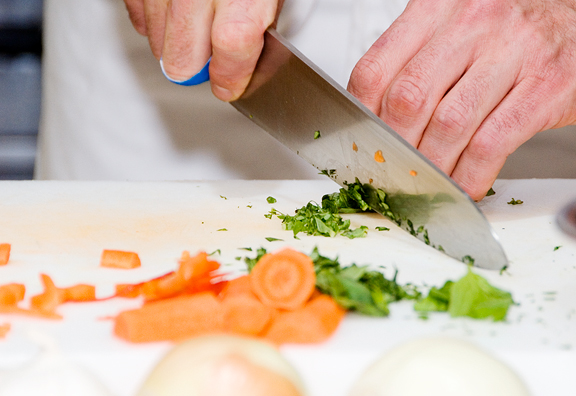 my basil chiffonade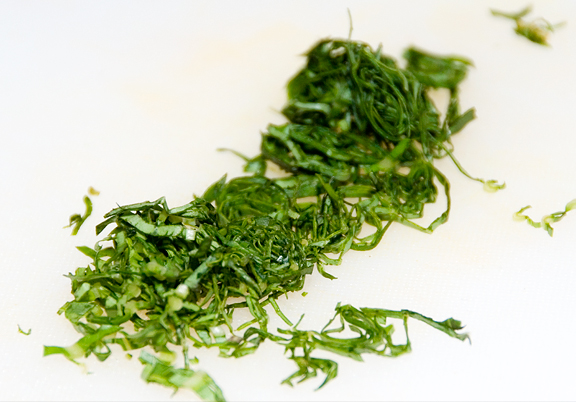 I asked MIL if she and FIL would be interested in taking the course too. It's a short one as classes go, just three hours, but Jeremy wanted to improve his efficiency in the kitchen when helping me prep dinner, and my ILs love to take cooking classes together. So all four of us signed up.
we made bruschetta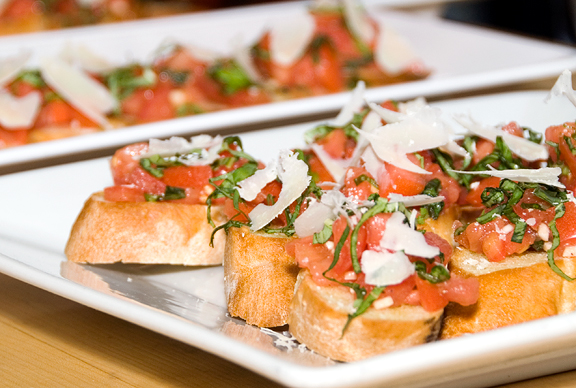 my tablemates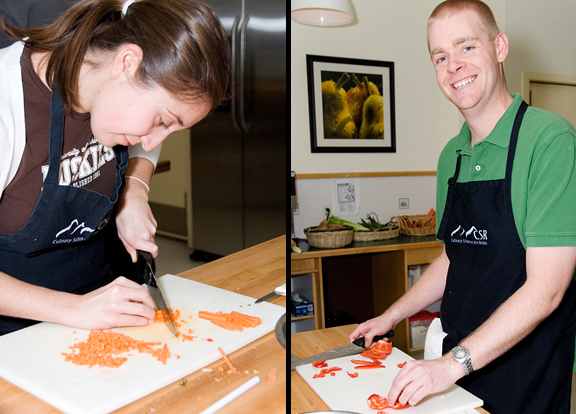 Although I have been wielding a knife and chopping all manner of vegetables since I was in elementary school, I still learned many great tidbits about knife maintenance and safety, cutting board care, and helpful techniques to better hone my current skills. I was at a table with a fun and lively young couple – we had a great time together. Chef had an easy going style of teaching to the various skill levels in the class sprinkled with good practical advice. Now I'm itching to enroll in the 20-week program. Doh!
love the supreme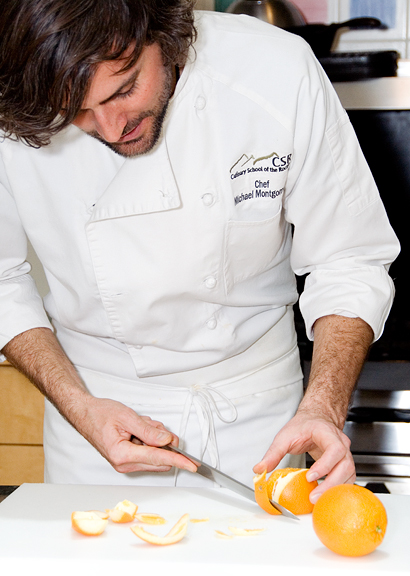 chef shows us the tourné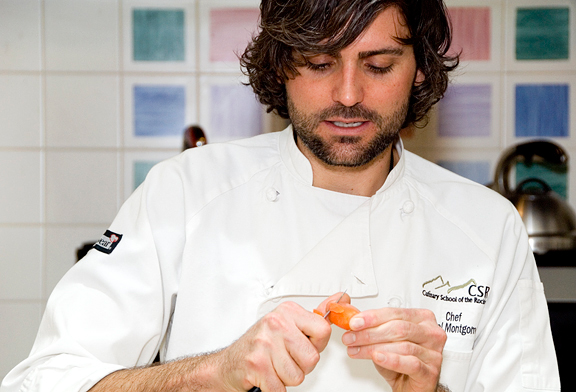 My ILs left this morning and as Jeremy and I cleaned up the kitchen, I reflected on how differently we eat when we have guests versus when it is just us. I quite enjoy entertaining. The American-born Chinese Southerner in me ensures that I pull out all of the stops when folks come over. It would be rude to do anything less. But even though I love house and dinner guests, my tum is overjoyed to return to simpler food.
bacon is simply beautiful
Back in college, my volleyball coach was raving about a salad at practice one day. She knew I liked to cook, so she promised she would hunt down the recipe and share it with me. It was a broccoli and cauliflower salad recipe which I rarely ever made because Jeremy is not so good about certain vegetables… like raw broccoli or any cauliflower.
broccoli florets
Me? I am all over broccoli and cauliflower. My mom prepared delicious vegetables when I was growing up – I *love* my vegetables. From time to time I crave raw brassicas and so I devised a way to lure Jeremy into trying the salad.
thinly sliced red onions
I took the cauliflower out because I knew broccoli would be an easier sell. I used the milder red onion instead of white, added bacon (who can resist it now?!), replaced raisins with dried cranberries (he fears raisins, loves dried cranberries), replaced half of the mayonnaise with non-fat plain yogurt (Jeremy doesn't like mayonnaise), and tossed in chopped cashews.
jeremy loves cashews
This salad is similar to one that I love to get at Souplantation (aka Sweet Tomatoes in some parts of the US). It is crunchy, fresh, salty, sweet, tangy, creamy – full of satisfying and simple ingredients. I can't believe it has taken me this long to reproduce my own version, but at last, I have it.
mixing all of the goodies together
And Jeremy? He liked it! He didn't *gush* over it, but he liked it enough to eat it more than once. I find cutting the onions into a fine dice helps for those of us who don't like chomping on raw onion, but still appreciate the flavor it lends to the ensemble. The next time I make this, I will employ some of my new ninja knife skills too!
it's good for you!
Broccoli Salad
[print recipe]
adapted from my college volleyball coach's recipe
3 heads of broccoli, trimmed and divided into bite-size pieces
1 small red onion, small dice
4-6 slices bacon, fried and crumbled
1/2 cup cashews, roughly chopped
1/2 cup dried cranberries
1 cup mayonnaise (I prefer to use 1/2 cup mayo and 1/2 cup non-fat plain yogurt)
2 tbsps sugar
4 tbsps vinegar
Combine the broccoli, onion, bacon, cashews, and cranberries in a large mixing bowl. Mix the mayonnaise (and yogurt, if using), sugar, and vinegar together and pour over the vegetables. Toss together and refrigerate for a day for best flavor.