Recipe: chocolate hazelnut torte
Oh my! I had no idea that my knife skills instructor could evoke such… interest from my readers! Honestly, weren't you all impressed with the chiffonade? Well, here is one last shot from class – something I finally learned to do correctly:

knife honing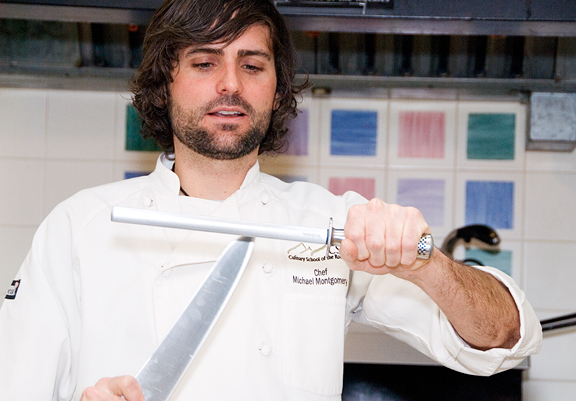 Speaking of knives, Adrienne, the winner of the Kyocera ceramic knife giveaway, finally received hers and sent me a picture of her happy new knife. I thought the dreamy look on her face was too adorable not to post. She looks like a pro! (
courtesy Adrienne
):
blissful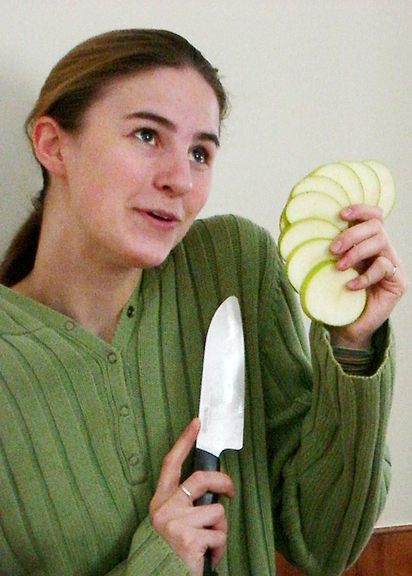 How often do you start out in the kitchen with the intention of making one thing, only to wind up with an end-product that is not what you had in mind? It tends to happen more often with pastries and desserts for me. Is that because I occasionally screw things up when making pastries, but rarely have moments like that when cooking anything savory? I think I am a more confident savory cook. Even so, I really enjoy futzing about with the sweets.
semi-sweet and milk chocolates with hazelnut butter
I had an extra 11×17-inch sheet of chocolate chiffon cake lying around from when I made
chocolate mousse bombes
and thought I'd try using it in a triangle torte. My pastry class made a triangle torte as a group and I've seen it again in a few of my cookbooks. Instead of the denser, tackier cake from the class recipe (I believe it comes from
Pure Chocolate
), the chocolate chiffon was airy and thicker. I sliced the cake in half (thus, two 8.5×11-inch cakes) and then sliced them into layers, resulting in four 8.5×11-inch cake layers.
adding warm chocolate for the hazelnut filling
The hazelnut filling calls for hazelnut praline paste, which in my mind, is heaven. We had a giant bucket of it to use in our pastry class, but I have yet to find it easily around here (I'm not quite ready to order the Valrhona bucket for $100+). I used hazelnut butter with a little sugar as a substitute. I may have overwhipped the filling as I was mucking around with some dirty dishes. It came out a little stiffer than the creamy filling I remembered from class.
spreading the filling over the first cake layer
Assembling all four layers, I barely had enough filling to spread. In the future, I think I will make double the filling because of the nature of the triangle torte. I cut the torte in half (now two 4.25×11-inch tortes) and wrapped the two pieces in plastic and popped them into the freezer for a few hours.
two cakes
I took a cake and rested it on one end and cut diagonally down the length of it (please please please be careful doing this). Because my filling was on the brittle side, many of the smaller pieces began to fall off and the whole thing was a bit of a mess. Here is where I think extra filling (especially if done right – it should be creamy and not pasty) would have helped. After the diagonal slice, you are supposed to put the two pieces together to form a triangular shape – but there is nothing to hold the two abutting cake layers together aside from goodwill. I would have layered some hazelnut filling in there for consistency and for some "glue".
the diagonal slice
I made the glaze, the whole time fretting over this structurally unsound cake. While the glaze cooled (this glaze is from another recipe because my pen died while our chef dictated the recipe in class – I know.. what a clusterfuck, right?) I decided that I wasn't going to wind up with two crappy looking triangles, so I cut the second cake into tall rectangles.
for the glaze: chocolate and cream
stir in some softened butter
Glazing seemed to hold the triangle pieces together somewhat, but it wasn't as refined as I knew it should have been and it bothers my sense of symmetry that there isn't a band of hazelnut filling down the center.
it held up alright
The rectangles were much easier and in my opinion, prettier. I learned a nice trick from
Figs
when glazing pastries: one of those little squirty bottles (like a ketchup bottle) is very very handy for glazing vertical sides.
rectangles made me happier
I brought these little treats to my ski betties a few weeks ago and saved two for Jeremy. I wasn't entirely happy with the ordeal, despite everyone's delighted squeals. At least I know better now. The hazelnut paste should be creamy and not thick or else it won't "stick" to the cake layers and all hell will break loose. I'll also double the amount of filling should I choose to attempt the triangle shape again. And maybe I will use a denser, tackier cake base recipe instead of a chocolate chiffon, which was fine, but I think a different texture might work better. [Sorry, I don't want to give you the recipe that chef gave us in class because he made an altitude adjustment error and my pen was running out of ink and my notes are incredibly confusing and it was a *crazy* night. I can't bear the thought of giving you a recipe that will probably tank.]
the result of my disasters
Chocolate Hazelnut Torte
[print recipe]
modified from Pure Chocolate by Fran Bigelow and Helene Siegel
makes two triangle tortes
one 11×17-inch sheet of chocolate chiffon cake
hazelnut filling
chocolate glaze
hazelnut filling
3 oz. semi-sweet chocolate
8 oz. milk chocolate
1/4 cup hazelnut praline paste (I used hazelnut butter plus 2 tsps of sugar)
4 oz. butter, softened
Whip the butter with a paddle attachment. While whipping the butter, melt everything else in a saucepan over medium to low heat. Remove from heat and let cool to warm. When the butter is light and fluffy, add the slightly warm chocolate all at once and beat for 5-6 minutes. The filling should be creamy and not pasty.
chocolate glaze
6 oz. heavy cream
8 oz. semi-sweet chocolate, finely chopped
4 oz. unsalted butter, softened, cut into 4 pieces
Make the glaze last. In a small saucepan over medium heat, bring cream to a boil. Remove the saucepan from heat and add chocolate, stirring gently (don't incorporate too much air). Blend in the butter. The temperature should be 110-115°F when you are ready to use it.
To assemble: Cut the cake in half into two 8.5×11-inch cakes. Then horizontally slice each cake into two layers resulting in four 8.5×11-inch layers. Spread a third of the hazelnut filling over one layer of cake. Set a second layer of cake on the filling, then repeat until you have four layers of cake and three layers of hazelnut filling. Cut the cake into two cakes (now two 4.25×11-inch cakes). Wrap them in plastic and freeze for a couple of hours. Remove the cakes from the freezer and unwrap. Stand one cake on end and slice on a diagonal along the length of the cake. Arrange the pieces so that the flat ends abut to form a triangle with layers running vertically. [Note: Here is where I would add another layer of filling in between the two cake layers.] Set the cake on a cooling rack over a baking sheet to catch drips. With warm glaze at the ready, pour over the cake and let set. Repeat with second cake. Serve.