Are you ready for your weekly dose of blogger kitchens? We are now entering week 4 of the tour and both of the kitchens featured this week are located in sunny, Southern California. While I don't really miss the kitchens I had in So Cal, I certainly miss all of the fine produce and access to awesome ethnic foods, and that weather (as long as it didn't get too hot)… ANYTHING grows in that weather! In contrast, I had a little victory of my own this week when I planted some mint in my window sill. Did I mentioned we're supposed to get 3-7 inches of snow today?
blog: Alosha's Kitchen
blogger: Melissa
location: Orange County, California
house: apartment, 35 years old
kitchen footprint: 12′x12′ (estimate)
photos: all photos of Alosha's Kitchen are courtesy of Melissa
Our first stop is Alosha's Kitchen where Melissa chronicles her culinary journeys from her apartment kitchen. I first became aware of her blog when she was picked on by the giant machinery that is Cooks Illustrated (America's Test Kitchen, Cook's Country) and the food blogging community rallied behind Melissa. [Personally, I am rather underwhelmed by their Chinese recipes.] What I love about Melissa's cooking is that she is learning and exploring and sharing with others – it's what makes cooking so fun. What I love about Melissa is that she has a lot of heart.
Tell me, what is your motivation for cooking?
Two reasons. One is that it's a challenge for me. Cooking doesn't come easily for me and until a year and a half ago when I started my blog, I knew very, very little. So it keeps my brain busy because I get to learn new things and expand my horizons almost every day. The second reason is for our health. Eating out every day or getting fast food just isn't an option. I won't put that junk into our bodies. So cooking means I am taking care of us.

enter the kitchen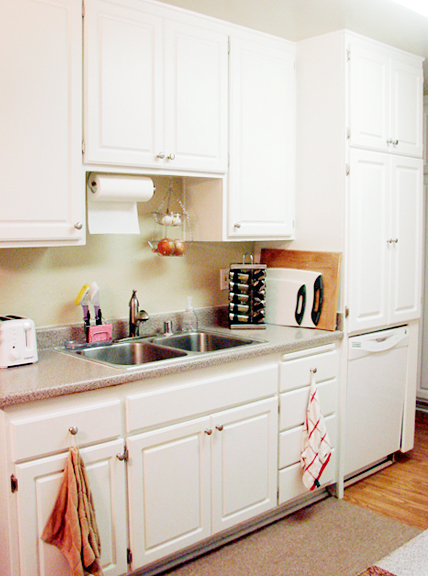 How much time do you spend in your kitchen?
An hour or two per night usually, whether that's making dinner or making lunches for the next workday. On the weekends, I've been trying to make more time-intensive meals. So that can mean 3 or 4 hours in the kitchen, making a soup in addition to a more complicated recipe for dinner. That's if I'm lucky though. I work a lot, including overtime on the weekends, and I don't spend as much time in there as I would like because of that.
Melissa had expressed some nervousness about showcasing her kitchen. Afterall, she told me, it's a tiny apartment kitchen. But I reassured her that there are so many apartment kitchen cooks out there – and I had my fair share of apartment kitchen cooking until I was 34! When I got her pictures, I nearly fell out of my chair – I would have loved such a nice space when I was living in apartments. She is pragmatic about her kitchen and also keeps things incredibly tidy, another big plus in my book.

the range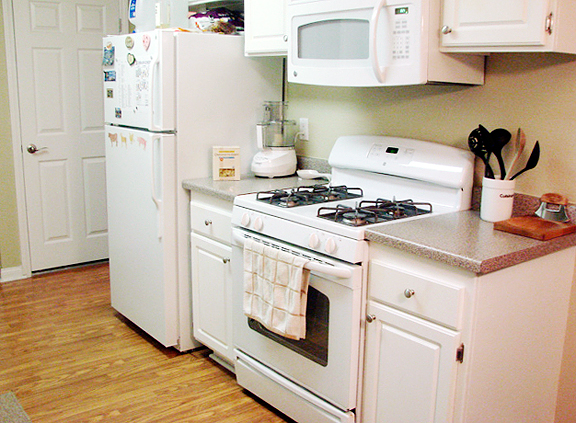 …I just try to make the best use of the small amount of space I do have and only buy the appliances I find essential and pantry items as I need them. The biggest help I get is not from kitchen items, it's having my computer. Since I can only have the one bookshelf, I have to be very choosy about which cookbooks I buy and they're more for ideas and foodgawking. Truly, my fellow food bloggers are my biggest source of education, so without my computer nearby, I don't know what I'd do.
I use my laptop in the kitchen all the time for reference too. I'm just scared that one day I'm going to accidentally put a knife through the screen!

cookbooks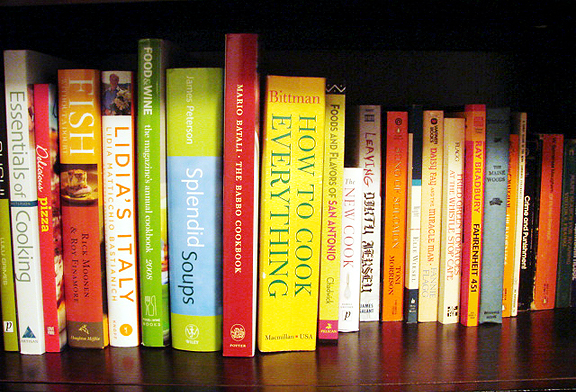 Tell me what you like about your kitchen, Melissa:
That it's open on both sides so I don't feel boxed in. I've never had an apartment where I had the kitchen open up on two sides like that. And I love how uncluttered it is. The great part about having the kitchen open into the dining area is that I can have my girlfriends sit at the table while I cook and we can chat at the same time.

the dining area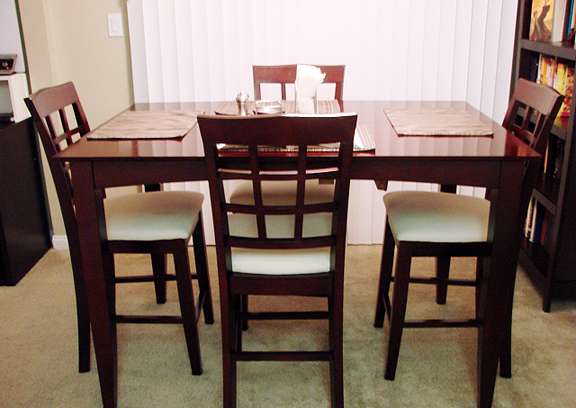 Oh, nice dining set. I can imagine your friends hanging out there while watching you cook them a fantastic meal! Do you have a favorite gadget or appliance?
My Dutch oven, though not a proper Dutch oven, is my favorite thing. It's the only really large pot or pan I own, and if I didn't have it, I wouldn't be able to make many stews, soups, braised dishes, etc. So it's been a real gem.

serveware storage and her favorite cook pot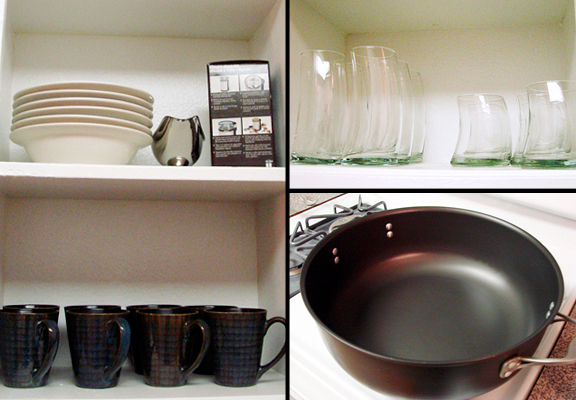 Because I'm OCD, I know where every little item is in my refrigerator, cupboards, pantry. Jeremy could be staring straight at a jar of salsa in the refrigerator and tell me that he can't find any salsa. So I'm always curious to know if other cooks are like me (OCD). How about you?
Down to the last item, just about. My refrigerator and pantry are – you guessed it – small, so I only buy as I need things and I keep track of what's there very easily. Also, my freezer is basically empty. I should probably make more use of it aside from storing stock or bones, but I like buying what I need day to day.

spices, dried goods, cook utensils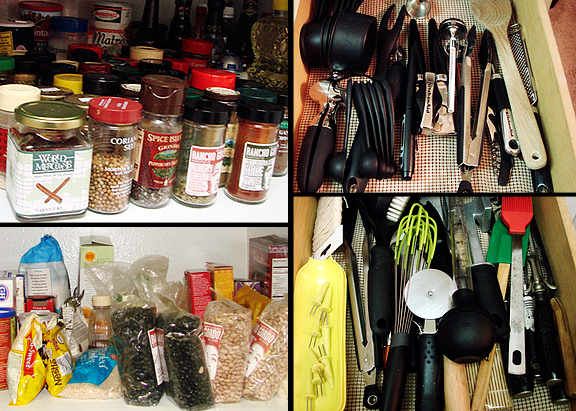 I'm guessing this isn't your dream kitchen, but how do you feel about it?
I don't like it, but I don't dislike it. It serves its purpose and the way I see it, I will always look back on this space as the one where I started cooking. For that reason, I imagine I will attach a sense of nostalgia to it in the years to come. I would love to have a sleek, spacious kitchen with a pots and pans rack, plenty of cabinet space for all kinds of baking gadgets and other appliances, an island, two ovens. We're actually planning to buy a house in about a year, and one of the top reasons is because having a dream kitchen is one of my two biggest goals I want to meet in the near future. I can't wait.
So where do you shoot most of your blog photos?
At my dining room table. And you would think I'd be able to get some natural light from the patio behind it, but our apartment is one of four on our street that's on a corner where the patio has a brick wall built about 6½ feet around it to help support an arched walkway. The privacy is great, the lack of light is not. Thank goodness for a decent camera. And Google Picasa!

where the photos are taken : melissa unloads the greens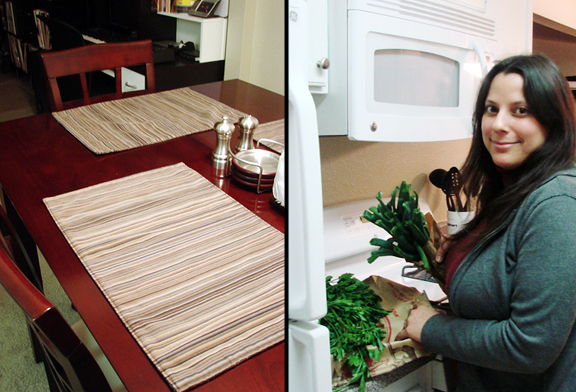 Thank you so much for inviting us into your kitchen, Melissa. Best of luck on the house-hunting (good hunting, as they say in BSG – except you aren't hunting cylons…). I look forward to seeing your dream kitchen some day!

**********

We don't have to travel far to get to the next kitchen as we remain in that paradise of Southern California. Just up the road (so to speak) are two of my favorite bloggers. Jeremy and I had the pleasure – the honor – of
meeting Todd and Diane
in person last summer. They treated us to the very best meal we have ever enjoyed at a friends' house. Oh, and their house? Oh my god! I think I just walked around the whole time saying, "Wow!" and "Oh my god!"
blog: White on Rice Couple
bloggers: Todd and Diane
location: Southern California
house: 1950's tract home
kitchen footprint: 12′x12′ – 144 sq. ft
photos: all photos of the White on Rice Couple kitchen are courtesy of Todd and Diane
The first thing that happens when you enter the White on Rice Couple house is Dante sniffs your crotch. The next thing that happens is Sierra wants you to toss her toy. The pups are an integral part of the White on Rice Couple kitchen – they make sure everything is in good order.

dante and sierra peeking in
As you may or may not know, people in California are spoiled rotten. I can vouch for this, because I spent 10 years in So Cal. Residents have fruit trees in their yards, they eat outside year-round, and no one has ever heard of a rain date. But Todd and Diane are not typical. As Jeremy said to me, "Those two have taken full advantage of everything their climate and location has to offer."
looking toward the side door (sierra for scale and cuteness)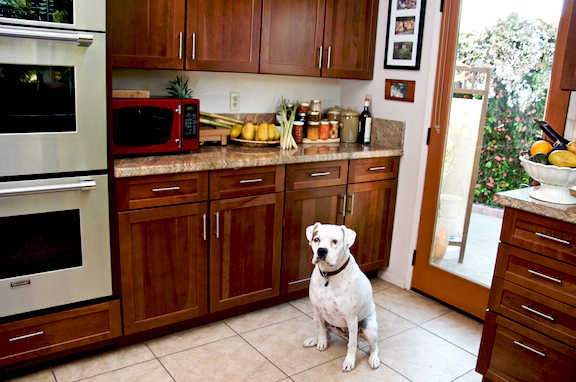 What I love about Todd and Diane's kitchen (well hell, the whole house!) is that every bit of it was designed with thought and purpose, by them. These two fun-loving and practical people have created this space with their own
two
four hands. But wait – I'll shut up (for once) and let them give you the tour and tell you all about it. Take it away, guys!
Welcome to our little sanctuary in the middle of the urban jungle. Seven years ago, we bought this house from the original owners. It was a bit neglected and worse for wear, but underneath was a diamond waiting to be polished. And that's what we've been doing since.

where the action is (dante and sierra for scale and cuteness)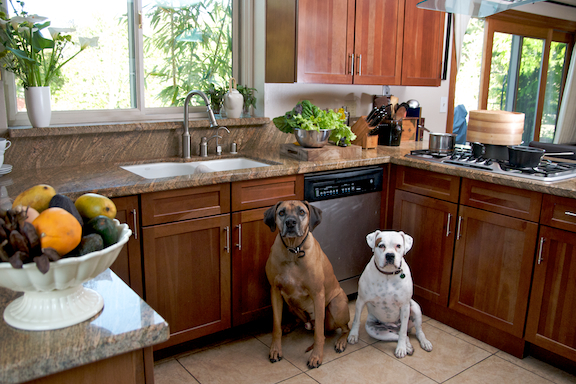 We started outside designing and building a garden that was meant to be eaten. The garden is our extended kitchen. We have two doors that lead to the garden, which makes it convenient to gather herbs, fruits and vegetables. It has become our second pantry with over 30 fruit trees and over a dozen different plots for growing our herbs and veggies. The majority of our garden's plants are for kitchen use, and most of the rest are to attract all of our garden helpers (bees, butterflies, and hummers, oh my!). With plenty of kind sunshine and a very temperate Southern California climate, we are able to harvest garden goodies all year round.
[There is really no way to do that garden justice except for walking through it and then eating from it! However, Todd and Diane have some gorgeous photos and descriptions of their garden's bounty.]

from the garden: swiss chard and blood oranges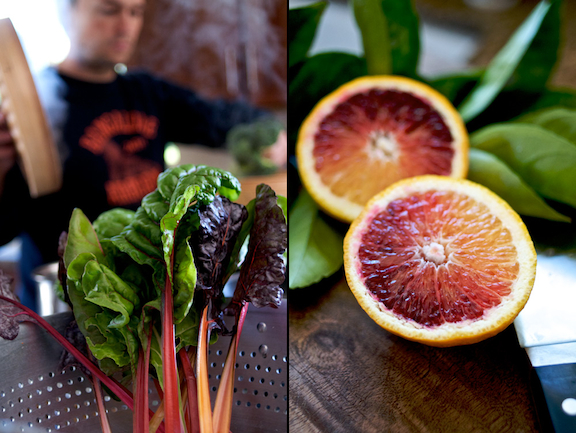 After 3 years of working on creating the kitchen garden, we started on the inside. We did almost all of the work ourselves from electrical, to lighting, to plumbing and finally to installing the kitchen cabinets. This was a huge learning experience, but most importantly it enabled us to create a custom kitchen meant for the way that we want to cook. And of course, we saved a ton of money that went to better kitchen toys and appliances.
favorite wustof knives and espresso machine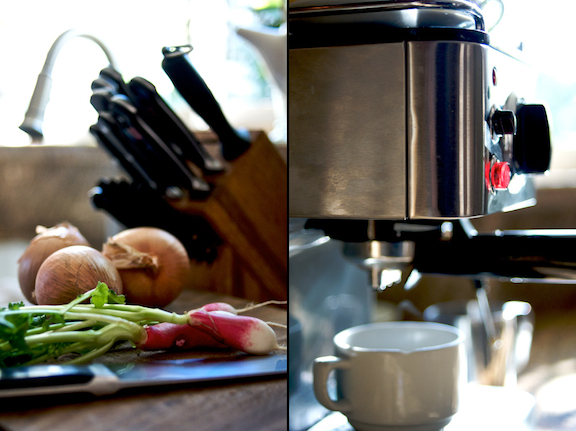 In designing the kitchen, we were looking to open it up and create as much usable counter top and cabinet space that we could. There used to be a washer and dryer on the left hand side wall, so those were immediately banished. Doing laundry right next to where we baked was not fun. We broke some design rules by kicking the fridge just outside the kitchen's workspace, but it works perfectly there, and by doing this, we extended the kitchen a little further. The bar counter tops are the perfect load/unload zone, and by moving it out further toward the dining area, we gained over 2 more feet of counter top space. Fitting in a double oven was a dream come true, and with the open space above the fridge we're able to hide a pair of radio speakers to pump in the cooking music.
We've had people tell us they think we are the only ones who actually use both ovens out of a double oven set. They must not know very many food bloggers out there. We know tons of you who do use both, or would love to have a set of baking twin monsters. We love these ovens. The pups do too because they get their fresh baked doggie biscuits! Spoiled.

gotta love a boy who bakes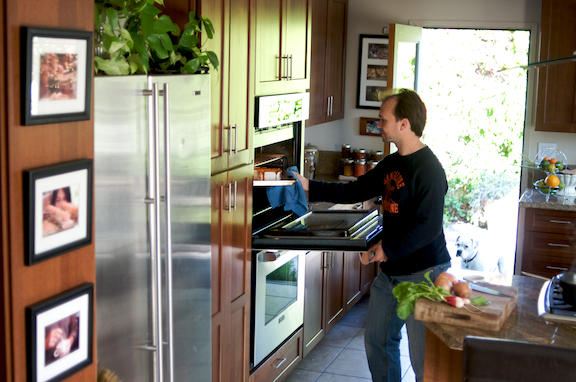 We capped off the end of the fridge with an Ikea cabinet to store all of our cookbooks, mortar and pestles, and the "good" wine glasses. It gives us a bit more storage space for the non-essential, and finishes off the flow into the rest of the house. Gotta love Ikea, right Jen?
[Damn straight! w00t!]
That bookcase was a fraction of the cost of getting a unit from the kitchen cabinet manufacturer and the addition of nice stainless steel handles is a great finishing touch. Best of all, this cheapie book shelf matched the rest of the kitchen cabinets, perfectly!
diane looks up a recipe : cookbooks, mortar and pestle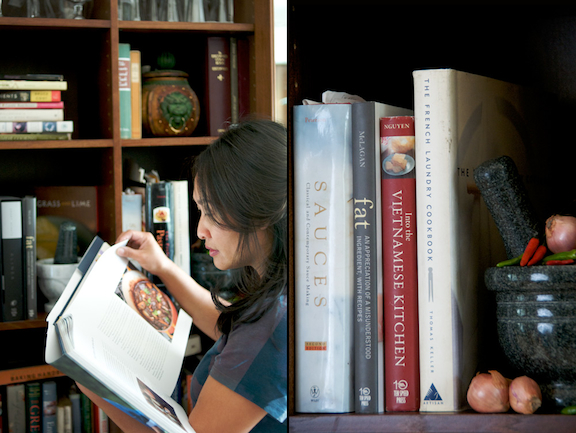 We had stretched the bar area out 2′ giving the kitchen a bit more space, and inadvertently created our favorite workstation. The counter top area between the sink and the cooktop is our prime knife station. That's where the brunt of the kitchen work gets done. Veggies get washed at the sink, then chopped, sliced, and diced at the knife station, then straight into the pan in one beautifully clean work flow. The opposite side of the sink is great for all of the non-cooktop activities. Tasks like our daily ritual of a morning cappuccino; the blender and Cuisinart are nicely tucked in those upper cabinets (already plugged into hidden outlets in the cabinet); and that section is great for doing most of our pastry work. In particular, the granite counter tops help keep pastries and chocolate a little cooler.
oooh, what's cooking?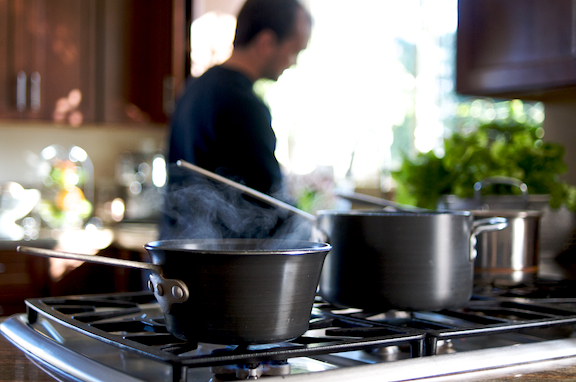 With all of the nearby doors and windows, the kitchen is always bright and airy. In order to help keep that brightness, we chose a vent hood that would virtually disappear when not looking at it, but when you do notice it, there's still a bit of style. For low light times of the day, we figured out how to do recessed lighting, and arranged the light cans so you don't cast a shadow onto the work surface in front of you. This is very handy, especially for our midnight marathons we do when prepping for a party.
outdoor dining room in the garden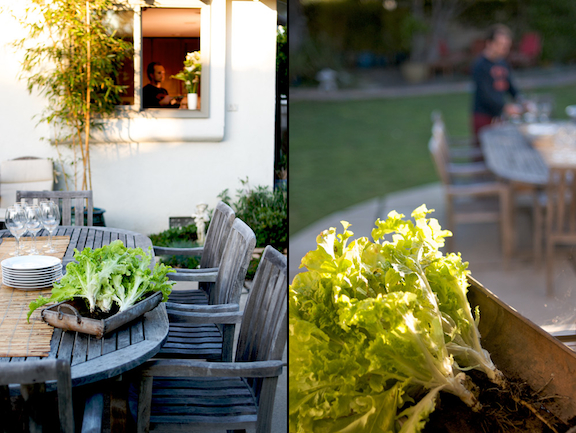 The kitchen functions as a practical 3-4 butt kitchen (3-4 butts can cook at the same time.) So for just the two of us cooking, we have all the elbow room and counter-top space we need. We cranked out food for a gathering of 75 people at the house last summer. During our get-togethers, we'll often be weaving through at least a dozen people gathered inside the kitchen's confines. Then they will spill out into the garden, mostly unaware that they are surrounded by the source of much of their meal. We're happy to know that both the outdoor and indoor kitchens flow together harmoniously, kinda like "White On Rice.."??? :)
If you're wondering who cooks what, the answer is yes: both of them and everything!

something cookin' in the kitchen!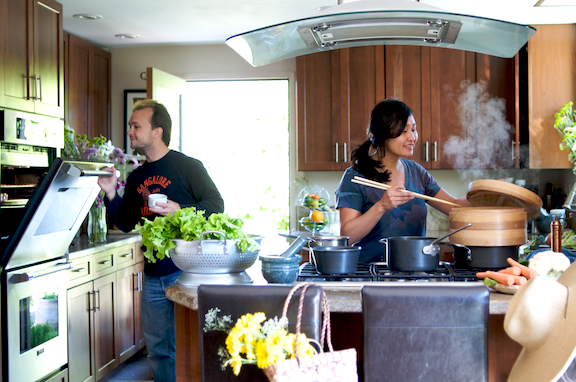 Todd and Diane (or Toddiane), you guys are too freaking awesome for words. Thank you for the tour and for stepping up a week early when one of our kitchens fell ill! The only thing keeping me from pressuring you to move to Colorado is that you have worked so tirelessly to create a delightful home of your own.
Four kitchens left on the tour and I promise that they are all as awesome as the previous six we've visited so far (mine doesn't count, it was posted just to coax these shy bunnies out of the woods). Hope you all are enjoying it as much as I am. And please be sure to leave a comment to let these bloggers know how awesome they are for participating. I'm off to ski! xxoo
previous kitchens
week 1: use real butter & supplemental
week 2: winos and foodies & figs, lavender, and cheese
week 3: eggs on sunday & sunday nite dinner