Thursday, April 9th, 2009
Well, we have come to it at last… the final segment of our kitchen tour. I hope that these past several weeks have inspired some of you, be it from the beautiful, dreamy kitchens some bloggers have created to the bloggers who are "making due" and in fact, doing it incredibly well. You've gotta love the photography setups and nifty kitchen or entertaining tips – these bloggers know their way around a kitchen, know their way around food. It's all about sharing and learning (and laughing, oh the laughing…)! Our last two blogger kitchens are half a world apart and yet these two people could not be dearer friends to me. Enjoy.
blog: No Special Effects
blogger: Mark, or Manggy, which is a shortened version of my surname.
location: Quezon City, Philippines
house: I live in my parents' house, which I feel particularly defensive about since I'm already much older than many of you probably were by the time you've moved out! Think of the Philippines as the Italy of Asia, I guess (being a perpetual student didn't help matters). Anyway, the house is 9 years old, and I love it as my dad designed it and oversaw the construction.
kitchen footprint: 10 sq. meters
photos: all photos of the No Special Effects kitchen are courtesy of Mark
Oh boy. It's hot… and humid! Here we are in the Philippines visiting with Mark of No Special Effects. Er, that's Dr. Mark to you :) Not only is he Dr. Mark (of the MD persuasion), but if you have ever visited his blog, you know that he is a talented cook and baker. Mark kids around with everyone, but at the core he is incredibly thoughtful and kind… and dorky – all qualities I cherish about him. After spending a few months in the States interviewing, he returned home just in the nick of time to partake in this tour despite battling jetlag. I'm certainly glad to have him here. Let's have a look at the kitchen, shall we?
I think the most important change that happened to the kitchen when I decided to pick up the whisk is that it actually got used! Curiously in some Filipino homes– and that includes most of the Filipino homes I've seen– there is what we call the "dirty kitchen." And it doesn't mean half the time we don't care about food safety; it only refers to a separate kitchen where you can really mess up (oil splatters, spills) on a daily basis while the other kitchen, the "clean" one, is for show. Obviously I don't like this system as the clean kitchen becomes a waste– soulless. While I'm not the one who cooks meals on a daily basis, when I do cook, I make it a point to use the kitchen for what it was built. As a result, my pans and little knick-knacks invade most every crevice.

the main kitchen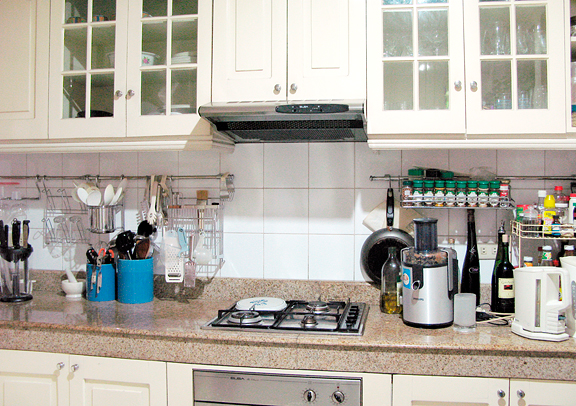 [This is] where all the non-magic happens. All the utensils are on display. My lone saucepan and dutch oven are stashed in the cabinets underneath, as is an ass-ton of sugar. My mom is on a juicing kick right now and uses the machine every day no matter what a chore it is to clean.
clean kitchen : "dirty" kitchen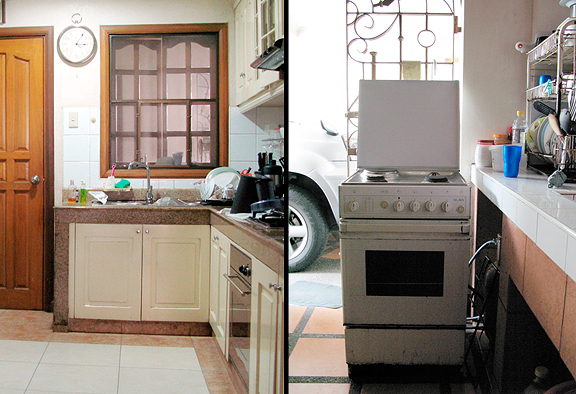 **Jump for more butter**