Recipe: spicy chinese cucumber salad
First: I was asked to link to April Food Day. Even though I believe the day is over (I got a late notice and it was supposed to be April 1) you can still donate for a good cause – to feed the hungry. Hop on over, won't you?
We got some snow on April Fool's Day. No joke! At least it wasn't a joke for us, we were thrilled. More snow more snow! Technically, you CAN ski all year in Colorado – just that things can get a little lean in August and September when you are limited to the glaciers (and the glaciers here aren't terribly big).

we like accumulation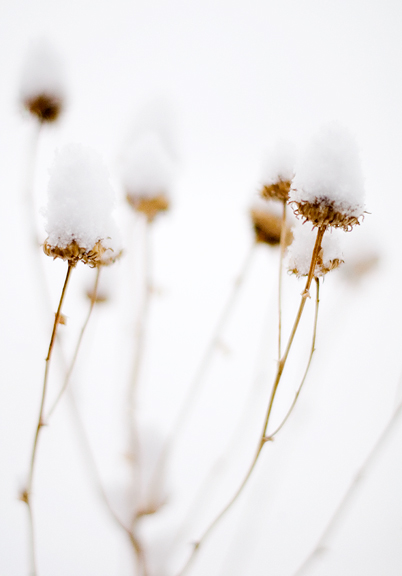 kaweah looks sugar-dusted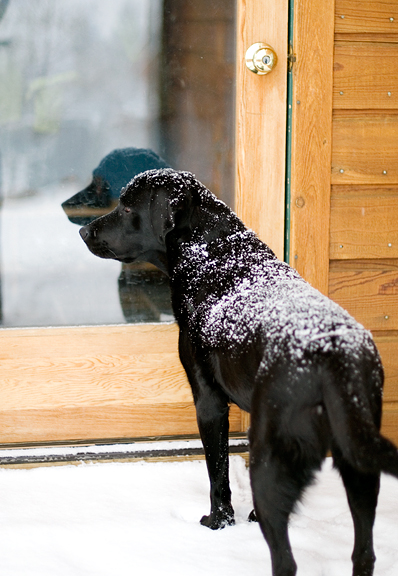 Then it got warm, but just in time as I hosted a stitch-n-bitch for a really fun group of intelligent, friendly, and chill ladies. Kitt was a sweetheart and brought me a *still warm* freshly baked loaf of bread (and it's delicious – I had some tonight with dinner). Nichole introduced us to an Aussie ginger beer which her husband is fanatical over (and now, so are we!). Foodies rock. The stitch-n-bitch was an excuse to cook authentic Chinese food for some of my favorite people as well as introduce them to one another.
lunchtime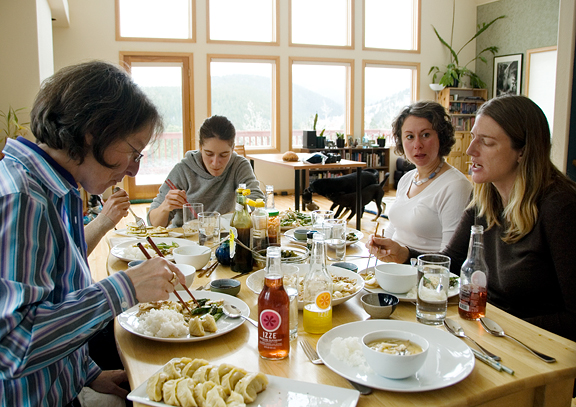 i need a bigger dining table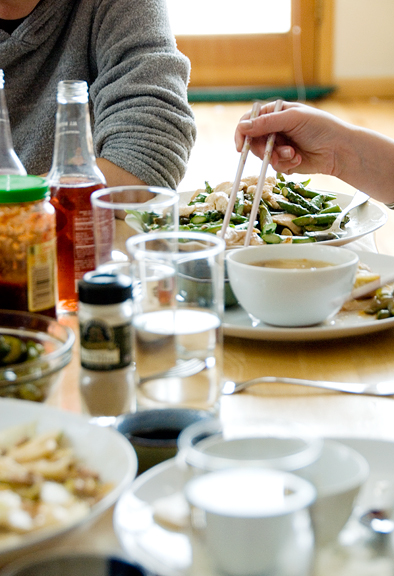 That's not always a trivial matter – introducing one group of friends to another group – because they don't always get along. You know how you keep some worlds separate and it's just better that way? Well, not so with these chicks, because everyone got on so well and we had a great time Friday watching the snow flurries in between bouts of intense sunshine. Of course, the moment I set plates of food on the table,
Kitt
and
Manisha
whipped out their cameras and began taking pictures. That's what food bloggers DO! The rest of my friends? They weren't phased at all – because they're used to me doing it whenever we get together :)
love my fellow food bloggers: kitt and manisha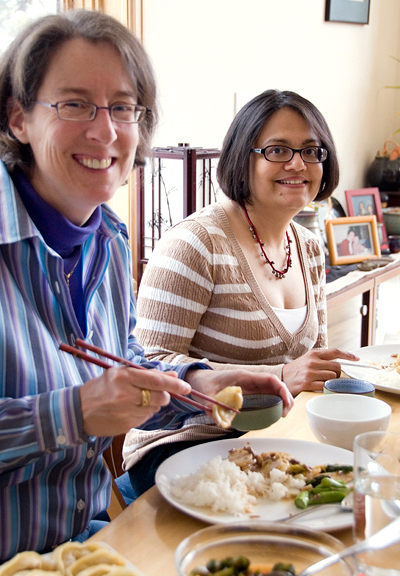 coffee, tea, and dessert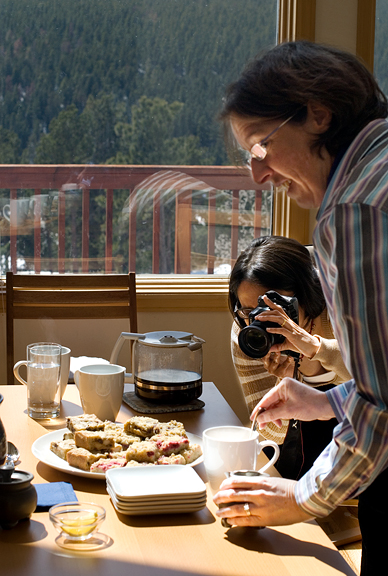 simple dessert: mac nut blondies and blueberry/raspberry bars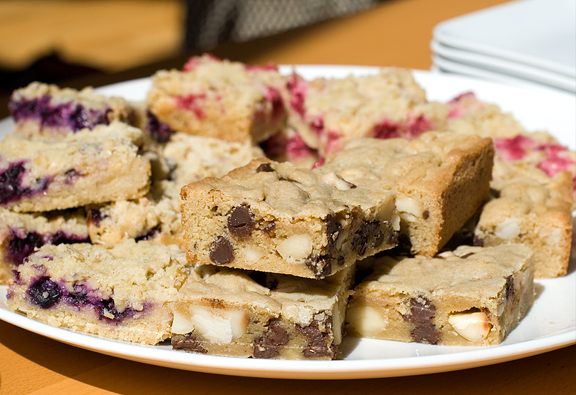 A lot of people know Chinese food as that horrid take-out cuisine with deep-fried hunks of grisly meat smothered in thick, gooey day glo sauces. Ugh. That's not the Chinese food that my family makes. My family makes
the good stuff
and I wanted my friends to experience some real Chinese food because I haven't found any here in Colorado.
the menu
scallion pancakes
pork potstickers
spicy cucumber salad (recipe this post)
hot and sour soup
stir-fried chicken and asparagus
stir-fried chinese rice cakes
steamed rice
macadamia nut and chocolate chip blondies (recipe to come)
blueberry and raspberry lemon bars (recipe to come)

While the food was one of the main attractions, we finally settled into the living room and began our various projects while multiple conversations were conducted at any given time. Oh, and guess who else was visiting? Sonora! She's twice as big as the last time I saw her, but she's still so cute and tiny compared to the lumbering Kaweah. They had so much fun together and had several short siestas sprinkled in with the chasing and wrestling and toy disembowelments. Sonora is a really well-behaved puppy. One of the best. They were especially attentive to Kitt who carries dog treats in her pockets!
i love stupid ear on puppies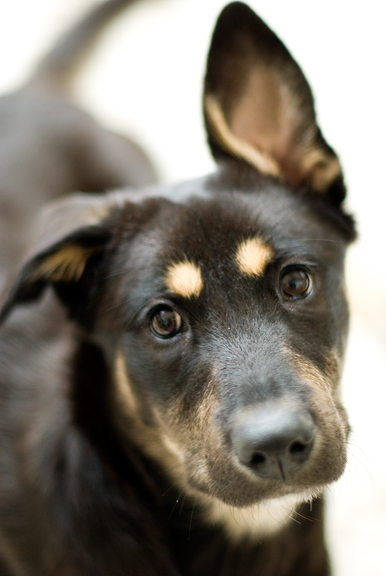 utter cuteness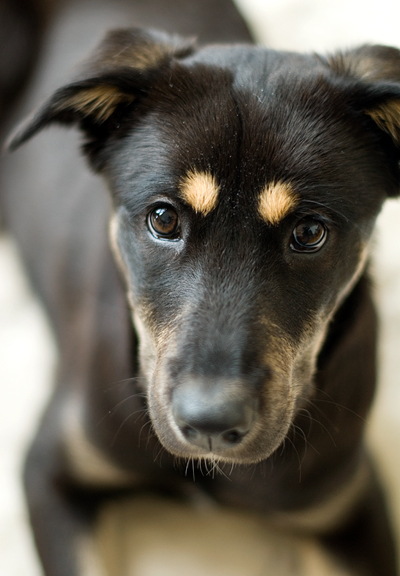 beth starts a scarf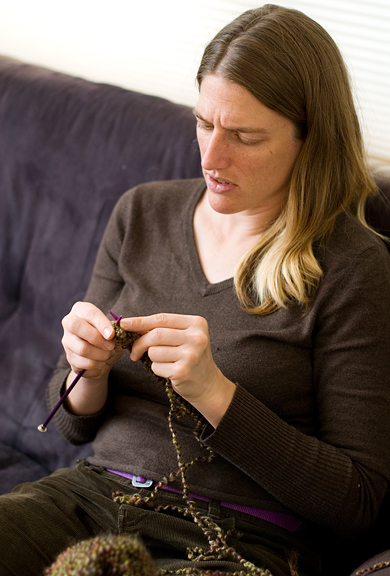 as does kitt with her size 17 needles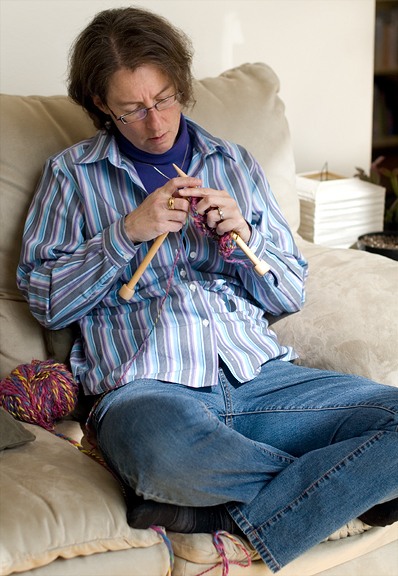 That was great fun and the personal dynamics were spot on. Not more than a few hours after everyone left, it began to snow. It kept snowing all night and all day today. I know this because…
jeremy catches some pow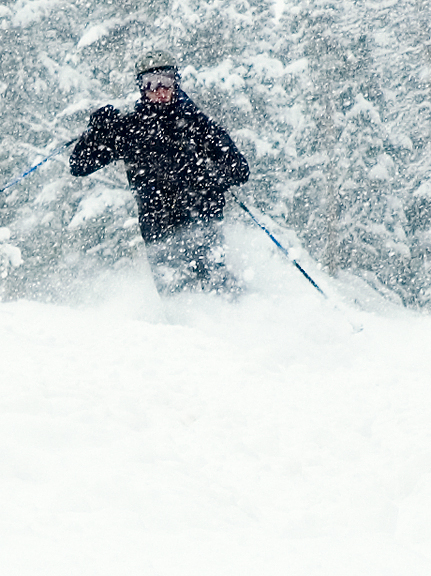 it's like i'm skiing in the clouds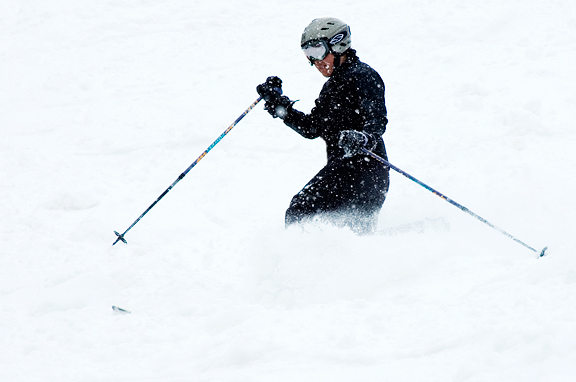 We haven't had a lot of big dumps here this season, so today's 10 inches of fresh powder at our local hill was enough for us to drag our sleepy butts out of bed and see what there was to be had. It was one of the best powder days of the season because there was NO WIND (upslope!!!!!).
it's all mine!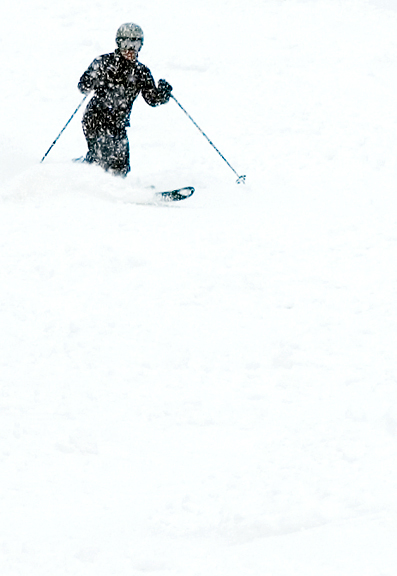 I thought I was ready for spring, but today just made me hungry for more snow. We hit the blacks and double blacks and it was as good as it gets around here. I don't remember whooping and hollering more on any other day! Most people in our little town were jazzed about the snow. I honestly don't get people who live in the mountains and don't like snow. What is up with that? Please move away or shut up already. Okay, a little more ski porn and then the recipe.
i couldn't see a thing, but the landing was guaranteed to be soft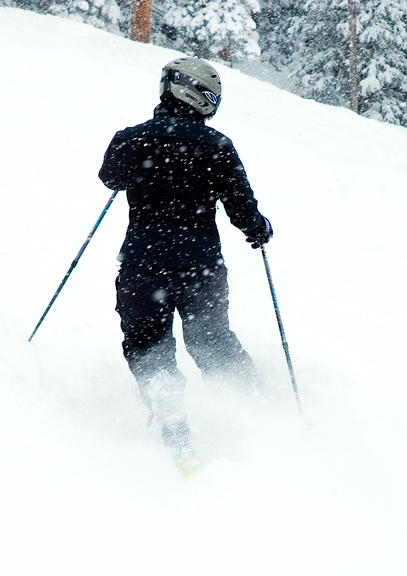 jeremy playing in the glades (combat skiing)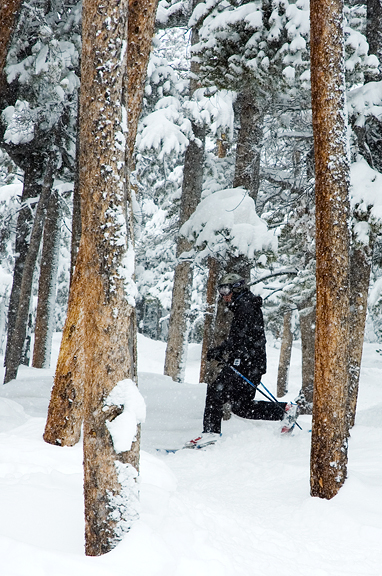 Okay, finally to that recipe! One of the side dishes I served was a spicy cucumber salad that my mom made when I was growing up. I'm a nut about pickled anythings. I love sour and crunchy. Well, this salad is sour, crunchy, spicy, salty, and sweet. It was a huge hit with the gals and several asked for the recipe. You got it, ladies.
start with cucumbers
peel the skin in stripes
I like to use pickling cucumbers, Persian cucumbers, or English cucumbers since they tend to be less seedy than the standard ones you find in the grocery store. They also have a better and crunchier texture, but that's just my preference. The regular cukes work just fine as that is what my mom had to work with back in the 70s. You can leave the skins on, peel them in stripes, or remove them altogether. It's just an issue of aesthetics.
scoop out the guts (seeds)
slice into 1/4 inch pieces
Mom told me to remove the seeds because they hold the bulk of the water. I also remove them because I like the pure crunchiness of the salad rather than getting bites of that fleshy pulp. I imagine it would be fine to leave the seeds in if you like, but I don't think I've ever had it that way.
salt the cucumber slices
mix with seasonings and chili paste
Salting the cucumbers helps to draw out liquid and I left mine salted in the refrigerator for an hour then squeezed the liquid out before mixing with the seasonings. My mom said when adding soy sauce to taste, that it would depend on how much salt you used. I just sprinkled about 1/2 teaspoon of salt and the salad wasn't overly salty. You can make this without the chili paste, although I think a smidge of it really brings out a nice flavor. I used to enjoy this salad in the hot Virginia summers, but it's quite good any time of year and pretty simple to prepare.
serve cold
Spicy Chinese Cucumber Salad
[print recipe]
2 lbs. cucumbers (my favorite are the Persian cucumbers)
1/2-1 tsp salt
2-3 tbsps rice vinegar, to taste
1/2-1 tbsp sesame oil, to taste
1/2 tbsp sugar, to taste
2-3 tbsps soy sauce, to taste
1/2-1 tbsp chili paste, to taste (optional)
Wash and then peel the cucumber skins in alternating stripes (or peel completely or not at all). Slice the cucumbers in half lengthwise and scoop the seeds and pulp out with a spoon. Slice the cucumbers into 1/4-inch pieces. Sprinkle the cucumber slices with the salt and toss to coat evenly. Cover and place in refrigerator for an hour. After an hour, squeeze the cucumber slices of as much liquid as possible with your hand. In a medium bowl, combine the cucumber with the rice vinegar, sesame oil, and sugar. Add a little soy sauce and mix the salad. Taste and add more soy sauce until you reach the desired saltiness. Stir in the chili paste and serve cold or you can let it sit for a day in the sauce in the refrigerator – it will taste even better.