Well, we have come to it at last… the final segment of our kitchen tour. I hope that these past several weeks have inspired some of you, be it from the beautiful, dreamy kitchens some bloggers have created to the bloggers who are "making due" and in fact, doing it incredibly well. You've gotta love the photography setups and nifty kitchen or entertaining tips – these bloggers know their way around a kitchen, know their way around food. It's all about sharing and learning (and laughing, oh the laughing…)! Our last two blogger kitchens are half a world apart and yet these two people could not be dearer friends to me. Enjoy.
blog: No Special Effects
blogger: Mark, or Manggy, which is a shortened version of my surname.
location: Quezon City, Philippines
house: I live in my parents' house, which I feel particularly defensive about since I'm already much older than many of you probably were by the time you've moved out! Think of the Philippines as the Italy of Asia, I guess (being a perpetual student didn't help matters). Anyway, the house is 9 years old, and I love it as my dad designed it and oversaw the construction.
kitchen footprint: 10 sq. meters
photos: all photos of the No Special Effects kitchen are courtesy of Mark
Oh boy. It's hot… and humid! Here we are in the Philippines visiting with Mark of No Special Effects. Er, that's Dr. Mark to you :) Not only is he Dr. Mark (of the MD persuasion), but if you have ever visited his blog, you know that he is a talented cook and baker. Mark kids around with everyone, but at the core he is incredibly thoughtful and kind… and dorky – all qualities I cherish about him. After spending a few months in the States interviewing, he returned home just in the nick of time to partake in this tour despite battling jetlag. I'm certainly glad to have him here. Let's have a look at the kitchen, shall we?
I think the most important change that happened to the kitchen when I decided to pick up the whisk is that it actually got used! Curiously in some Filipino homes– and that includes most of the Filipino homes I've seen– there is what we call the "dirty kitchen." And it doesn't mean half the time we don't care about food safety; it only refers to a separate kitchen where you can really mess up (oil splatters, spills) on a daily basis while the other kitchen, the "clean" one, is for show. Obviously I don't like this system as the clean kitchen becomes a waste– soulless. While I'm not the one who cooks meals on a daily basis, when I do cook, I make it a point to use the kitchen for what it was built. As a result, my pans and little knick-knacks invade most every crevice.

the main kitchen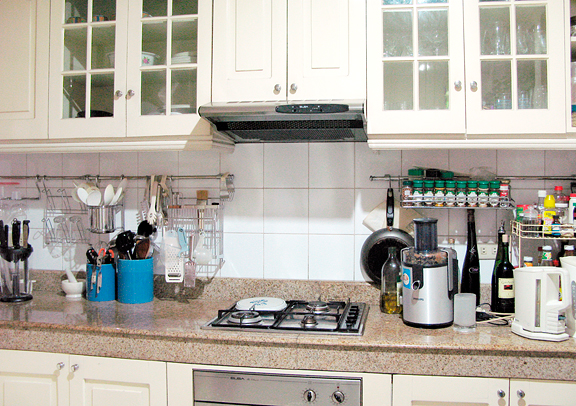 [This is] where all the non-magic happens. All the utensils are on display. My lone saucepan and dutch oven are stashed in the cabinets underneath, as is an ass-ton of sugar. My mom is on a juicing kick right now and uses the machine every day no matter what a chore it is to clean.
clean kitchen : "dirty" kitchen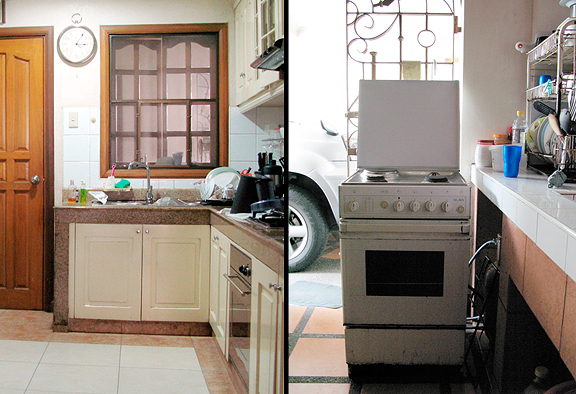 Here we have the short entrance from the garage, which is the "dirty" kitchen (ironically just coming from a cleaning). In the Philippines, we don't have gas lines, so we refill liquefied petroleum gas tanks and that is our supply (the one under the dish-dryer is hooked up to the stoves in both kitchens). I guess there's nothing particularly pretty about this scene, but it is what it is (a useful tautology) and that's what it means to live in the tropics. …the sinks of the "clean" and "dirty" kitchens are separated by the windowed wall.
I quite like the idea of a clean and dirty kitchen. I would fry fish and other smelly things in the dirty kitchen. Maybe I would call mine the stinky kitchen? That's so brilliant, particularly for entertaining.

appliances : pantry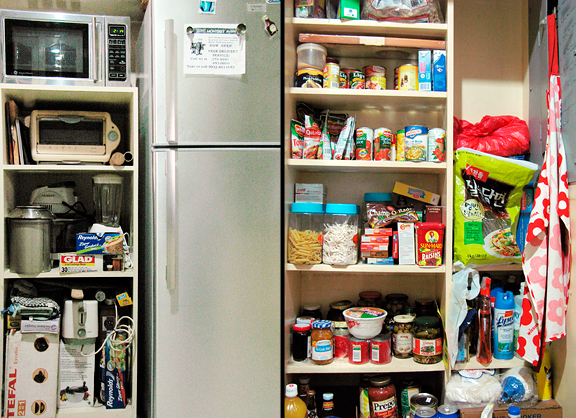 Next to the fridge, we've decided to make a totem of small appliances. Next to the oven toaster we have my trusty chopping boards and rolling pin. Under that, we've managed to fit a large turbo broiler, a blender, a hand mixer, my scale, and one of those EZ-choppers (think of it as a miniprep food processor) you get off Home TV shopping. Under that, I've managed to fit my pizza peel, a grill, a hot plate, another toaster, a bunch of oven mitts, and my active rolls of parchment, cling film, zip-lock bags, and foil.
Our cupboard has all the evidence of our illicit affair with processed tomatoes. We aren't really fans of dill pickles and green olives but we get gifted and we're already in too deep to reveal the truth. If anybody has any more ideas on how to use up what is apparently a lifetime's supply of Korean sweet potato noodles, I'm all ears!
I can't believe no one wants to eat the pickles and olives! I love that apron with the red flowers. You should have posed in that for us, man. You're holding out on me.

baking tins and cutters : baking pans, molds, pizza peel, rolling pin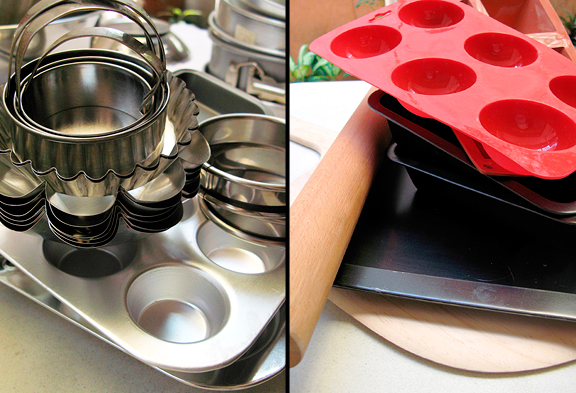 If this stash (and it's only a small fraction of the baking and cooking equipment Mark has!) didn't clue you in, Mark is an avid baker and cook. I swear he has a better collection of baking tools than I do *jealous*. I love guys who cook, and I'm always curious to learn what their motivation is. So how about it, Mark?
The simple reason is because I love to eat all sorts of different things! I can't think of any food item I would summarily dismiss (even coconut). It seems like a shame to go to a restaurant and order the same thing over and over just because it's your favorite, so why not learn to make it at home and satisfy the craving there? Also, you just can't trust commercial bakers to do something right, or within a reasonable expense. Plus, it's fun, and I love learning new skills just for the heck of it. Seeing your family and friends fall over something you've made is a sweet bonus.
I thought you were terrified of lychees? ;) Please tell us what your favorite kitchen gadget or appliance is.
I absolutely love my digital scale. I can't be bothered to go back to cups and spoons, and I always convert recipes that use that convention. When I came to the States for a while, I had to buy a second one at IKEA for $13, because it just saves so much time and energy. Plus, I'm a fan of multiplying and dividing recipes to fit the yield I want– something not very easy to do when you're using volume.

the dining room as seen from the living room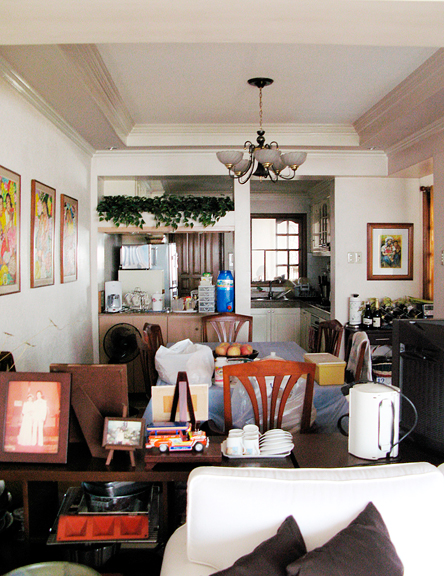 The kitchen and the dining room are next to each other, so there are plenty of opportunities to impress the friends when you're putting the finishing touches on a dessert. When my friends are interested in learning [to cook], I involve them as much as they want to, though we end up invading the dining room. The divider between the dining and living room keeps a bunch more of my stainless-steel bowls and baking pans.
What do you love about your kitchen?
I honestly didn't think I could say very much beyond the fact that it's my kitchen, but after being away from it for so long, I missed not only my rhythm, but also that I could make anything I wanted, because I love picking up cheap pans and tools. All I really need are ingredients. (Well, I have everything I need except a stand mixer.) I mean, I was once in a kitchen without a grater and a sieve! I think I got the vapors.
…and what don't you love about it?
There's nothing much I can do about it, but it's always ridiculously humid. Jen would melt. Brioche and puff pastry are nearly impossible to make from scratch. Plus, especially after seeing everyone's beautiful kitchens, I realize there just isn't enough sunlight reaching it. I definitely could use more room, but I like making it work.
Yup, I'd melt. Humidity makes me irate… Just imagine if you visited Colorado in winter, you'd become freeze-dried.

a small garden area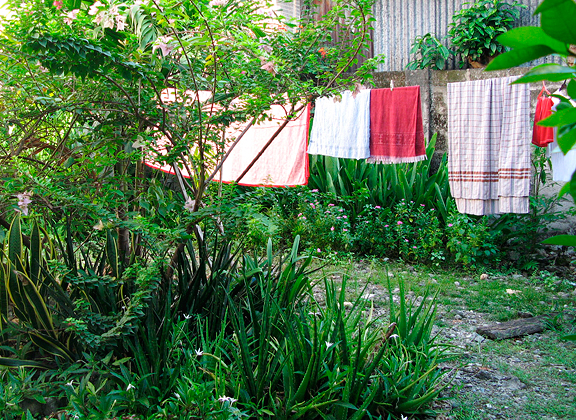 Mark described this small garden as a "wild green area" where he harvests fresh basil from time to time. It looks like a jungle (in the good sense) to me! This lovely space borders the area where Mark takes most of his food photos.
Past the living room and outside, we have a small garden area (not really of any use for anything as awesome as Todd and Diane's) that I use for taking pictures, because good luck making anything look good inside the house with my point-and-shoot. There are plants and there's no other purpose for it other than for hanging clothes to dry. I have a folding table and a modest number of props, and it's chaos to shoot stuff under the hot Manila sun, but I like the way things have turned out. At least there is sunlight from 6 to 6 all year round! The available light makes for more flexible pictures in post-processing.

the photo area : mark stages a fresh apple tarte tatin!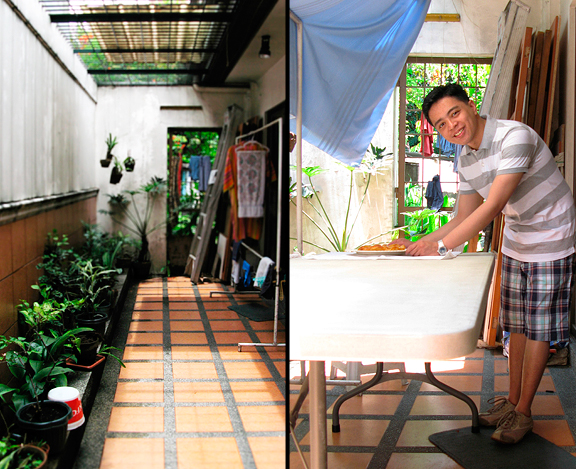 Thank you for the tour, Mark. I have to admit that I was expecting to see some of those famous mangoes you always boast of… ahem ;) I personally can't wait for you to do your residency in the States so that we can slap some skis on your feet and send you screaming (literally?!) down the slopes someday. Keeping fingers crossed and best of luck!

**********

Last, and most certainly not least, is Helen, or
Tartelette
as so many of us have come to know her. We end the tour where hospitality hangs its hat: the South. South Carolina, to be exact. I "met" Helen shortly after I joined the Daring Bakers. I thought she was just a really friendly fellow food blogger at first. I'm slow on the uptake… I began reading her lovely blog. Then we began to correspond. Then we became friends. All the while I gradually came to realization that this woman has one hell of a popular food blog (voted Best Overall Food Blog for 2008!), is a walking pastry encyclopedia, is the baking reference and high priestess for the Daring Bakers (a gazillion million strong now), and is essentially loved by all. Mostly though, she is incredibly kind and funny. I love her and l especially loved those emails with the missing letters because her keyboard was having issues.
blog: Tartelette
blogger: Helen (Tartelette)
location: Charleston, South Carolina
house: 3 year old, elevated Cape Cod on the water
kitchen footprint: 12×15 (180 sq. ft.)
photos: all photos of the Tartelette kitchen are courtesy of Helen
Helen graciously offered to give a tour, and I'm going to keep my mouth shut because the last time we spoke on the phone we talked *forever* and we don't want to put you good readers through that :) Take it away, Helen.
Three years ago, we decided to finally be grown-ups and build a nest egg by purchasing a lot by the water and building a nice-size house on it. The goal was to sell after one year… We're still here. Given the track record of the real estate market we decided to hang on a little while longer. That actually suits me fine because I love this house, I love the neighborhood, and I love this kitchen!
When I say "we built" the house to strangers they reply, "Yeah, yeah, your contractor did." Nope. We were the owners-contractors. It took us 15 months and a lot of Gatorade, but we did it. We bought the shell of a 2-story modular home in the style of Southern coastal living and completed everything in and around it. We built the house foundations, pillars, stairs, porches, and the upstairs which looked like a dance hall before Bill designed a mini hotel suite up there (you should see it…I want to put a kitchen up there I love it so much!!). Oh yeah, we also conducted funny experiments teaching ourselves plumbing and electrical wiring!
Even with "just the shell", the kitchen came with "extras" that were fine to start with since we had very little energy to do anything other than build. Somehow something got lost in translation and we got electric instead of gas stove and cabinets a shade darker. In all honesty, it could have rained inside the house the day we moved in and we would not have cared one bit. We were in! We had done it!

tartelette headquarters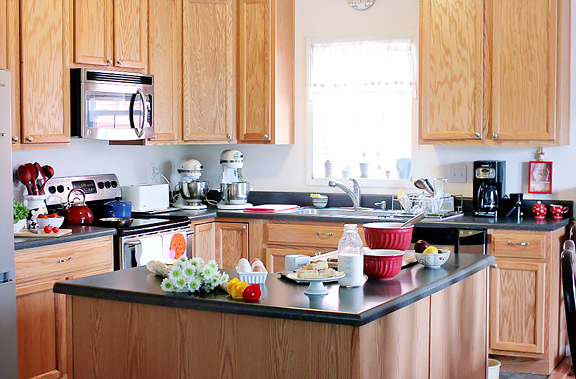 From the center island, I am two steps and two arms' reach from the fridge, which is one step from the stove, which is one step from the sink, which is one step back to the center island. When you are working and in need of a plate, dish, pan, sheet pan, or ingredient, this is a breeze. So it is time and space efficient and makes my work flow so much more enjoyable. Even the pantry is no more than a few steps from wherever you are in the kitchen.
the range : coffee center, cookbooks, extra work tables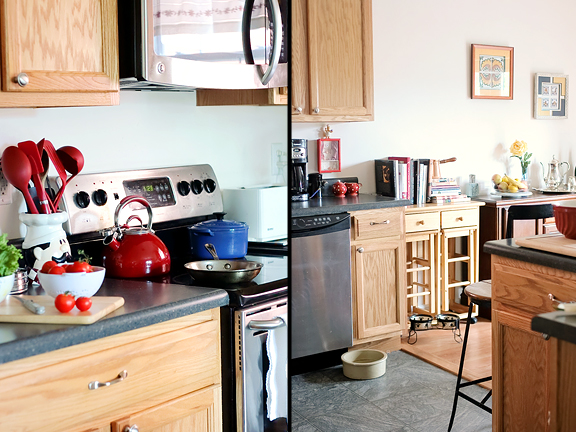 The range is meant to look like an induction top, but really it is electric. Honestly, it does not bother me what I cook with. I grew up with gas. I learned electric…no big deal. Plus it gives that much extra work space for letting things cool, prepping sheet pans, etc. when it's off. And I just could hug my convection oven. I think that along with the Kitchen Aids, it is the best workhorse I have ever had since it is on everyday, sometimes without a break. If you have a desk job you have the computer on. If you have a kitchen job, you have the oven on.
Next to the sink is the "coffee area". That's also where I put one of my mom's shadow boxes that she made for me: a pastry shop scene that relaxes me when I get a cup of coffee. I also stuck my Baking Casimir figurine up there (think Barney's cousin) – a childhood icon in France. Keeping trinkets like these here and there in the kitchen is the best thing for one's spirits! Next to that, I love the Spanish tiles my mom framed which we put on the walls. I have a love/hate relationship with that little rolling island. It's great when I need to work on a wedding cake and I can roll that thing around and out for extra space. It gives me 2 extra drawers, 2 extra stools for people to sit around, and counter space for cookbooks – but the color and style just bug me.

the pantry : the pantry door/chalkboard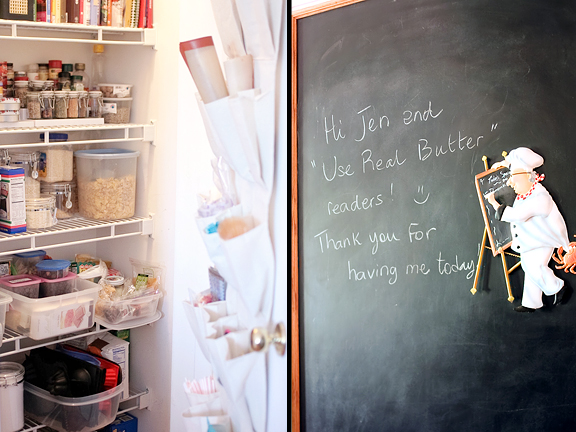 [Love that chalkboard and the note!]
I love the pantry! I am really happy with the organization as well as the fun elements of it, so much so that I want to take it with me when we move!!
Inside: Now you know my little OCD side to my cooking and baking! I don't store a lot because the pantry and cupboards are small and I LOVE grocery shopping. I seriously do :) So there is never over buying and over stocking, or forgetting what I have if it is in front of me. One main reason for keeping dry goods to a minimum is the humidity around here. It brings in little "flour bugs" that creep up into your jars, even tightly sealed. I can't stand wasting anything because of these buggers so I buy in small bulk amounts so they never have time to take up residence.
I put all my baking bins lower than chest level on purpose. I can pull the bins out and see what's what. Like the bin with the baking extracts and coloring – I pull and read the color initials on the cap of the bottle instead of fiddling in a box for the right one. There is a bin with baking molds and rings, a bin with chocolates and nuts… I have a pet peeve about bags of nuts and chocolate so everything ends up in a container.
The front of the pantry door is a chalk board and it was one of my own design implements. I took the door off the hinges, went in the backyard and sprayed it with chalkboard paint. Bill framed it with a thin piece of wood and I nailed the cutest little crab-ass-bitten-chef I could find :) This is where we write urgent messages or sappy love notes; where I write the things to get at the store as they run out. I also write what is in the freezer (flours, meats, fish, cakes, batters, dough…) so I don't waste them before I forget. The inside of the door is also a favorite of mine. I am sure I saw it in Martha Stewart or Domino but eh…it works! I bought a "hang over the door" shoe organizer and use it for all the little miscellaneous items that can easily creep in drawers and bins: candles, rubber bands, baking twine, coffee filters, silicone mats, recipe cards, small bags of all sorts, pencils, etc… So much easier to keep me organized and functional.

baking equipment : extracts and colorings : drawer of baking tools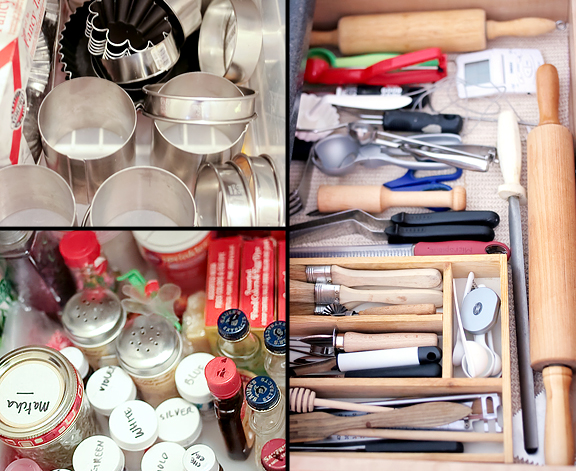 twofer kitchen aid stand mixers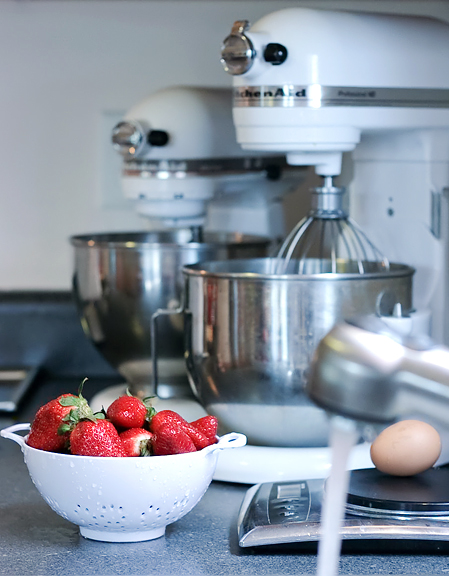 The dueling Kitchen Aids were bought "broken" at yard sales and refurbished by my very handy husband. They sit above the corner lazy susan cabinet where I reach for cake pans after I mixed my batters in the mixers or plastic containers for leftovers.
refrigerator : pull out racks for pots and pans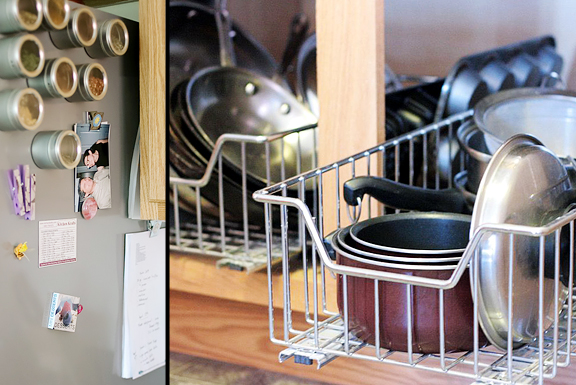 The side of the fridge is where I put herbs and spices in magnetic tins to remind me to cook more often with those (they change every other month or so), baking orders and other event happenings for the month, like Bill's music jobs or lectures, etc. That's where we "dock" to see if we missed something or forgot what was going on that day for one of us. Too many things to juggle!! The picture is of us goofing off at Halloween – it really cheers me up when I want to leave the kitchen before the job is done!
bill sets the table for brunch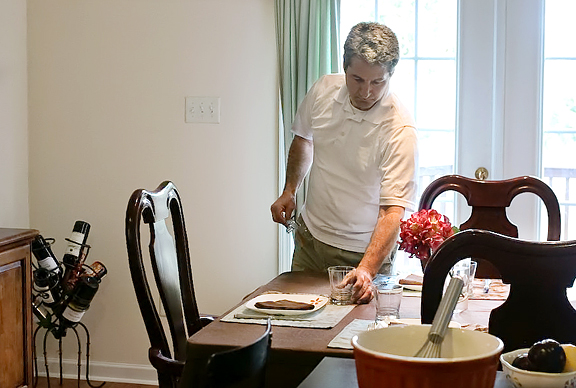 bailey (l) and tippy (r) sit for a treat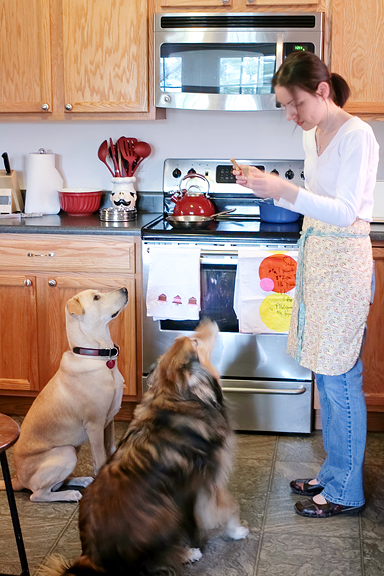 We are on a tidal creek and there are times of the day when you can be standing at the counter and feel like you are the captain of a ship :)
the view from the kitchen: sunrise on the water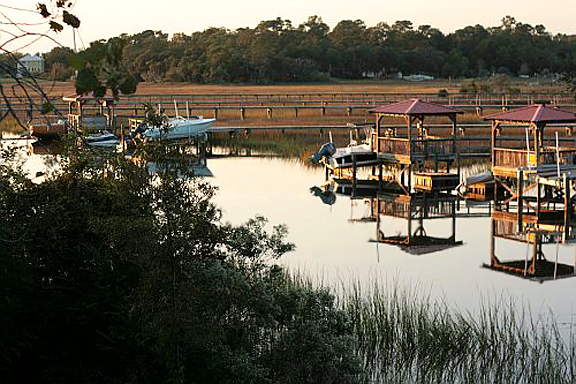 Photography: I don't know if it's us, the fact that we have wonderful neighbors in the 4 houses next to us, or the Southern way of life, but there are always people coming and going, friends dropping by… It is much easier for me to take pictures somewhere else other than around the kitchen. I also have a wonderful mother who keeps shopping for props to send to me. I wanted to have a space where I could see plates, glasses, and utensils easily. Bill suggested that I put a 2×4 on sawhorses (so it can be easily put away when we do have guests) in the guest bedroom upstairs and keep a couple of shelves in the guest closet for props, sheets, utensils, etc. to have a clearer space for pictures.
helen works her magic preparing brunch for guests : flipping through a cookbook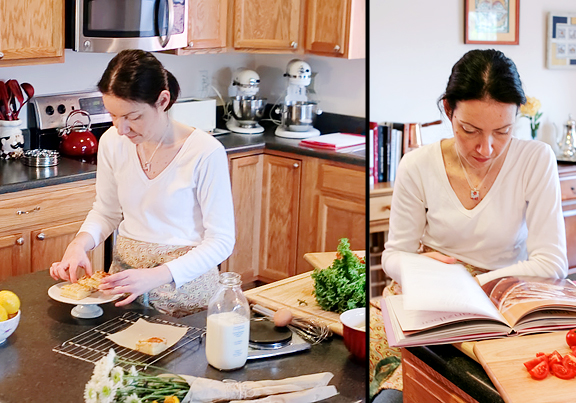 If people wonder how I stay fit while baking: 2 flights of stairs, 2 energetic and crazy dogs, and a lot of playing at the dock with the neighborhood kids. Ah yes…the kitchen is for sale and you get a whole lot of wonderful house along with it!!
Oh Helen, I cannot imagine you NOT in that lovely kitchen. I seem to have lousy timing (or maybe people are just busy ALL of the time), but Helen is in the middle of writing a cookbook and trying to sell their house, all the while maintaining her normal busy work schedule and treating friends to her beautiful culinary masterpieces. A heartfelt thank you for agreeing to share your kitchen (your office!) with us.
I would like to thank all of my wonderful readers (old and new) for their support of use real butter and the fantastic bloggers who took the time to lay bare their special kitchens – where they make the magic happen day after day. Most of all, I must thank my dear fellow bloggers, my friends, for agreeing to take pictures of their kitchens, their pots and pans, their cookbooks, their pantries, and then taking MORE pictures for me to pick over and edit and cobble together. A big thanks for their candid answers to my nosy questions and for spending precious time writing up material for these posts as everyone is short on spare time these days. They are amazing and are truly wonderful people. So please, give it up for all of them: Barbara, Cindy (Figgles), Amy, Chuck and Hungry Bear, Melissa, Todd and Diane (Toddiane), Anita, Peabody, Mark, and of course, Helen.
Whew! We are done!
previous kitchens
week 1: use real butter & supplemental
week 2: winos and foodies & figs, lavender, and cheese
week 3: eggs on sunday & sunday nite dinner
week 4: alosha's kitchen & white on rice couple
week 5: dessert first & culinary concoctions by peabody