Recipe: strawberry chiffon and buttercream cake
My interview with the Times Online went live today. Go check it out, then come back for some strawberry chiffon and buttercream caaaaaaaake.


It's official. The ski rack is off the car. We haven't put the bike rack on yet because I have this fear of driving into the garage and killing my new ride.
We upgraded my mountain bike this weekend! I tend to think of it as a belated equivalent of the ten-year diamond anniversary ring, since my engagement mountain bike is 13 years old. Jeremy and I are pleased as punch that I never fell prey to the diamond industry's marketing campaign: that somehow I *need* a diamond ring. Pshaw. The only thing I can think of using a diamond ring for is better served by a set of brass knuckles.
I accept that spring has come to the mountains and summer will be hot on her heels. Our pattern of afternoon thunderstorms is setting up. The slush on the trails will eventually give way to mud which will give way to wildflowers and endless miles of beautiful hikes, bikes, and runs. Kaweah has her inaugural spring eye infection right now, most likely from rubbing her face in all manner of melting junk on the trail. Hurrah!

checking on the pasque flower's progress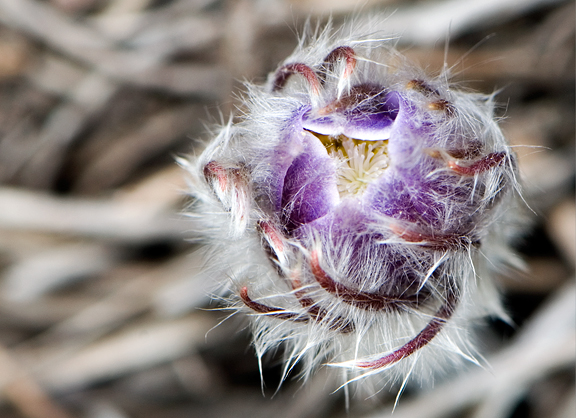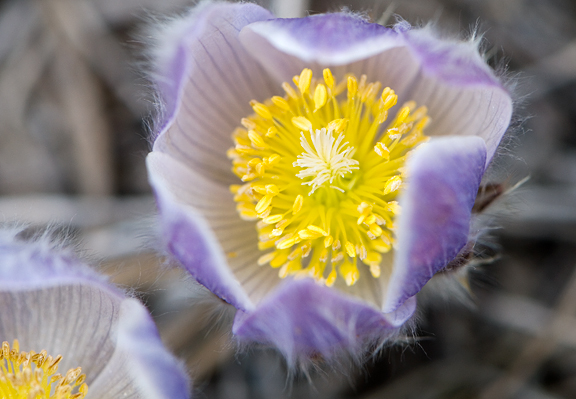 Ever since I learned to make chiffon cake and swiss meringue buttercream frosting, I have made this ensemble each spring – before it's too hot to even *think* about baking or Swiss meringue buttercreaming. For me, it is Eating Spring. I never blogged the recipe properly, so I decided to get off my bum and post it for dear Meeta's
Monthly Mingle
at
What's For Lunch Honey
.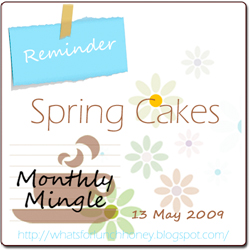 it's all about strawberries
If you can get your hands on some fragrant, juicy strawberries, do so. It is worth it and yes, you can taste the difference. The first thing to do is wash 2-3 cups of strawberries and lop the tops off. When I first attempted making this cake two years ago, I read somewhere (perhaps a tip from the amazing Rose Levy Beranbaum), to freeze the strawberries before puréeing because freezing pops the cell walls and releases better flavor. I do this. When the strawberries have frozen solid (i.e. it hurts to get hit with one), thaw them out completely and purée them in a food processor or blender. I love the deep red color of berry purées. Wear an apron.
freeze before the thaw
Now, you
can
strain the seeds out if you like. Just pass the slurry through a fine mesh sieve. I think of that when I get a strawberry seed caught in my teeth. However, I really like the texture of the seeds in the cake and frosting, and I also like the look of the seeds in the cake and frosting. I always leave them in (plus, I hate cleaning that damn sieve). I have a base chiffon cake recipe I use from my pastry course which I flavor accordingly. This cake works with vanilla chiffon cake, but I like the idea of a strawberry chiffon more, so that is what I stick with.
add some purée
fold whipped whites to lighten the cake batter
In the past, I've always baked my chiffon cakes in 9×2-inch round cake pans. I acquired some 9×3-inch cake pans last summer and decided to try them out on this recipe. *sigh* Anyone who follows me on Twitter knows that I had issues yesterday. The centers did not bake through (should have added 15 minutes to the baking time instead of just 5). Still, I managed to salvage some layers from the edges to make a couple of small cakes.
strawberry purée in the buttercream frosting
that is seriously good stuff
With the cake rounds and buttercream frosting at the ready, I began the assembly. Instead of a simple syrup flavored with booze, I went for straight booze because the Grand Marnier is a little too subtle when diluted in a simple syrup. Rather than brushing the Grand Marnier onto the cake, I prefer to fill a little squeeze bottle and squirt it directly onto the cake – less mess, more booze. Then I spooned some of the strawberry purée onto the cake layer. A lot of recipes call for jam, but honestly, the buttercream is sweet enough that unsweetened berries add flavor without making the ensemble overly sweet (something that makes my jaws hurt).
don't waste the booze, use a squeeze bottle
pipe buttercream between the layers
frost the cake
I find piping the buttercream onto the layer much easier than applying it with an icing spatula. The buttercream is a slippery component (I mean, it's got all of that BUTTER) that prefers to glide over the purée rather than adhere, so a pastry bag with plain tip works wonders in that regard. I lay strips of wax paper down under the edges of the cake (be it small or large) to keep the serving plate clean when I frost the sides. I'm including pictures of the large version from a previous bake too – but the little one sure is cute (and delicious).
three-inch three-layer
in cross-section
This is one of my favorite cakes ever because I love strawberries, but cannot abide by *fake* strawberry flavors. It's a fresh and light cake (just don't tell them about the pound of butter) and never fails to wow guests. The mouthfeel is smooth and delicate. Strawberries are the first flavor to hit you, but the Grand Marnier steps in a few seconds later and lingers on the palate. Perfect for springtime.
the big kahuna
a generous slice of love
Strawberry Chiffon and Buttercream Cake
[print recipe]
parts of this recipe are scattered through the blog, so I'm compiling it all here for once
strawberry chiffon cake (2 9-inch rounds)
strawberry Swiss meringue buttercream frosting
1 cup strawberry purée (in addition to the cup you need for the cake and buttercream)
1/2 cup Grand Marnier (or more as needed)
strawberry purée
1 lb. fresh ripe strawberries
Wash berries and trim the tops off. Freeze the berries solid. Completely thaw the berries and then purée in a blender or food processor.
strawberry chiffon cake
makes two 9×3-inch rounds
14.5 oz. cake flour
8.75 oz. confectioner's sugar
6.75 oz. whole milk
6 oz. canola oil
3.25 oz. eggs
0.5 oz. baking powder (omit at 8500 ft.)
13 oz. egg whites
9.5 oz. granulated sugar
1 tsp vanilla extract
3-4 oz. strawberry purée
Oven 375°F. Prep pan by butter bottom and sides. Place parchment in pan and butter the parchment. Sift dry ingredients (except granulated sugar) into a large bowl. Mix all ingredients (except the 13 ounces of egg whites and granulated sugar) in the large bowl until combined. Whip whites and granulated sugar to medium peaks. Fold into batter gently. Bake until set, about 20-25 minutes (do the toothpick test – no goop on toothpick). Remove from oven and remove from pan. Let cool on a rack. Wrap the cakes in plastic and freeze (I don't do this, I let them cool on the rack and then cut them). You will either be able to get 3 layers from one cake, or four layers from two cakes… it all depends on how tall you want your cake and how many layers of cake you want (I prefer 4 layers – it's cool). After two hours, remove cake from freezer and cut into 3 layers with a sharp serrated knife – or if you used 9×2-inch pans, cut two layers from each cake.
strawberry swiss meringue buttercream
8 oz. egg whites
16 oz. sugar
1 lb. butter, room temperature
4 oz. strawberry purée
Combine egg whites and sugar in a Kitchenaid mixing bowl. Whisk constantly over a gently simmering hot water bath until 140°F is reached. Remove from heat. Place on mixer with whisk and whip until stiff. Turn down whip speed to 3rd and whip until cool to the touch (this takes a while – should be cooler than your hand). Change to a paddle and gradually add soft butter by tablespoon pieces. Mix to emulsify. Once desired consistency has been reached, add purée and mix well.
Assembly: Set first cake layer down on serving plate with wax paper strips tucked partly under the edges of the cake. Drizzle or squeeze (if using squeeze bottle) Grand Marnier evenly over the cake. Spread a thin layer of purée and then spread a layer of buttercream over the cake (I like to use a pastry bag to pipe the buttercream on). Repeat cake, Grand Marnier, purée, buttercream, again and then top with the last layer of cake – or go for four layers which is *awesome*. Crumb coat the sides of the cake with buttercream. Refrigerate for an hour. Remove cake from refrigerator and finish frosting the entire cake with remaining buttercream. Garnish with fresh strawberries. Serve at room temperature.