Recipe: chocolate espresso pecan pie
My passport expired last year. I didn't rush out to renew it because I wasn't going anywhere, I had no hair for several months, and didn't want security trouble because of a bald photo ID when I would later have hair. Even when my passport is renewed (with new curly head of hair – thanks, chemo) I'm pretty content to stay put this summer. Our summers are brief in the mountains, but they are oh so amazing. Places with long drawn out summers are absolutely miserable to me: 1) too hot 2) too much sun 3) humid (that is the worst) 4) buggy 5) too many people. Jeremy and I looked at one another this weekend, bikes paused as we overlooked the expanse of green pine forests draped on the flanks of giant snow-capped mountains and asked, "Why on Earth would we want to leave THIS?" As we rode our bikes down a dirt road back toward home, we passed a gentleman walking his dog. He waved hello and shouted, "Another beautiful day in paradise!" That is where we live. Paradise.

melting out slowly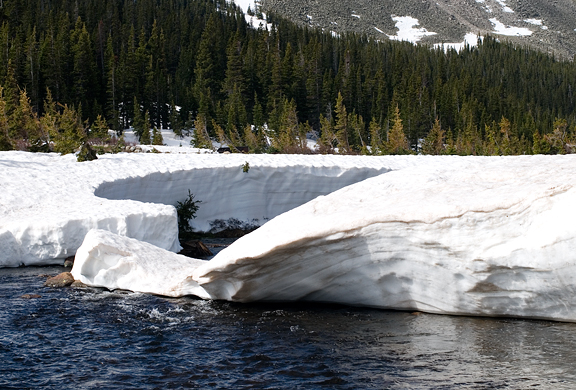 a very happy place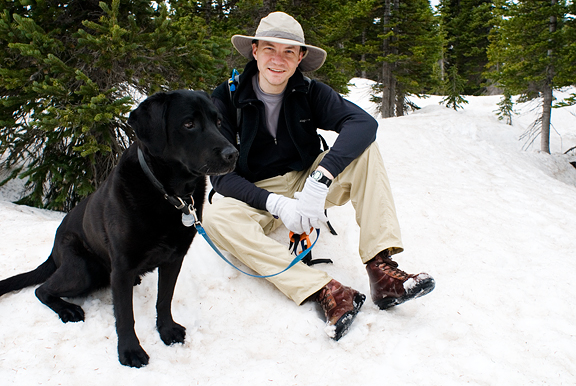 Summer looms on the horizon and I am relishing having my health back this year. There are still various issues to deal with, but they are minor compared to last year's medical clusterfuck. We're trail running, hiking, biking, and living what my pal,
Cindy
calls, "other people's vacations". While some can't stand to stay put, we are more than happy to have the opportunity to explore more of our backyard, our home. Some people get that. Others don't.
she gets it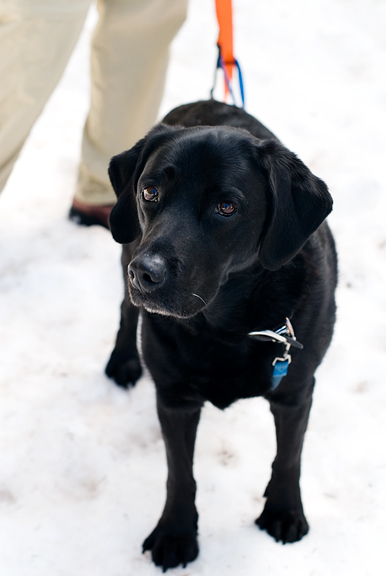 Speaking of "getting it", I never quite understood the appeal of pecan pie. Growing up in the south, you see it everywhere – that overly sweet, gooey, nutty, mess of a pie. That's what I always thought after one bite and that's where it ended… with one bite. So what was it that drew me to this caffeinated twist on a pecan pie? I honestly could not tell you, but I can say that I'm glad it called to me.
blend butter into the flour, salt, and sugar
add enough water so it just sticks together
The recipe comes from Fine Cooking, my all-time favorite cooking rag which boasts great recipes and gorgeous glossies. It called for half butter and half shortening in the crust, but I only occasionally have shortening in the cupboard and I *always* have butter in my fridge or freezer (you know that, right?). It's all butter, this one. I chilled the crust for a day and proceeded to make the pie the following day.
rolling out the pie crust
crimped
I like pie, but I don't love pie. That might be why my pie crusts are always "rustic" rather than "pretty". We just don't hang out that much to know each other well enough. But it is nice when we meet up from time to time. I'm the one who used to walk through the cookware stores and ask "Why would you need a pie weight?".
why indeed, when you have dried beans
gooey mess of yum
While the pie crust baked, I mixed the filling which is essentially butter, chocolate, espresso, coffee liqueur, eggs, and an ass ton of sugar in two forms. I sorted out the best looking pecan halves for the decorative part of the pie and then coarse chopped the remaining pecans.
pecans arranged in the pie crust
pouring goop of spasticity over the pecans
The recipe said not to worry, that the pecans would float to the top, and they did. Some of them began rafting about as I walked the pie to the oven, but they were easy to park back in their designated spaces. I suppose that is why the instructions say to reserve a quarter of the filling to pour into the pie when it is in the oven – but to me, that's just a recipe for injury. Patience is the operating word here. If you care at all about presentation (and even if you don't) it's probably best to let the pie cool completely, refrigerate it overnight, and THEN slice it for serving. Otherwise you might end up with a little kiddy pool of sugary glop spilling all over the place (ask me how I know this). If you do have the patience to wait, you shall be rewarded with not only a lovely slice of dark and enchanting pie, but a deliciously sweet (but not overly sweet), nutty pie with not-so-subtle hints of a coffee shop swirling about your mouth. I loved it. Jeremy loved it. Neither of us love pecan pie. I think you will love it.
cooling down
sink your teeth into this one
Chocolate Espresso Pecan Pie
[print recipe]
slightly modified from Fine Cooking #88
crust
6 oz. (170g) all purpose flour
1 tsp (5g) sugar
3/8 tsp (3g) salt
4 oz. (115g) unsalted butter, chilled and cut into 1/2-inch pieces
2-4 tbsps cold water
filling
3 oz. (85g) unsweetened chocolate, coarsely chopped
2 oz. (60g) unsalted butter
4 large eggs
1 cup (330g) light corn syrup
1 cup (225g) sugar
1/4 tsp (2g) kosher salt
2 tbsps (6g) instant espresso powder
1 tbsp hot water
2 tbsps (30g) coffee liqueur
2 cups (230g) pecans, lightly toasted, coarsely chopped
1/2 (60g) cup perfect pecan halves
Make the pie crust: Blend the flour, sugar, salt, and butter together in a food processor until you get coarse crumbs. Dump the contents into a medium bowl and sprinkle cold water (2-4 tablespoons) over the mixture while tossing it with a fork. It should come together easily, but not be overly sticky or wet. Press it together into a ball and flatten it into a disk. Wrap in plastic and chill for 2 hours or up to 2 days in the refrigerator. You can freeze the dough for up to 2 months (thaw overnight in fridge before using). Remove the dough form the refrigerator 15 minutes before planning to roll out (let it sit at room temp). Roll the dough out with a rolling pin on a lightly floured surface to about 1/8-inch thickness or at least to a 13-inch diameter. Place the pie crust in a 9-inch pie pan and arrange so that there is 1/2 inch extra dough hanging over the sides. Trim it to be relatively round (save excess dough for repair later). Fold the edge down underneath itself and crimp the edge. Chill the dough in a refrigerator for 45 minutes or a freezer for 20 minutes. Heat oven to 350°F. Place rack in center of oven. Line the pie crust with foil and fill it with dried beans. Bake 25 to 30 minutes until edges turn lightly golden. Remove from oven. Carefully lift out the foil and repair any mishaps with extra dough. Let cool.
Make filling: Melt chocolate and butter over gentle heat, stirring until smooth. Remove from heat and let cool. In a medium bowl, whisk together the eggs, corn syrup, sugar, and salt. Dissolve the instant espresso in 1 tablespoon of hot water. Add the chocolate, espresso, and coffee liqueur to the egg mixture and whisk to blend. Sprinkle the chopped pecans into the pie shell and arrange the pecan halves along the edge of the pie, but on top of the pieces. Pour the filling over the center of the pie. If the pecan halves begin to bandy about, just position them where you want them with your finger. Bake the pie until the filling puffs, about 45 to 55 minutes (55 for me – it was a little too gooey at 45). Transfer to rack and allow to cool completely. You can refrigerate the pie for several hours making it easier to serve.
Serves 8 to 10.