Recipe: pasta with summer squash, sausage, and goat cheese
There has been quite a bit of instability in that part of the atmosphere sitting over my house. It makes for interesting weather: sun, rain, hail, winds, cold, warm, frost and one of my favorites:

lightning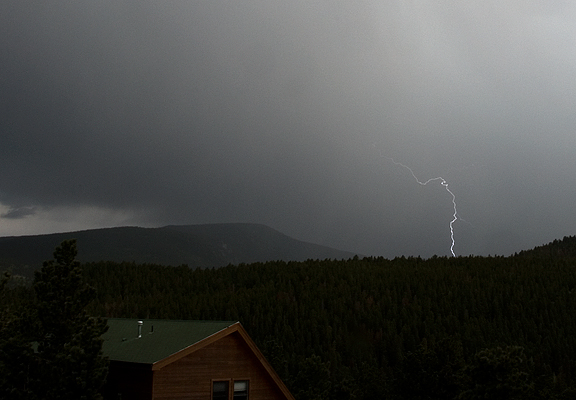 But today we are back to sunshine, although our afternoon thunderstorms are pretty much here to stay for the summer – and I welcome the rain and cooling off they bring each day. Kaweah has a knack for finding the very edge of the shade and then parking her furry self just outside of it.
too bad she isn't a solar panel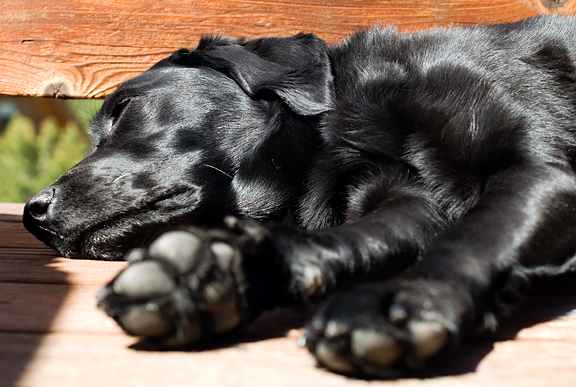 School is out. I can tell this from the tent that my neighbor's kids have pitched on their deck and the happy screams zooming past our windows, Doppler effect and all, every evening. It gets dark around 8:30 and we don't eat until 9 or later. Kaweah petitions for dinner when the sun goes down, so Mother Nature fools her big time in summer (it's a pain in the ass come winter when she starts begging around 3:30). The pine tree pollen orgy has not peaked yet, but my itchy eyes indicate the party is getting started. The foxes and the coyotes will be facing off and staking out their territory in our front yard, soon.
green gentian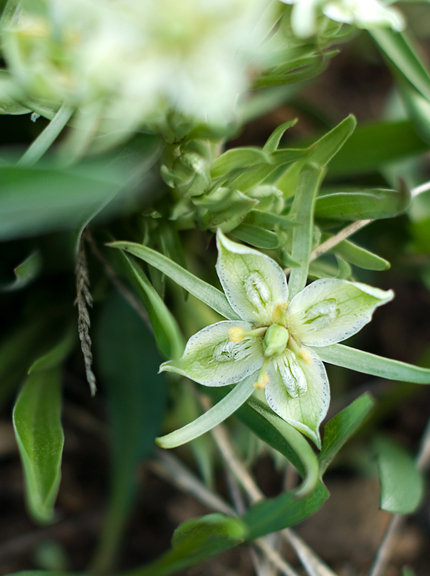 We've lived here long enough that the trails we hike are recognizable even under 8 feet of snow. I know where the columbines will bloom. I know which scree fields the pika live in. I know when the stream flow will peak. I know what the light looks like in July versus October versus March. I know what the air smells like as the snowpack thaws from under the pine forest canopy. I know which cornices remain into late summer. I never thought I would treasure this sense of the familiar, but I do. I relish it and it feels like home. It may be a sign of getting older… I don't really care. I rather think of it as a sign of happiness.
The seasonal transition also translates into a cooking transition. Less time in the kitchen and more time outside. We don't have air conditioning (we don't need it – that's why we live here), but a hot oven in summer makes me *very irate*. Just ask Jeremy. So when I recently went flipping through my archives of Fine Cooking recipes, I had the "quick and easy" flag on the brain. This one looked particularly appealing with squash, sausage, goat cheese (there it is again – I love this stuff)…

fresh, easy, simple
I don't cook much pasta and I think that is in large part because I am a noodle girl. That is, an Asian noodle girl. Every time I think "how about pasta?" images of somen, soba, udon, pad thai, pho, mi fun, bean thread noodles, tan mien, tsao mien, e-mien, lian mien, they all pop into my head. Pasta never had a chance (there aren't many pasta dishes on the
recipes page
). So I like the simple recipes that involve some manner of vegetables and not a lot of sauce. Don't get me wrong, I like sauce – I just don't feel the need to have sauce with every pasta dish ever made.
quick choppy choppy
I used whole wheat pasta rotini, although honestly, if someone were to create whole wheat SpongeBob SquarePants pasta, I'd be the first in line to buy some – body checking little kids and their moms outta the way! [That's right, we don't own a TV, but my nephew turned me on to SpongeBob years ago.]
sauté squash, shallots, and sausage lickity split
The ingredient that has been winning my favor of late is goat cheese, because it's creamy, light, and it doesn't make my tummy hurt for hours afterward. My general practitioner, the woman who saved my life – TWICE, said it was a good source of calcium for ye lactose intolerant souls (that which I am). Plus, we have a local provider,
Haystack Mountain Goat Dairy
and I try to support them when I can. Nope, they didn't ask me to promote them – I'm just telling you what I like and don't like. Would you have it any other way?
toss everything together
This recipe is like a
Mr. Potato Head
. You can swap out pretty much any and all components and still create deliciousness. I like my Italian sausage to be of the spicy persuasion because I find it adds more dimension and well… I'm Chinese. We love our spicy.
I'll give you my la jiao (hot sauce) when you pry it from my cold, dead hands!
i'll shut up so you can take in the dish
Pasta with Summer Squash, Spicy Sausage, and Goat Cheese
[print recipe]
slightly modified from Fine Cooking #86
Kosher salt
1 lb. dried pasta (rigatoni, rotini, etc.)
3 tbsps extra-virgin olive oil
3/4 lb. bulk hot Italian sausage (or links with the casings removed)
1/3 cup shallots, finely chopped (~3 medium shallots)
2 cups yellow and green summer squash, medium dice
3 oz. fresh goat cheese, crumbled (~3/4 cup)
2 tsps fresh flatleaf parsley, finely chopped
black pepper, freshly ground
1/4 cup Parmigiano-Reggiano, grated (optional)
Add pasta to a large pot of boiling well-salted water and cook for about 10+ minutes or al dente. While the pasta is cooking, heat 1/2 tablespoon oil in a sauté pan and cook the sausage, breaking it into small bits with spatula until cooked through. Drain off the fat and reserve the sausage in a bowl. Heat the rest of the oil in the same pan and sauté the shallots over medium heat until they are soft. Increase the heat to medium high and add the squash, sautéing until the squash softens. I tossed the sausage into the squash here and gave it a stir for a minute over medium high heat. Reserve 1/2 cup of the pasta water and drain the pasta. Place the pasta, sausage, and squash in a large bowl together and toss with a few tablespoons of the pasta water. Add the goat cheese and parsley and toss. Season to taste with salt and pepper. Garnish with grated cheese.