Recipe: rose green tea-infused panna cotta with passion syrup
**There are still a couple of days left to enter the $100 giftcard giveaway. If you somehow haven't entered yet, then get on it!**
I'm tickled, really. My nose has been feeling ticklish for the past couple of days and so I know pine pollen season is here for the next few weeks. I love Nature and apparently she is loving me right back. So beautiful and yet so sniffly…

larkspur bask in the sunshine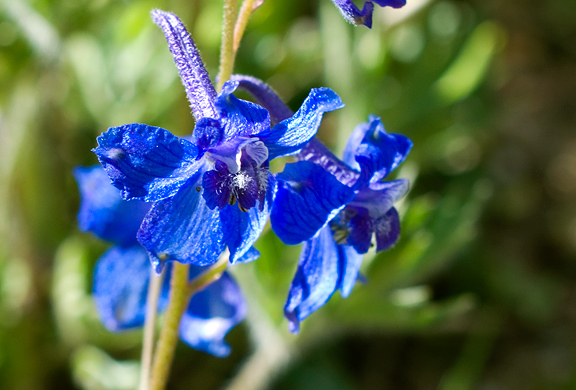 chickweed is going gangbusters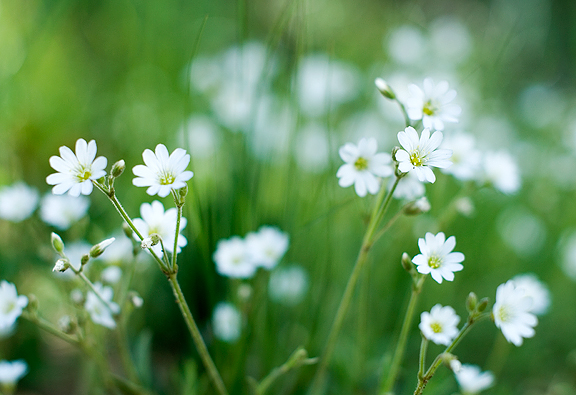 green season underway at last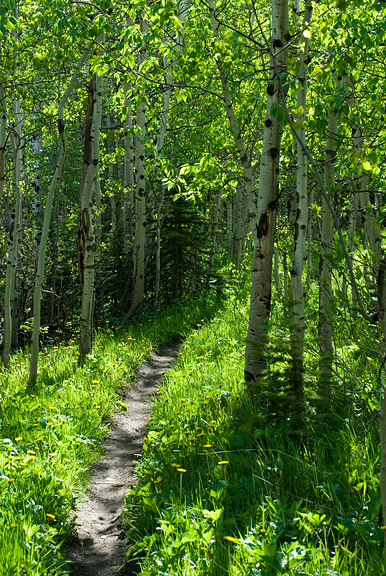 Last summer I attempted to make my own rose syrup from scratch except it was impossible to find organic roses without sneaking into someone's yard down in Boulder and swiping them. That and there was no way to know for sure that they were organic (but considering it's Boulder, chances are good). I like that delicate floral aroma lingering in my nose and the roof of my mouth when I taste a rose dessert, but had to shelve the idea for a while. That is until I saw Helen's fabulous post on
cherry, rose, and coconut ice cream
. My dear friend inspires me all the time and I know I'm not the only one. I see all manner of recipes and photographs that mimic her fantastic style – mimic, but alas cannot surpass the maestra.
She put the roses back in my brain.

organic rose black tea and rose green tea
So no, I haven't found a source for organic rose petals. I haven't really been looking. I just happened upon two rose teas (a black and a green) at my local Whole Foods while searching for new Earl Grey teas for Jeremy to try (the man is always in search of Good Earl Grey). They smelled so good and the little hamster began running in my head… panna cotta.
panna cotta is easy peasy to make
It should come as no surprise to long-time readers that I like the combination of rose and panna cotta. I attempted this once before with my
ispahan panna cotta
, except I had to resort to rose syrup which was simple syrup flavored with rose water. But I wanted the rose IN the panna cotta, not ON it.
letting the tea steep in hot cream and milk
I let the tea steep for 15 minutes and I think that was a bit longish. Perhaps more in the neighborhood of a 5-10 minute steep would be better (correction! Thanks to Brittany it's more like 1-3 minutes). Those who know tea better than I (which is just about anyone) should taste the cream until the desired strength is achieved. After straining the tea out, I stirred in the gelatin and a little bit of sugar. I used more gelatin than I typically like because I wanted to unmold this panna cotta. I wound up using too much, but that's because I had wung it. If you plan to serve in a vessel rather than unmolding, you can get away with less gelatin.
pouring into a greased ramekin
Greasing the mold is a good idea for ease of release. Just be sure to wipe off any excess so you don't have floating islands of oil in your panna cotta.
I paired the panna cotta with a passion fruit syrup. I am nuts over passion fruit and because I can't get my hands on any around here, I look for bottles of passion fruit concentrated syrup in Asian grocery stores when I visit my Grandma in California. If you have access to fresh passion fruit – more power to ya (and I am utterly utterly jealous). If you can find passion fruit concentrate or syrup, you can use that too.

simple syrup and passion fruit concentrate
I mixed 1 part simple syrup with 2 parts passion fruit concentrate with 5 parts water. Really, you'll just have to mix it up to taste since they will all vary. Since there wasn't much sugar in my panna cotta, I made the syrup a little sweeter.
garnishes: cherry, matcha powder, dried rose
Panna cotta can be so featureless that I decided to sprinkle a little matcha powder on top. I didn't realize it would also play nicely with the hint of green tea in the panna cotta. I like it better with matcha powder than without. The panna cotta itself had a strong rose presence because I let it steep too long. The floral aspect comes out in front and then green tea and dairy linger with the passion fruit. It's a bright and refreshing combination. I highly recommend it.
rose green tea panna cotta with passion fruit syrup
Rose Green Tea-Infused Panna Cotta with Passion Syrup
[print recipe]
1 cup (250g) heavy cream
1 cup (250g) whole milk
1 tbsp rose green tea
2 tsps (6g) powdered unflavored gelatin (add a little more if unmolding)
2 tbsps water
1 tbsp (12g) sugar
matcha powder for garnish
passion syrup
2 oz. passion fruit concentrate (or fresh is even better, but I couldn't tell you how much to use)
1 oz. simple syrup, to taste (you may not need any if concentrate is sweetened)
about 1 cup (250 ml) water, to taste
Warm the cream and milk over medium heat until it begins to simmer. Remove from heat and add the tea. Cover and let steep for 1-3 minutes (no more than 5!). Sprinkle gelatin over the water to soften. Strain the tea leaves out of the cream when desired strength of flavor is reached. While the cream is still warm, stir in the gelatin and sugar until completely dissolved (you can help it along over gentle heat if it isn't dissolving). Pour into greased (and well-wiped) molds. Refrigerate until set (about an hour, but it depends on how much gelatin you use). Meanwhile mix the ingredients for the passion syrup together, adding water until it is the right sweetness and concentration of flavor. When the panna cotta is set, take a sharp knife and run it along the edge of the mold and/or dip the bottom of the mold into warm or hot water to help release the panna cotta. Invert the panna cotta onto a serving dish and pour syrup over or around it. Sprinkle with matcha powder. Serves four 1/2-cup servings.