Recipe: tzatziki
I'm talking about calcium! Minds out of the gutter, please…
But before we get to the recipe, there is the business of the giveaway. Today is the last day to leave a comment on this post to enter the $100 giftcard giveaway. If you have not yet entered… what is wrong with you!?
Oh! I'd also like to share some images from Thursday morning with you. Continental Divide, snow storm, white out conditions, high winds, and early season alpine flowers – all in a typical June day in Colorado.

our destination – up and into the white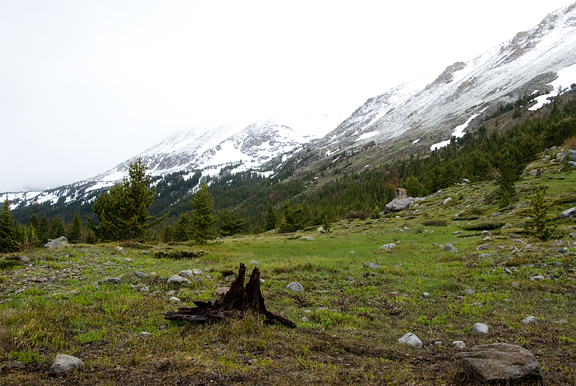 snowing the whole time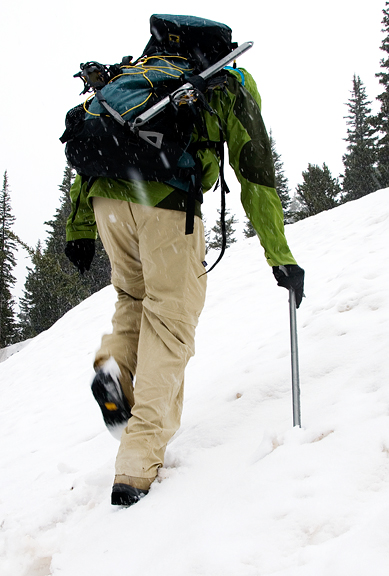 snowing across the valley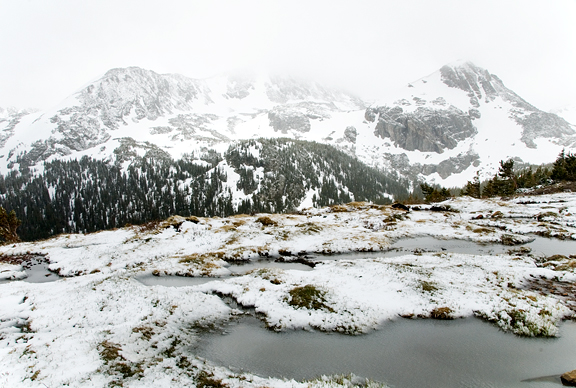 snowing harder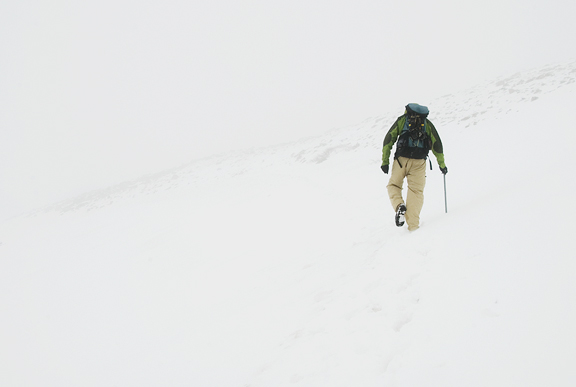 what a blast!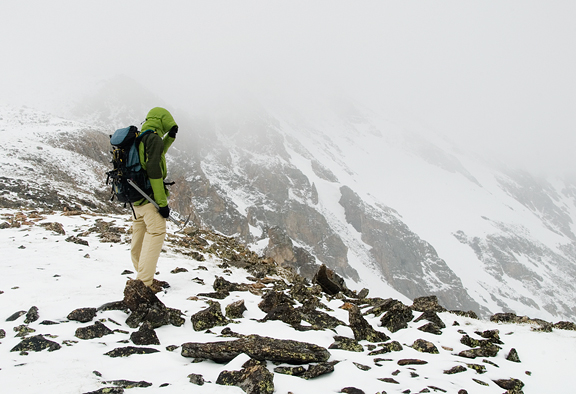 glacier lily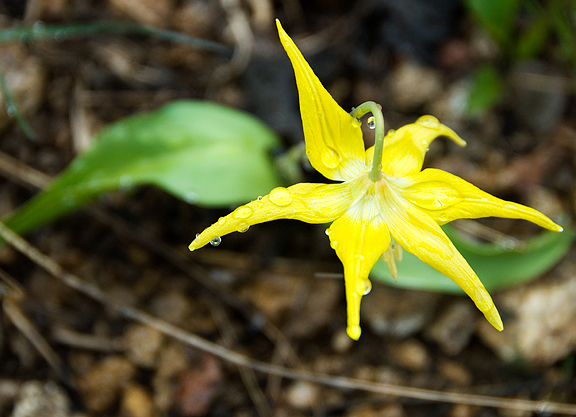 Now about that calcium… My biggest concern about my diet is how much calcium I get. I am lactose-intolerant. For those people who think it's "in my head", why don't you hang around with me after I've had some ice cream and tell me it's "in my head"? I actually think being lactose intolerant is a bit of a good thing because it keeps me away from things super-fattening foods I would otherwise overdose on like heavy cream, sour cream, ice cream – those beautiful, dairy, and creeeeeamy foods. *sigh*
What I can eat is yogurt. Yogurt and I aren't like bffs, but it delivers on the calcium without making me ill (because the lactose has already been digested), and I enjoy the taste and texture. We're more like officemates who occasionally hang out beyond the workplace. Last month I was asked to try some Oikos organic Greek yogurt by Stoneyfield Farms. They sent me coupons for a few free samples, information on the company (which I had requested), and a great little tote bag that I've been using since we've lost a second (!) Trader Joe's canvas bag. [This is upsetting for me as TJ's doesn't make these anymore. We've lost two and people have taken two and I'm just a little pissed off here.]
I use quite a bit of plain yogurt as a condiment or with fruit and granola, so I was anxious to try their plain version as I had never tasted Greek yogurt before. I picked up one of the small Oikos blueberry (fruit on the bottom) yogurts and felt meh about it. Straight yogurt isn't really my thing, but I wasn't expecting Oikos to change that. What I've been wanting to make (but was too lazy to bother with straining regular yogurt) was tzatziki. And I knew just the source for any Greek recipe – Peter.

yogurt, cukes, dill, salt, garlic
scrape out the cucumber guts
I didn't have any Ouzo and for that, I hang my head in shame. I hope Peter can forgive me. I pulsed the gutted cucumber in the food processor to a fine mince and sprinkled some sea salt over it. While that sat for 30 minutes to leech water out of the flesh, I crushed a garlic clove and mashed it into a paste with some salt.
weep! weep!
garlic paste – it's smooooooth
I'm not a huge fan of squeezing liquids out of foods – just not how I like to spend my time. However, it is worth it in this case. When the cucumber was ready, I squoze the living daylights out of it. Then I mixed it in with the garlic, chopped dill, and the yogurt. Oooh, that yogurt is creamy stuff with a mild tang that doesn't leave an annoying film on my tongue. I like it much more than other plain non-fat yogurts I've eaten and if I ever need strained yogurt, this is the one I'm reaching for.
the exciting part!
A little drizzle of olive oil on top and dinner was good to go! This is such a great and refreshing recipe to have on hand in summer. Even Jeremy liked it (and he shies away from white condiments).
I have always loved Greek food, but there is this intimidation factor because I'm Chinese and I see the way some non-Chinese butcher Chinese recipes and I don't want to do the same to Greek recipes (same for Viet, Korean, Thai, Lebanese, Moroccan, Indian, etc.). What I love about food bloggers is that I have trusted sources whose recipes take me by the hand and help me step out of my comfort zone to expand my world (food) view. Thanks Peter!

i had been dreaming of tzatziki all week
Tzatziki
[print recipe]
from Peter Minakis of Kalofagas
16 oz. (500g) plain yogurt, strained
1/2 English cucumber, seeded and grated (or 2-3 Lebanese cucumbers)
1-2 cloves garlic, minced
2 tbsps fresh dill, chopped
splash of Ouzo
salt
extra virgin olive oil
If your yogurt isn't already strained, Peter recommends placing regular plain yogurt in a strainer over a pot and letting it strain for 12 hours. Grate or pulse the cucumber in a food processor and sprinkle it with salt. Let it sit for 30 minutes. I like to mash my minced garlic into a paste by sprinkling some salt on top and crushing the salt into the garlic with the flat of a sturdy knife blade. When the cucumber is ready, squeeze out as much water as you can with your hands or using a cheese cloth (do this in batches unless you have a GIANT hand). Place the cucumber, garlic, dill, and yogurt in a bowl and mix together. Season with salt and if you have some, Ouzo, to taste. Serve with a little olive oil drizzled over the top.