Recipe: korean bulgogi
Uh, it's getting hot around here *tugs at collar*. Am I the only one who closes her eyes and dreams of snow? Dreams of The Tele*? Don't get me wrong, I do enjoy my summer. I am currently enjoying the hell out of my summer such that there is very little time. Peter recently tweeted that summer is a slow time on the blogs. It's very true. I've also noticed Blogger Blah has been going around the 'hood. People blog for different purposes. It isn't wholly unexpected to one day find your mojo has disappeared. Mine is more of a waxing and waning, but that is easily remedied. I have two rules regarding my relationship with urb:
1) Maintain a repository of recipes for those stretches when you can't or don't feel inspired to cook or bake. I got into this habit during my treatment last year. While I like to maintain a steady posting schedule, life doesn't work that way.
2) Life always comes before the blog.
* Tele – short for telemark skiing referring specifically to the telemark turn which differs from the alpine (downhill) turn in that only the toe of the boot is connected to the binding and the heel is free to pivot resulting in a graceful technique and skiers who deem themselves superior to all others (and rightly so). *snort*

the view from east maroon pass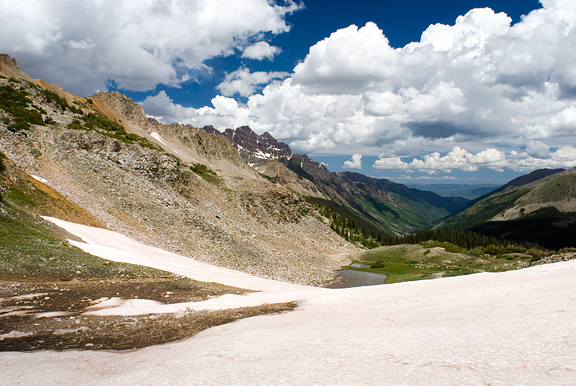 I know that second one sounds like common sense, but it's really easy to lose priorities when you're into the mucky muck of blogging. I'm talking about the big picture like life and death. More life than death, of course! As I told Andrew the other day, "don't dwell on death except to recognize it as a boundary condition to life" (not that Andrew is the type to dwell). Get out there, yo! Part of the value of blogging is sharing information and experiences – things you keep fresh by living your life. I'm busy, but I'm also enjoying the summer. I command you to do the same, however it is you choose to enjoy it. Just don't hurt yourself or anyone else, alright? Have some fun while you're at it.
So, just a couple of flower pics and we'll get this ball rolling. You can see the rest at the photo blog: day 3 and day 4.

king's crown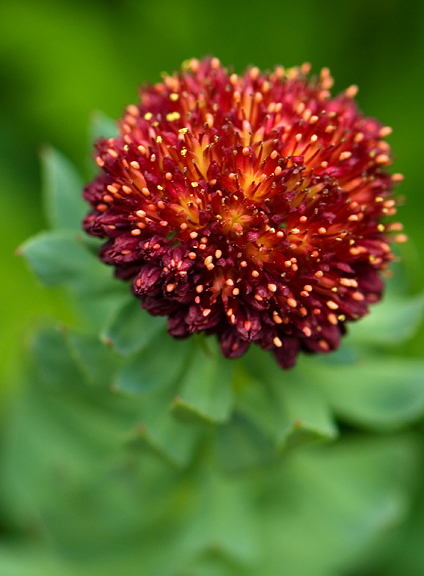 sunflowers and larkspur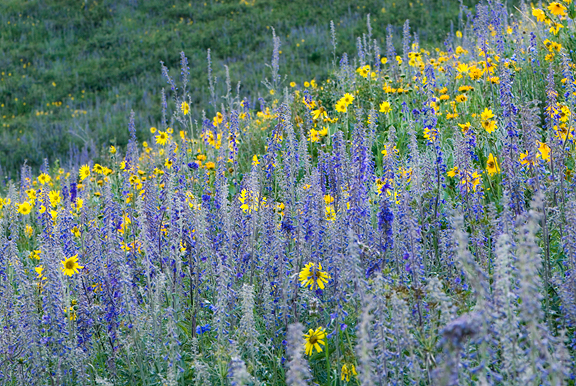 This is another one of those "expanding my horizons beyond Chinese food" posts. We have rather mediocre Asian cuisine here in Boulder County with the exception of some pretty good (but expensive) sushi. What does a girl have to do to get some decent Korean food around here?! Apparently, she's got to make it herself. Summer is a perfect time to get your grill on.
slicing half-thawed beef chuck
and apple, a pear, an onion
You know what I love about Korean food? Kimchi. My parents used to make their own kimchi when I was little (again, because we lived where no one made good Asian food) and I used to sneak into the fridge to snarf a few bites. Okay, but there is so much more to Korean food than kimchi. I fell in love with
galbi
a couple of years ago and now I even know where I can go to get properly sliced short ribs within 60 miles of my house. That's a pain though, and so I went rifling through the blogosphere in search of another good barbecue recipe… Something like bulgogi.
grate the apple
squeeze the juice
Barbara
recommended Ellie's blog,
Kitchen Wench
, to me a few months back. Not only does Ellie have a beautiful blog, she's witty and snarky. I love snarky ladies. Oh, and she's Korean! I went traipsing through the blog in search of a recipe for bulgogi and I found her family recipe. Extra bonus.
grating a pear
pouring in the marinade
Her recipe differs from a few others I found (well, none of them are the same and there is something wonderfully beautiful about that), but I wanted to try Ellie's as it contains two pieces of fruit. It's possible to purchase pre-sliced beef for the recipe, but that's a long drive for me. I just did what my mom always does when she makes Chinese hot pot – I sliced my own. The trick to getting a good thin slice is two-fold 1) you need the meat to be half thawed and 2) you need a good hard, sharp knife. What is half thawed? I kept the beef frozen in our freezer for a couple of days and then put it in the refrigerator overnight. In the morning, I sliced it up – it was the perfect degree of thaw for cutting.
sesame oil, green onions, let it sit overnight
After marinating, I cooked the beef up in two ways. The first was on a grill-top griddle, but the winds were ridiculously high that day and our crappy grill had trouble getting that nice caramelization on the beef. The second method was done on the stove in a wide and shallow sauté pan. Both results were pretty fantastic, but I am partial to the nice browning I was able to achieve indoors. I'm sure the grill would have been great had we not had freak high winds. Just remember that you can't really cook this on a normal grill grate because the meat will fall through and you will be totally stuck out for dinner.
on the grill-top griddle
Bulgogi is like a leaner, less messy version of galbi in my mind. Easier to eat too. I even scored some kimchi to serve along with it. The kimchi's cold, spiciness pairs well with the hot-sweet-savory beef. It's like a little party in my mouth and now you are all invited. Love the grill.
ready to dive into that
Bulgogi
[print recipe]
from Kitchen Wench
2 lbs (1 kg) thinly sliced beef sirloin, sliced 2-3mm thick (I used beef chuck)
5 cloves garlic, crushed
1 medium yellow onion, peeled
1 nashi/Asian pear, peeled (I used a bartlette)
1 sweet apple, such as fuji, grated
2/3 cup Korean soy sauce ('kanjang'), but you can substitute it with Japanese tamari soy or Chinese light soy sauce in a pinch
2 tbsps toasted sesame seed oil
2-4 tbsps sugar (this will depend on the sweetness of your pear)
2 green onions, finely sliced
freshly ground black pepper, to taste
If you can't find the beef already sliced, you can freeze the meat and then thaw it overnight in the refrigerator. Using a sharp and heavy knife, slice the half-thawed beef against the grain. Squeeze juice from the apple over the sliced beef and set aside (I wasn't sure what to do with the remaining apple bits, so I gave it to my dog). Grate the onion and pear into pulp. Ellie says you can blend it together, but it makes the marinade watery. Mix the pear and onion pulp with the soy sauce and crushed garlic. If it's not sweet enough for your tastes, add sugar and taste until it meets your liking. Place the meat in a bowl or a ziploc bag and pour in the marinade. Add the sesame seed oil, sliced green onions, and black pepper. Massage the marinade into the meat for about 1-2 minutes, making sure none of the slices of beef are stuck together and that the marinade has been distributed evenly. Cover the bowl with plastic or seal the ziploc bag and refrigerate for at least a few hours, ideally overnight, and cook over a griddle or in an unoiled non-stick frying pan. You can reserve pan juices to serve over your rice (really really good suggestion).