Recipe: galbi korean bbq short ribs
There's something comforting in traveling a familiar trail where you know the curves, hills, rocks, trees, and stream crossings by heart. When, even in winter, you know that this very spot where the path bends will be covered with flowers in three months' time. You know this because you've seen it year after year. And then there are the new trails. When you see a new trail leading off into the woods, and your eyes light up with curiosity and excitement. It calls to you. I always want to know where that trail leads. How many times have you said, "I'll just hike up to the top of that ridge for a look" only to continue on to the next ridge and the next?

crimson columbine and violets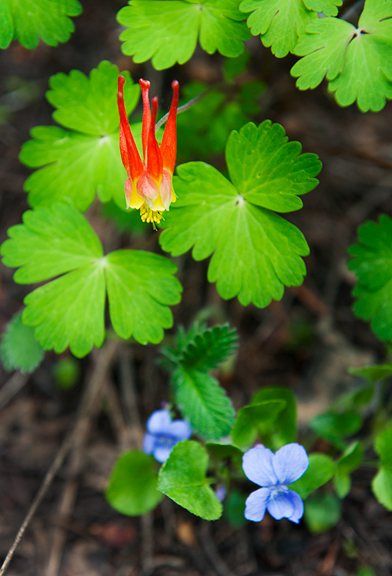 gothic mountain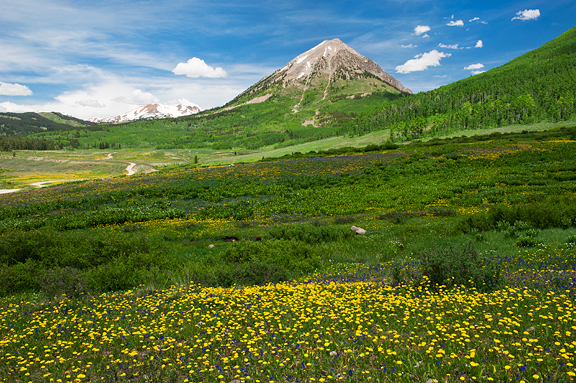 winding through the wildflowers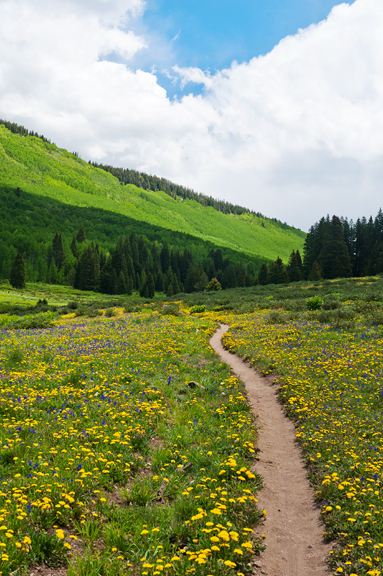 On rare occasion, we'll hike a new trail only to learn that we don't ever need to hike that trail again (poorly marked, unmaintained, too hot, too buggy, too dangerous, too crowded). But most of the time, it's a delightful discovery. I am especially fond of shady hikes with good breezes, nice views, and lots of huckleberry plants growing on the hillslopes. We found one of those today. I'll be sure to revisit that one often – particularly when the hucks start to bear their precious berries.
It's that way with recipes too when you revisit an old one that you loved but had forgotten about. I made galbi – Korean barbecue short ribs – for my parents a couple of weeks ago. When I went to dig up my recipe from the archives, I noticed the post was nearly seven years old. That was back in the day when our local Whole Foods had no clue what flanken-style ribs were. These days, they do know, but we now have a couple of Asian grocers within striking distance that also provide flanken-style beef short ribs. The Asianification of Colorado – slow, but happening. So let's do this properly.

flanken-style short ribs, kiwis, fresh ginger, pepper, water, rice vinegar, sesame oil, soy sauce, yellow onion, sugar, garlic (hidden behind the beef ribs)
soak the ribs in water
Soaking the ribs in water is mainly to loosen and remove fine bits of bone from the ribs due to the nature of the cut (and the method for cutting them). If you don't have the time to soak them for even 30 minutes, at least give them a rinse under cold water. Just be prepared to have your hands covered in beef fat by the end of the process. While the ribs soak, you can prepare the marinade. I've made this marinade with a pear and with kiwi fruit, and I prefer the one with kiwi fruit.
slicing the garlic, ginger, onions, and kiwi fruit
place in food processor
purée
Next, stir the remaining marinade ingredients into the purée. When your ribs are ready and rinsed off, place them in a large baking dish or bowl, or a gallon ziploc bag. Pour the marinade over the ribs and mix them about to ensure that all of the ribs are getting quality time with the marinade. Place them in the refrigerator to marinate for 8-10 hours.
adding soy sauce, black pepper, sesame oil, water, rice vinegar
and sugar
stir well
marinate the ribs
When you're ready to start cooking, fire up your grill to high heat. Cook the ribs to your desired doneness, flipping once so both sides get nicely charred. It takes a few minutes to get to rare, a few more to get to medium and beyond. If you don't have a grill, you can sear these on a lightly oiled cast iron skillet on high heat.
grilling
hot off the grill
i like my galbi with kimchi and japanese cucumber salad
Once the galbi is done, you can eat it straight up, with rice, kimchi and other banchan, in a lettuce wrap, or in a taco – whatever you can think of. You can also use boneless beef short rib meat, or substitute pork for the beef. If you're willing to share with friends, this could be great for summer parties because it's so quick to cook. I'm just thrilled to have galbi back in rotation for our summer!
to be thoroughly enjoyed
Galbi Korean BBQ Short Ribs
[print recipe]
cobbled together from various galbi recipes and updated from this old post
5 lbs. of beef short ribs, cut flanken-style
2 kiwis, peeled and cut into 8ths
1 onion, peeled and cut into 8ths
3 cloves garlic, cut in halves
1 tbsp ginger, chopped
1 cup soy sauce
1/2 cup sugar (or less – but I dig the sweet)
1/2 cup water
1/2 cup rice wine vinegar
4 tbsps sesame oil
1 tbsp ground pepper
Wash ribs of any bits of bone. Soak in water for 1 hour. Drain off the water. Process the kiwis, onion, garlic, and ginger to a fine purée in a food processor. Add remaining ingredients to purée and place in a large ziploc bag with the ribs. Marinate for 8-10 hours. Grill ribs on high for 2-3 minutes a side for medium to rare. Serves 4-6.
more goodness from the use real butter archives