Recipe: chopped greek salad
I'm feeling so much better now! Thank you for all of your kind wishes. I have to say, when I have a cold the foods that comfort and heal me most are: 1) Mom's congee made with homemade broth, chicken, ginger, and green onions 2) Mom's ginger-brown sugar tea and 3) Mom's sweet fermented rice soup (jou nian – I call it boozy sweet rice). I always forget about these goto "feel better when sick" foods until I talk to my mom. So there I was, croaky voice sitting on the couch telling my mom that I'm slowly improving when she rattled off the foods I should be eating. I think just hearing her say it in Chinese made me feel that much more improved. When I was little, the only thing that made me feel better was having my mom or Grandma (boy, I was *spoiled*) pick me up and hold me. I was notorious for standing with my outstretched arms and saying, "bao bao?"
I haven't taken a photo in a week, which feels like a lifetime to me! Trust me – that's my one week this year without photos because from here on out it is going to be busy. *straps on helmet, tightens laces*
The recipe today is one I made before our trip to southwestern Colorado. I was in a salad state of mind because the heat makes me want to eat things like a cold giant hunk of watermelon or a bowl of grapes or ten popsicles for dinner. After I had made the chopped shrimp waldorf salad my eyes wandered to the previous page in my Fine Cooking issue… chopped Greek salad. Can do. Can do.
Salads in summer make me happy because they usually involve chopping (I love my knives and I love to use them) and minimal cooking if any. In this case, the croutons require a bit of stove and oven time. I highly recommend making your own croutons if you've never tried. I can think of very few foods in this world that are better store-bought than made (properly) at home.
[Crouton tangent] We made tons of homemade croutons when I was in Chile for field work as a graduate student. The bread we bought was barely passable right from the store – forget about 5 days out in the bleeping desert! All we needed was oil, garlic, salt, and stale bread cubes. Those were both good and bad times for me (particularly the time when I said, "I'm sure that ham is still good – give it here.") The one person who really made my entire field season tolerable was my "field assistant", friend, and fellow grad student, Greg. I put field assistant in quotes because HE taught ME about geomorphology and we worked really well together in the field. Greg saved me from going batshit as we dealt with all manner of interesting obstacles like land mines, equipment issues, logistics, rethinking the science, 8.0 earthquakes, navigating over roadless terrain in thick fog on top of a cliff that plunged 3000 feet to the ocean, and so much more.

at salar del huasco, chile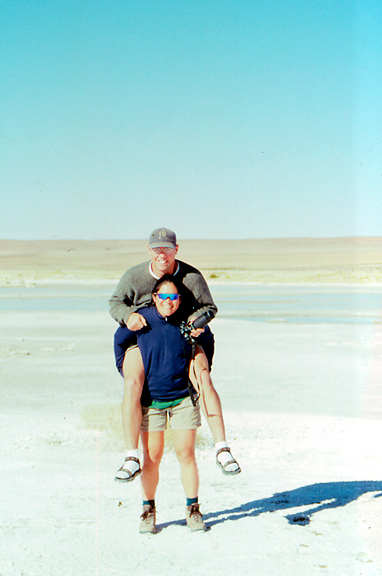 Now whenever I make croutons, I think of Chile and I think of Greg. But I have far better quality bread at my disposal!
olive oil, garlic, bread cubes
lemon peel, parsley, and black pepper to season the croutons
Of course, the moment I saw the ingredients listed for making the croutons I stopped reading the actual instructions and went about making them the way we did in Chile – ghetto style. That is, I fried the bread cubes in oil and garlic. But what I was supposed to do was heat the oil with the garlic to infuse flavor into the oil, then strain the oil onto the bread cubes and bake the cubes. Whatever. A few crunchy bits of burnt garlic never hurt anyone. I did wind up putting the bread cubes in the oven because they weren't crispy enough. Once out of the oven, I tossed them up with the remaining ingredients.
baked croutons with seasonings
Anchovies. Some people hate them. Some people love them. I have liked just about every food I've tasted that had anchovies in it, but I had never handled plain old anchovies before. When I opened the tin, they looked as appealing as any seafood critter packed in oil and shipped in cans (to me, that looks good). I picked up a sliver with the chopsticks and took a nibble. Wow! SALTY. Mmmmm. I chucked a few into the bowl with the dressing ingredients and mashed them up.
adding a few anchovies for the dressing
whisking in the olive oil
My one true regret whenever I eat tomatoes in summer is that I don't (can't?) grow them where I live. I know of no one who has successfully grown them at our elevation, so I just have to settle for less than. I'm not that hard to please, really. No really!
olives, feta, tomatoes, cucumber
all of the fresh, chopped ingredients await their dressing
This recipe appealed to me in part because I usually have many of the ingredients on hand. It called for serving the chopped salad on a bed of arugula, but I had a giant wad of mixed greens ready to go south at any moment and used those instead. I'm sure it would have been dreamy on the arugula but it was pretty damn good this way. Chopped salads in summer are light enough that I don't feel like a brick after eating, but far more substantial than their mostly leafy cousins (green salads) so that I'm not rifling through the pantry within an hour of finishing my meal. These are also gorgeous salads to serve at parties. But definitely, definitely make the croutons from scratch. Just be warned… there is no going back!
serve with greens
this lovely pile of goodness could make a grown man weep (if it doesn't, a kick in the shins will)
Chopped Greek Salad
[print recipe]
from Fine Cooking #79 with random bouts of not following directions
garlic croutons
3 cups 1/2-inch bread cubes (cut from day-old sturdy bread – I didn't remove the crusts)
1/3 cup extra-virgin olive oil
2 cloves garlic, sliced thing (I minced mine)
2 tbsps fresh flat-leaf parsley, finely chopped
1 tsp lemon zest, finely grated
kosher salt
freshly ground black pepper
dressing
1/2 cup extra-virgin olive oil
1/4 cup red wine vinegar
2 tbsps shallots, finely chopped (I didn't have these, I used onion)
1 tsp Dijon mustard
1 tsp fresh oregano, chopped
1 tsp (2-4 fillets) oil-packed anchovies, mashed
kosher salt
freshly ground black pepper
the chopped salad
4 cups baby arugula, gently packed, washed and dried (I used mixed baby greens)
2 cups or 3 medium ripe tomatoes, cored, seeded, and cut into 1/2-inch dice (oops! I didn't core or seed)
2 cups or 1 medium English cucumber, seeded and cut into 1/2-inch dice (didn't seed this either)
1 cup meaty Kalamata olives, pitted and quartered
8 oz. firm feta, cut into 1/2-inch dice (mine came crumbled)
Garlic croutons: Preheat oven to 375°F and place the rack in the center of the oven. Put the bread cubes in a large bowl. In a small saucepan, heat the olive oil and garlic over medium heat until the garlic just begins to turn golden (about 3-5 minutes). They say not to burn the garlic or it becomes bitter. Strain the oil onto the bread cubes and toss until they are coated. You can discard the garlic. [What I did was to heat the olive oil and add minced garlic and sauté the garlic for a minute or two and then toss in the bread cubes, stirring for a few minutes until they were well coated.] Spread the bread cubes on a baking sheet and bake in the oven, stirring every few minutes for a total of 12 minutes until they are golden on all (or most) sides. They should still be just a little soft in the middle. Pour the croutons into the large bowl and toss with parsley, lemon zest, and 1/4 teaspoon of kosher salt and a little black pepper.
Dressing: In a medium bowl, mash the anchovies together with the vinegar, shallots, mustard, and oregano. Whisk the olive oil into the mixture and add salt and pepper to taste. Let sit for at least 10 minutes.
Assembly: You can lay the greens on a platter and arrange the rest of the ingredients over the greens and offer the dressing on the side for people to serve themselves, or you can toss the chopped ingredients together with the croutons and dressing and serve over individual beds of greens.