Recipe: grilled pizza
I love those holiday weekends where you get three days off! Jeremy and I actually worked for most of the weekend, but I quite enjoy his company – even when we're working. Of course, it feels like Monday today even though it is Tuesday and I'm starting to freak out that I am missing a day where I thought there should be more time. September is FRENZY time, but in a very very good way (as long as I don't lose it, then yes, 'tis good). Last Thursday, my lovely Manisha and I met with Marc and his good friend, Brian for a quick happy hour nosh in Boulder. The guys were on a road trip across (and around) the country. Marc is the husband of dear, sweet Bri (Figs with Bri), one of our own – a fellow food blogger who passed away last November from breast cancer. It was a delight to finally meet Marc. He is as gentle and warm as anyone you could ever find. We all had a wonderful time before the fellas had to hit the road.

marc and brian on their way to carbondale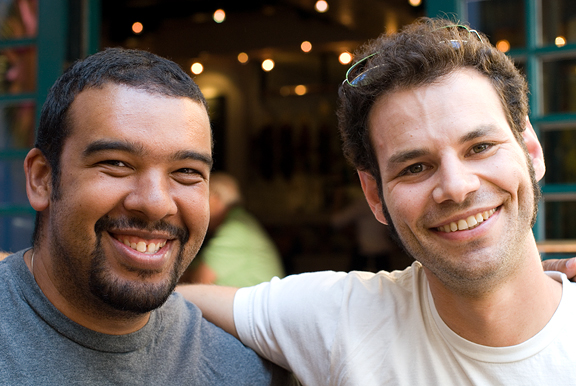 Phase 3 of my upgrade is complete (now on to phases 4 and 5). Phase 3 is the reason for all of the other upgrades because this bad boy is a pretty demanding little brat (but he's MY demanding little brat now). Don't think for a second that the price tag on the camera body is your only cost, because it isn't. *sob*
i call it (on the left) the big one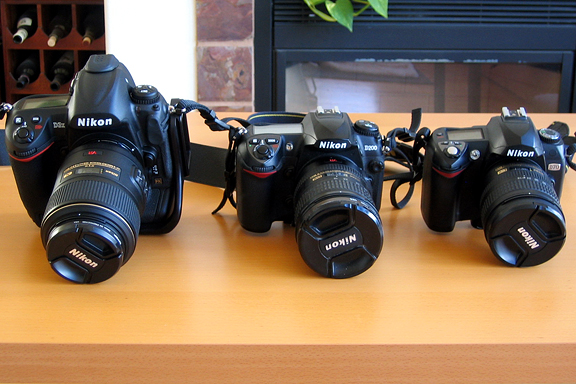 Okay, before people start emailing and asking if they need a D3x to take pictures for their food blog, the answer is an unequivocal "
NO. Are you insane?!
" You'd have to be smoking crack to think you need 24.5 megapixels to shoot a cookie to post on a blog, because… YOU DON'T. I continue to shoot with my old camera in the kitchen which is more than adequate. The new camera is intended for outdoor use, under adult supervision only…
the color is coming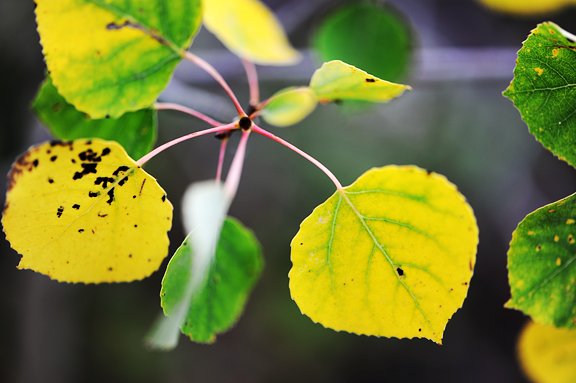 It wasn't until I began food blogging that Jeremy and I finally got homemade oven pizza right. I don't even want to think about the pizzas we made BB – before blogging. These days we don't even have to think twice when we crank out several thin crust pizzas from our crappy oven. (It's okay, I can live with a crappy oven as it still ovens, I mean bakes…) But there has been a lot of talk and tweeting about grilled pizzas and despite having a crappy grill (seeing a pattern here…) I wanted to give it a try. I like grilling.
kaweah is all about the toppings
More than anything, I think the biggest hurdle to overcome is how to get the pizza dough onto the grill without destroying it. We had a rehearsal that went very very badly. That's all I'm going to say about that. We learned on the second time around that it is a good idea to remove the upper grill rack and that a little extra olive oil on the baking sheet helps to release the dough and avoid a lot of swearing and burnt fingers. We don't own a pizza peel and considering what we just spent on the camera, we're not going to own one for a long time.
there is a reason i don't post the disasters (too busy cussing to take a picture)
have the toppings at the ready
The pizza dough took very little time to begin puffing and crisping. If there is one thing our grill can do it is run on high (sort of). Only a couple of minutes and the grill marks had developed – unevenly of course, but that's because our grill is lame. We flipped the dough over and onto the other half of the grill where the burner was off – otherwise you'd get a carbonized pizza. Working quickly, we spread the sauce and added toppings before shutting the lid on the grill to let it get hot. Oh, and just a bit of very good advice that comes from everyone who does this: less is better. Avoid the temptation to load your pizza with too many toppings.
some cheese
a little prosciutto
Our grill just doesn't get hot enough with the one burner trick, and when I asked Jeremy if the pizza was ready he said, "It needs more -" and I told him to take the damn pizza off the grill because I was hungry and the sun was setting. We sat there contemplating the pizza while Kaweah watched attentively for anything to drop on the deck. Our verdict – our crappy oven works better than our crappy grill. While I can see the appeal of grilled pizza, I can't see the appeal of grilling pizza on
our grill
. But don't let that keep you from giving it a try if you have a hankering for grilled pizza.
not bad considering it wasn't as melty as i prefer
Grilled Pizza
[print recipe]
with guidance from 101 Cookbooks
you favorite pizza dough (here's one from the daring bakers, or this easy one from the KitchenAid Mixer book)
pizza sauce, tomato, pesto, white/garlic – whatever floats your boat
toppings: prosciutto, arugula, mozzarella, parmesan, pepperoni, broccoli, mushrooms, olives, feta – you choose
Clean the grate on the grill. We like to oil the grate after cleaning with a little non-flavored vegetable oil. Turn the heat on high and close the lid (we have a gas grill, if you have a charcoal – do the equivalent). Have all of your toppings and sauces at the ready and near the grill. When your dough is ready, pull it to your desired thickness. Obviously, you will want to make the pizzas small enough to fit on/in your grill or else perhaps you shouldn't be cooking… just saying. Drop the dough onto the grill over the hot flame or coals. We did this by placing our dough on the back of a lightly oiled unrimmed baking sheet and then turning the baking sheet upside down over the grill and releasing the dough with as little distortion as possible. It will only take a few minutes for the dough to bubble and puff. When grill marks have developed on the bottom, flip the dough over and onto the other side of the grill where the burner is turned off. Spread a light layer of sauce and toppings (remember, don't overload with toppings!) quickly and close the lid of the grill. Check every few minutes and turn the pizza 90 degrees until it is done. Serve hot.