NaBloWriMo day 5!
I just spent the past hour planning my food menu for next week and I haven't even thought about our food menu for this week. But there is a good reason for that.
Oh wait, here's another picture from the shoot. The big stands are pretty impressive, even with lots of leaves missing.

the reds in this area never fail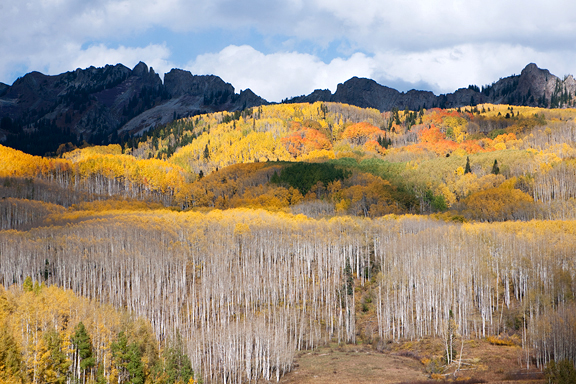 So back to the menu planning… Several months ago, I saw that Tami of
Running with Tweezers
had endeavored to
feed herself for a week on $30
. She's doing it again next week and I'm joining her. Why? Because a lot of Americans live on $30 a week for their food… actually, quite a few live on less than that each week. Sobering to say the least. Besides, I think Tami is the bomb. I met her at BlogHer Food 09 in San Francisco and the woman is the real deal. She's terrific.
tami enjoys some peking duck at dim sum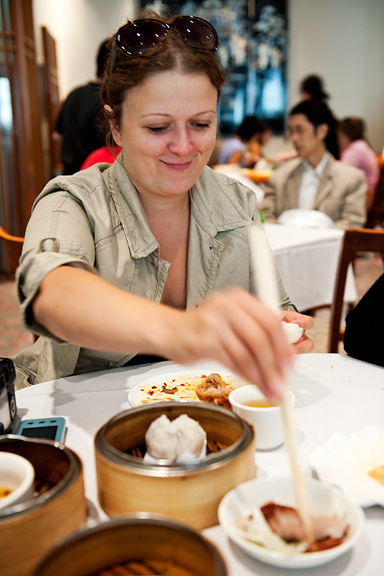 There is a difference between sympathy and empathy. I can sympathize with people who can barely afford to feed their families, but I can't really empathize. I'm fortunate enough that I've never ever ever had to go hungry for financial reasons. In planning out my menu for next week, I can see that things I take for granted – buying soy sauce in bulk or buying ten pound bags of organic brown short grain rice – don't work for people who don't have the money up front. People who have money are in a position to save money. People who don't have money… they get screwed. Estimating my costs and eliminating advantages like my half gallon of sesame oil means I have to buy a small bottle, which per unit volume of sesame oil is outrageously expensive.
The planning stage has already been eye-opening. I rather expected that paying for spices and other ingredients would cost more, but… I hadn't counted on it being such a substantial fraction of the $60 budget for the week (we get $60 because I'm feeding Jeremy and myself – so that's $30 per person). Sure, I could just buy several packets of ramen and mac and cheese and call it a success, but living on that junk long term isn't a solution. What I'm attempting to do is prepare relatively balanced and healthy foods that taste good for under $60 for the week. My gimmes are basic things like salt, pepper, oil, and butter. Already, I've had to cut out some of our regular produce, but we'll make it work. Follow along next week starting Sunday, October 11th. I'll be blogging about it as will other bloggers joining Tami on this challenge. If you'd like to participate, give Tami a holler over at Running with Tweezers or reply to her on Twitter (@runwithtweezers). We'll be tweeting with the hashtag #eaton30.