Recipe: emily's grilled flank steak
The first week of NaBloWriMo is done… just 24 more days to go. Wooo!
My house finally got some desperately needed attention today because I had to shoot a recipe and there was not a single cleared surface for me to set my food upon. I hadn't shot anything in my kitchen for weeks. The tripod had to be disinfected because the last time I used it, I was standing in a field of elk poop (there were also fields of cow poop and deer poop and probably other poops I was gratefully unaware of). But the weirdest part for me was when I tightened the clamp on the quick-release plate of the D200. I've been shooting with the new camera for 3 weeks now. Switching back to the D200 (my dedicated kitchen camera), the once hefty body felt like a child's play toy in my hands. Don't take that as a slam to the D200, because I still love it to itty bitty bits – it is such a workhorse.
I think we've returned somewhat to normalcy here. We're still busy, but at least we're busy in one place instead of busy abroad or busy while a moving target. And I'm finally tackling my post processing properly instead of bouncing around looking for the obvious shots to share. Here are a couple from Tuesday of last week's shoot.

outside of crested butte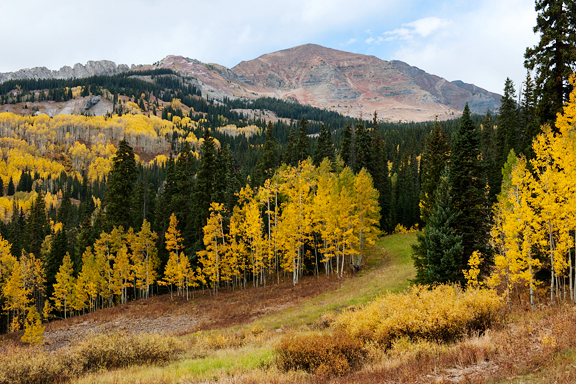 looking back on a mere fraction of the largest aspen stand in the world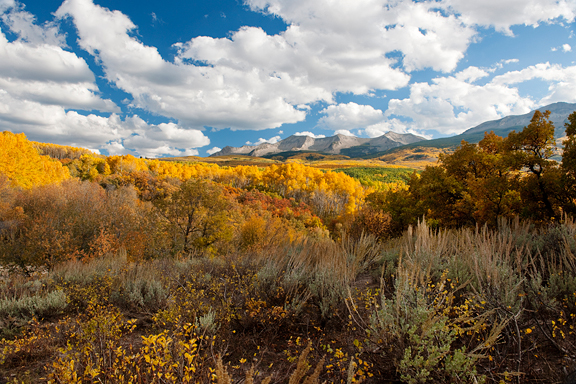 The recipe I shot today isn't the one I'm sharing on this post. I can't share it until next week – it's the Daring Cooks challenge (and it was soooo good). Today's recipe comes from my best friend in high school. I didn't cook so much in high school – I prepped. I loved to use a knife for slicing, dicing, mincing, peeling. Emily, on the other hand,
cooked
. The first time we prepared dinner for her family, I was making the pasta sauce under her direction. She said, "Add some olive oil." Like a typical noob, I poured about two drops of olive oil into the saucepan. Emily watched and before I could right the bottle, she pressured the spout of the bottle down with one finger and let about a half cup of olive oil dive into the sea of puréed tomatoes. Thus, Emily taught me that fat makes food taste Good.
slice up flank steak
flank steak, soy sauce, sesame oil, sugar, salt, pepper, garlic powder, tomato paste
We prepared meals on several more occasions and I quite loved the way Emily cooked by feel, by intuition. It was something I wouldn't achieve comfortably until I was in college. If I recall correctly, the first time I was introduced to this flank steak recipe, we were at a friend's house and Emily just threw it together.
toss some vegetables with oil, salt, and pepper
skewer the beef and veggies with… skewers
Ever since then – oh probably 22 years ago – I've slapped this together in a pinch. Each time I make it, I think of Emily and I remember sleeping over at her house and being woken up by Ginger, the family basset hound who gently rubbed her eye-boogers off on me to show her affection (rather, her ownership of me). I remember climbing out the window onto the roof of that lovely Victorian house to puzzle over those matters that occupy the minds of 16 year old girls who were good at math and science. We would talk while watching Emily's father tinker with the meteorological instruments in the yard (he was THE meteorologist for the Navy).
grill
I didn't just learn this recipe from Emily, I learned a lot about being comfortable in my own skin from Emily. Instead of wanting to fit in with "the crowd" I valued her uniqueness which in turn allowed me to celebrate my own individuality and walk with confidence through the halls of high school and on out into the world. Once I stopped caring about being one of the cool kids, I was one of them. Very Zen. (In all honesty, I had a freaking blast in high school.)
serve it up right off the grill
Emily's Grilled Flank Steak
[print recipe]
1 lb. flank steak, sliced thin against the grain
3 oz. tomato paste (about 1/2 of a small can)
1/4 tsp salt
1/2 tsp pepper
1/2 tsp garlic powder
sugar (to taste)
1 tsp sesame oil (to taste)
1 tbsp soy sauce (to taste)
Mix the ingredients together in a bowl until the beef slices are well-coated (I use a clean hand to do this). [If you are grilling vegetables with the beef, cut them up into large bite-size pieces and toss with olive oil, salt, and pepper. I like onions, zucchini, peppers, mushrooms.] Skewer the beef alternating with vegetables if grilling together – don't pack the beef in too tightly or they will require more cooking time. Grill on high heat, turning the skewers to cook evenly. I like my beef on the rare side, so these took about 6-8 minutes total cooking time (also, our grill is totally lame and weak – except for one spot – so just keep an eye on your skewers). Serve hot.