NaBloWriMo day #12.
Eat on $30 day #2
How are all of my Eat on $30 buds doing? Hanging in there? Good! I don't mean to snark because I snark a lot and this time I'm really not meaning to. I want to point out that it's not possible to buy an arbitrary quantity of most foods like soy sauce or diced tomatoes. I guess I'm trying to keep it as realistic as possible. Otherwise, as I said in yesterday's post, it'd be easy peasy for me prorate and charge myself for 1/4 teaspoon of baking powder and 1 tsp of vanilla extract so I can go make oatmeal cookies. That's not how it works, yo.
I do want everyone to know that I am loving the thoughtful discussion in the comments and encourage you to keep sharing tips and observations! You guys are GREAT!
This morning, Mr. FedEx brought me a big box with a dog treat on top. All of the delivery people in my town carry heaps of dog treats – it's a dog town. I had to sign for the package and promise that I am over 21 years of age. You know what that means…

booze! lovely wines from st. supéry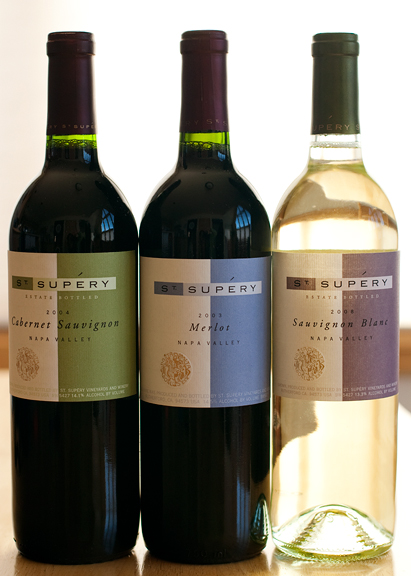 Rick Bakas (follow on Twitter
@RickBakas
) graciously sent me bottles of the wines we were served at the
infamous lunch at BlogHer Food 09 in San Francisco
. I'm so excited to try these wines (and Jeremy is even more excited)! But they will have to wait until after the Eat on $30 challenge is over. I just don't think most people on food assistance get complimentary wine FedEx'd to their homes. I had to put them away because just looking at the bottles made my mouth water.
what i did with some of the veggies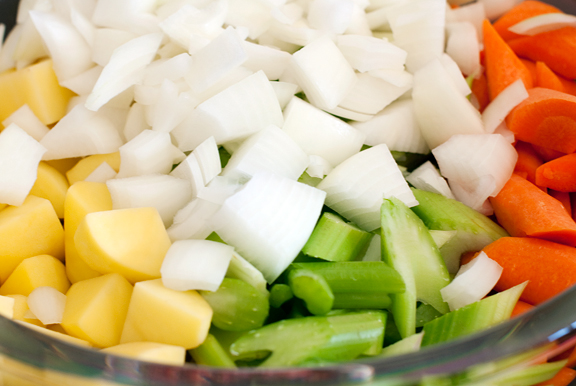 salt and pepper on the beef chuck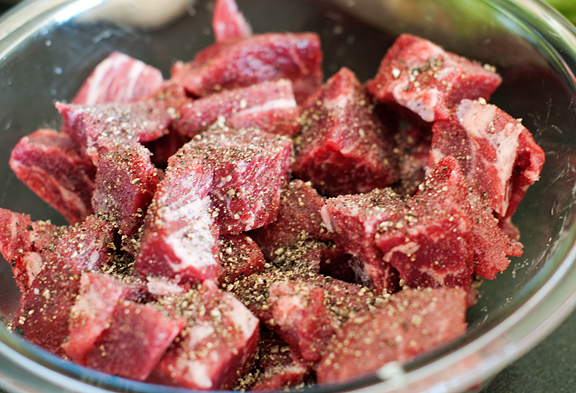 Breakfast got a little screwy today. I was up late and Jeremy woke up at 5 am to head down to the office and start remote observing on a telescope. My intention was to prepare breakfast for him each morning, but I just mumbled, "Bagel. Eat a bagel," and I quickly fell back to sleep. I discovered that he only ate half a bagel, leaving the other half for my brekkie which I toasted with a little butter. For lunch, Jeremy took some of the huge pot of
beef stew
I made yesterday.
beef stew with rice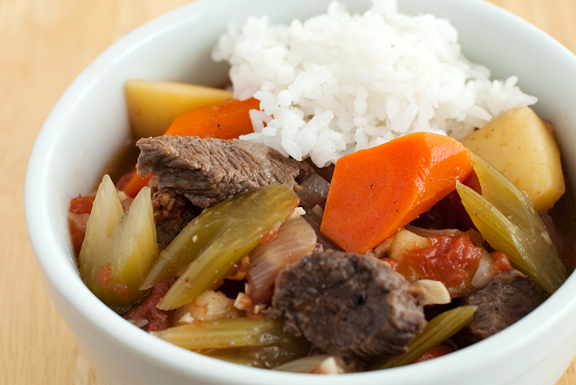 For the beef stew, I used about 1.25 pounds of beef chuck (after trimming off the fat) and then doubled most of the vegetables and the beef broth to extend the stew. I finished my noodle soup from the previous night and had a delightful soy sauce egg and scallion pancake to round out my lunch.
So I used 6 drumsticks to make the soy sauce chicken on day 1 of the challenge. I cooked the remaining drumsticks (5) in water for 2.5 hours. When I make chicken broth, I don't add anything other than a touch of salt. Chicken broth flavored with celery, onion, spices doesn't jive with Chinese cooking. I ended up with 2 quarts of homemade chicken broth (which I refrigerate and de-fat) and 8 ounces of tender chicken meat (I strip it off the bone and toss out the skin and cartilege).

the rest of the chicken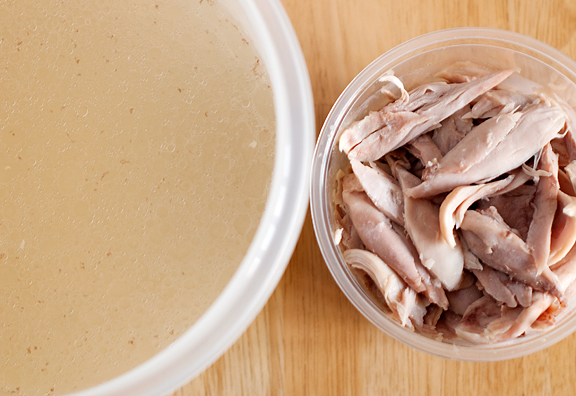 Dinner tonight was
stacked chicken enchiladas
using most of that extra chicken. It was a lot more work, but considerably cheaper than buying canned chicken. There's that trade off again – time versus money.
shredded cheddar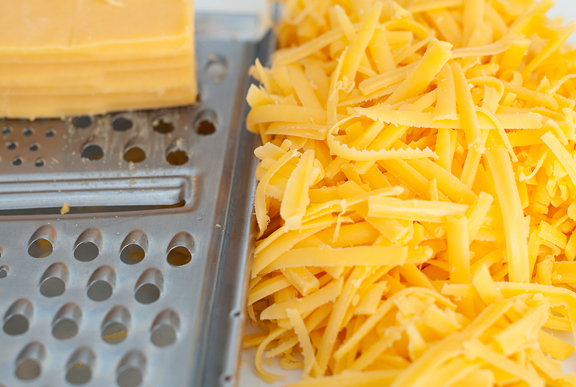 assembling the enchiladas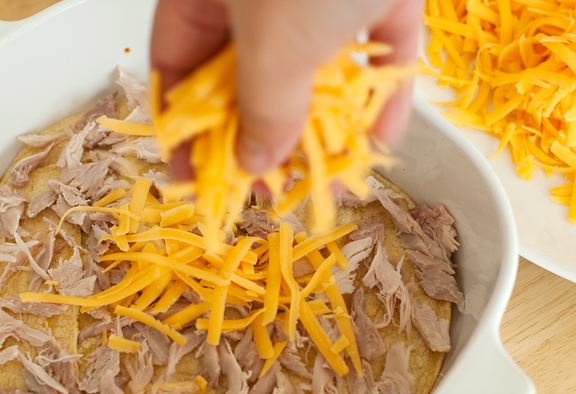 I used a lot less chicken than usual – 6 ounces instead of 12 ounces. The corn tortillas were used up as was most of the cheese (I reserved a little for topping the beans), and then there was the sauce.
the enchilada sauce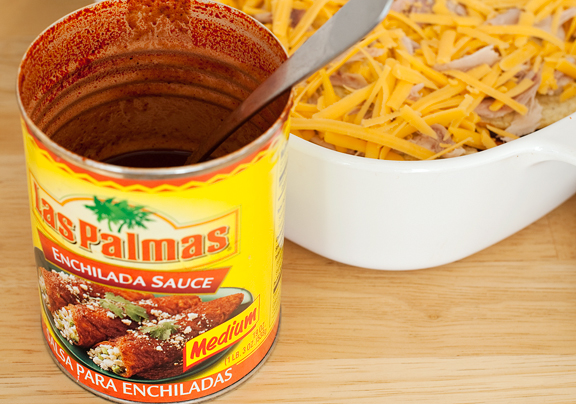 I "splurged" on the sauce. One of the standard 14 ounce cans isn't enough and we always buy the 19 or 20 ounce cans (yeah, I calculated making enchilada sauce from scratch and it blew my budget out the backend). Here in Colorado, I have one hell of a time finding enchilada sauce that isn't
mild
. I've talked about this Craziness before – that Colorado is utterly disappointing and lame when it comes to any sort of real Mexican or New Mexican foods. Once you cross the border to New Mexico (Land of Enchantment, but really, it's the Land of Food You Can Taste) you can pray at the Altar of Hot Condiments and Sauces in any grocery store. The best I could do was
Medium
enchilada sauce and I think it cost $.50 more – but it was definitely worth it.
corn on the cob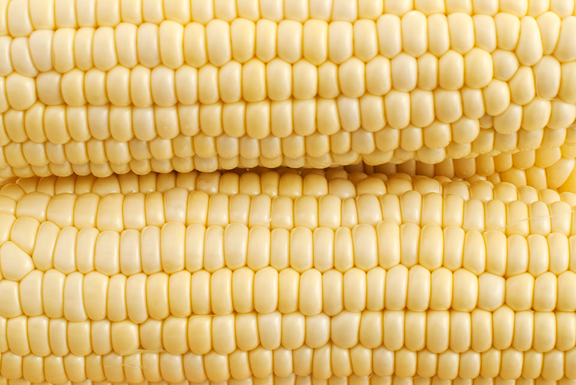 zucchini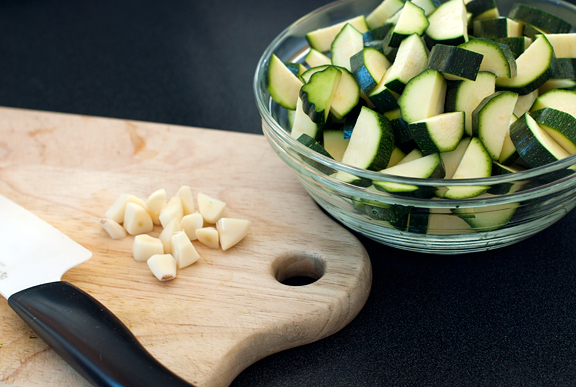 I'm insistent about vegetables and I have my dear mom to thank for that. She always set at least two vegetable dishes on the dinner table every night. Vegetables and fruits make me soooo happy. I boiled up some corn on the cob, sautéed the zucchini with garlic in a little oil and salt, and heated a can of refritos. Let me just say that a quick sauté of many vegetables with garlic, salt, and a little oil is a great and inexpensive way to enjoy them.
day 2: dinner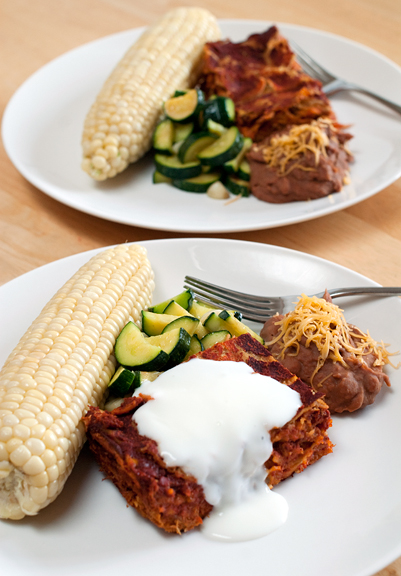 I had a dollop of plain yogurt on my enchiladas. Sour cream gives me a horrid tummy ache and it's super duper fattening (double trouble!), so I took a shine to plain non-fat yogurt 20 years ago as a healthy and non-offensive substitute. Jeremy doesn't like white condiments touching his food, so it's all mine. We'll squeeze another two meals (lunch or dinner… or breakfast) from the leftovers. Okay, that's a wrap!