The winner of the drawing: yes, I had a great scheme to pick the winner in San Francisco, and instead, was utterly distracted by our jam packed schedules and all of the beautiful, shiny people I met. So tonight, Jeremy and Kaweah played a few games and Jeremy produced a random number of 469 based on Kaweah's ability to dig a treat out of her kong toy several times. Congratulations to Maressa! Because I'm hitting the road in less than 5 hours, I will email you at the end of the week (or you can email me) for your mailing address. Thank you to everyone for sharing your awesome autumn memories with me. Unfortunately, I was craving pumpkin and apples ALL WEEK :)
I'm home just in time to leave again! As some of you know, I was in San Francisco over the weekend for the BlogHer Food conference. If you want me to attend anything, hold it in San Francisco or Seattle, and I'll be there. So while I'm about to hit the road to hunt down some Colorado Gold (leaf peeping), you can peruse the photos from the conference (it will be like you were there, and in some cases, you WERE there!) and read over my random musings regarding the weekend.
But before we get started with the conference, here is what was happening down the road from my house today:

aspen canopy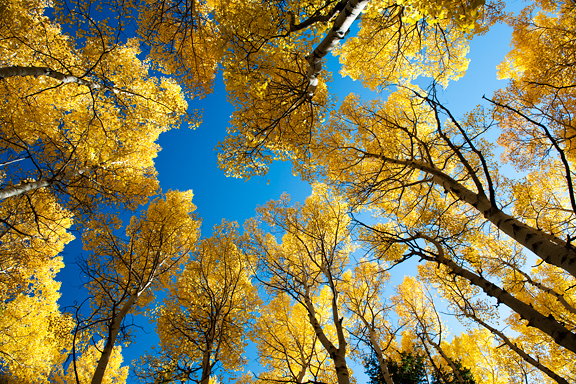 this guy was huge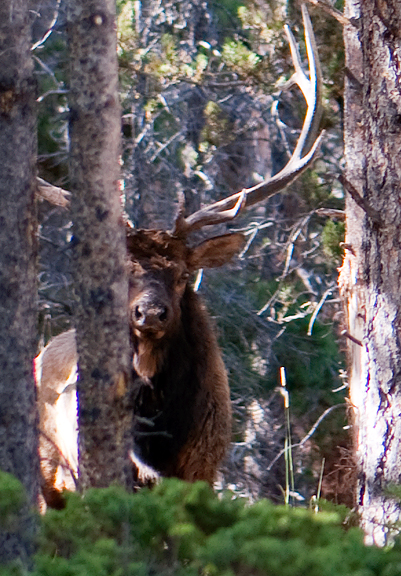 a different bull elk, bossing everyone around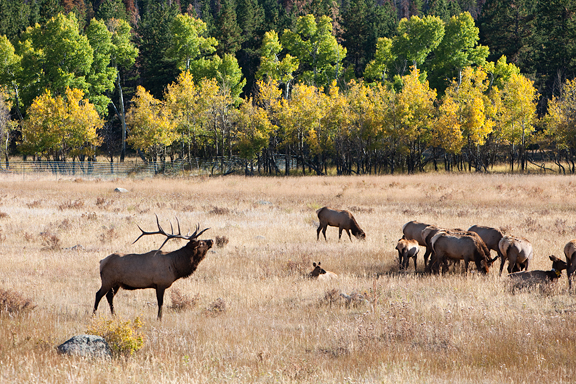 Helen (
Tartelette
) and I met at SFO for the first time! It's old hat now when you've been friends for over a year that when you finally meet in real life (IRL) all the jokes and laughs come tumbling out. We made our way into the city and had ourselves some sushi for lunch at Akiko's.
helen at akiko's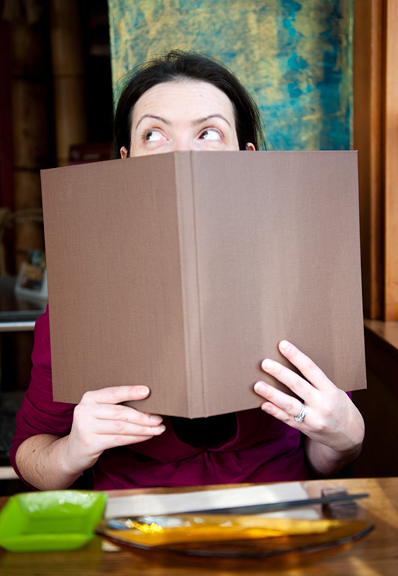 white tuna belly sashimi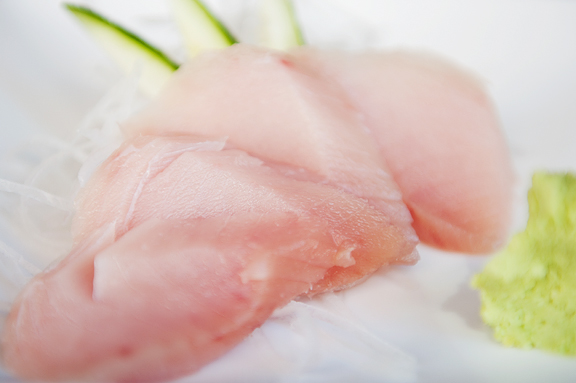 After checking in to the hotel we traipsed off to the Ferry Building in search of
Miette
. Helen was on a mission to hit all of the major bakeries in the city!
miette at the ferry building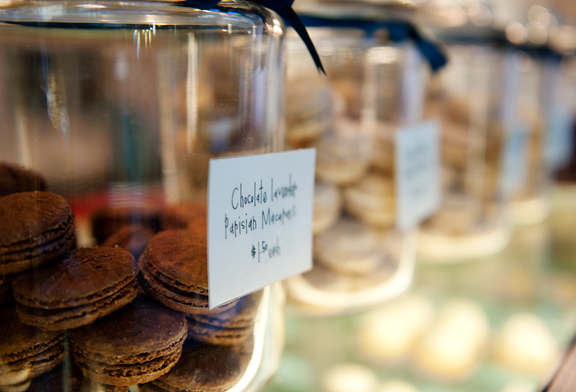 caramels and macarons from miette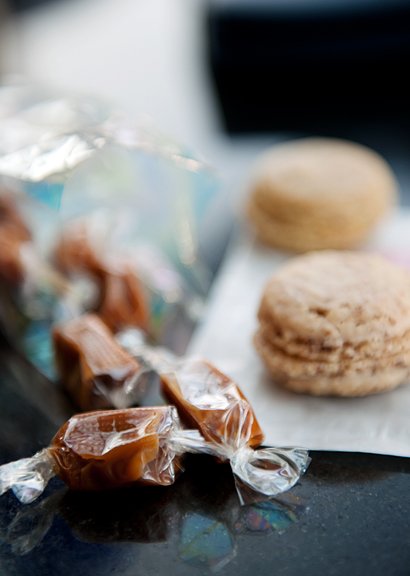 We met up with several others on the 39th floor of the SF Marriott for cocktails. Oddly, no one had ever been up there before except for me! How did I know about it? Geophysics meetings… First, Alice (
Savory Sweet Life
) and Ashley (
Not Without Salt
) found us, then Susan (
Sticky, Gooey, Creamy, Chewy
) arrived followed by Anita (
Dessert First
) and Lisa (
Lisa Is Bossy
). By the time the sun went down, I got a call from Todd and Diane (
White on Rice Couple
) and met them at the top of the elevator. Very lively and fun bunch, but $13 for a mango mojito? Yeow!
helen, susan, alice, ashley on the 39th floor for happy hour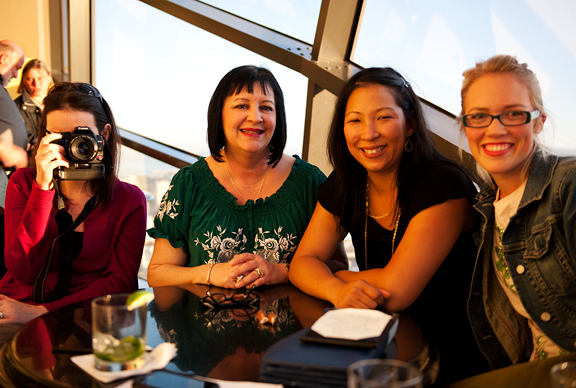 dusk over san francisco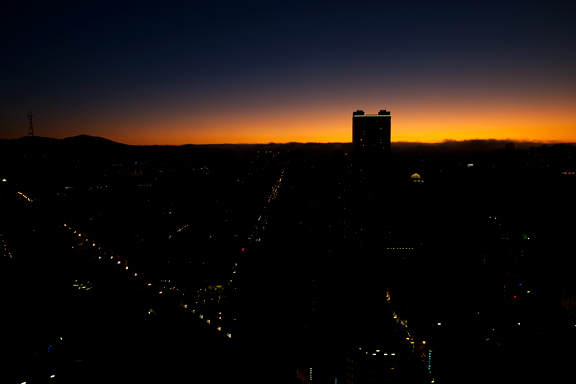 Come 8 pm and we all hoofed it over to
Anchor and Hope
where we met with Chuck & Hungry Bear (
Sunday Nite Dinner
and
Food Gawker
), Michelle (
Thursday Night Smackdown
), Karen (
Off the Meat Hook
), and Anita's fiancé Mike. The place was packed, but we eventually got our table.
seated at anchor and hope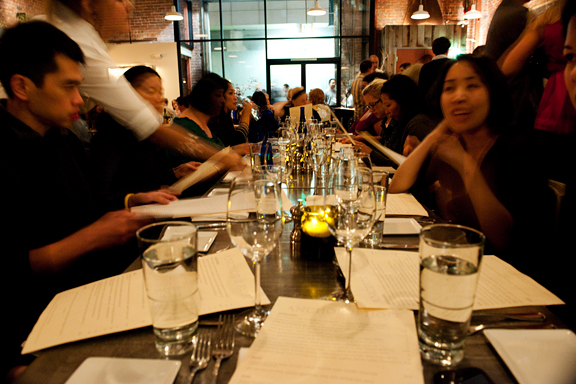 anita and lisa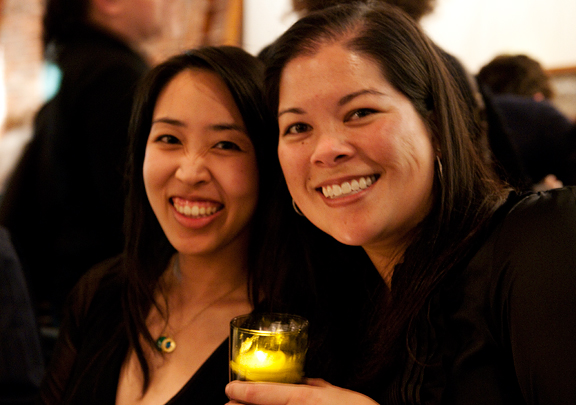 chuck and hungry bear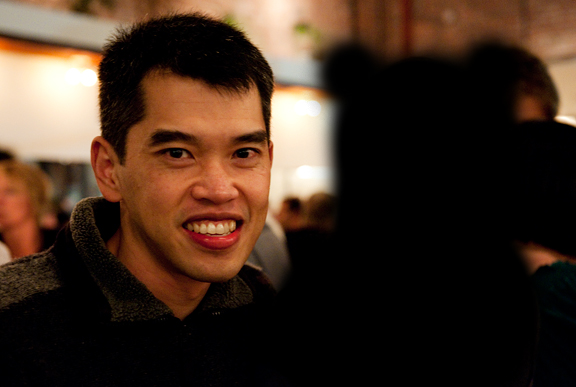 sea urchin appetizer (amazing, omg amazing)
oysters wrapped in bacon
helen and i split a plate: salmon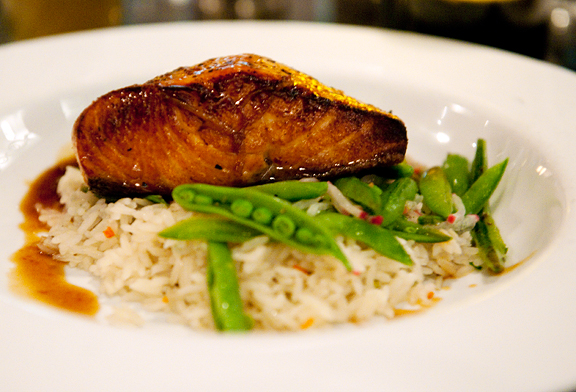 birfday paulette macarons from anita and lisa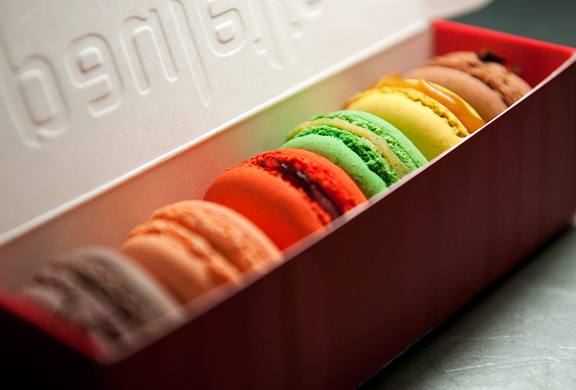 The food was excellent, but as Sean Timberlake (
Hedonia
) had tweeted earlier, it's somewhat overpriced. That sea urchin (uni) appetizer was the bomb. I only had a few spoonfuls, but it has changed my mind completely about uni. For dessert, Anita and Lisa presented me with about 2 dozen French macarons from three different bakeries in SF. WOW! Lisa, the ever prepared, gave me little plastic knives to cut them up and distribute around the table for tasting. My favorite? Paulette's cassis – heavenly. So awesome of those two! Our original plan was to head to the Slanted Door after dinner for drinks, but… it was late and we were all tired and we had that conference thing to go to the next day…
i made it to brekkie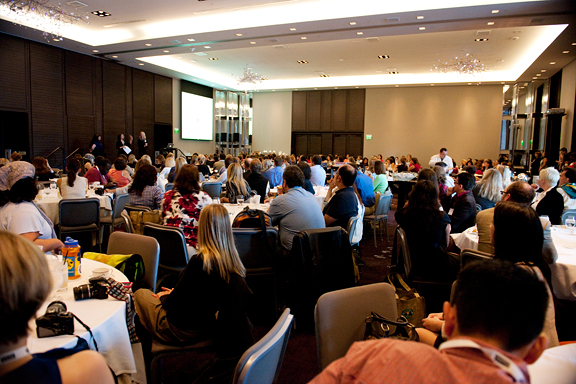 Thus began the surreal part of the whole thing – meeting a gazillion (okay, dozens of) people you sort of know, but don't really know, and doing it all day long. I cannot even begin to name them all, so I'll just let the photographs jog my memory. However, there were so many more than the ones in the photos.
helen opens a package to us from barbara (winos and foodies)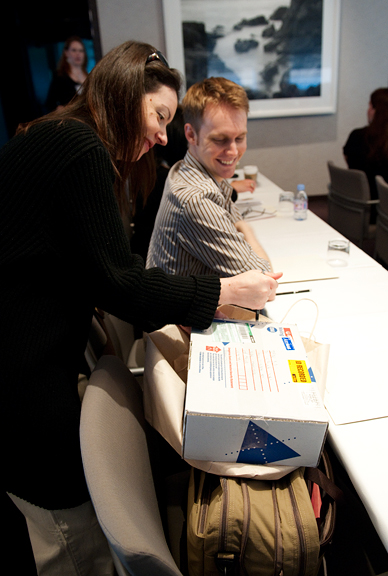 heidi (101 cookbooks) and matt (mattbites) kick off the first session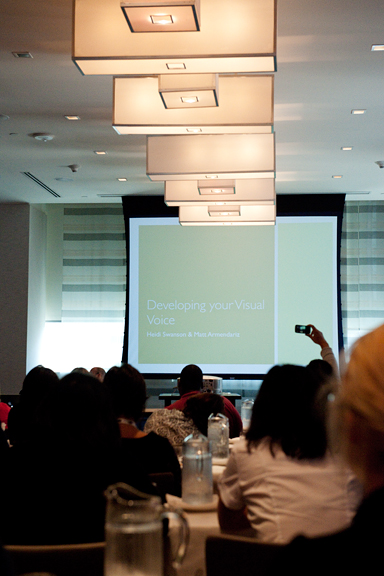 I pretty much stuck with the photography sessions throughout the conference which I found interesting for many reasons. I didn't learn much that was new about photography, but I learned about some of the trade and I learned about other styles and preferences. What I learned the most was about food bloggers wanting to do food photography.
shauna (gluten-free girl) and lucy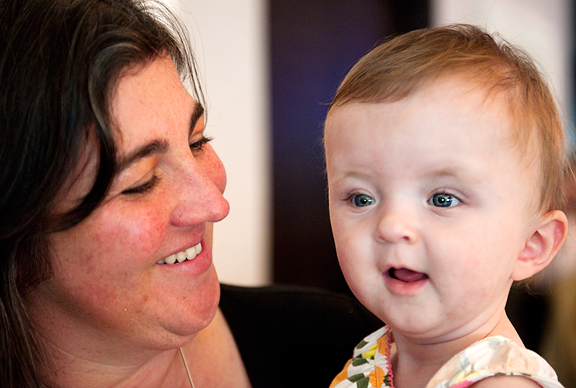 joy (joy the baker)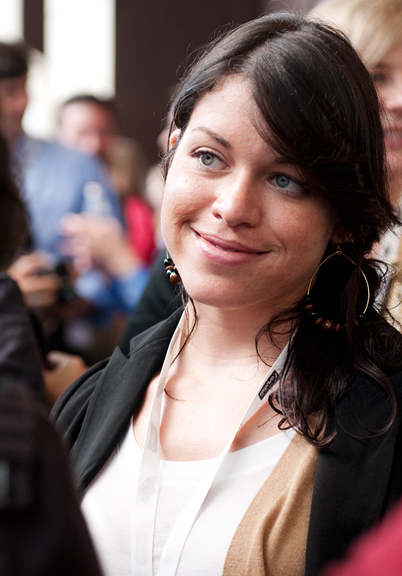 caitlin (engineer baker), anita, and tami (running with tweezers)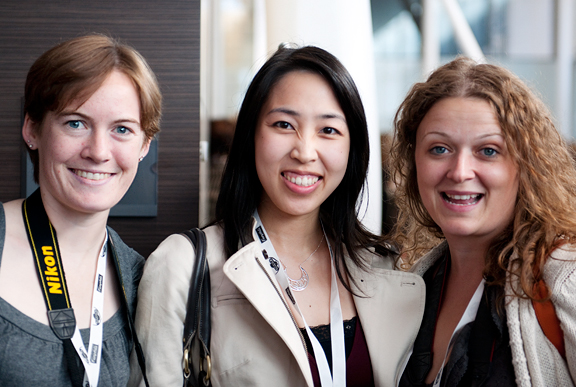 ashley and crazy alice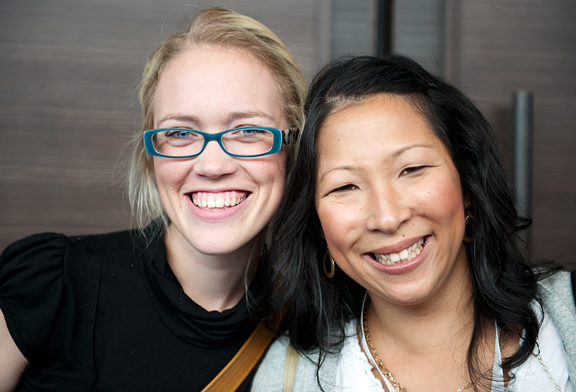 The crazy thing about this conference is that I met people I've been reading for months or even years and some of them actually have an inkling as to who I am. Take Joy, for instance. We made eye contact in this super crowded hallway and I thought "She kinda looks like Joy, like a lot." And so I asked and she said she is indeed Joy and I was all, "Hi, I'm…" and she smiled and said she knew who I was. It's a weird thing. She's so sweet and ten times prettier in person than in any photo. I kinda fell in love with Lucy, Shauna's little baby girl, probably because she's as charming and genuinely warm as her mama.
salad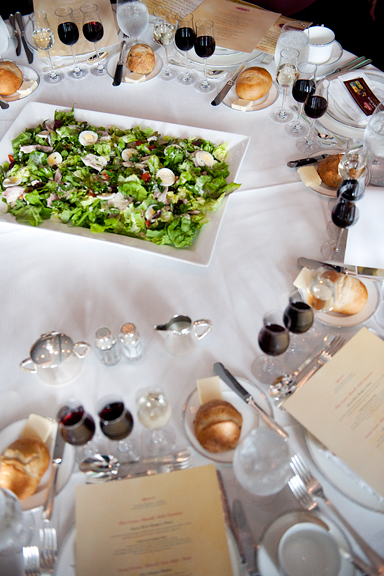 wine(s)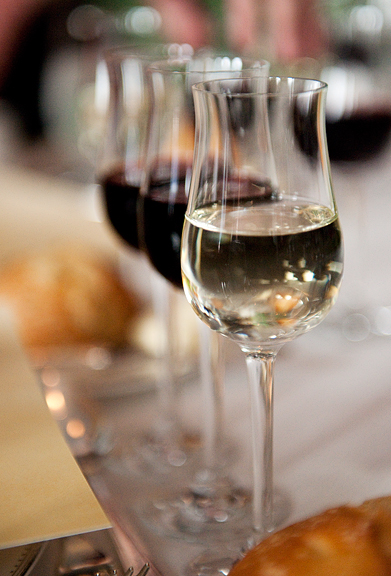 So then we were served lunch. Lunch was an odd thing. Lunch sort of symbolized the complete misreading of the conference body by the conference planners. I mean, you started to feel like things were heading in the Twilight Zone direction when the sponsors were in the hallways shilling squirt canned frosting. I don't know of many food bloggers (at least, not the food blogs I follow) who would use that stuff. Rocco Dispirito bounced off the walls of the conference meeting room dishing the sell for Bertolli's products. (I don't own a television and I certainly had no idea who this man was, which made it all the more annoying). We started with salad and it wasn't too terrible. Then came the parade of frozen dinner entrees. Yes, they served frozen pasta dishes to food bloggers. People, I just made puff pastry from scratch and they were serving me frozen, mushy pasta. That doesn't jive. We had our angry/semi-humored tweets, but I think the feeling I came away with was that of being insulted – that somehow BlogHer doesn't know the difference between a mommy blogger and food blogger (oh, there is a huge difference). The conference was for FOOD BLOGGERS. Might be good to rethink that next time…
diane and todd leading second session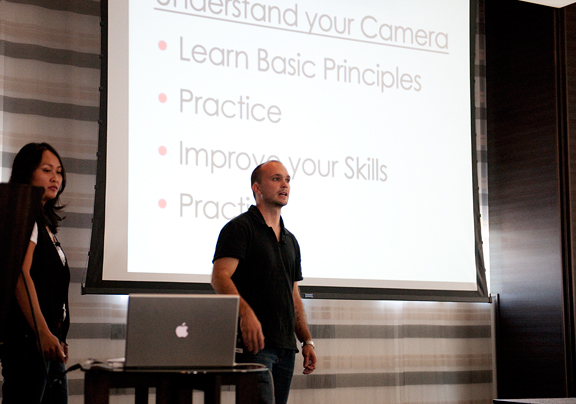 I had a big tirade about food bloggers and their general approach to photography, but I've deleted it. I think a prevailing problem with food photography and food bloggers in general today (the new wave of bloggers) is that people want instant success. People did not become superstars overnight, be it food photography or food blogging. There is no ONE formula, ONE camera, ONE lens, ONE recipe for success. If anything, the panels showed a beautiful diversity of photographers with different approaches to what they do. In fact, the one thing they all have in common is that they work very hard at something they love very much.
elise (simply recipes), matt, david (david lebovitz)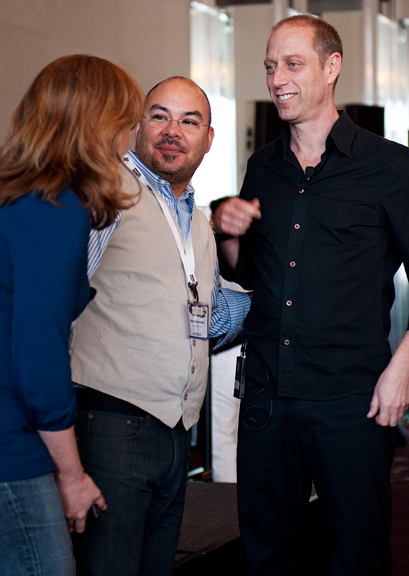 diane, todd, jaden (steamy kitchen)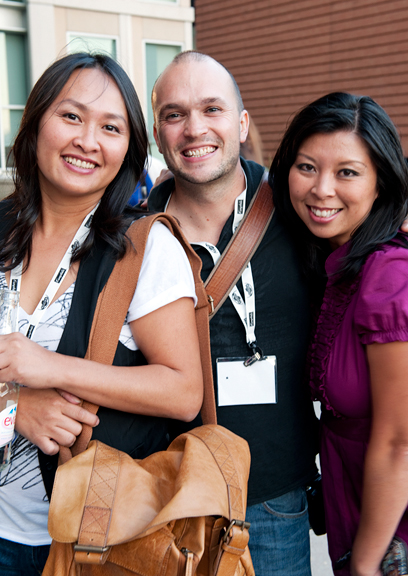 garrett (vanilla garlic)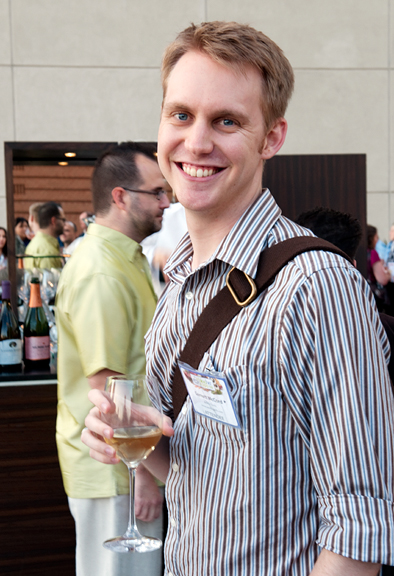 todd, helen, and zoe (zoe bakes)
broderick (savory exposure) and matt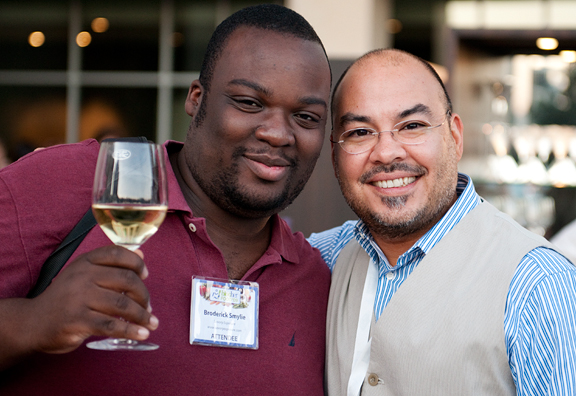 After the keynote panel with Ree (
The Pioneer Woman
), David, and Elise there was a rooftop cocktail party. [I should note that the takeaway message for me would be: success comes in many flavors and ultimately success is defined by your happiness.] The party was delightful and the martinis were really strong. Really. I had a lovely time meeting and chatting with so many people. Of course, by the time we began staggering over to the after party (thrown by Jaden, Elise, and Ree), my martinis had gone straight to my head.
drunk photography – it's "artistic"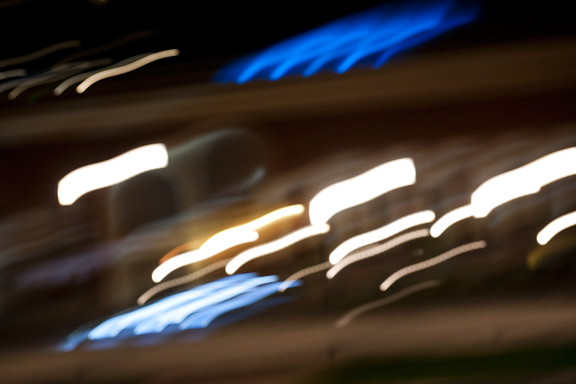 it was a hoppin' party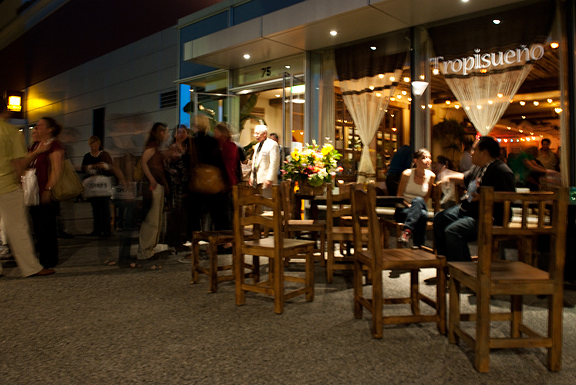 Let's see… I met Emily and Christina of
Foodzie
, Hardy (wine pusher – he's the best), Hank Shaw (
Hunter Angler Gardener Cook
) and Holly (
NorCal Cazadora
). Oh, but the most delightful surprise was when I went looking to see if my buddy, Helen, was alright (of course she was) and found her talking to Alice Medrich. ALICE MEDRICH?! My first pastry book was written by her! She is a lovely, lovely woman. I met a lot of people and even without martinis, white Russians, and wine, I would have a hard time remembering everyone. The schwag bag from the after party was something else in a very good way. I had to give Diane the great big knife so she could mail it to me later. Ree, Jaden, and Elise KNOW how to throw a party.
The next morning, Helen, Caitlin, and I went to have coffee with Shauna, Danny, and Lucy. I love that family. They are such good people. We said good-bye to them and then saw Caitlin off to her train before walking up to Chinatown for a little dim sum at City View Restaurant (which doesn't have a view) with Tami.

luuuuuuucy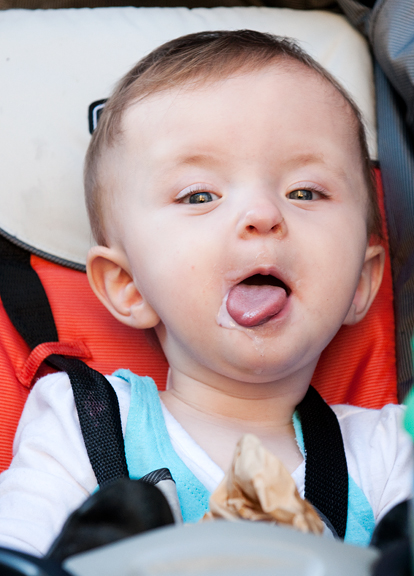 shauna and danny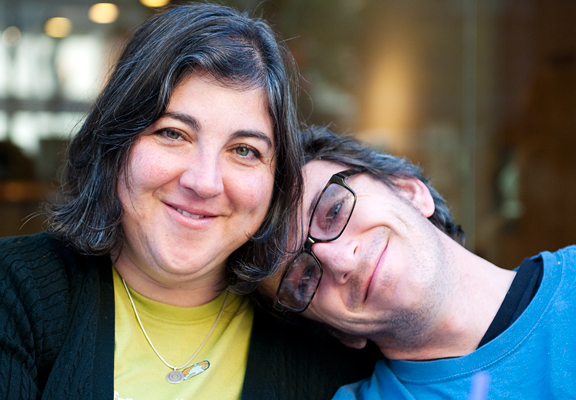 helen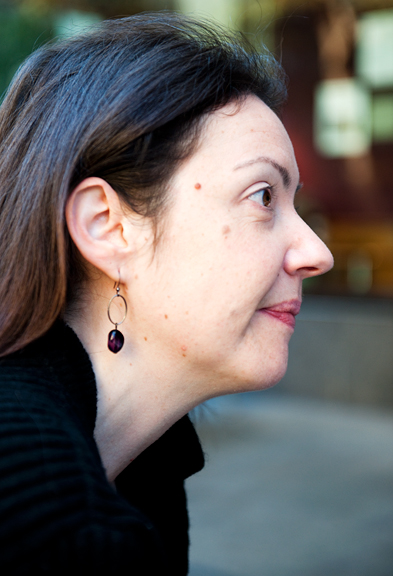 tami and helen at dim sum
chinese chive dumplings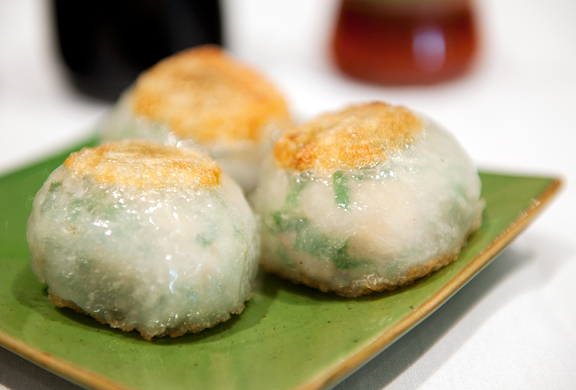 walnut shrimp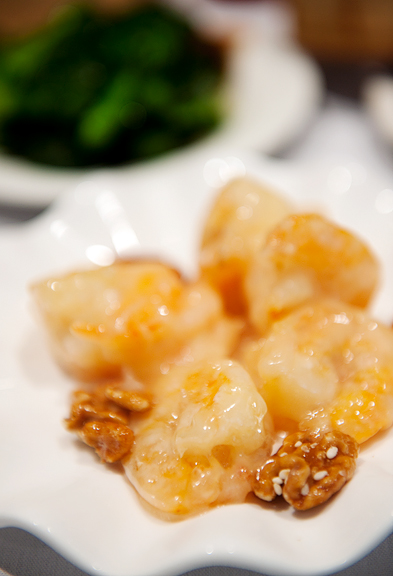 Todd and Diane joined us for the last half of dim sum. It was nice getting extra time with some of my favorite people outside of the conference. The conference was just too distracting and I know there were others I wanted to meet and never got the chance. The most important part was to connect with friends, old and new. We parted ways – Helen and I went in search of Paulette's Bakery (French macarons – omg!!!) and then to Miette (the candy shop) where we met Tess, who writes their
blog
. The store is so inviting, so happy. If you are in a foul mood, this place will set you right in no time flat.
a wall of confections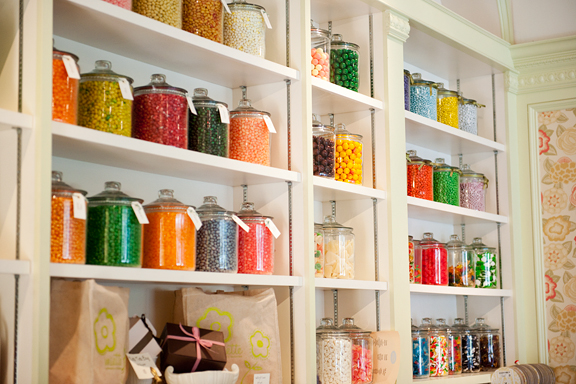 everything in its place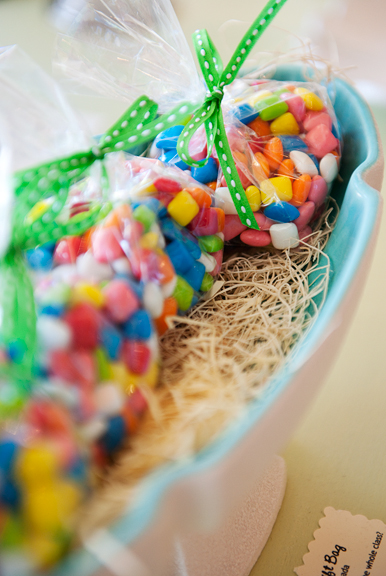 and some tempting cupcakes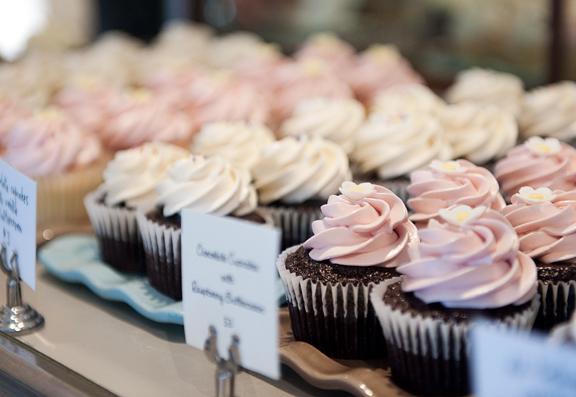 There was no time for Tartine, so Helen would make that pilgrimage on her own. I had to catch a train to the airport. Did I mention it was hot? I only said it like 57 times over the weekend. So hot and humid compared to Colorado :) Helen and I hugged and she took BART back to the city. I gave her my maps and list of bakeries. We waved good-bye as her train sped away. That was a lot to pack into just over 48 hours, but we did and it was great.