NaBloWriMo day 15.
Eat on $30 day 5.
Last day to enter for the Macy's gift card giveaway!
Remember when I started the Eat on $30 challenge and I mentioned a local spice shop? Several friends of mine had recommended it to me before, but I never set foot in the store until last week. In need of small quantities of nutmeg, cinnamon, and whole star anise for Eat on $30 (because I couldn't afford whole jars in the grocery store), my brain did me a solid and remembered Savory Spice Shop on Broadway just north of Pearl Street. I was greeted by the warm smell of spices on the air and a very friendly and knowledgeable staff.

dan hayward: owner of the boulder savory spice shop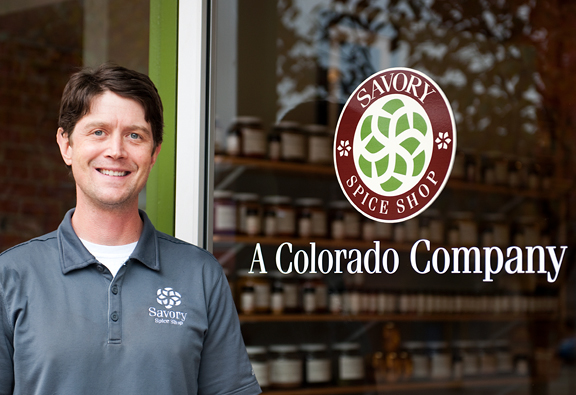 spices, blends, gift sets and more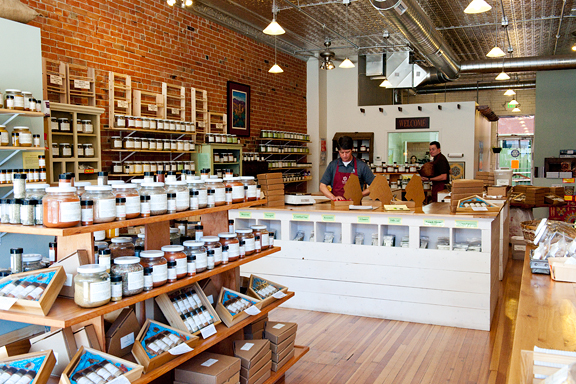 For my immediate needs, Savory Spice Shop
worked
. The minimum amount you can buy is a half ounce of any spice or seasoning. That cost me $3.45 for the ground cinnamon, ground nutmeg, and star anise pieces. If you have ever had to purchase spices in an "emergency" at a typical grocery store, you know they are not only inferior in quality, but really bloody expensive. I only needed a half teaspoon or a quarter teaspoon, but since I had extra, the cinnamon and nutmeg have livened up my otherwise lifeless oatmeal during this week's challenge and they came into play for a last minute snap of brilliance on day 4 (see after the jump, yo).
paprikas (top left), so many lovely salts (bottom left), great staff (right)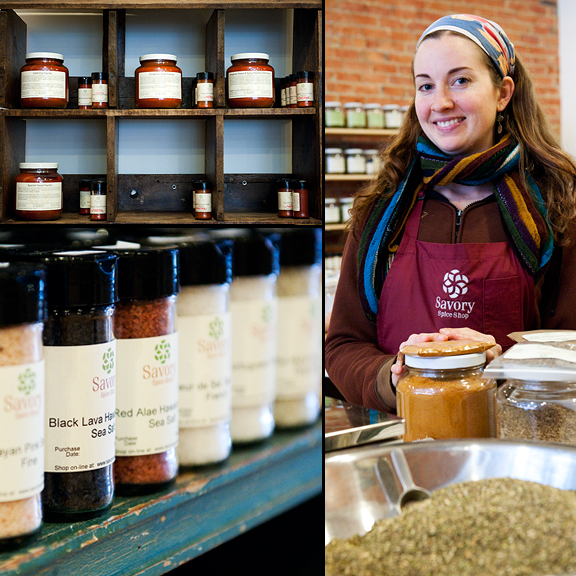 Savory Spice Shop is a local business. It started in Denver about 5 years ago and has expanded to a few other locations in Colorado, including (thankfully!) Boulder. Dan Hayward is the owner of the Boulder store and explained that their spices are ground on the premises each week to ensure freshness and the highest quality. They do more than just sell spices and seasonings – every person working in the store has a personal love of things culinary as well as professional ties to the culinary industry (one employee is a chef). They are constantly educating themselves on food. That is a welcome change for someone who is passionate (and a little OCD) about her food. I'd much rather ask an employee of Savory Spice Shop about the spices I want to purchase than *anyone* working my local grocery store. Know what I mean?
in the store window (left), herbs (top right), cinnamon sticks (bottom right)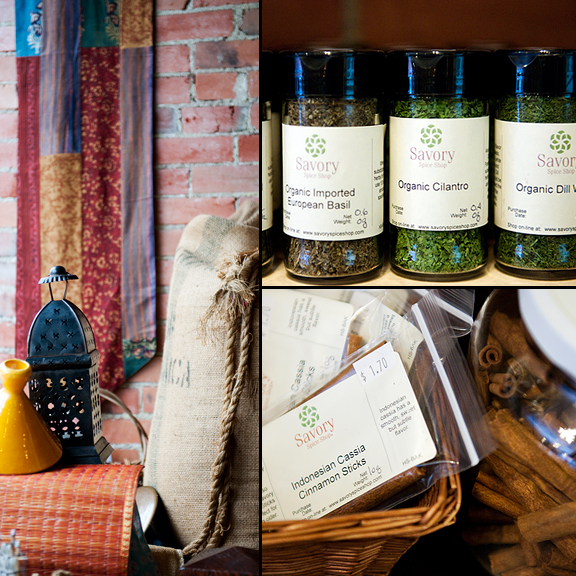 The Eat on $30 challenge aside, I know I will be coming back to Savory Spice Shop from now on. I spied vanilla beans, extracts, kaffir lime leaves, several types of dried mushrooms, rubs, seasonings, just to name a few. They also have several smartly packaged gift sets throughout the store. Their prices are cheaper, the quality so much higher, the quantities more reasonable, and the selection is better than anything in town. And the added bonus is that I feel better purchasing from a local store than from a national chain. I'm a little giddy thinking about what I'm going to purchase there the next time when I'm not on the $30 restriction!
huge bin of star anise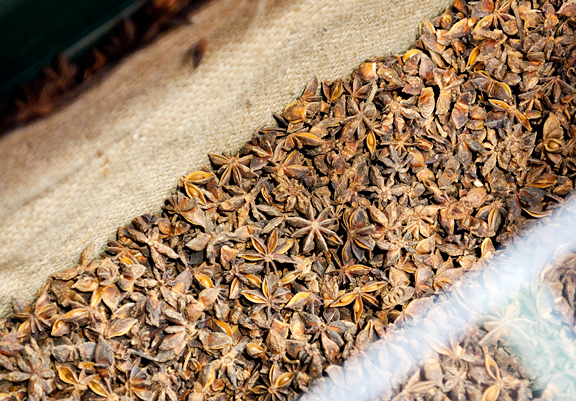 Savory Spice Shop
2041 Broadway
Boulder, CO 80302
Ph: (303) 444 0668
Fx: (303) 444 0652
Full Disclosure: I wrote this review of my own volition and without compensation in any form from Savory Spice Shop or Metroseen. I just happen to love Savory Spice Shop and want to promote good local businesses in my area.
Thursday morning, I returned to the shop for a fun little project. Mark Montalbano of Metroseen asked if I wanted to be in a video shooting for Savory Spice Shop. What a coincidence since I was planning to feature the store on urb! Of course, I brought my camera…

dan during filming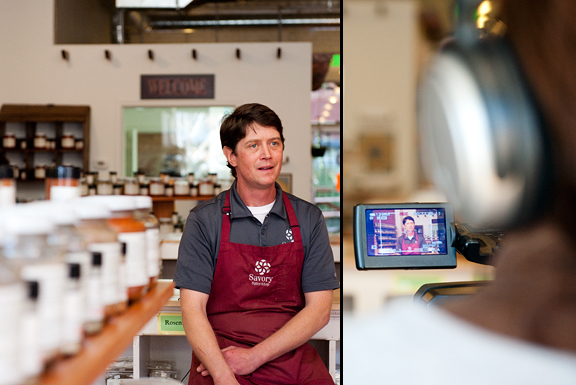 sarah blecher of culinary school of the rockies (left), mark (top right), jayne romyn filming (bottom right)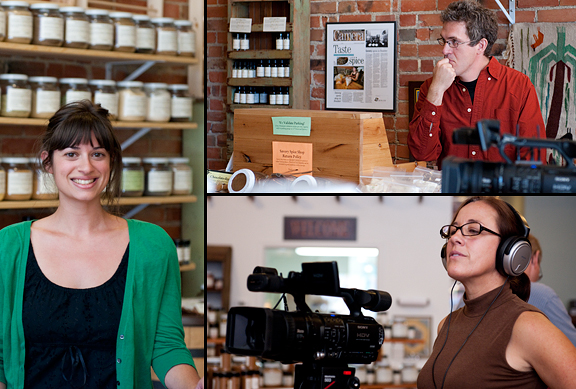 Sarah is a former employee of Savory Spice Shop and she now works for the
Culinary School of the Rockies
where I took my pastry skills course and my knife skills class. [Remember how so many of you were squealing over
Chef Michael
, my knife skills instructor?? Uh huh…] Sarah writes
their
blogs
(which I read) and manages most of the goings-on over at their office. Very cool. Lots of foodies.
So before I run out of time and turn into a pumpkin, here is the recap of what we ate for the past two days:
day 4: oatmeal for brekkie, beef stew and scallion pancakes for lunch, enchiladas, corn, refritos, zucchini for dinner, apple turnovers
day 5: oatmeal for brekkie, beef stew for lunch (jeremy), no lunch for jen (busy), coffee sample for jeremy (more on that tomorrow), beef stew, scallion pancakes, and fried rice for dinner, apple turnovers, apple for jen, coffee for jeremy (more on that tomorrow)
What's with the apple turnovers, you ask? Funny thing… I weighed out 5 ounces of flour that was not designated for anything. Since I am a proud member of the Daring Bakers, I recalled last month's challenge of puff pastry. It's time and a tad labor intensive, but it requires, flour, butter, water, salt. I had those.

make the dough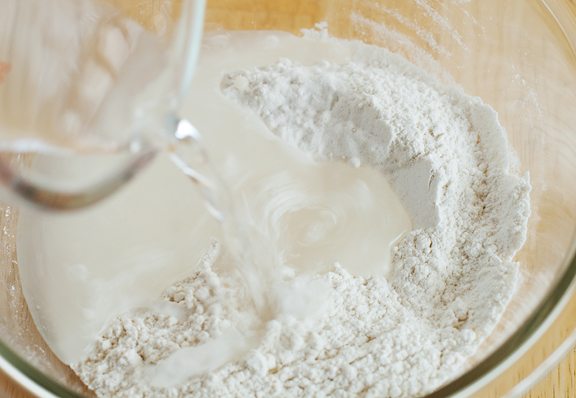 enclose the butter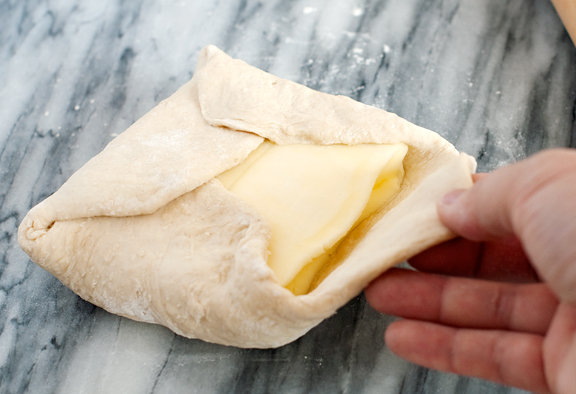 turn 1 of 6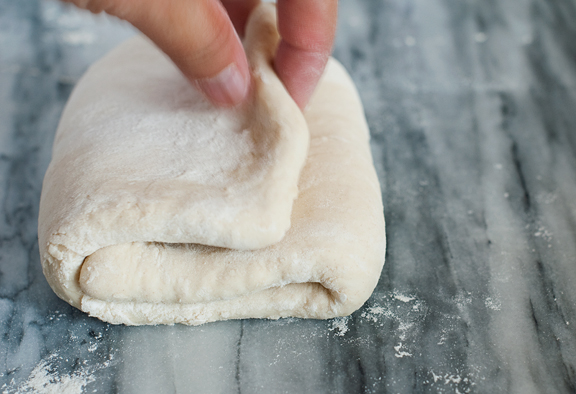 I chopped up one of my apples and simmered it in butter, brown sugar, and cinnamon (oh, to use that lovely cinnamon from Savory Spice Shop – so glad I had extra) for the filling.
delightfully fragrant apple filling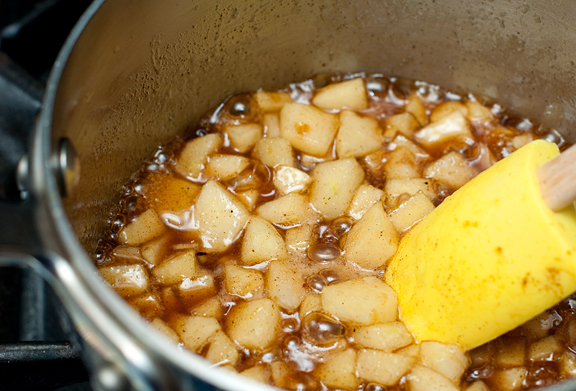 folding the pastry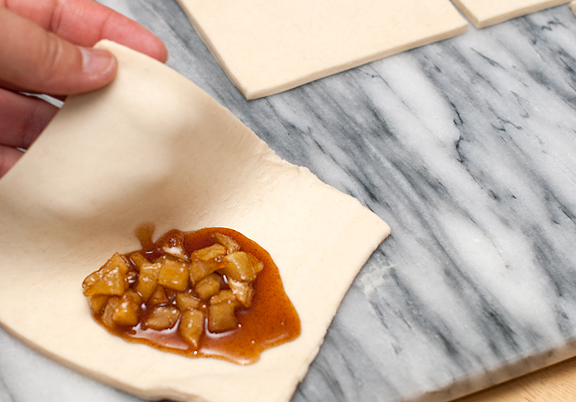 et voilà! apple turnovers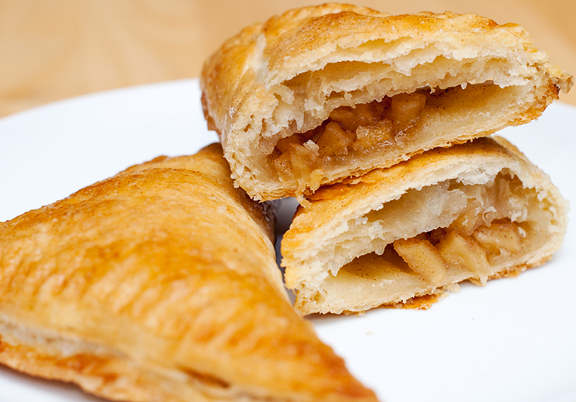 I apologize for not having anything profound to share tonight. It's late. I'm tired. May The Force be with you.