Recipe: roasted parsnip purée
I took a much needed break from posting after NaBloWriMo ended. I realize a lot of people are blogging daily for their variant of NaBloWriMo this month. I have absolutely no desire to do that for a second month. Blogging takes a certain amount of time which I permit because I enjoy it. When I posted daily, I not only didn't enjoy it, I began to loathe it. My two other blogs fell into neglect because of the daily posting. Clearly, it tipped the scales into the "blogging as sucky obligation" camp. I maintain two philosophies with regard to this blog:
1) I blog for myself. (Anyone else who comes along for the ride is welcome as long as they aren't an asshole about it.)
2) Life comes before the blog.
I'm not sure I'll be doing it again next year unless I find myself with an enormous amount of free time and… that will never happen.
Jeremy and I drove home from New Mexico on Sunday under sunny skies. We stopped at Trader Joes in Santa Fe, hunted for Mexican food near the border with Colorado, and spotted several dozen antelope on the plains. Sunday was also our "smoochiversary" or our "I'm glad I met you" day. Call it what you will, it has been 17 years. I consider myself fortunate for every day I spend with Jeremy. I could not have asked for a better partner in life. We had lunch in Trinidad, Colorado. I don't know what it is about that border between the two states, it's like the border between good spicy food you can taste (NM) and Mexican food that is as bland and flat as a Swedish cracker (CO).

don't be fooled: looks good, tastes like nothing much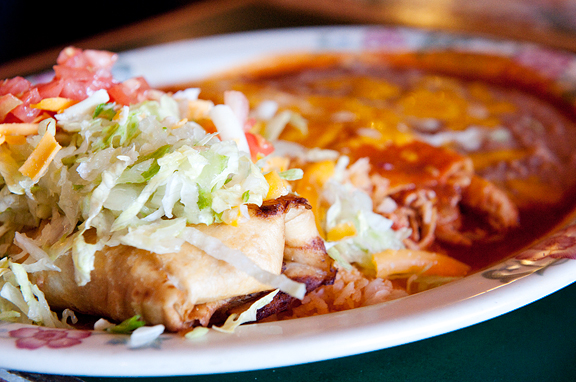 Tami
and
Helen
were wondering why I hadn't been on Twitter much of late. It never fails, but the autumn months seem to be the busiest ones. When I say busy, I mean work, travel, and fun. Last night was
muy fun
.
you got it: community night at the kitchen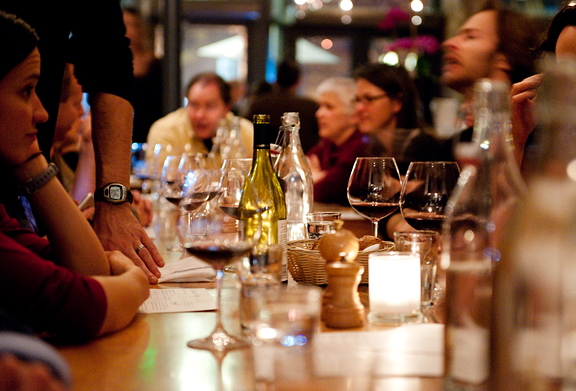 amazingly good: rabbit leg confit with chanterelle mushrooms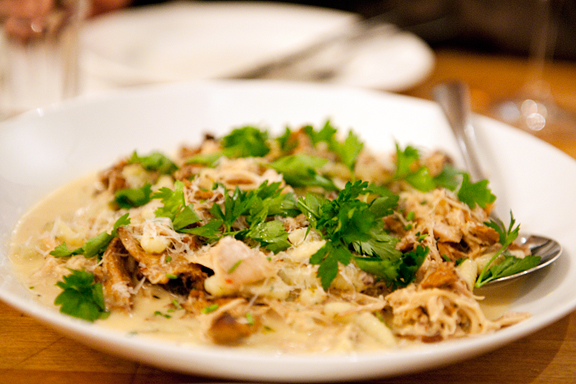 We were joined by a familiar crew of friends and had a terrific time full of laughter, stories, plans, and incredible food. As we stood outside of the restaurant, saying our very long good-byes, Luke told me, "I feel so full. About the same as when I had dinner at your place last time!" The difference between dinner last time and dinner at Community Night was that I didn't have to cook at Community Night and could spend my time with my favorite people. But Luke's comment made me remember that I still had a recipe to share from the
dinner party
we threw last month.
parsnips
peeled
How fitting that the first time I fell in love with parsnips was at The Kitchen a few years ago. They were roasted and I had no idea what the actual vegetable looked like. I just knew it was sweet with overtones of warm spice and a hearty root vegetable texture. They look like white carrots with overly enthusiastic proportions. I think they're beautiful. I like to roast parsnips, I like to purée parsnips, but I've never puréed roasted parsnips.
tossing trimmed parsnips with oil, salt, and pepper
roasted until tender and sweet
What I learned the first time I puréed parsnips was that the core is quite fibrous and not pleasant to work with or eat. So I cut the cores out (please be careful doing this) and roasted the pieces in the oven with a light sprinkle of oil, salt, and pepper. It helps to cut the parsnip pieces into similar sizes so you don't burn the little ones to crisps. Alternatively, you can snarf those lovely crispy pieces down for yourself during prep. The crunchier they are, the harder it is to get them through the food mill or to process them in a food processor. I tried the food processor and wasn't happy with the consistency, so out came the food mill.
yes, use a food mill
add cream
Once the purée is done, add a little water or cream to lighten the consistency (it's quite thick). Heat it over a medium flame and continue to stir in cream to your liking. I wanted it to be smooth, but firm enough to hold its shape on the plate without running everywhere. I topped each blob of roasted parsnip purée with a large
pan-seared scallop
, but you can serve it with whatever you like (filet mignon also a good pair). One other note, a little goes a long way. I thought I wouldn't have enough purée with 2 pounds for 6 people (because after removing the cores I had just over a pound). In the end, I only used a third of the purée for the plating and it was a generous amount.
plays well with others
Roasted Parsnip Purée
[print recipe]
2 lbs. parsnips
1-2 tbsps olive oil
salt
pepper
1 cup cream
Preheat oven to 400°F. Peel, trim, and core the parsnips. This will leave you with about 1 pound of parsnips. Cut the parsnips into uniform pieces (2-inches long). Toss with olive oil and lightly season with salt and pepper. Place parsnips in a shallow baking dish in a single layer and roast the parsnips for 30-45 minutes (depending on how big the pieces are). Use a spatula or spoon to toss the parsnips every 15 minutes. When the parsnips are soft, remove them from the oven. You can pulse the parsnips in a food processor, adding water or cream (or milk if you want to compromise) to help it along. I found this didn't get the smooth consistency I was aiming for, so I put my parsnips through a food mill on the smallest setting. Place the purée in a medium saucepan over medium heat and stir in enough cream until the desired consistency has been reached. Serve warm as an accompaniment.