NaBloWriMo day 31. LAST DAY!
Halloween is my favorite holiday, but this year our house remained dark and there was no one home to distribute candy to the dozen or so kids who come by our place each year. Instead, we spent the day with Jeremy's family in New Mexico. Friday night's service was beautiful and heartfelt. Despite the tears that were shed, there were plenty of laughs and smiles over the shared memories.

dan and jeremy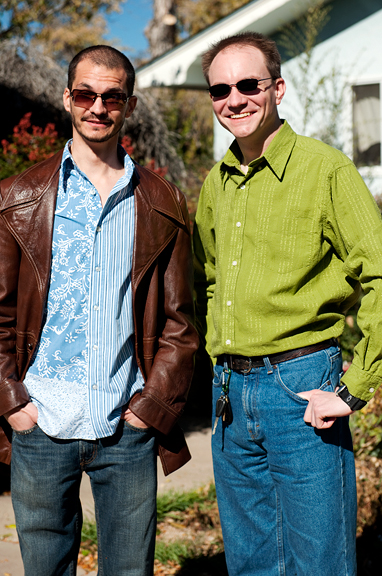 We indulged in New Mexican food, shopped for quilting fabrics, spent time talking together, saw a movie – it was a nice time. When we dropped Jeremy's parents off at his aunt's house, it was already dark and children were walking the sidewalks in their costumes. I saw glowing jack-o-lanterns and orange lights lining walkways to homes as we drove back to our hotel. Even though we didn't have much of a Halloween this year, the time with Jeremy's family was certainly more precious.
I look forward to resuming my normal posting schedule now that NaBloWriMo is finally over. Don't forget to set your clocks back an hour! What will you do with that extra hour?