Recipe: pepita brittle
********* PLEASE VOTE FOR MY CHARITY *********
It's finals week! I mean, it's the week where all of the semi-finalists from The Awaken Your Senses Challenge go head to head for $10,000 for their favorite food charity. Living in a cave? Need a recap? Twelve food bloggers described their favorite food memories and Chef Dave of Good Bite recreated those memories using Quaker instant oatmeal. Every two weeks, viewers voted for their favorite of four food bloggers' creations to select a semi-finalist. This week, voters determine which of the three semi-finalists' charities will win the $10,000:
1) Catherine McCord of weelicious championing Stone Barns Center For Food and Agriculture
2) Jen Yu (that's ME!) of use real butter (this blog!) championing Farm to School
3) Laura Levy of Laura's Best Recipes championing Food for the Poor
I'm in the finals, yo! I SO TOTALLY NEED YOUR VOTE! Only with your help can we win $10,000 for Farm to School, a wonderful organization that "…brings healthy food from local farms to school children nationwide. The program teaches students about the path from farm to fork, and instills healthy eating habits that can last a lifetime. At the same time, use of local produce in school meals and educational activities provides a new direct market for farmers in the area and mitigates environmental impacts of transporting food long distances. More than 30 million children eat a school lunch five days a week, 180 days a year. If school lunch can taste great, and support the local community, it is a win-win for everyone."
Think about it – feeding children healthy food, helping local family farms, educating children, strengthening the community. Won't you please do me the honor of voting for my charity? It's as simple as four clicks!
Click #1) Go to the Quaker Talk site
Click #2) Click on "Vote" or "Watch & Vote"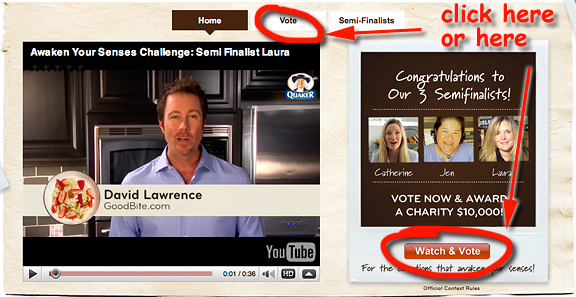 Click #3) Click on Cherries Jubilee video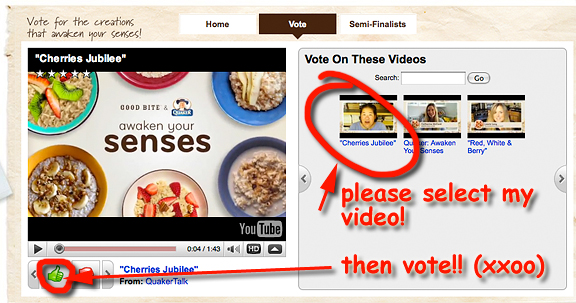 Click #4) Click on the GREEN THUMB to vote for my charity, Farm to School!
********* THANK YOU! *********
Hey, I hope everyone had a nice weekend! Mine was jam-packed full of friends, time-sensitive clandestine plans, work, rejoicing in cooler weather, and a few epiphanies. One of those epiphanies: this weekend was use real butter's five year blogiversary. My plan was to have a big blowout of a giveaway, but… you'll have to wait a little because 1) I am deciding on a good giveaway prize and 2) there's just too much going on (for me) in November. So please be patient with me… you always are :)
Five years. You could call five years a long time, a short time, whatever. It's enough time to see a pattern in what urb has become for me. urb has always been a personal blog with a good bit of talk about food. When I went public with it in August 2007, I had to clean it up – clean up my language, censor what I say (oh, you didn't think I was censoring anything? ha!), move a good fraction of old posts to the other blog, put recipes up in a format that someone other than myself could follow. I spent several months finding my groove in my posting frequency – basically how often I could post without turning it into a chore. My photography evolved with the blog. It is still evolving which I take as a good sign.
The food blogging community has changed a lot in the past two years from when I went public to now. Some for the better, but I feel most of it isn't for the better. Notice a lot of burnout lately? There's some unspoken (well, actually it's probably spoken all too often) mantra about HOW TO BE A FOOD BLOGGER which makes me throw up a little in my mouth every time I hear about it. One of the best ways to start a food blog is to be yourself. It's like dating. If you present yourself as something you are not, you're going to attract the wrong kind of partner and you'll probably be unhappy. And if you're just in it for the money, well – there's a name for that too. I'm all about the love here.
I found myself swearing up a storm this weekend because I wasted four hours and a lot of ingredients trying to make a recipe that flopped. WHY? Why was I even making those? For the blog? Right. Well, no more. I don't want that. I never wanted this blog to be a chore and it's starting to feel like one. And once I announced that urb was not the boss of me, I felt better. Much better. urb was never solely a dedicated food blog and I don't want it to be. It's my creative space for sharing food, photography, my opinionated rants, and random bits of life. Anyone looking for a recipe source in a vacuum has likely left this place long ago.
So, five years – plenty of learning and a little adjustment here and there. I have met so many wonderful people and made some incredible friends through this blog. True love, I tell ya. Thanks for sticking with me. Now on to the food.

pepitas, flaked salt, baking soda
Whenever we go to a Trader Joe's in New Mexico, we always get a look and a comment from our cashier because our cart is filled with chocolate, coffee, nuts, JoJos, salsa, dried fruits… I'm sure anyone who loves TJs and doesn't live near one understands this hoarding behavior. So I'm walking down the dried fruits and nuts aisle, practically sweeping my arm across the shelves guiding the bags into our cart (okay, it's not that extreme), when I spot pepitas (pumpkin seeds). Click click click – brain recalls bookmarked pepita brittle recipe on
Smitten Kitchen
.
sugar, corn syrup, butter
boiling the sugar
I don't know if anyone else runs into this problem, but when I'm photographing caramel, I have a higher rate of burning it than if I'm not photographing the caramel. So it went the first time around which wound up in the trash. The second attempt was much better because I used my candy thermometer and I was pretty cautious not to let it burn again. I let the temperature go up to 310°F before I removed the saucepan from the range. I think it could have been a little darker, but I was nervous about tanking a second batch. Keep in mind that at my elevation, sugar mixtures will reach various states (hard crack, etc.) 17.5°F
earlier
than for sea-level. So I suggest following temperature guidelines, but also eyeballing the color of the caramel and taking it off the heat when it reaches a deep golden color.
whisking in the baking soda
frozen drip
When I added the pepitas, the caramel was hot enough that a few of the seeds popped and spattered drops of caramel about. So do be careful as you stir them in. I spread the hot candy onto a silpat on a baking sheet, but you can also use parchment. If you're quick, you can cut the pieces while the brittle is still hot (ductile, more or less). Once cooled, I broke it up by hand. I find that to be the fun part because I like the mechanics of brittle deformation.
you decide what a good size piece is
The baking soda gives an airy structure to this brittle (as opposed to the glassy structure of
this brittle
) rendering it a more pleasant treat to bite into. Did I like it? I like anything caramel or toffee and this is no exception. I actually prefer pepitas for their snap and texture to let's say, peanuts, so this is my new favorite brittle. I distributed this to my friends, especially to one friend who broke his collarbone in a skiing accident. I assured him of the healing powers of pepita brittle and after he took a bite, I asked him how he was feeling. "I'm feeling better!" he grinned.
pepita brittle – heals broken bones
Pepita Brittle
[print recipe]
from Smitten Kitchen
butter or vegetable oil
2 cups (450 g) sugar
4 oz. (115 g) butter, unsalted
1/3 cup (115 g) light corn syrup
1/2 cup + 2 tbsps water
1/2 tsp baking soda
1 tbsp coarse or flaky sea salt
1 1/2 cups (200 g) pepitas, raw and unroasted
Line a 12x16x1/2-inch baking sheet with parchment or silpat. If using parchment, grease the paper with butter or oil. In a medium or large saucepan, combine the sugar, butter, corn syrup, and water. Stir the sugar until it is completely moistened. Cook the sugar over medium high heat until it thickens. It bubbles quickly and often, so keep an eye on it and reduce heat as necessary to keep it from boiling over. The sugar mixture should turn golden after about ten minutes. When it is just shy of the desired color* (because it continues to cook a little after you remove it from the heat), remove the saucepan from the heat and carefully whisk in the baking soda and salt. Use a heatproof spoon or spatula to fold in the pepitas. Pour the contents onto the baking sheet and quickly spread it out evenly. If you want to score the brittle, do so while it is still warm, otherwise let it cool completely and then break it into pieces. Store in airtight container.
*For me this corresponds to 317°F at 8500 feet above sea level or 330°F at sea level.