Recipe: korean bbq-style burgers
Administrative note: The strong undertow of the holiday season is fast sucking me down to the bottom of the sea. I will do my best to answer any pressing questions in the comments this weekend, my good people!
Jeremy and I met our pal for a quick happy hour yesterday evening and there were THREE parties going on at the restaurant. I guess Office Party Season has officially begun. We had one to attend ourselves last night. It's more of an event though. Ignite Boulder 7 – another sold out crowd at the Boulder Theater! My friends Andrew Hyde, Ef Rodriguez, and heaps of wonderful coordinators, volunteers, sponsors, and speakers pulled off yet another hugely entertaining evening of presentations, music, and prizes. AND they donated all proceeds to The Food Bank of the Rockies. It's great meeting so many people from my online communities in real life, plus some fresh out of the blue.

ef always warms up the crowd with his sweet voice, guitar, and wit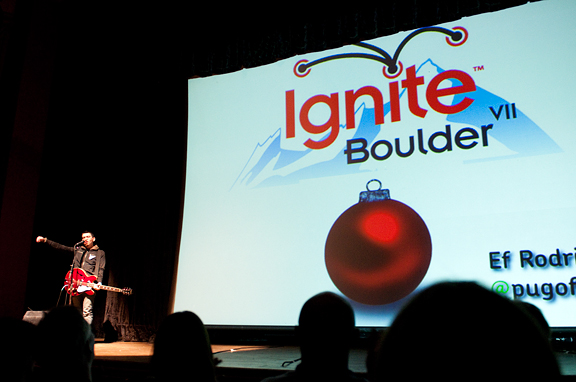 sold out crowd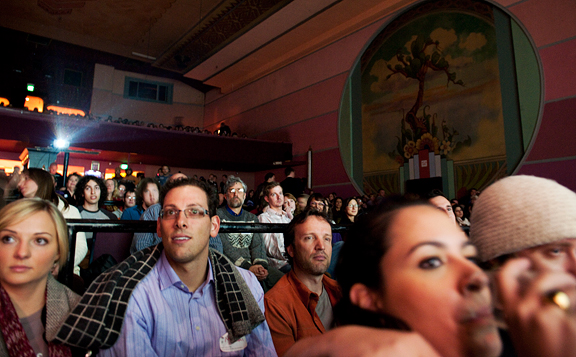 fellow citizens play the intermission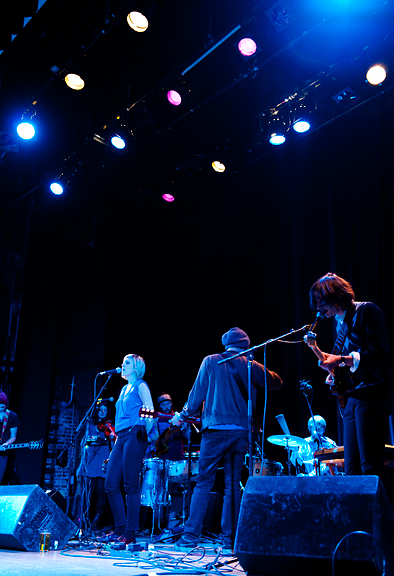 What was I saying the other day about my love of summer food in winter? Right… I can't help it. We had some record low temperatures smacking the Denver-metro area about recently. Last weekend, I was flipping through my copy of
Jaden
's
Steamy Kitchen Cookbook
. I know, everyone has already seen it. It was part of the schwag bag from the after party at
BlogHer Food 09
and I had emailed in for my free copy a few months ago. I waited and waited. I saw tweets and posts from everyone and her sister raving about the book. I waited some more. Then one day, I whine-tweeted online that mine had yet to show up.
Then Jaden, aka Busiest woman on the Planet, said she'd fix everything. And she did.

i love this book almost as much as i love jaden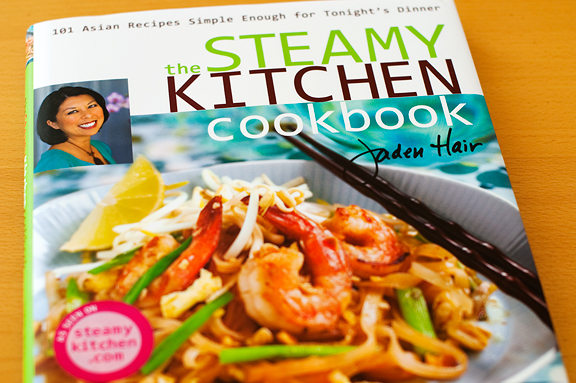 For as long as I have been aware of food blogs,
Steamy Kitchen
has always been one of my goto sites for rock-solid Chinese recipes. That and Jaden makes me laugh much like the way my sister made me laugh. But her book is more than just Chinese recipes. It has Thai, Viet, Korean and lots of great Asian fusion dishes like her Korean BBQ burgers.
look at all those goodies
they go *in* the burger
So I'm flipping through the book on a cold and snowy day. Kaweah was curled up next to me on the couch and I saw the burger recipe. I saw it and shouted to Jeremy, "Do you think it's too cold to grill?" It was 0°F on the deck, but thankfully it wasn't too windy. Sure, we could grill.
i added yellow pickled radish to the pickle dish
now that's a brightly colored topper
Everything about the burger recipe appealed to me, although I have to admit that the two biggest draws were Sriracha chili sauce and kimchi. That's my kind of comfort food. While Jeremy fired up the grill, I made a little Sriracha mayonnaise condiment for the burgers. Jeremy never takes Sriracha straight (white boy), but Sriracha mayonnaise can still deliver the great flavor of chilis without the kick to the gut.
sriracha mayo
grilling the patties
Kaweah could smell the aroma of grilled burgers on the air. She just circled the grill in the snow with her snout raised high, drunk on the odors. They smelled ten times better than a regular burger, that's for sure. I thought it was just me, since I have grown up loving the combination of green onions, ginger, soy sauce. When Jeremy brought them in off the grill he said, "That smells AMAZING. I can't wait for lunch!"
just like summer, except for the snow
tomatoes, lettuce, kimchi, pickled vegetables, sriracha mayo, sriracha, ketchup
The burgers were out-of-this-world-awesome and they were incredibly easy to throw together. The base burger alone is worth trying, but then you can customize it with toppings (I'm all about the toppings). I piled mine with kimchi and Sriracha because that's True Love right there, folks. That's probably why I like my burgers to be on the thin side to save space for the toppings. Have some burger with your kimchi?
awww yeah!!!
Full disclosure:
I received a free copy of
The Steamy Kitchen Cookbook
.
Korean BBQ-Style Burgers
[print recipe]
from The Steamy Kitchen Cookbook with permission to reprint courtesy of Jaden Hair of Steamy Kitchen
1.5 lbs ground beef
3 tbsps garlic, finely minced
3 tbsps ginger, freshly grated
2.5 tbsps soy sauce
2.5 tbsps brown sugar
3 tbsps green onion, finely minced
2 tsps sesame seeds
freshly ground black pepper to taste
2 tsps high-heat cooking oil (if grilling on stovetop)
burger buns
banchan burger bar
tomato slices
lettuce leaves
quick cucumber carrot pickle
kimchi
ketchup
Sriracha chili sauce
Sriracha mayonnaise (Jen's addition)
hot mustard
quick cucumber carrot pickle
1 cup carrots, sliced into thin matchsticks
1 cup cucumber, sliced into thin matchsticks
1 cup yellow pickled radish (daan moo ji), sliced into thin matchsticks (this was my addition)
1/2 tsp sesame seeds
4 tsps rice vinegar
1/2 tsp sugar
Mix together.
sriracha mayonnaise
3 tbsps mayonnaise
Sriracha chili sauce to taste (I used 1 tbsp)
Mix together.
Make the burgers: Mix the ground beef, garlic, ginger, soy sauce, brown sugar, green onion, sesame seeds, and black pepper together in a bowl. Jaden makes 4 patties out of the batch, but I prefer my burgers thinner, so I made 6 patties. I generally shape them wider than the bun diameter and fairly flat since the burger will shrink in diameter and get taller. Let rest for 15 minutes at room temperature. In the meantime, prepare the quick cucumber carrot pickle. I added the yellow pickled radish (daan moo ji) to mine. They are easy to find in most Asian grocers and some specialty sections in traditional grocery stores. Assemble the condiments and garnishes of your choice for the banchan burger bar. Grill or fry your hamburgers to desired doneness. I grill ours, but Jaden gives some nice instructions on frying them over the stove: Set a large grill pan or frying pan over high heat. When a bead of water sizzles upon contact and evaporates, add the cooking oil. Place the patties on the hot grill or frying pan, not touching each other. Cook the patties 5-7 minutes on each side for mediuam (internal temperature of 150°F/65°C). Serve with burger toppings. Makes 4-6 burgers depending on your preferences.