Recipe: stir-fried mi fun
Congratulations to the winners of the Menu for Hope bid items from Boulder! All of the raffle winners are listed on Chez Pim and I'm happy to announce the winners of the local prizes I hosted on use real butter:
UW23 an original photograph by Jen Yu (that's me) goes to Lee Knapp!
UW24 a $100 gift certificate to the Culinary School of the Rockies goes to Laura Vanderschaaf!
UW25 a $100 gift card to SALT goes to Susan Tamaki!
The winners should contact me with their email addresses so I can get you your prizes. Thank you to everyone who contributed to this annual fundraising effort which raised over $78,000 for the UN World Food Program. As always, a huge thanks to the regional hosts and a huge thanks to Pim for everything.


***************

We haven't had much snow this winter, which is not atypical for an El Niño year in the Rockies. Many of my ski pals are getting antsy in the pantsy for some fluffy, white powder because we're at the end of January. While I might bemoan the paltry number of epic ski days this year (um, NONE so far), it really hasn't cramped my style. I always shake my head at people who complain that they are bored. I don't even know how to achieve that. I cram as much as I can into every day because every day is a gift… aaaaand because I'm hyper. Oddly, when Work gets busy, Play seems to get just as busy. I like busy. We've been having plenty of fun.
fun at the movies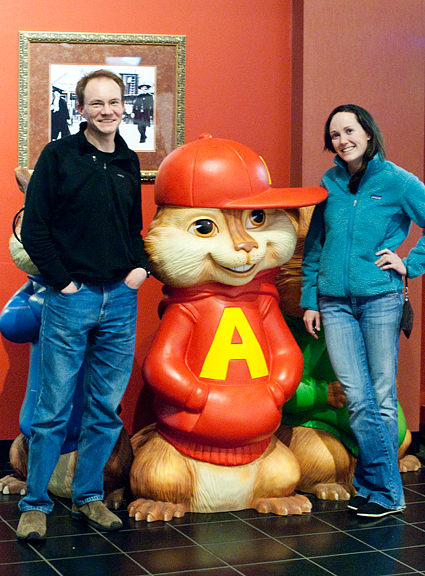 fun on the slopes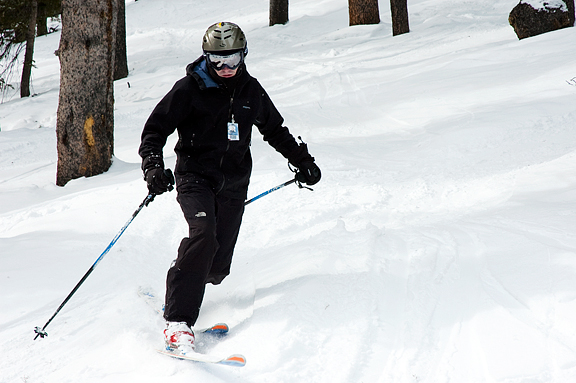 fun at the sushi bar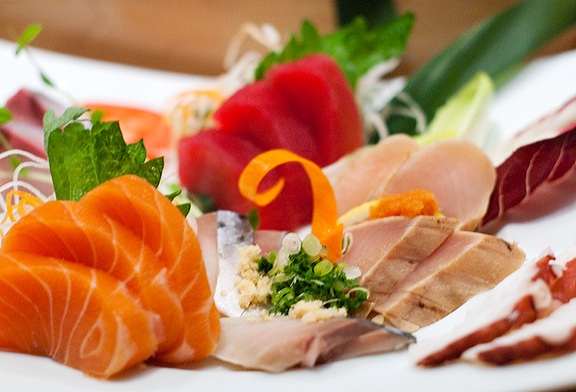 fun with fellow food bloggers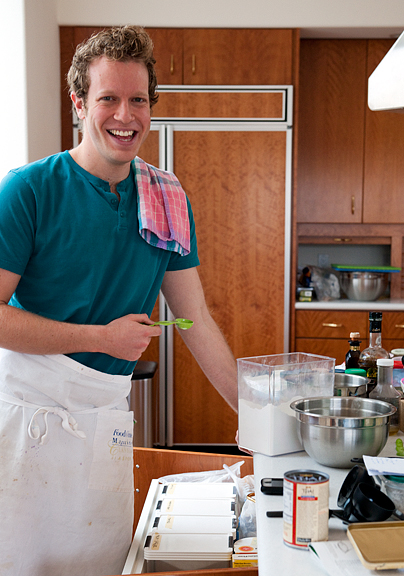 And don't forget the
mi fun
. What is
mi fun
? It's Chinese for rice noodle vermicelli. Or would that be rice vermicelli? It is yet another Asian noodle I grew up eating and loving. I've never found them fresh, only dried in the Asian grocery stores. I usually have at least a package or two of the dried, delicate noodles in my pantry.
here's what they look like right out of the package
after soaking in lukewarm water
The day before Jeremy and I got married (in my advisor's living room), all of our wedding guests were hanging out in our tiny apartment. We were a dozen people in total. Our wedding was not a big to do. It wasn't even a little to do. We didn't want a wedding, we just wanted our moms to quit asking when we were getting married :) Like any Good Chinese Mother, my mom insisted on feeding everyone and in no time flat, she whipped up a huge batch of stir-fried
mi fun
!
chop up the noodles with scissors
chinese black mushrooms, cabbage, carrots, green onions, and tree ears
Since Jeremy's brother doesn't eat pork, my mom made a special vegetarian batch just for him. Now that I think of it, it had chicken broth in it, so it wasn't truly vegetarian. The Chinese are not so good about the whole "Does it have meat?" issue, because at the dim sum restaurants they always smile, "No, no meat! It's chicken!" Anyway, you can probably use your favorite vegetable broth and omit the pork (or use tofu?) for a vegetarian version.
pork, cornstarch, sesame oil, and soy sauce
sliced, shredded, and mixed
I prefer to use regular cabbage to Napa cabbage because it has a crunchier texture when cooked and retains a nice green color. If you fine shred the carrot, it will turn your noodles slightly orangish. You can reduce that orange effect by using a coarse shred instead. I shot this recipe according to the instructions my mom gave me, but I prefer a higher ratio of goodies (i.e. vegetables and meat) to the rice noodles. If you do too, I suggest increasing the amount of vegetables as you desire.
first sauté the onions and cabbage
mix everything except the mi fun together
As with most of the Chinese recipes I make, the prep takes most of the time and the cooking takes mere minutes. I do recommend cutting the noodles before cooking because I've tried it without cutting them and it is considerably harder to stir-fry well. The Chinese generally don't like to break noodles (especially birthday noodles) because unbroken noodles represent long life. I don't know why it's okay in this case, but perhaps the added stress of stir-frying a mass of long rice noodles outweighs the bad luck? There are many ways you can prepare this dish and they make excellent leftovers.
add the mi fun last
a satisfying bowl of (mi) fun
Stir-fried Mi Fun
[print recipe]
1 lb. mi fun (rice noodle vermicelli)
1/2 lb. pork (I prefer dark meat), julienned
1/4 cup soy sauce
1/4 cup sesame oil
2 tsps cornstarch
vegetable oil
3 cups cabbage, shredded
3 stalks green onions sliced
3 carrots, shredded
1/2 cup chinese black mushrooms, sliced
1/2 cup tree ears, sliced
1 cup chicken broth
Jen's Note: I like my mi fun to have more vegetables and meat so I just add a little more of each when I make this.
[If the mushrooms and tree ears are dehydrated, rehydrate them in boiling hot water, then rinse and squeeze out.] Soak the mi fun in lukewarm water for 15 minutes or until pliable. Drain the noodles and cut them into short strips with clean kitchen scissors. Mix the pork, soy sauce, sesame oil, and cornstarch in a bowl and set aside. Pour 2 tablespoons of vegetable oil in a large sauté pan and heat on high. When the oil is hot, quickly add the cabbage and green onions and stir-fry until the cabbage is wilted. Empty the cabbage into a clean bowl. Using the same pan, heat a tablespoon of vegetable oil on medium-high heat. When the oil is hot, add the pork and stir-fry until the meat is cooked. Add the cabbage mixture and the rest of the vegetables to the pan and stir together. Pour in 1 cup of chicken broth and stir again. When the liquid comes to a boil, reduce the heat to simmer and let the liquid boil off. Add the rice noodles and stir-fry for a few minutes. Serve hot.