Recipe: aspen apple cake
If you ask anyone who knows me, they'll tell you that I'm pretty social. I really look forward to spending time with the people I like. But, I tend to be ambivalent when it comes to plunging myself into an environment where I only know a few of the people or none at all. My emotions run the gamut from very excited when I RSVP to feeling like I would rather do anything else just before it starts. It has happened frequently enough that I know I will come away happier for having gone. My brain overrules my heart and I make myself attend. So it was with PodCamp Boulder 2 this weekend, run by the awesome Jeremy Tanner.

brainstorming discussion topics friday night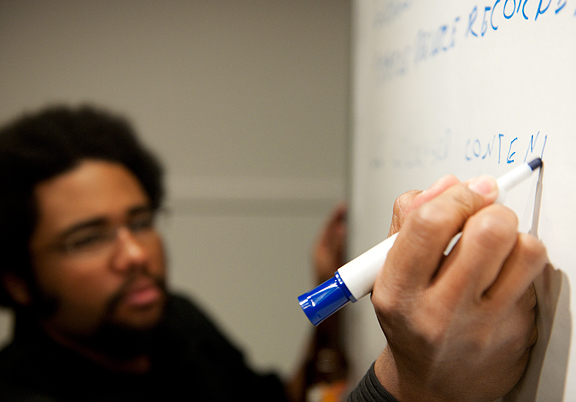 session on copyright and creative commons licenses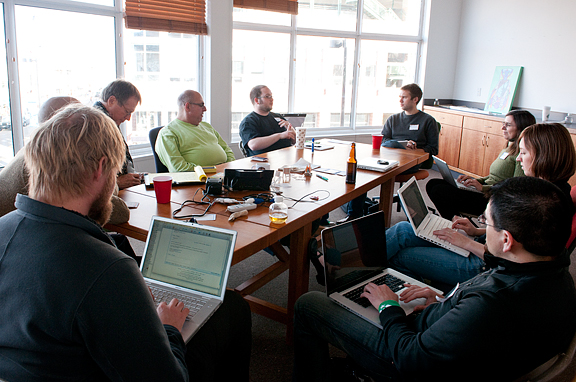 PodCamp is an
unconference
where people get together and talk tech about SEO, CMS, blogging, social media, podcasting, video, photography, storytelling, design – whatever the group wants to talk about. They break out into sessions and everyone participates as much or as little as they like. It's free, it's fun, it's informal, it's spontaneous. I learned quite a lot and was even able to share some knowledge and information of my own (who knew!?). I connected with more of this fine community and consulted with my go-to guys (
Andrew
and
Jeremy
) on holding and hosting workshops.
andrew joins us for some intersession banter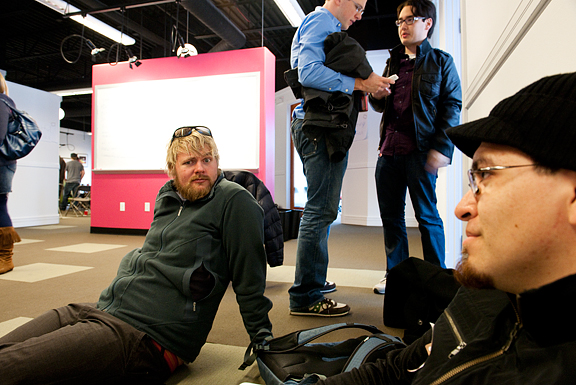 jeremy addresses how to host events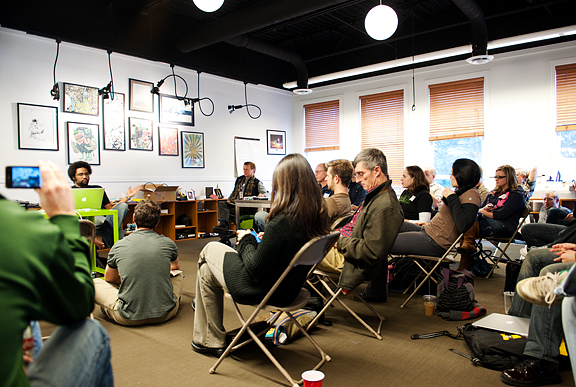 What's that you say about hosting a workshop?
Why yes, I'm hosting a workshop on food photography this summer in Boulder, Colorado! I've been hammering out the details and consulting with my fellow instructors on syllabus and logistics. You may have heard of them… Helen of
Tartelette
, and Todd and Diane of
White On Rice Couple
? You can just imagine how excited we are putting it all together. Be sure to stay tuned for the announcement in a few weeks!
amazing sunrise the other morning before we went skiing at breckenridge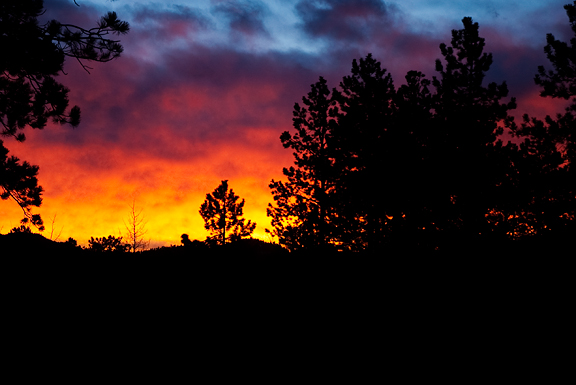 Between all of the things I have going on, I did manage to squeeze in a recipe that I've had dog-eared for over a year. When
Aran
recently told me that tomato season is starting in Florida, I nearly choked on my breakfast. I can't let myself start thinking about spring produce let alone summer produce right now. No, this cake is all about warm flavors and apples because it is very much winter here (with snow in the forecast – squeeeeeeeeee!).
whisk the dry ingredients together
peel them apples
This cake is chock full of stuff: apples, raisins, walnuts, cinnamon, and nutmeg. It's a big cake – the kind you dump into a large bundt pan and then divvy among friends and neighbors or take into the office. Moist and dense, it is a perfect breakfast or afternoon snack cake. Jeremy reports that it's lovely with coffee or tea. He tested that several times and the guy doesn't even like raisins.
toss the goodies with some flour mixture
mix the wet ingredients
It comes together quickly once you have the apples peeled, cored, and diced. I'm wondering where it's been all my life because I have never had a favorite apple cake of any sort. This is totally my favorite apple cake recipe now – at least my favorite that bakes reliably at my altitude. For anyone baking at elevation, I highly recommend
Pie in the Sky
because it has helped me figure out several of my baking issues in Colorado.
add the goodies to the batter
pour the thick batter into the prepped pan
My greatest source of stress when baking a bundt cake is that it will rise too quickly, disembowel itself onto my oven floor and burn to a crisp. This is not uncommon at elevation. I consider it a great victory when the cake bakes through properly. The next greatest source of stress is when the cake sticks to the pan after clearing that first hurdle. I mean, what a kick in the pants, right? That is another reason I love this cake, it released like a dream. Perfection.
cooling completely on the rack
serve with a dusting of powdered sugar
Aspen Apple Cake
[print recipe]
from Susan G. Purdy's Pie in the Sky
Note: The listed recipe is for sea level. All of the measures in parentheses are for @8500 feet above sea level. All measures in brackets are for @5000 feet asl.
3 cups sifted all-purpose flour (3 cups + 2 tbsps @8500 ft.)
1/2 tsp baking powder
1/2 tsp baking soda (1/4 tsp @8500 ft.)
1/4 tsp salt [1/2 tsp @5000 ft.] (1/2 tsp @8500 ft.)
1/2 tsp ground cinnamon
1/2 tsp ground nutmeg
3 cups apples, peeled, cored, and chopped
1 cup (6 oz.) raisins
1 cup (4 oz.) walnuts, chopped
1 1/2 cups canola or light olive oil [1 1/2 cups @5000 ft.] (1 1/3 cups @8500 ft.)
2 cups sugar (1 3/4 cups @8500 ft.)
3 large eggs [4 eggs @5000 ft.] (4 eggs + 1 yolk @8500 ft.)
2 tsps vanilla extract
3 tbsps whole milk [3 tbsps buttermilk @5000 ft.] (1/3 cup + 1 tbsp buttermilk @8500 ft.)
confectioners' sugar for sifting (optional)
With the oven rack in the center of the oven, preheat to 350°F [@5000 ft., preheat to 375°F and bake at 375°F] (@8500, preheat to 375°F, but bake it at 350°F). Grease and flour a 12- to 16-cup capacity tube or bundt pan. I used butter because I didn't have any butter-flavored shortening. In a medium bowl, mix together the flour, baking powder, baking soda, salt, and the spices. In another bowl, mix together the apples, raisins, walnuts, and 2 tablespoons of the flour mixture. Toss together to coat. In the bowl of a stand mixer, combine the oil, sugar, eggs, vanilla, and the milk (buttermilk @8500 ft.) and beat everything together on the lowest speed. While the mixer is still running, slowly add the flour mixture, scraping down the sides until combined. Add the apple mixture until it is well blended into the batter. It should be pretty thick. Empty the batter into the pan and smooth over the surface. Bake 75-85 minutes at sea level or 55-60 minutes at 5000 ft. or 65-70 minutes at 8500 ft. or until a toothpick inserted in the center comes out clean. Cool the cake in the pan on a wire rack for at least 20 minutes. Mine flipped out of the pan perfectly without any problems, although to be safe, you may want to run a sharp knife along the sides before releasing. Let cool completely and sprinkle with powdered sugar before serving.