Recipe: kung pao chicken
We are quite enjoying the "no cleaning" directive after Chinese New Year. Not that I am an avid house cleaner in general, just that for these two weeks my slacking is condoned. This morning it occurred to me that I am more like my dad than my mom when it comes to cleaning. Dad likes things to be tidy and neat whereas Mom likes to disinfect and scrub until prettier than new. Kaweah was always disappointed when she visited my parents' house because there was never anything to sniff let alone eat off the floors. Not that we have burgers and cake sitting on the ground, but this dog routinely monitors the state of the kitchen floor and snarfs up the tiniest of crumbs… she's a lab for crying out loud.

you say the word, and i will eat these grapefruits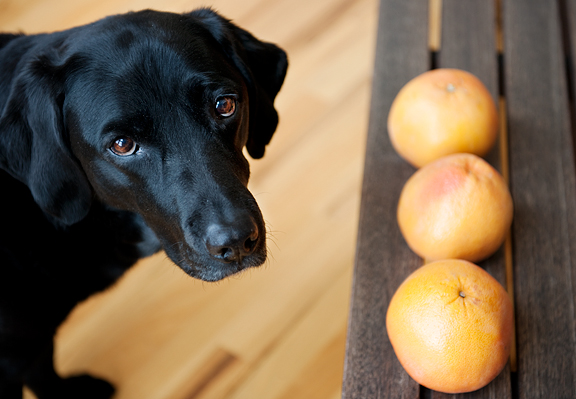 Why no cleaning for 2 weeks? It's because the traditional lunar new year festivities last until the next full moon (Lantern Festival), but my family typically celebrates with a feast on new year's eve and then they refrain from cleaning for 2 weeks. I guess I also leave the
Chinese symbol for luck pasted upside down on our front door
until the Lantern Festival. Anyway, even though the big party is over, I'm just telling you that it's not officially
over
. I'm sort of having a little party of my own here…
little tripod, meet tripod on steroids (it's tall, i'm standing on a chair)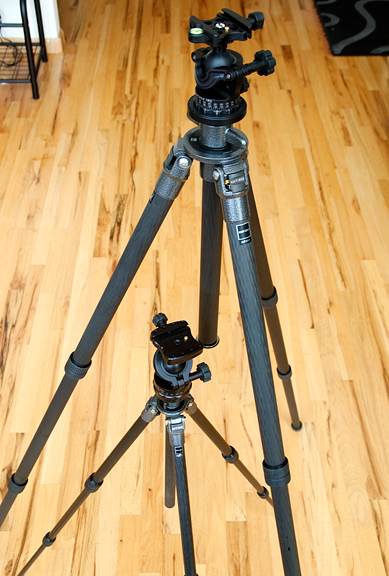 I'm learning that the upgrade never really ends and that compact, lightweight, durable precision instruments are beautiful and ridiculously pricey. Well, for that matter, large, heavy precision optics are also beautiful and ridiculously pricey. I'm pretty sure these are tears of joy falling down my face…
two newest members of the lens family (left)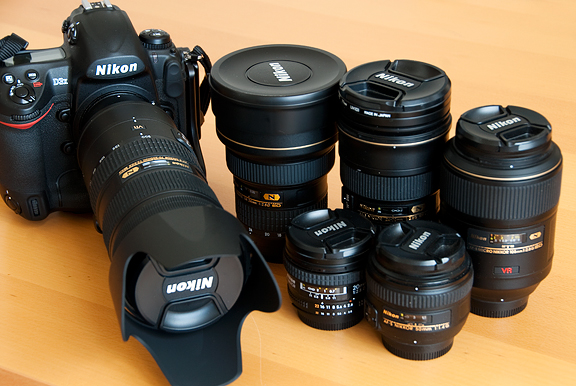 There is only one recipe left from our Chinese New Year's Eve menu to be posted and I wanted to share that with you before I resumed staring lovingly at the new lenses I am cradling in my arms. I had an old kung pao chicken recipe for years and it was decent. I never ordered it in restaurants because it was so easy to make at home. One day I saw
Bee
had posted a recipe for kung pao chicken, and it looked heavenly. I bookmarked it to try and never got around to doing so until last week. [Hey, I never said I wasn't slow about some things.]
green onions, bamboo shoots, ginger, red chili peppers, garlic, cashews
diced chicken meat
Bee says that authentic kung pao shouldn't have any vegetables in it and I believe her. But a dish that is practically all meat just doesn't appeal to me. I really prefer adding bamboo shoots (diced, not sliced) to the mix. Most western grocers only carry canned whole bamboo shoots, but if you're fortunate enough to have access to an Asian grocer, try looking for fresh bamboo shoots (these are amazing – I can't get them around here) or the ones that are sealed in plastic in the refrigerated section. So the two things that are different from my old kung pao recipe that I really like about Bee's recipe are:
black vinegar
dried red chilis
These two ingredients give the dish a different flavor – a better flavor (I used to use chili garlic paste, which is fine, but not as good as this). If you like your kung pao to POW, then leave the seeds in. I shook out as many seeds as possible from the pods and we had this nice cumulative burning on our mouths. If you do use dried red chilis, please don't handle them and stick your fingers in your eyes. Really, folks.
it's all about the chopping and prepping
sauté the chicken
I reduced the amount of cornstarch both in the chicken and in the sauce. I suppose that is a backlash to the heavily cornstarched Chinese food I find in Boulder. It's either that or it's deep fried. Plegh! This dish doesn't need a lot of cornstarch. Oh, and I almost always prefer chicken thigh meat to chicken breast meat. Thigh meat is juicier, more tender, and has more flavor. If you would envision a chicken, what part of its body does it walk around with? Not its breast. That would just be weird. Of course, thigh meat is a pain in the ass to dice up because I have this habit of trimming off as much fat as possible. In the end though, it's worth the trouble.
frying the garlic, ginger, and red chilis in oil
stir-frying it all together
Bee has totally converted me with this recipe. It's awesome and she's spot on with the black vinegar. I love it so much that I've gone and ripped the old recipe out of my notebook. Can't have that falling into the wrong hands…
kung pao yummy in my tummy
Kung Pao Chicken
[print recipe]
slightly modified from Rasamalaysia
1 lb. chicken, cubed (I prefer to use thigh meat trimmed of as much fat as possible)
1 tsp cornstarch
2 tsps soy sauce
1 tbsp Shaoxing cooking sherry
1 tsp sesame oil
3 tbsps vegetable oil (not olive oil)
8-12 dried red chili pepppers, halved and de-seeded
5 slices of ginger
2 cloves garlic, sliced
1 cup whole bamboo shoots, diced (optional)
1/2 cup peanuts or cashews, roasted and unsalted
2 stalks green onions, diced
sauce
2 tbsps soy sauce
1 tsp sugar
1/4 tsp black vinegar
2 tbsps water
1/2 tsp cornstarch
Mix together in a small bowl.
Make the kung pao chicken: Mix the chicken with 1 teaspoon of cornstarch, 2 teaspoons of soy sauce, 1 tablespoon of Shaoxing cooking sherry, and 1 teaspoon of sesame oil Let sit for 30 minutes. Heat 2 tablespoons of cooking oil in a wok, sauté pan, or large frying pan on high heat. When the oil is hot, Add the chicken and stir-fry until half-cooked. Remove the chicken the from pan to a bowl. Heat the remaining cooking oil in the same pan on high heat. Toss in the ginger, garlic, and red peppers, stirring until the oil is fragrant. Add the chicken, bamboo shoots, and nuts and stir for a few turns. Pour in the sauce and continue to stir-fry until the chicken is coated and cooked. Add the green onions, stir, and serve hot.