Recipe: roasted cauliflower
So what does everyone have on tap for the weekend? There is snow in our forecast, which is always a very welcome event and I have heaps of projects to keep me busy when I'm not swooshing about. I am looking forward to making a few non-Chinese recipes this weekend because all I have eaten this past week is Chinese food. I understand that a large percentage of Chinese people eat Chinese food not just for one whole week, but for the entirety of their lives. I am not one of them. Otherwise this blog would have been named something else – certainly not use real butter.

scoping out the path of greatest powder at breckenridge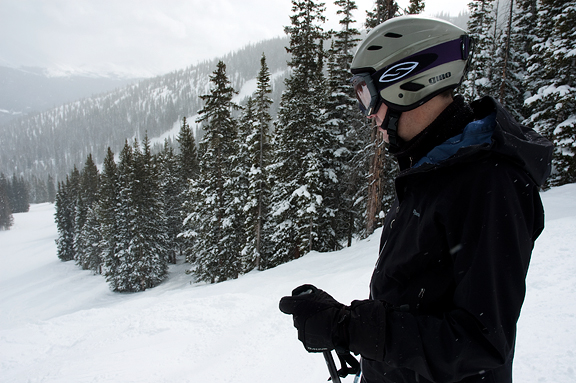 and away he goes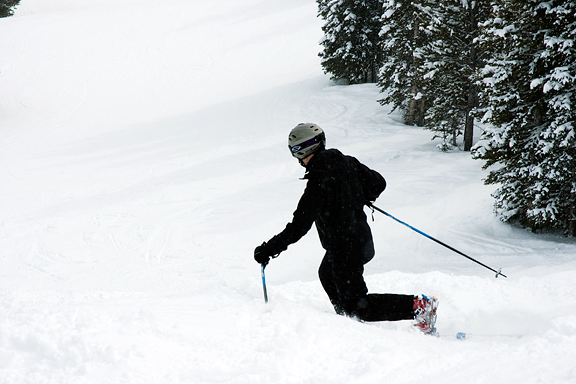 But before I blow this popsicle stand, I have a quick and easy recipe to share. The cauliflower elicits enough enthusiasm from people who love food, but for the general populace, there is an inevitable indifference or even dislike of the dense florets. That's a shame. Far too many humble vegetables get short shrift because they aren't well-prepared.
start with a head of cauliflower
Did you know that the cauliflower is an actual flower? It's a
brassica
and I looooooove my brassicas like Brussels sprouts, cabbage, broccoli, kale… I've seen photos of gorgeous purple and green romanesco cauliflower heads that look almost too pretty to eat. Almost. If I ever get my hands on one, I'll let you know.
cut florets
adding minced garlic
I like cauliflower raw, in soups, steamed, stir-fried, but I had yet to try them roasted. I have only started roasting vegetables in the past 5 years. It's one of my favorite ways to prepare vegetables because it intensifies the flavor. When I made that
rack of lamb
last month, I figured it was time to roast some cauliflower.
pouring olive oil
toss
Most of the recipes online call for adding cheese to the cauliflower, but I was having none of that. I don't have a particularly strong attachment to cheese, so I ousted it and kept the recipe rather basic – olive oil, salt, pepper, garlic, and lemon. That is good stuff. Have a great weekend and please do eat your vegetables.
roasty toasty goodness
Roasted Cauliflower
[print recipe]
slightly modified from Simply Recipes
1 head of cauliflower, cut into florets
3 cloves of garlic, minced
1 lemon, juice of (to taste)
olive oil
salt and pepper to taste
Preheat oven to 400°F. Place the cauliflower and garlic in a baking dish so that the florets can sit in a single layer. Drizzle lemon juice, olive oil, and salt and pepper over the cauliflower. Toss to coat. Bake about 25-30 minutes or until fork tender. Serve hot.