Hey, how was your weekend? Did you do anything fun? Get work done? Sleep in? Enjoy the weather? Learn something new?
I did all of that and more except for the sleeping in part (of course). A few weeks ago, Jason invited me and others along for a photo road trip down to the San Luis Valley to catch the Sandhill Crane migration. As an extra (and boy do I mean extra) bonus, we brought lenses provided by Pro Photo Rental (one of our sponsors for the food photography workshop in June!) like the Nikon 200-400mm f4 and the Nikon 500mm f4. We had similarly intimidating and amazing lenses for the Canon shooters (Stepan and his dad Oleg). So none – NONE – of my fellow photog pals were able to come! That's really too bad because they missed out on stuff like this:

sunset over the sangre de cristo mountains and the great sand dunes (at base of mountains)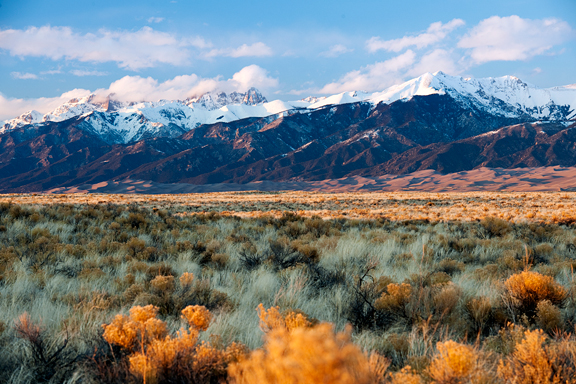 a pair of sandhill cranes squaring off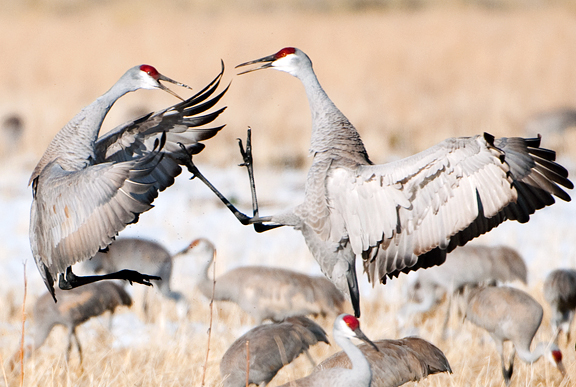 The trip wasn't all rainbows and lollipops. It's work. We woke up at 4:30 am (the guys got up at 5am) to scope out and shoot before morning twilight. We stood in 4°F temperatures for hours waiting for the sun, waiting for the birds, waiting… There is no running around to warm yourself up – you'll scare all the birds away! I probably sent about 2 dozen flying off prematurely as I took 10 minutes to
slowly
walk 20 feet in the snow toward my setup point. Did I mention that I can't operate my camera with gloved fingers and that the bodies and lenses are all metal – in 4°F weather? And then there was the bland Mexican food. Seriously, we weren't that far from the border with New Mexico, but yeah – something is fundamentally flawed with the Mexican food in Colorado.
jason looks on as the sun lights up the distant mountains
flying to feed in the rye fields at sunrise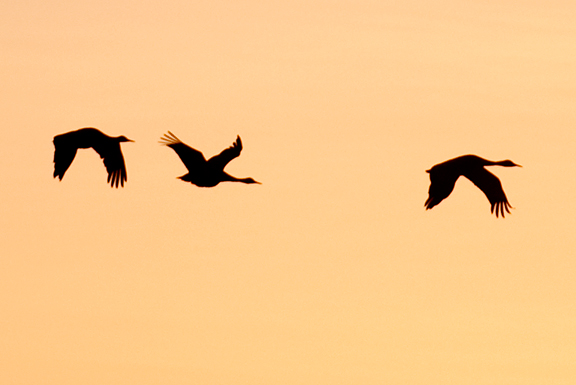 The upside is that my biceps are bigger from hoisting the big glass around and more importantly, my knowledge and appreciation of another form of photography has increased. Wildlife photography is not the same as landscape photography. I ate through a thousand exposures in one day (and I was shooting conservatively) – over two thousand for the weekend in total. I'll be happy if I can come away with a couple dozen keepers, but I haven't sifted through all of the shots yet.
plenty of ducks and geese around too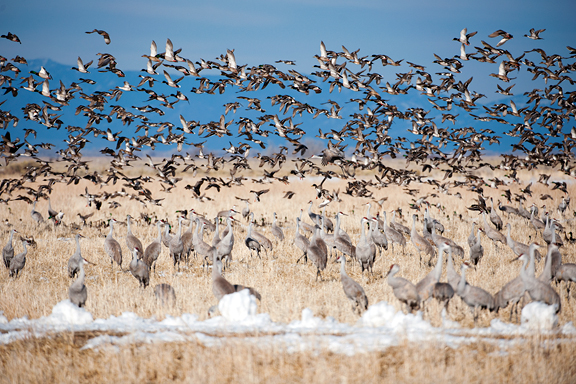 i could watch them for hours (oh wait, i did…)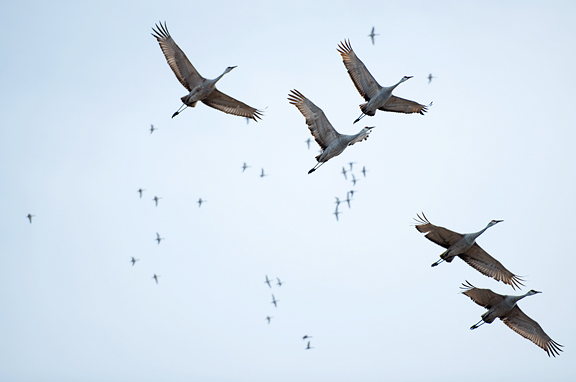 Unlike the men I know, who love to jump into big expensive toys right away, I approach fancy toys with caution because I have a fear of big expensive glass (aka OMGlass!). I have a fear that I will fall in love with it and begin obsessing about needing something that I don't really need. Besides, I was still getting acquainted with my 70-200mm (which is pure joy, I might add). I thought my lens was big, but after a weekend of shooting with that and the 200-400mm, my lens feels like the baby lens. I didn't even touch the 500mm f4 – fear ;)
in flight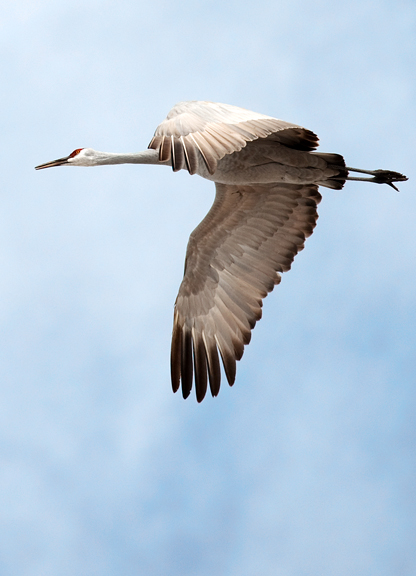 on take off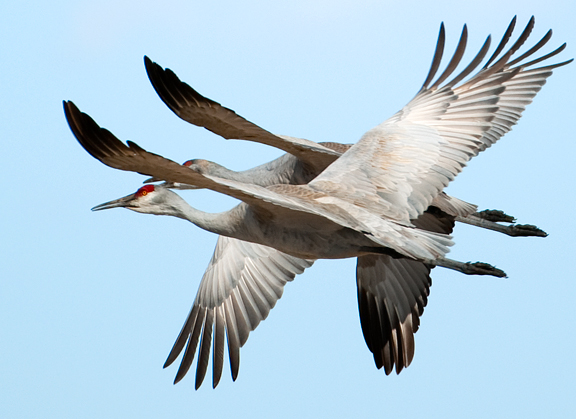 Jason and I drove down early and per my request, we went to explore Great Sand Dunes National Park on our way to our destination. Since we both shoot Nikon, we traveled together during the weekend and called ours the Nikon car. I figured even if I botched every single bird photo, I could at least grab a few landscapes to have something to show for the effort.
dunes in late day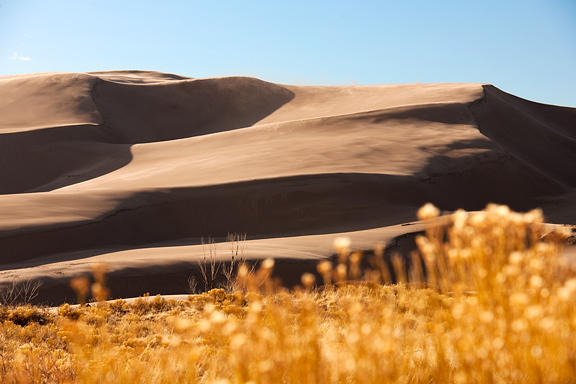 sand and wind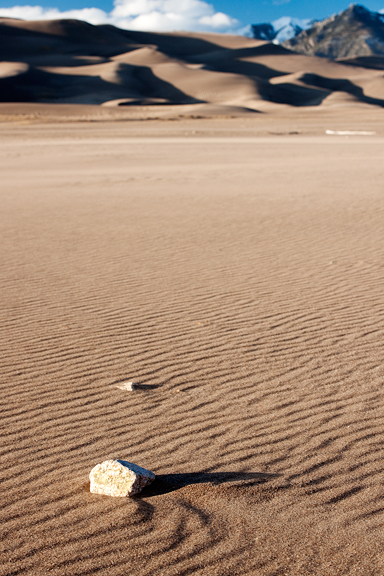 So it's Monday morning, gray and snowing outside my window at home – but I feel supercharged for spring, for my next shoot, for my new friends, for all of what I learned. I learned so much. Hopefully, that will make me a better photographer.
old cattails – it's not spring yet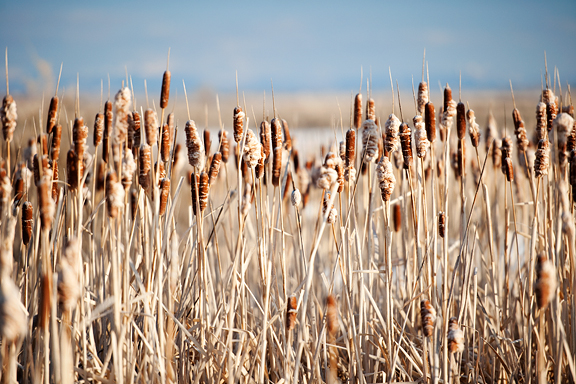 on the drive home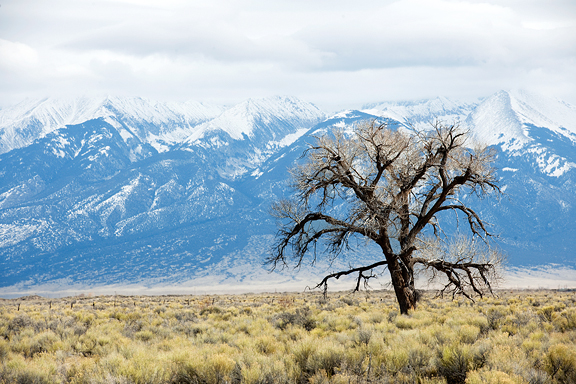 Thank you to Jared of Pro Photo Rental for the use of the phenomenal glass and thanks to my fellow photogs, Stepan and Oleg. I have to express my heartfelt gratitude to Jason for the invitation, the logistics, the car ride down (LICENSE PLAAATE!), great conversation, letting me use the 200-400mm when I got over my fear issues, and for being super awesome to work with.