Recipe: thai tea ice cream
Howdy from beautiful Crested Butte, Colorado! I am chasing wildflowers, hiking the high country, befriending local fauna, and getting zero sleep. Okay, that's not true. We're not befriending the local fauna, we're just encountering a lot of local fauna, including a black bear early Thursday morning!

talk about local color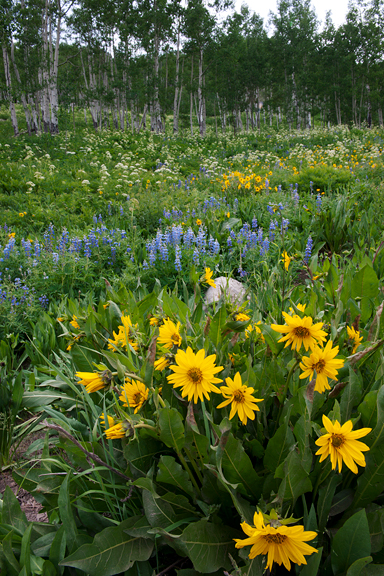 marmots are everywhere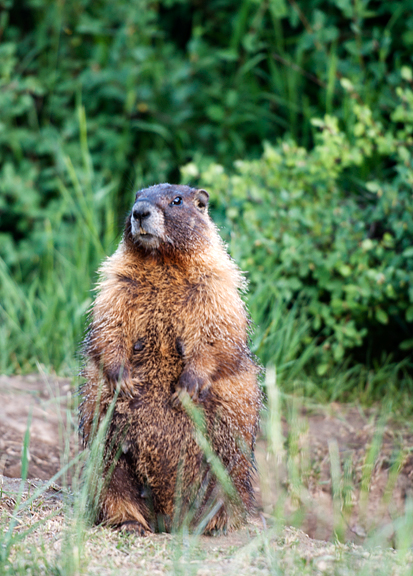 While I'm wrapping up this shoot, I thought I'd leave you with something for the weekend. When we
had our food-blogging friends over for dinner before the workshop
, one of the ice cream flavors I served for dessert was Thai tea ice cream. If you've ever had Thai iced tea, then you know it's a natural translation into ice cream.
thai tea
and the bag it came in for those who wanted to know what it looks like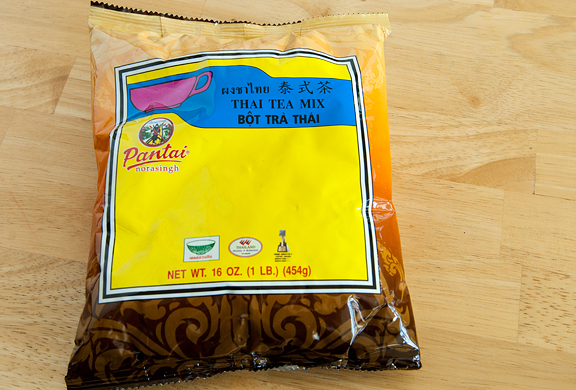 The inspiration came about because I was making
several
Thai
meals
one week as the weather was warming up. I thought Thai iced tea would be a perfect accompaniment to the meals. Actually, I crave Thai iced tea and was delighted to discover that my local Asian grocer carries it in large bags.
mix the thai tea into the warmed milk
steeping the tea will turn the milk a bright orange color
The reason it comes in large bags is because you use a lot of it to make a single serving of Thai tea. This ice cream recipe calls for a half cup of the loose tea.
strain the tea leaves out
mix in the heavy cream
If you've never had Thai iced tea before, it's a sweet tea mixed with cream or sweetened condensed milk and served on ice. That's why it is so perfect to make into an ice cream, because it's practically ice cream anyway!
temper the yolks
heat until the custard thickens
I followed a general recipe for the Thai tea ice cream ingredients, but I used the basic custard method from
David Lebovitz'
book
The Perfect Scoop
to make it. I like to go with the tried and true.
strain the custard into the remaining cream
churn the custard in your ice cream machine
Oh boy. This ice cream is so fantastic (if you are a fan of Thai iced tea, which I totally am) that I'm *glad* all of my friends came over and consumed most of it – or else I would have eaten it all. If you can find yourself some Thai tea, this might be a great way to keep cool. Have a great weekend!
perhaps she would have eaten it all if given the chance
Thai Tea Ice Cream
[print recipe]
modified from pancake.org
1 1/2 cups whole milk
1/2 cup Thai tea (the tea leaves)
1 cup sugar
1 1/2 cups heavy cream
3 egg yolks
Heat the milk in a pan over medium flame. As the milk just begins to simmer, remove from heat. Stir in the Thai tea and let steep covered for 30 minutes. Strain the milk through a sieve. Discard the tea leaves. Heat the milk, sugar, and 1/2 cup of heavy cream over medium heat until just steaming. Pour remaining 1 cup of cream into a large bowl. Set aside. In a separate bowl, whisk the egg yolks together. Temper the yolks by pouring a little of the warmed mixture into the bowl while whisking. Continue adding warmed mixture until completely incorporated. Pour the contents of the bowl back into the saucepan. Stir the custard with a spatula over medium heat until nappe consistency (coats back of spoon). Make sure to scrape the bottom and sides of the pan to prevent curdling. Remove from heat and pour the custard into the bowl with the cream. Stir and let cool completely (either on ice bath or in refrigerator). Churn according to your ice cream maker's instructions. Makes about a quart.