Recipe: blue cornmeal-crusted green chiles
On the way into the house the other day, Jeremy and I paused to admire a salsify puffball in our yard. It's a weed. People always call them giant dandelions, but they are salsify. I like the weeds that grow in my yard. Sometimes I think people worry so much about things they want, things they don't have, that they overlook those wonderful, simple gifts that are right under their noses.

a gift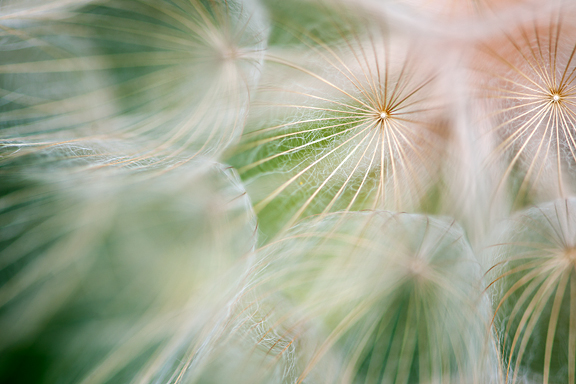 My freezer is no different. In the heat of summer, that door opens and closes – a parade of liquids marching in and frozen treats marching out. Every time I have to make room for a new batch of frozens, I engage in the nontrivial task of rearranging the contents of the freezer. Sometimes I'll delve into the depths of the freezer and unearth (read: rediscover) amazing finds. Delightful little gems… This week?
roasted hatch green chiles
topped, skinned, deseeded
I covet these green chiles. Each October the state of New Mexico goes gangbusters with the chile harvest. Yeah yeah, I've seen peppers roasting at farmer's markets in California and in Colorado, but with the exception of Pagosa Springs, they were roasting Anaheims and Poblanos, NOT Hatch green chiles, and there is a difference. My aunt lives near Santa Fe and scores me several bags each year. I usually break into one bag immediately and then squirrel the rest away. It isn't until summer when I realize that October is not that far off and I'd better make some headway into these green chiles so I can make room for MORE come autumn.
dredge in blue cornmeal
pan fry
I think it might have been last fall when we visited my in-laws and they had fresh roasted green chiles at the markets. We had green chiles in everything for one lovely dinner. But my favorite dish was a nifty appetizer of green chiles crusted in blue cornmeal, lightly fried and served with stuff. Stuff is the technical term for accompaniments, but I don't recall what they were. I just remember how enamored I was with the green chiles.
let drain on a cooling rack (not on paper towels)
makes for a great appetizer
Of course, the longer they sit in the freezer, the spicier they get. That's the nature of these chiles. I found them to be perfectly spicy (these were mediums, I have a few bags of milds that I reserve for last). I also wanted to try it in a taco (corn, I can never get enough of the corn) with some
carne adovada
and crumbled queso fresco.
set two chiles on a lightly fried corn tortilla
a little carne adovada
It was good, but I definitely feel the chiles are best on their own. I think the carne adovada is spicy enough to overpower the subtle flavor of the green chiles. My guess is that a milder filling (chicken?) would have paired better in this taco or just cheese and chiles on a corn tortilla.
taco, mojito, patio
Blue Cornmeal-Crusted Green Chiles
[print recipe]
1 dozen large Hatch green chiles, roasted (fresh is best, but frozen roasted chiles are fine too – just let them thaw)
1 cup blue cornmeal
vegetable oil for frying
Hatch chiles tend to get spicier over time in the freezer. For that reason, it might be best to handle the chiles with a pair of disposable gloves over your hands. Lop off the tops, peel the skins (shouldn't be difficult to remove the charred skins from roasted chiles) and carefully slice the chiles open down one side to create a single sheet of flesh from each one. Remove all of the seeds. Place the cornmeal in a shallow bowl. Heat a teaspoon of vegetable oil in a shallow frying pan over medium high flame. One by one, dip each chile into the cornmeal and press to coat both sides. Gently place the chiles in the hot oil in a single layer (take care not to overcrowd – I fried 3-4 at a time). After a minute or two, flip the chiles and continue to fry until golden brown on both sides. Add more oil as necessary. Remove chiles from pan and set on a cooling rack (not on paper towels – that makes them soggy). Serve with grated cheese, salsa, and or guacamole. Or pile onto a corn tortilla with cheese and salsa. Serves 4.