Recipe: carne adovada
I didn't always like to make food from scratch, you know. I was perfectly happy living in So Cal and paying for truly excellent food over 15 years ago. It was authentic, delicious, and cheap. When I moved away from So Cal to go to graduate school, I moved away from great ethnic food. So I began learning to make it myself. By the time we returned to So Cal, I viewed food differently than before. I tasted everything we ate with a running mental analysis of the flavors, the ingredients, the preparation, and how I could make it at home. At some point, I had crossed the barrier that always led me to believe a dish was out of my reach. No longer!
Now that we've moved to a small mountain town, I'm stuck craving those fantastic ethnic foods again. But now, I am eager to try making them at home, and perfecting them.
When my in-laws lived in New Mexico, we used to visit and drop by El Modelo for amazing New Mexican fare. One of my favorites was their carne adovada. I mean, how can I not love pork – I'm Chinese and I grew up in the South, so there is a double whammy right there!

my second-favorite product of new mexico: red chiles
my favorite being jeremy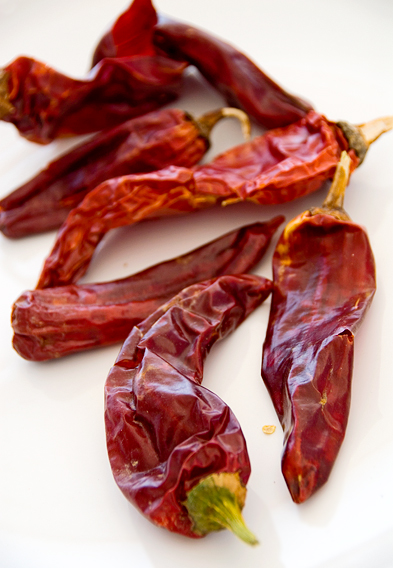 Over the years, I have collected a few Mexican cookbooks, and when I say Mexican, I really mean New Mexican. There is a difference. You should have seen the way Jeremy's eyes lit up when I told him I was going to make carne adovada. [Oh, but his eyes light up like that when I make anything with chocolate or coffee too.] It is one of his favorites from his home state.
bake and deseed the pods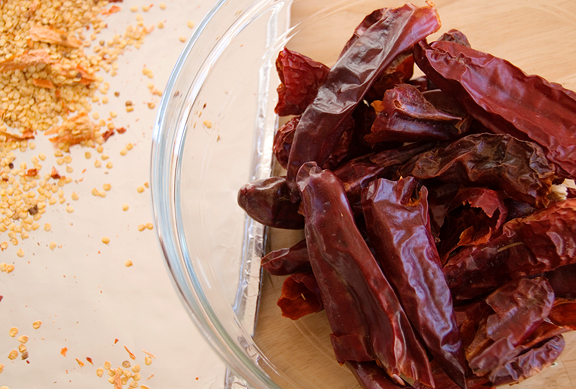 soak in boiling hot water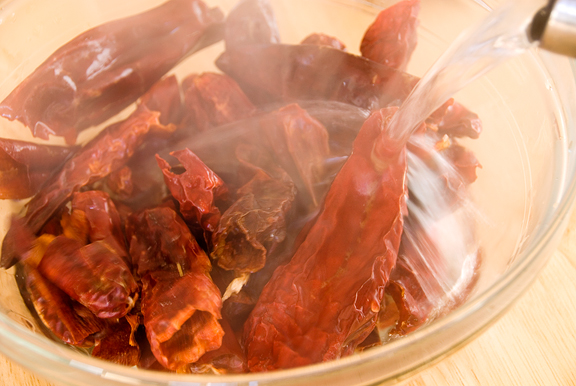 The directions said to bake the chile pods for a few minutes and warned against breathing in the fumes. No kidding! I ran the exhaust fan just to be safe. And just the voice of experience here… it helps to wear gloves when handling the chiles unless you want to wash your hands repeatedly and then scratch your nostril and then experience the sensation of Burning Nostril for the next hour.
garlic, oregano, salt, chiles, some chile water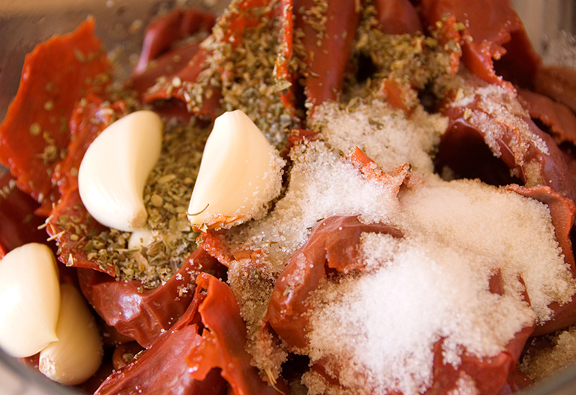 this purée is sheer beauty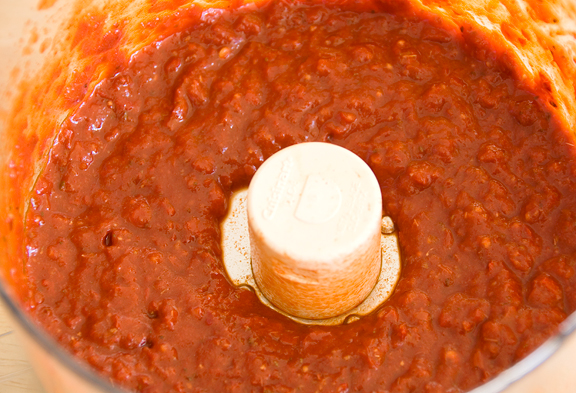 Carne adovada is a spicy dish. I guess the spiciness depends on how spicy your chiles are. Now, I love spicy, as in "mouth on fire" spicy (I'm Chinese, what can I say!). This spicy isn't that hot as opposed to full of spice – it tastes like chiles. Does that make sense? I love how the flavor infiltrates every bite of tender pork.
cut the pork intro strips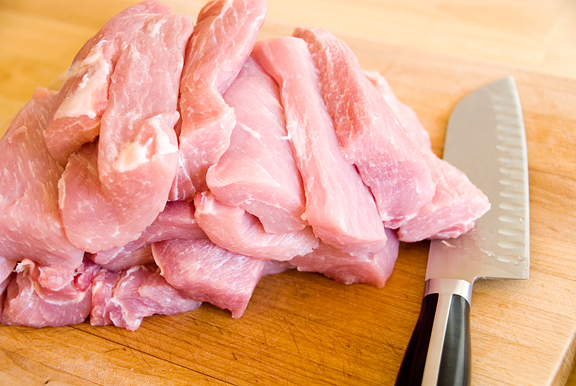 I used pork loin because the recipe said to use a tender cut. My brain was on vacay, because if you bake any cut for 4 hours, it's going to become tender whether it was to begin with or not. If you like white meat, go for the pork loin. Me – I prefer the juicy dark meat. I love a hunk of pork shoulder cooked for hours on end, rendered "fall apart" tender. It has so much more flavor, in my opinion. I'll make a note to do that in the future. The recipe actually takes 2 days because the pork marinates in the chile purée for 24 hours. Don't skimp on the time – it's worth it to let it go for 24 hours.
ready to bake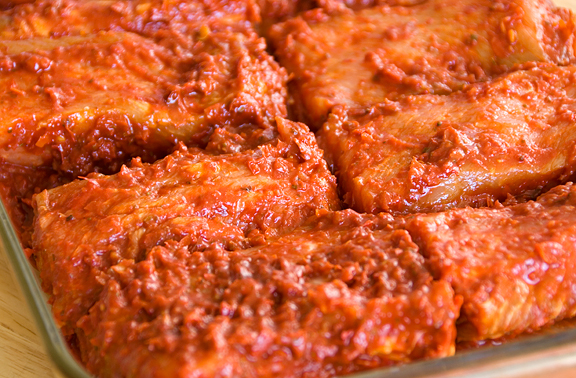 When the pork came out of the oven, I shredded it with two forks. Can't help it, it's the Southerner in me. Jeremy would like to mention that you can also cut it into chunks. Shred. I like the shred.
that's the ticket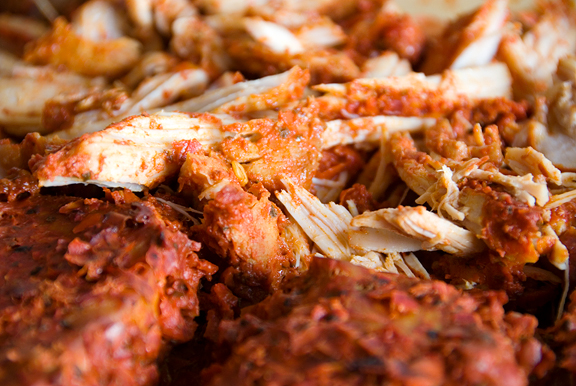 I'm actually reserving most of the carne adovada for tamales, to be blogged at a later date. However, we couldn't resist having some for lunch today with warm tortillas, cheddar, and avocado. Typically it should be smothered with red sauce, but I didn't make any and the carne adovada was amazing without it anyway.
pure joy
Carne Adovada
[print recipe]
modified from Santa Fe Recipe (The Shed)
16 dried, red chile pods
3 tsps salt
4 cloves garlic
2 tsps oregano
5 lbs. pork (any tender cut) (*jen's note, use pork shoulder)
Preheat oven to 325°F. Remove stems from the chile pods. Place pods in a pan and bake for 5-10 minutes, stirring occasionally, until chiles are lightly roasted. Leave oven door open (I didn't do this). Don't breathe the fumes! I shook the seeds out of the pods and discarded them. Place pods in a medium bowl and cover them with boiling water. Let them sit for 30 minutes. Drain the water from the chile pods, but reserve about 2 cups for the purée. Place pods in a food processor or blender. Add the salt, garlic, and oregano. Cover the mixture with the chile water. Blend well for 2 minutes or until the skins disappear. Cut the pork into 2×4 inch strips. Place the pork in a ziploc bag and add the sauce. Thoroughly coat the pork. Refrigerate for 24 hours. Preheat oven to 325°F. Place pork and sauce in a baking dish. Cover and bake for 4 hours or until meat is tender. Shred or chop meat.