Recipe: pan-seared black cod with summer vegetables
[I completely forgot about this interview with Friday magazine earlier this month! Click on over if you're bored and haven't heard enough of my yammering. It features some other food bloggers you might recognize too.]
It was hot this weekend! This is what they call Indian summer, right? Summer is pretty brief where we live, so we welcome it with open arms in the mountains. It's glorious. As summer winds down, Jeremy and I are both pretty happy to move into autumn – which arrives right on schedule around these parts. Taking advantage of these last hot and sunny days, we distributed the compost in our yard to make room in the compost bin, cleaned out the basement, did heaps of recycling, and replaced our hot water heater. Okay, the hot water heater sort of demanded replacement when it died and flooded the basement, but I'm glad we took care of it in summer rather than winter.

and kaweah got a much needed bath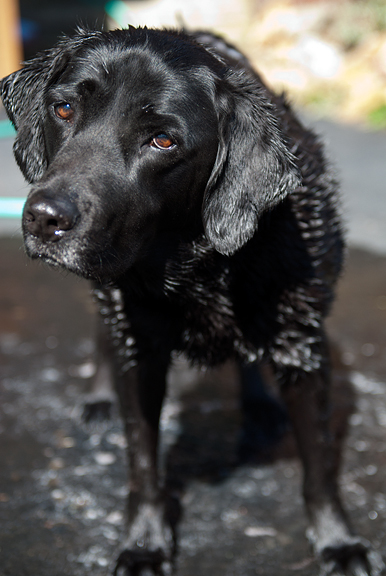 Our fall colors are arriving in full force to the south. I'm looking forward to a cool down because when I see yellow aspens, I want to be wearing fleece – not sweating my brains out in a short-sleeve t-shirt getting sunburned, which is exactly what happened on Sunday's shoot. But have a gander at what we found. [See the full set on the
photo blog
.]
colorado gold on deep blue skies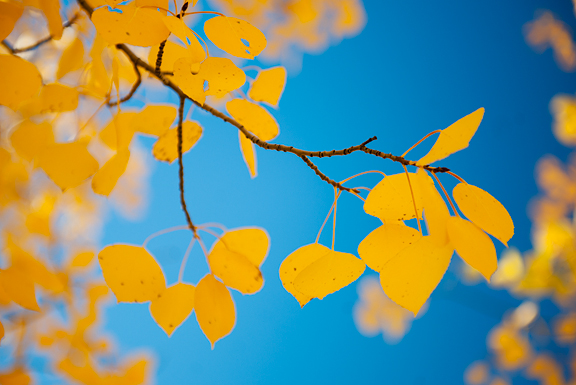 healthy pines and golden aspens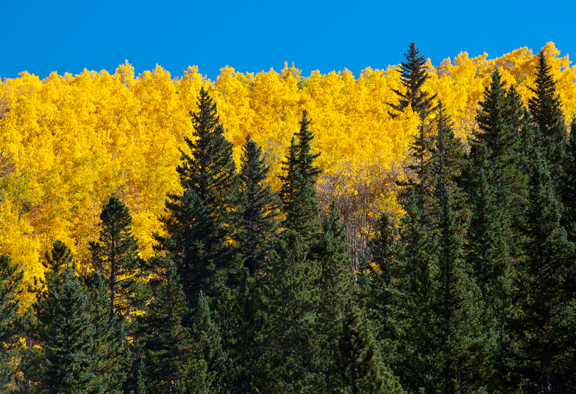 a lovely mix of colors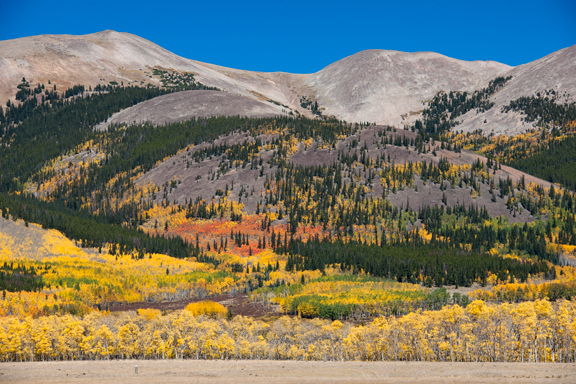 brilliant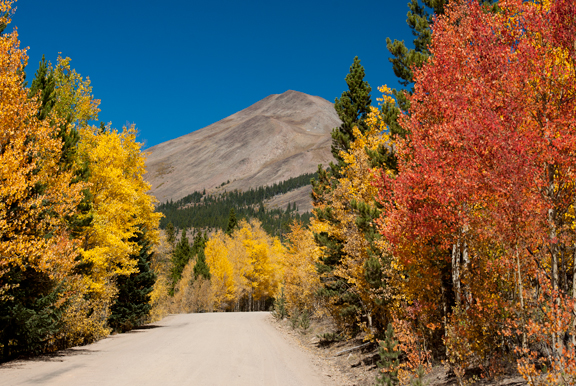 aglow in early afternoon light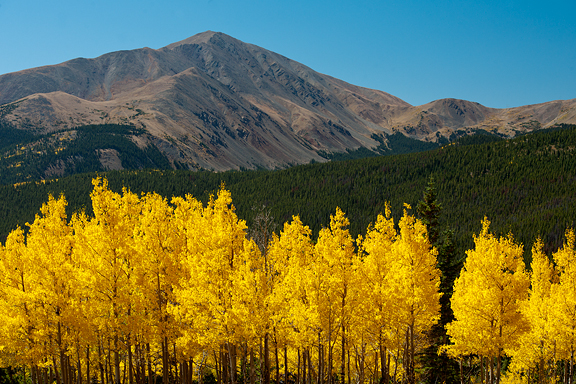 When I was in Seattle, my friend Caroline had complained that they didn't get a real summer and that she wasn't ready to let it go just yet. One evening we went to the grocery store to pick up ingredients for dinner. Hmmmm, what to make for dinner? Caroline went to grab some black cod to bake and Erin asked me to come up with a vegetable. I remembered Caroline's comment about summer and picked up some summery vegetables for a simple sauté to go with the fish.
corn on the cob
slicing the kernels off
At home, I wanted to try the same vegetables with pan-seared black cod. I too didn't want to let summer go just yet. There will be time for pumpkins, apples, pomegranates, and butternut squash. Our corn is still sweet. The zucchini are still plentiful. And tomatoes… I am a sucker for the sweet sweet lovin' of summer tomatoes.
dicing zucchini
cherry tomatoes in the last light of summer
diced into jewels
Black cod, unlike regular cod, has a more buttery texture. It's more oily than regular cod. I picked up a couple of pieces at my local Whole Foods where my buddy Dustin selected the best fillets for me.
sliced into 3-4 ounce pieces
sprinkle with sea salt on both sides
The fish cooks for about ten minutes, but if you are nervous about timing then I suggest preparing the vegetables first and keeping them warm in the pan while the fish cooks. Pan-searing makes a big splattery mess in my kitchen which is why I cook the fish last (and give it my full attention). I cooked the vegetables to just underdone and left them in the pan (which retains heat well).
sauté the zucchini in some butter
then sauté the corn
To pan-sear the fish, I used my tea seed oil from
Earthy Delights
which touts a high-smoking point (it was one of our swag items from the
Food and Light workshop
). You don't need a lot of oil, just enough to coat the bottom of the pan. There's so much sizzling and popping of oil and I'm always so fearful of overcooking seafood, that I consider myself lucky to have gotten a photo of it at all…
skin-side down
Once you have flipped the fish over and bottoms have become golden and crisp, remove them from the pan. Quickly spoon the corn and zucchini onto a plate, top with diced raw tomatoes, sprinkle parsley and sea salt, then drizzle some olive oil on the tomatoes.
just a dash of olive oil will do
place the filet on the vegetables
It's so simple. The dish highlights all of the flavors of the ingredients without drowning any one out. The vegetables were all so sweet and fresh. It tasted like summer and we felt it was most appropriate to enjoy it on our deck as the sun dropped low in the sky. See ya later, Summer. I look forward to catching up again next year.
a late summer dinner
Pan-seared Black Cod with Summer Vegetables
[print recipe]
2 ears fresh corn
4 4-oz. pieces of black cod fillet
sea salt
olive oil or tea seed oil
2 tbsps butter, unsalted
2 small zucchini, diced
fresh ground pepper
4 oz. cherry tomatoes, diced
parsley, minced
olive oil
Shuck the ears of corn and carefully slice the kernels off the cob with a sharp knife. Keep a dog around to pick up any kernels that tumble onto the ground. Pat the black cod pieces dry and sprinkle both sides with sea salt.
In a medium pan, melt a tablespoon of the butter over medium high heat. Add the zucchini and sauté. Sprinkle sea salt to taste and continue to sauté until the zucchini is just tender. Remove from pan and set aside. Heat the remaining tablespoon of butter in the same pan over medium high heat. Add the corn and sauté. Sprinkle sea salt to taste. The corn should cook quickly, in a minute or so. Add the zucchini and stir together. Give it a grind of pepper to taste and remove from heat. Set aside.
In a frying pan (don't use non-stick), pour enough oil to coat the bottom of the pan (but not too much, it's hugely messy). Set the heat to medium high or high. When the oil is hot, carefully place the fillets skin-side down in the pan. Expect spattering. Try to press the pieces flat with a spatula to keep them from curling for a few minutes. Cook the fish for about 5 to 7 minutes – the skin should be crisp and golden. Use a thin metal spatula (or a fish spatula if you have one) and flip the pieces over carefully (more splattering). Continue to cook until the bottoms are golden – I cooked for about 3 to 4 more minutes. Gently scoot the spatula under the fish to "unstick" the pieces without tearing the fish apart and set on a plate.
Scoop the corn and zucchini onto a plate. Top with a spoonful of the diced tomatoes. Sprinkle parsley and a pinch of salt over the tomatoes and drizzle a little olive oil on top. Set a piece of fish on the vegetables and serve.